The beginning of November was marked by another wave of hysteria in the Russian media as one publication after another raised a hullabaloo about US warships moving across the Black Sea. This fact provoked a flurry of manipulative news in pro-Kremlin media, the main theses and narratives of which are predictable and somewhat old hat. A StopFake roundup of irate Russian reactions follows.
Practice run for Donbas invasion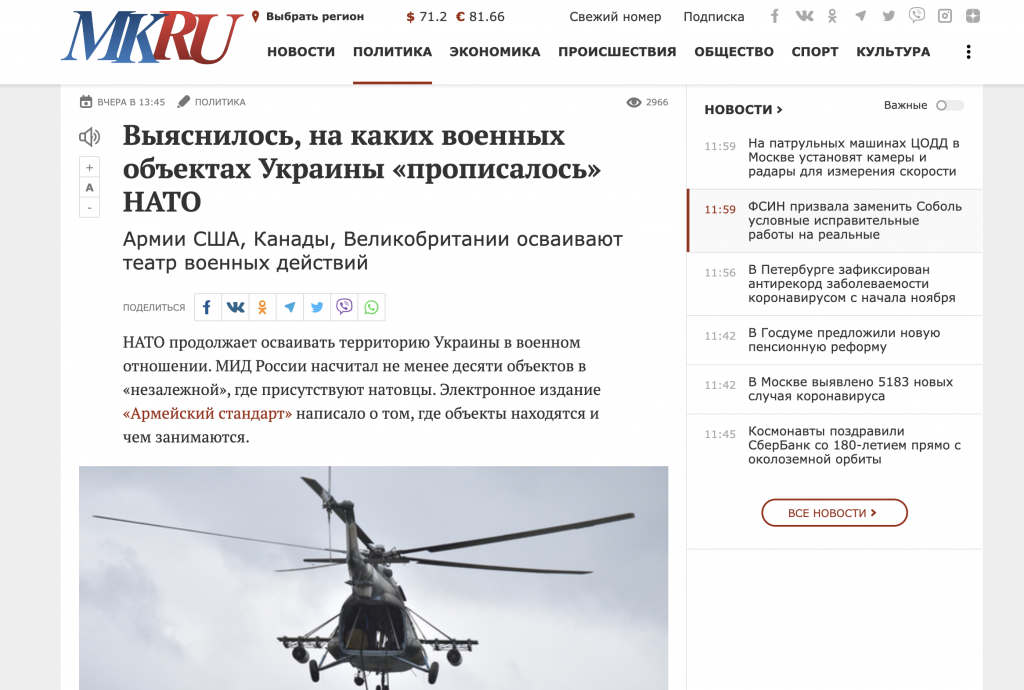 During the seven years of the Russian-Ukrainian war, the mythical "military occupation" of Ukraine by NATO forces has been repeated by the Russian media ad nauseum. The entry of American warships into the Black Sea was a handy reason for Russian media to retrieve this dusty narrative from their crowded propaganda shelf.
"Such actions are a destabilizing factor in the Black Sea region, one of their goals is the military mastery of Ukraine's territory. Given that, in addition to the US Navy, the exercise is planned to include tactical, patrol and strategic aviation, as well as the armed forces of Bulgaria, Georgia, Romania, Turkey and Ukraine, this is a military operations theater practice run in the event that Kyiv decides on a military solution in the southeast ", – " the Vedomosti newspaper writes, quoting the Russian Ministry of Defense.
StopFake journalists have debunked many such Russian claims about western military occupation of Ukraine, as in this story about the alleged illegal presence of NATO troops in Ukraine.
Crimea has also been thrown into the mix. A narrative used by Russian propaganda both now and 20 years ago, that NATO or the United States intend to "seize" Crimea and "turn it into a desert" – was particularly prevalent at the beginning of Russia's occupation of the Ukrainian peninsula. This narrative continues to be relevant for pro-Kremlin media.
"All of Ukraine has become one large (NATO) military training ground. A US Naval Operations Center was built there (Ochakiv, southeastern Ukraine, Mykolayiv region) and it is functioning. These centers are designed to provide naval capabilities across an entire range of military operations. The Americans were going to build such a center in Sevastopol, but the "Crimean Spring" put an end to these plans" writes the Moskovsky Komsomolets newspaper.
Judgment Day getting closer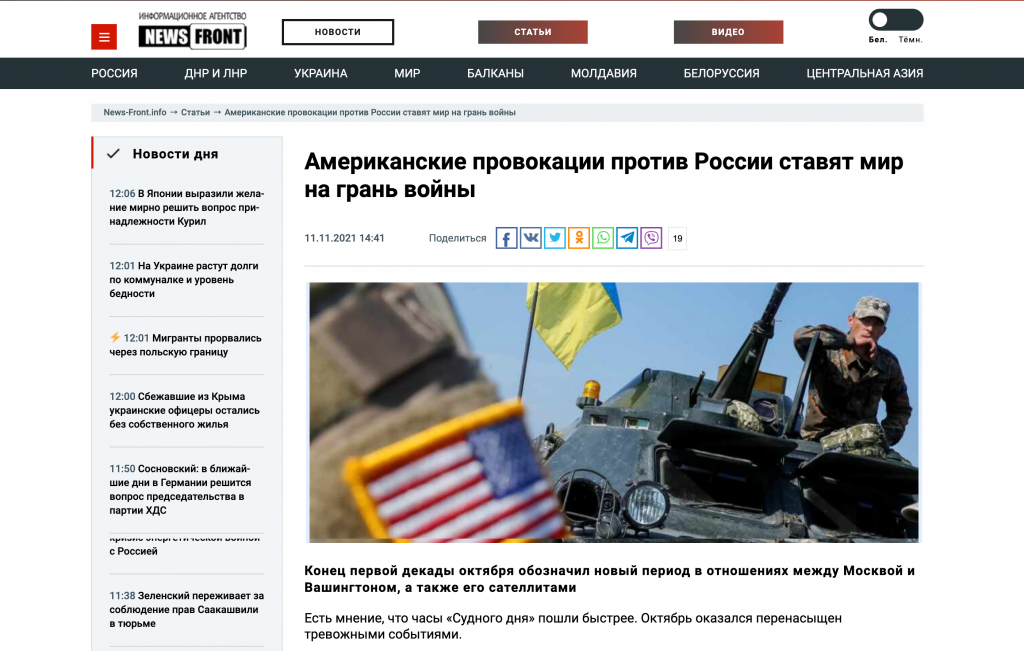 Threatening the world seems to be the main policy of Ukraine's eastern neighbor. Hiding behind their Iskander missiles, Russian propagandists rant about judgment day, having clearly decided that Russia is to be the judge. Hellfire and damnation emanated from practically every television and computer screen, scaring the viewer with future seizures of Ukrainian cities and even the US capital.
"Let me remind you that we conduct military training exercises on our own territory. What are American ships doing in the Black Sea, thousands of miles from their bases? They are playing with fire, this is another attempt to test our strength" Russian Deputy Foreign Minister Sergei Ryabkov declared on the Vesti television program (see video 00: 33: 20-00: 33: 43).
"Secretary of State Blinken asked to meet in Washington with the head of the Ukrainian Foreign Ministry, Kuleba, and then asked Russia not to repeat the mistakes of 2014. Our only mistake was that we did not reach Kyiv seven years ago, for some reason we stopped in Crimea. Now, as they say, we can repeat the operation and correct that mistake. At least we will take Mariupol with great joy," said the Kremlin's leading female propagandist Olga Skabeeva on her "60 minutes " television program (see video 00: 06: 48-00: 07: 15).
"The judgment day clock has gone faster… It is obvious that Washington is counting on Moscow's direct intervention: in order to stop the extermination of civilians (in the occupied territories) Russia will have to send in troops. This would give Biden an opportunity to announce "an obvious Russian invasion" and in response to President Zelensky's request,  bring in NATO peacekeepers. This would be followed by negotiations on what the Russian Federation gets and what remains under NATO bases control. If this plan thought up by American analysts is implemented, it is likely that there will be thousands of deaths in Donbas, hundreds of Ukrainian military killed, including Russian losses, because according to Washington's calculations, Russia will have to intervene in the bloody massacre in order to coerce Ukraine towards peace" writes the Crimea based propagandist NewsFront publication, which was sanctioned by the US in April of this year.
The "bloody Western peacekeepers" is a frequent Russian media narrative, it has in fact become a classic genre of the Kremlin propaganda machine. StopFake has debunked many fakes in this vein such as NATO troops enter Donbas, or Ukraine abandons Minsk Agreement, preparing Donbas occupation.
The Ukrainian Saakashvili Syndrome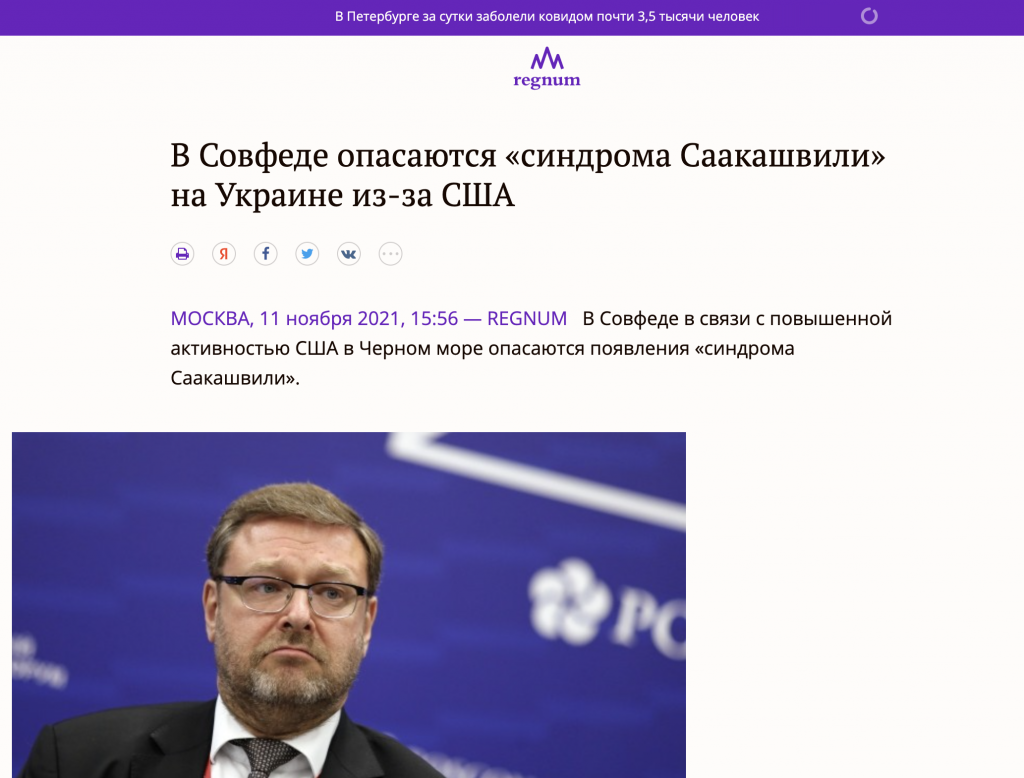 Describing the cooperation of NATO countries with Ukraine and Georgia, Russian propaganda has crafted a new narrative called the Saakashvili syndrome. Named after the former Georgian President Mikheil Saakashvile, this narrative justifies Russia's 2008 invasion of Georgia as well Russia's 2014 aggression against Ukraine. This a blame the victim narrative, according to which Kremlin experts and analysts claim that Ukraine and Georgia got what was coming to them and despite this, both countries continue to provoke Moscow with American ships in the Black Sea.
"This is not just an attempt at provocation. These are joint actions of Ukraine and the United States … This escalation is not the handiwork of Ukraine, Ukraine is an instrument, a performer, and it is very profitable for the United States to escalate the situation now. I would like to remind you that every time the number of ships increases, as it was in 2008 … it was the same before Georgia attacked South Ossetia (Tskhinvali region of Georgia occupied by Russia – ed.). Before that, throughout the summer American ships came there over and over again!" – a pro-Kremlin analyst claimed on Vremya Pokazhet (Time will tell) the main daytime political talk show on the Rossiya 1 state television channel(see video 00: 06: 48-00: 07: 15).
"The presence of the American fleet may bring on a case of Saakashvili syndrome, an attempt to carry out a military provocation similar to the Georgian attack on Tskhinvali in 2008 in the hope that 'the West will help us'. The recent and very fresh case of Aghanistan is an example of how the West helps, nevertheless many in Ukraine sincerely believe that the Americans give Ukraine impunity for trying to end an internal Ukrainian conflict by force" Russian Federation Council speaker Konstantin Kosachev told NewsFront.
"NATO is preparing an invasion in three directions: Donetsk, South Ossetia and Abkhazia and Belarus. And this does not mean that they will do it on their own, for this there are trained people already living in these regions. They do not dare yet to touch Crimea," the Regnum publication writes, quoting an anonymous expert.
As for one of the most widespread Kremlin narratives – that Ukraine's and Georgia's NATO aspirations "threaten the security of Russia," and the main goal of the Alliance's cooperation with Tbilisi and Kyiv is to "provoke the Kremlin" – this is classic Russian media manipulation. NATO has repeatedly stated that Ukraine and Georgia are sovereign states that are free to build their foreign policy at their own discretion, without regard to Russia (listen to audio from 10:21).
Ukraine will attack Ukraine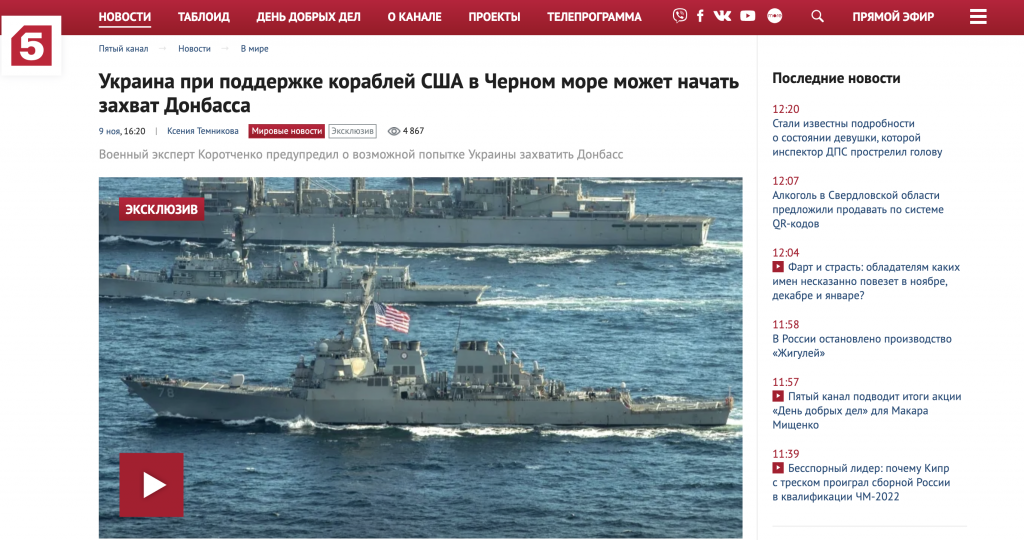 Claiming that Ukraine attacked itself in eastern Ukraine (the Kremlin's civil war narrative) is illogical and mendacious, but throughout all the seven years of war Russian propagandists refuse to let it go. The presence of American naval vessels in the Black Sea triggered the use of this narrative with renewed zeal. "Kyiv is attacking Donbas" crow Kremlin experts, adding claims of Russophobia and Banderite accusations to boot.
"For several decades now, the US and NATO have viewed Ukraine as a springboard for possible aggression against Russia. The process of increased Russophobia and banderization (referring to Ukrainian nationalist leader Stepan Bandera, assassinated by the KGB in 1959) of this territory was launched and generously financed more than 30 years ago, and, of course, now Washington wants to a tangible return on its investments … All this indicates not just the possibility of intensifying hostilities, but attempts at blitzkrieg, attacks on Donetsk and Luhansk, using all types of weapons available to Ukraine, regardless of mass civilian casualties. The maximum task that Ukraine sets itself, or rather, that Washington sets for Kyiv, is to cut off the rebellious regions from Russia with a lightning strike and establish unconditional control over them," writes RT in Russian.
"We see that within the framework of NATO exercises in the Black Sea, a multinational group is actually being created made up of US Navy destroyers other countries vessels, which we can consider as an element of support in the event that Ukraine starts a military operation against Donbas … We are talking about a large-scale provocation in the immediate vicinity from Russia and this is an indirect sign, which may indicate that in the coming days Ukraine may try to take Donbas by force and cleanse the population that lives there, Russian Channel 5 reports.
Russian analysts have included yet another Kremlin favorite to their Ukraine will attack Donbas theme, the narrative about a hungry and freezing Ukraine. Usually as autumn comes to an end and winter beckons, Russian media shake the dust off this narrative and unleash it anew.
"Ukraine is in the midst of a deep energy crisis and winter is ahead. Ukraine will not be able to get out of this crisis thanks to the exceptional intellectual abilities of its leadership. They have to survive the winter. How does a freezing person manage to live through cold weather? He jumps up and down and slaps himself on the shoulders. How is Ukraine doing? In order to maintain control over the Ukrainian population you need to attack someone, you need to raise the level of hysteria" declared another political "expert" in all seriousness on the Vremya Pokazhet program. (see video 00: 33: 14-00: 33:42)
Internal Russian… or American waters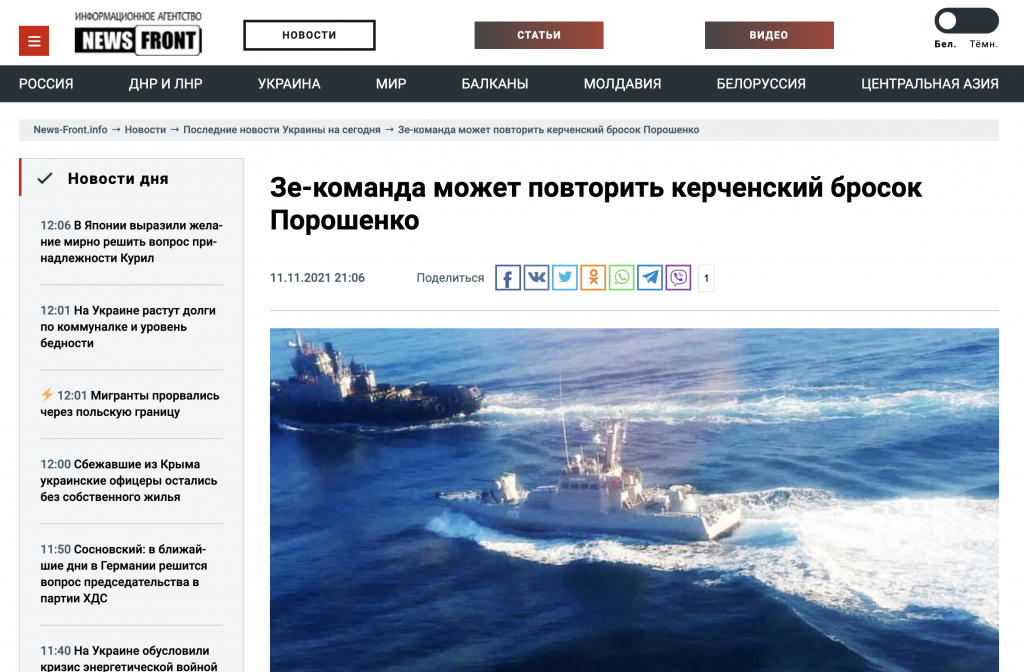 Some Russian "experts" are even convinced that the temporary presence of US warships in the Black Sea is preparation for the "domestication" of the Sea by the American fleet. They say that this is a "long term game" in which the United States allegedly wants to "take" the sea from Russia.
"Washington is sending a message – the Black Sea is now home for the US and Moscow must clear off. According to the Pentagon's plan, constant intensive presence, even if not too significant and sometimes merely demonstrative from a military viewpoint, but very loud from a media standpoint, should force Moscow to get used to the idea that this is now US national interests' territory. This is not a quick calculation; this is a strategy for years and decades to come" writes Gazeta.ru.
Since Russi occupied and annexed Crimea in 2014, Pro-Kremlin media have taken to referring to the Black and Azov seas as Russia's "internal seas".
"The increase in the number of Ukrainian military boats in the Azov Sea, which is for all intents and purposes an internal Russian sea and under our complete control, is hardly expedient … However, in all these actions, there is logic if Zelensky tries to repeat the stunt of his predecessor. Let's remember that three years ago, on November 25, two Ukrainian armored boats and a tug tried to break through the Kerch Strait, the territorial waters of the Russian Federation … – writes the Donbas Analytical Service website.
Russia claims that after the annexation of Crimea Ukraine lost all rights to the Kerch Strait sea route. However, according to all international standards and law of the sea, Kyiv has every right to use the Black and Azov seas. In no way can these two seas be considered Russian internal sea routes, as this StopFake story makes all too clear.