Russian state TV has recently been trying to create the impression that the separatists in east Ukraine enjoy widespread sympathy in major European capitals. One TV report even spoke of "mass rallies" in their support. The reality, though, appears to be somewhat different, says BBC.
"In the centre of Madrid, a rally has been held in support of peace initiatives in Ukraine," a presenter on state news channel Rossiya 24 announced early on 26 June.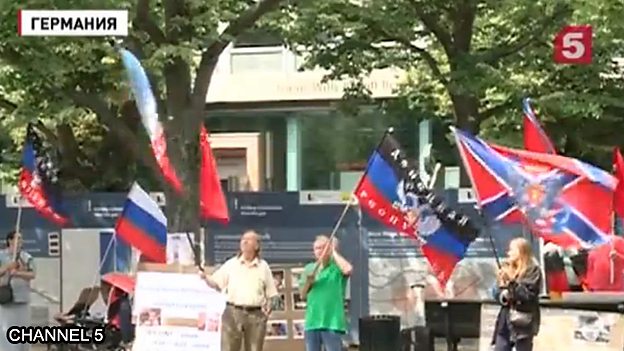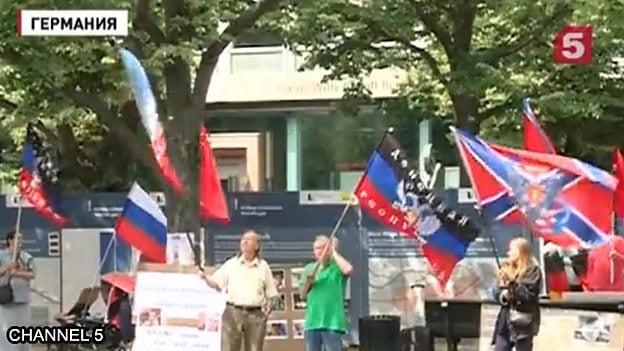 He went on to say that the demonstrators had placards calling for "Ukraine to be saved from its current authorities" and that they branded the system presided over by President Petro Poroshenko as a "false democracy and a tyranny".
As the presenter was speaking, viewers saw a crowd of what appeared to be several hundred people marching and chanting on Madrid's central square, Puerta del Sol, the day before, many of them carrying placards, banners and colourful flags.
Eagle-eyed
But one of BBC Monitoring's eagle-eyed media observers quickly smelt a rat. If this was a rally denouncing the Ukrainian government and supporting the separatist cause (as later TV reports made more explicit), then where were the symbols and slogans to match?
The placards shown on the Rossiya 24 report spoke of demands for "universal justice" and referred to "closed graves" and "open wounds". But they said nothing about Ukraine.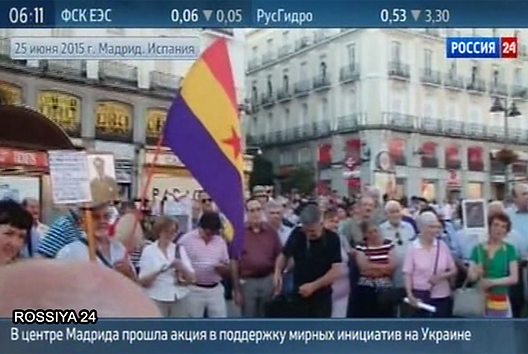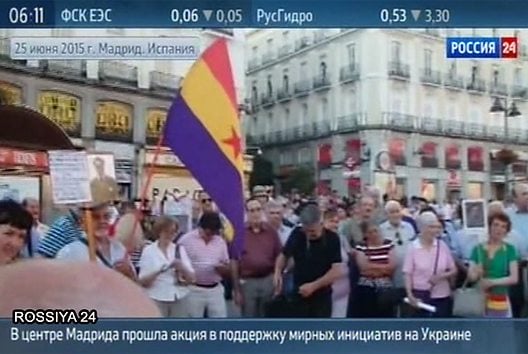 As for the flags, these did not sport the colours associated with the Ukrainian separatists, but the red, yellow and purple of the Spanish republic.
A photo posted by a Spanish user on Twitter of the same event revealed that the main banner being held by several of the demonstrators bore the words: "Against Impunity. Solidarity with the victims of Francoism."[2]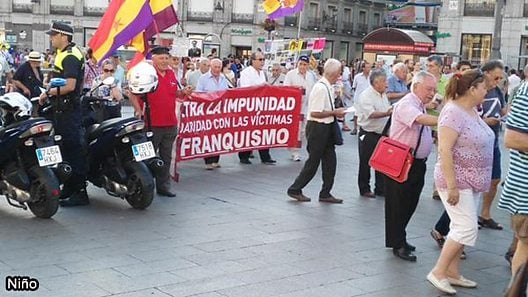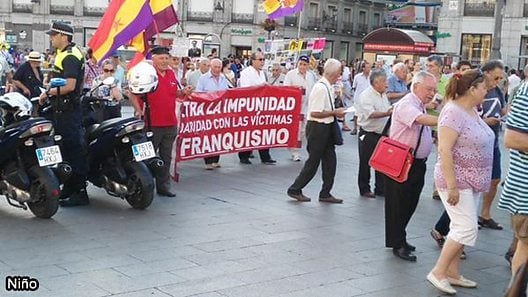 For this was not primarily or in any meaningful sense a demonstration about Ukraine, but a regular Thursday evening gathering held to demand justice for those who suffered at the hands of the fascist regime of General Franco.
Reports later the same day on other TV channels attempted to repeat the deception perpetrated by Rossiya 24, but were more revealing about the nature of the pro-Russian involvement.
Main official channel Rossiya 1 showed close-ups of a placard with slogans about Ukraine in Spanish and English. One of them said that a Ukraine without its current leaders would be a "Ukraine without fascism".
A wider shot fleetingly (and perhaps unwittingly) revealed that this placard was attached to some railings in the centre of the Puerta del Sol and appeared entirely incidental to the main thrust of the rally.
Mass rallies?
This was not the only manifestation of support for the Ukrainian separatist cause on 25 June. According to Moscow-government-owned Centre TV, a number of "mass rallies" were held in Europe.
Apart from the event in Madrid, Centre TV said "tens of people" gathered outside the Russian embassy in Berlin to, among other things, "express their gratitude for Russia's humanitarian aid" to the people of Donbass.
But the presenter's words were rather undercut by what viewers could see on their screens. Instead of the "tens" she spoke of, just seven or eight could be seen with flags and banners associated with the separatists.
Fringe elements
Russian TV regularly uses a variety of ploys to give viewers a misleading impression about opinion in Europe, from cherry picking newspaper articles to treating fringe elements as if they were major players.
In an interview for liberal website Meduza, NTV's former Berlin correspondent Konstantin Goldentsvayg revealed how his bosses would regularly task him with getting interviews from pro-Putin leftists, even though they were pretty marginal figures in German politics.
Goldentsvayg was speaking shortly after he had been sacked by NTV after giving an interview to German TV in which he spoke of Putin's "cynicism" and suggested he wanted to keep Ukraine destabilized.
Another recent example of Russian state TV's tendency to misrepresent sentiment in Europe was a series of reports giving the impression that the passage of US troops and tanks through the Czech Republic in March had provoked "mass protests".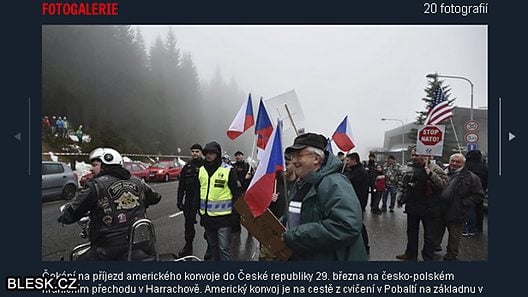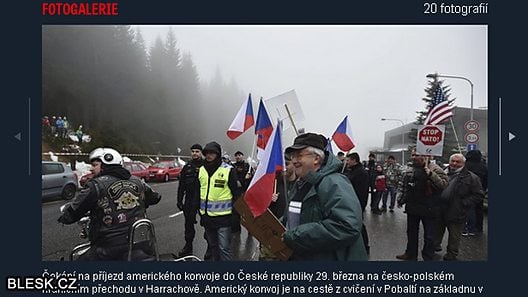 In fact, as Czech news site iDnes reported, the Communists and radical nationalists who turned out to denounce the American troops were a "drop in the ocean" compared to the large numbers of Czechs who stood along roadsides to watch or welcome them.
A poll commissioned by Czech TV found that just 17 per cent of people objected to the US convoy, while 82 per cent saw nothing wrong with it.
Source: BBC