Austria continues to pay for Russian gas only in Euros and strictly adheres to agreed EU sanctons, said Austrian Chancellor Karl Nehammer. The politician called the news that Austria paid its Russian gas bill in rubles "another Russian propaganda fake".
Russian websites and social media users are disseminating stories claiming that Austrian Chancellor Karl Nehammer allegedly "agreed to pay Gazprom for gas in rubles, as required by the Russian side. The publications point out that the decision was made in agreement with the Austrian company OMV, which just happens to be involved in the Nord Stream 2 construction project.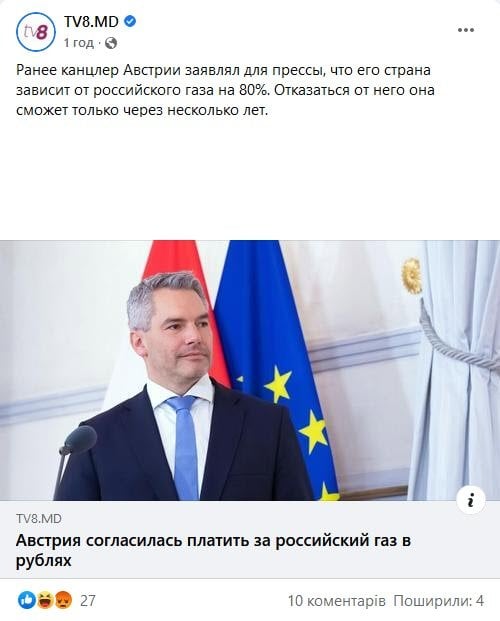 In fact, Austria is continuing to pay for Russian gas in euros. Austrian Chancellor Karl Nehammer announced as much in a recent Tweet. "Before Russian propaganda fake news is spread further here. Of course, OMV will continue to pay for gas deliveries from Russia in euros. Austria is sticking to the jointly agreed EU sanctions to the point and comma," Nehammer wrote.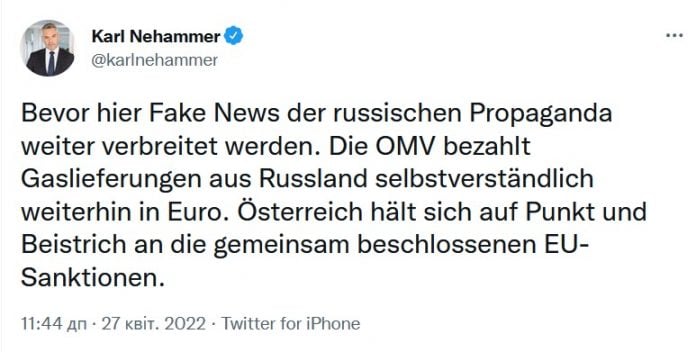 According to Austrian media, the country will continue to pay for Russian gas supplies in Euros through direct payments to Gazprombank. There those funds will be exchanged by Russia for rubles, the Federal Chancellery announced.
On April 27 Russia stopped gas deliveries to Poland and Bulgaria. "Both states refuse to accept the terms of payment that Gazprom established," Chancellor Nehammer emphasized at a Council of Misters meeting.StopFake continues to expose numerous fakes about Russia's war against Ukraine: Fake: Ukraine plans to seize the largest ammunition depot in Transdnistria, "Fake: Russia makes "bloodless strikes" on Ukraine's railway infrastructure", "Fake: Ukrainian UJ-22 Airborne strike drone shot down over Kursk province.