Russian online newspapers have been disseminating gleeful stories claiming that US President Joe Biden "made his first international call to Russian President Vladimir Putin" and during the conversation the two presidents were "deciding the fate of Ukraine".
The Russian site Anti-fascist claims that there is sadness and mourning in Ukrainian President Zelensky's office because Biden's first call was to Putin and together the two presidents discussed Ukrainian internal affairs.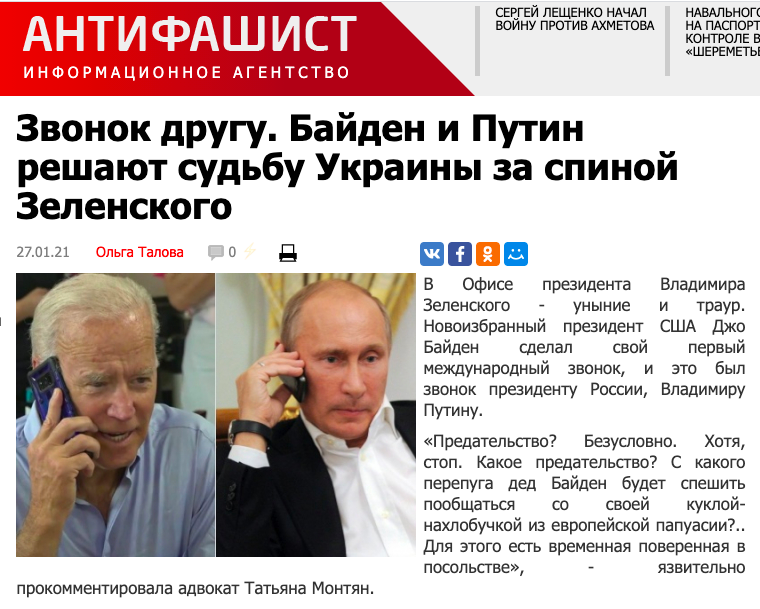 The call to Putin was far from the first international call that President Biden made. And the topics discussed were those that are important to the United States. As Presidential Press Secretary Jen Psaki made clear during her January 26 briefing, during his conversation with the Russian leader, President Biden reaffirmed US's strong support for Ukrainian sovereignty in the face of Russia's ongoing aggression.
As for Vladimir Putin being the first international leader that the new American president called, well that is a complete fake that is easily proven with a simple Google search. In fact, President Biden's first international call on January 22 was to Canadian Prime Minister Justin Trudeau, on January 23 President Biden spoke with British Prime Minister Boris Johnson and with the President of Mexico  Andres Lopez Obrador, on January 24 President Biden called French President Emmanuel Macron and on January 25 Biden spoke to German Chancellor Angela Merkel.
Finally, on January 26 President Biden spoke with President Putin. The conversation did not decide Ukraine's fate just as there was no discussion about the US and Russia deciding on internal Ukrainian affairs. On the contrary, President Biden reaffirmed American support and commitment to Ukrainian sovereignty.
As to Ukrainian disappointment, sadness and mourning, that Russian media refer to, there was no mention of such sentiments in any of the official statements coming out of the Ukrainian Presidential Administration, not on the official presidential web site, nor on the official presidential social media pages.
President Zelensky last mentioned President Biden on January 20 when he tweeted that he was watching the US presidential inauguration and wanted to invite the new American President to visit Kyiv.