Russian e-title "Voienno-Politicheskaia Povestka Dnia" published news about Chief Rabbi of Odessa and South Ukraine Abraham Wolf addressing citizens and asking them not to let "the spread of fascism in Odessa and in Ukraine in general".
"Today we must unite in the face of the Brown Plague like never before. "Odessa Khatyn" has shown everyone that fascism did not disappear, it flourishes in Ukraine. We have no right to let the neo-nazis drunk with impunity perform genocide of our people," – "quotes" Wolf's words the e-title.
Moreover, according to the site, the Rabbi had a telephone talk with a representative of Gdud Alia of Israel, Avigdor Eskin, who assured that the fighters "are ready to provide all possible support, including force, to defend the Jewish people and synagogues in Ukraine from neo-nazis and vandals".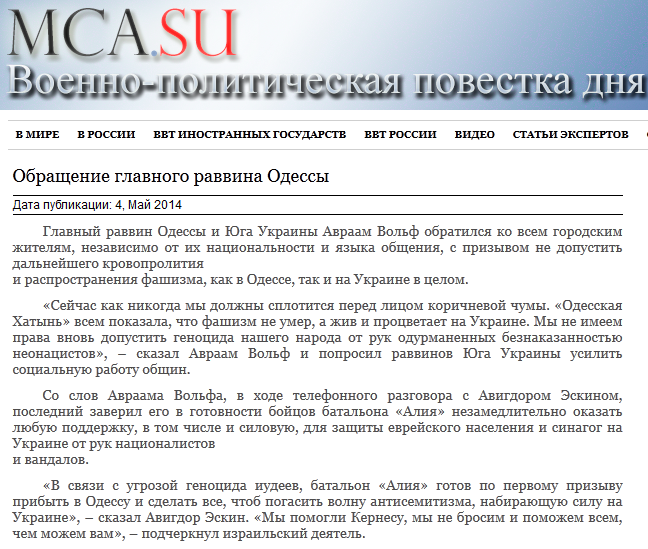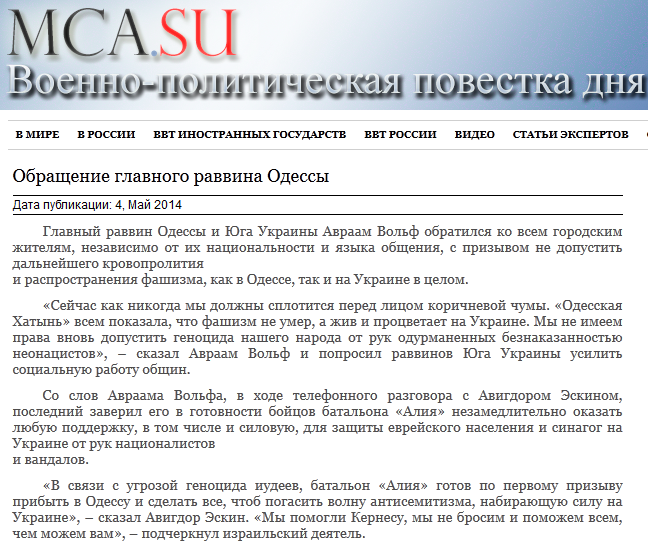 Later this piece of news was deleted, but many other e-titles already reposted it. It can still be found in Google cache.
While in fact this is fake. Press secretary of Odessa's Jewish Community, Berl Kapulkin, refuted this information. He also stated that Wolf never had neither telephone nor personal talk with Eskin.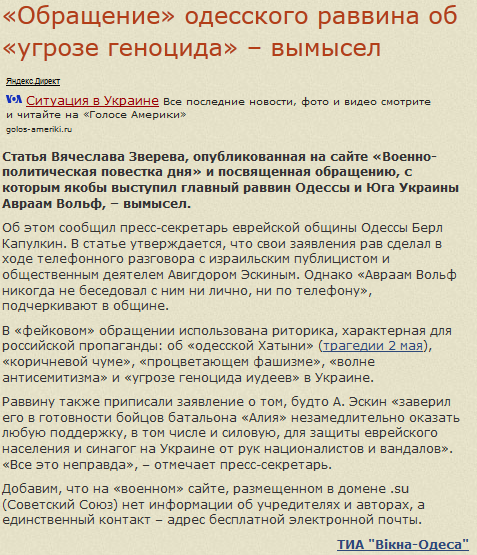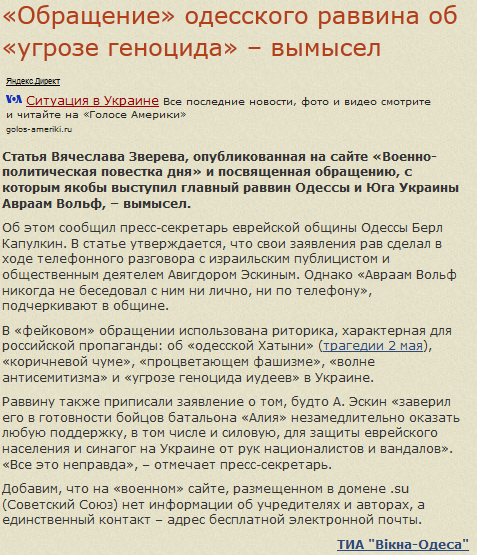 Obviously, the fake news was based on neutral statements of Wolf in the beginning of March in which he called for peace and mutual understanding.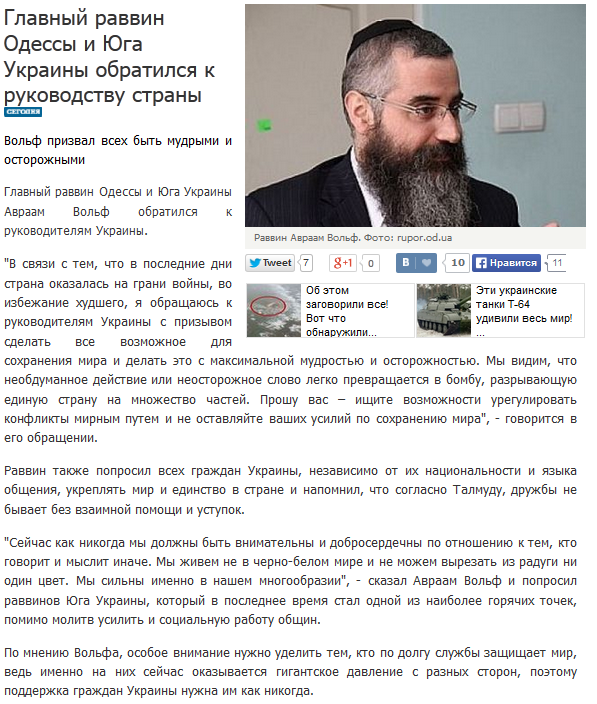 This is not the first time the Russian propaganda tries to exploit the imaginary anti-Semitism in Ukraine. Earlier in March, RT showed a report, telling about anti-Semitic tendencies in new Ukrainian government.
The report also had information about desecration of synagogue in Kiev and Jewish refugees running from Kiev because they fear the new government. In addition, report featured Rabbi Misha Kapustin speaking about the danger in which his synagogue and all the Jewish people are now. There were parts from interview with Kapustin, who had been preparing for evacuation supposedly because of fear of the new authorities.
While in fact, Kapustin is the Chief Rabbi of Simferopol and he was indeed preparing for the evacuation, but from Crimea, which was, being annexed by Russia, not from Kiev Earlier Kapustin had called for defence of Crimea from Russia. Moreover, the desecrated synagogue is situated in Simferopol, not in Kiev, and the desecration took place after the occupation.
Israeli title The Jerusalem Post reporting Odessa Jews preparing for evacuation is another example of mass media manipulation of anti-Semitism topic in Ukraine. While the Jewish people refuted this.
It should be noted, that Jewish people of Ukraine continue to support the new government. With new government, the president of the United Jewish Community of Ukraine, Igor Kolomoyskyi became the governor of the Dnipropetrovsk Oblast and is currently struggling against separatism in South-east Ukraine.
Chief Rabbi of Ukraine Yaakov Dov Bleich also stated that there is no anti-Semitism in Ukraine — it is Russian speculations.
In addition, the head of the communication department of the Right Sector organisation, which Russian propaganda calls the core of Ukrainian anti-Semitism, is in fact a Jew, as was reported by the head of the organisation Dmitro Yarosh.