The Kremlin claims that more Crimean Tatars turned out to vote in last weekend's Russian presidential elections than in any elections held under Ukrainian rule before the peninsula was invaded and annexed by Moscow in 2014.
The Mejlis of the Crimean Tatar people, the official representative body of the Crimean Tatars dispute such claims, Mejlis chairman Refat Chubarov said that more than 90% of Crimean Tatars living on the annexed peninsula completely ignored the March 18 election. Social media posts by Crimea residents also reflect the low voter turnout, focusing on coercion and intimidation of those who refused to vote.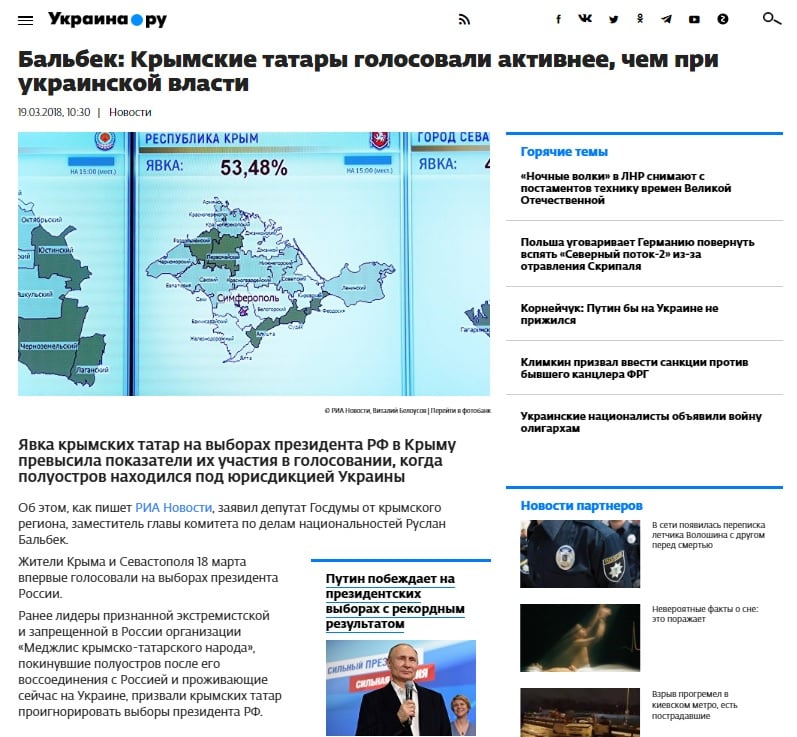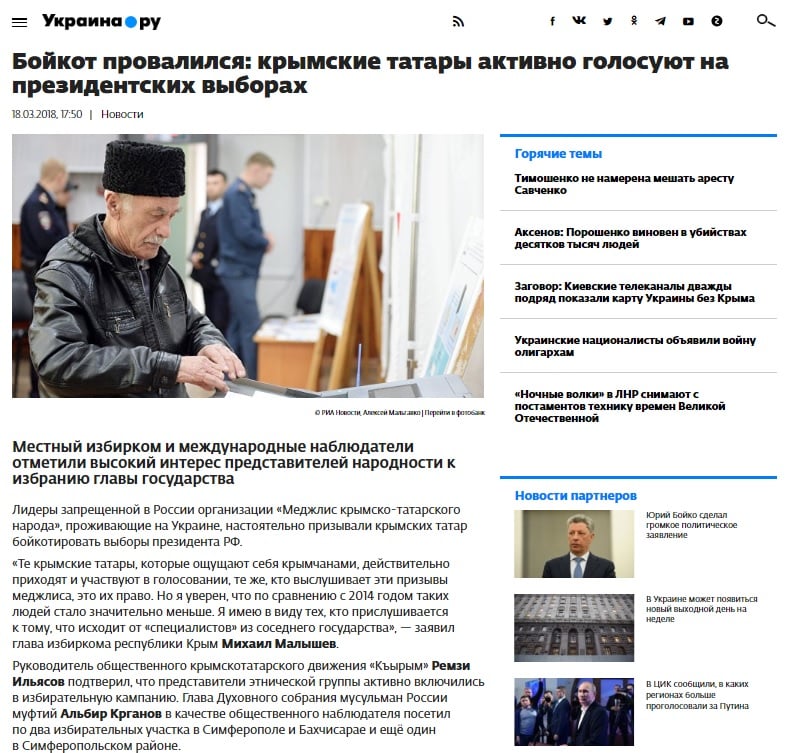 Ruslan Balbek, a member of the Russian occupation authorities' Crimean parliament, who is also the deputy chairman of the Nationalities Committee, announced that 81,000 Crimean Tatars, more than 40% of the Crimean Tatar population, voted in the March 18 presidential elections. Mr. Balbek claims that under Ukrainian jurisdiction only 60-70 thousand Crimean Tatars participated in elections.
"With such participation we can say we've reached record activity on the part of the Crimean Tatars in Russian Crimea, Balbek said. He also claims that 91.5% of those Crimean Tatars who voted, voted for Vladimir Putin. Which begs the question of how he could know as the ballots are meant to be secret.
Ukraina.ru, Vzglyad, RIA Novosti, Federalnoye Agentstvo Novostey, Politnavigator, Vestnik Kavkaza, Informburo, Moskovskyi Komsomolets and many other Russian media outlets disseminated this fake story.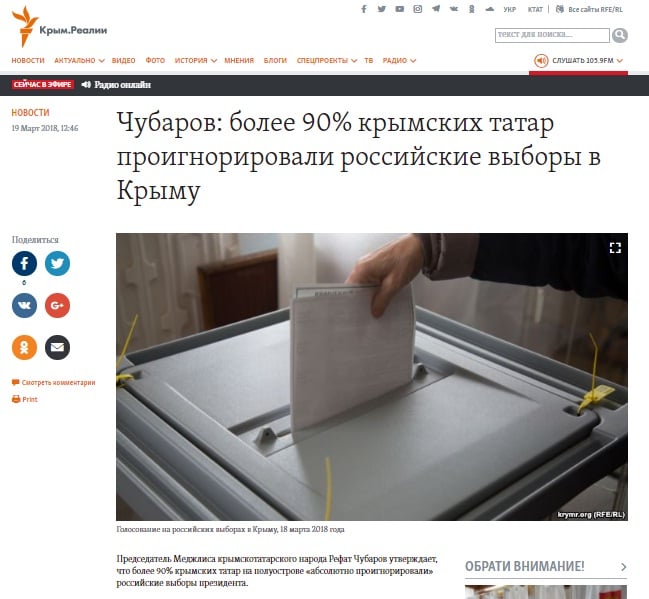 Speaking to Radio Liberty's Crimean Realities program Mejlis leader Refat Chubarov said that people were forced to vote in Crimea. The overall voter turnout at the end of the day was around 30% Chubarov said. Crimean Tatar activist Zair Smedlyayev also pointed out the low Crimean Tatar turnout, he said no more than 10% actually came out to vote.
The Crimean Human Rights group recorded countless instances of intimidation, forcing Crimeans to go to polling stations under the threat of dismissal from their places of employment. The group also reports that during parents-teachers meetings at school parents were told to "go vote and fulfill their civic duty" while managers of large companies were told to guarantee their employees turn out for the vote.
Mejlis deputy chairman Nariman Dzhelalov pointed out that based on video footage from polling stations in areas where Crimean Tatars are concentrated, one can't make claims of a high voter turnout.
Coordinator of the Crimean Contact Group for Human Rights Abduresheet Djepparov told Radio Liberty that each electoral district in Crimea was given a voter participation quota by the Russian authorities. Areas with high concentrations of Crimean Tatar residents were given an 80% quota. As Crimean Tatars were not very likely to vote in this election, the only way the occupying powers could get their quota was through pressure, intimidation and coercion, or bringing in voters from Russia, Djepparov said.
Independent monitors and OSCE observers refused to monitor the March 18 elections in occupied Crimea. Election observers whom Russian media presented as international observers were in fact loyal Kremlin supporters  from various countries who came to Crimea at the invitation of Moscow, writes Halya Coynash of the Kharkiv Human Rights Group.
In the absence of objective monitoring of this illegal election in occupied Crimea, any election claims by Russia and its media minions is not only unreliable, but far more likely completely untrue.