Russia is not guilty of murdering investigative journalist and human rights activist Anna Politkovskaya,  a vocal critic of Russia's war in Chechnya, and of Russian President Vladimir Putin. Life, Rambler, REN TV, RiA Novosti and other Russian publications all disseminated the Russian Justice Ministry's claims that the European Court of Human rights allegedly concluded that Russia's leadership was not involved in the 2006 murder of Politkovskaya.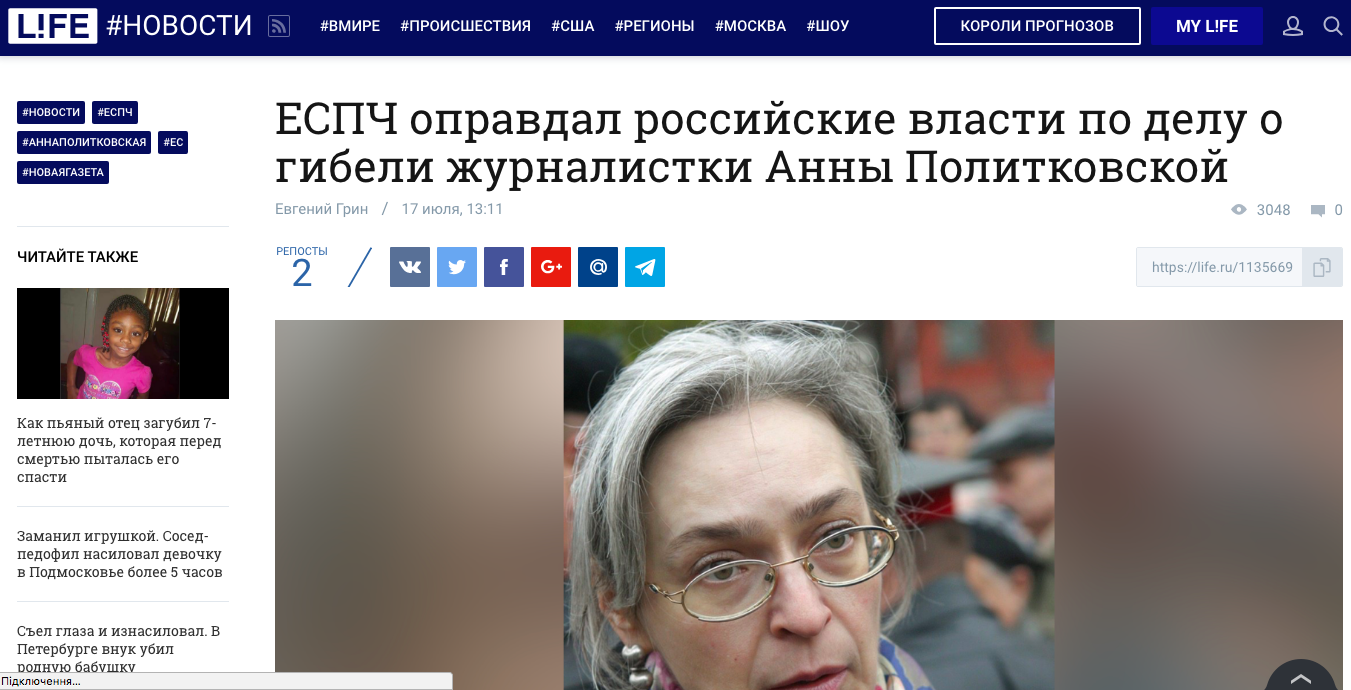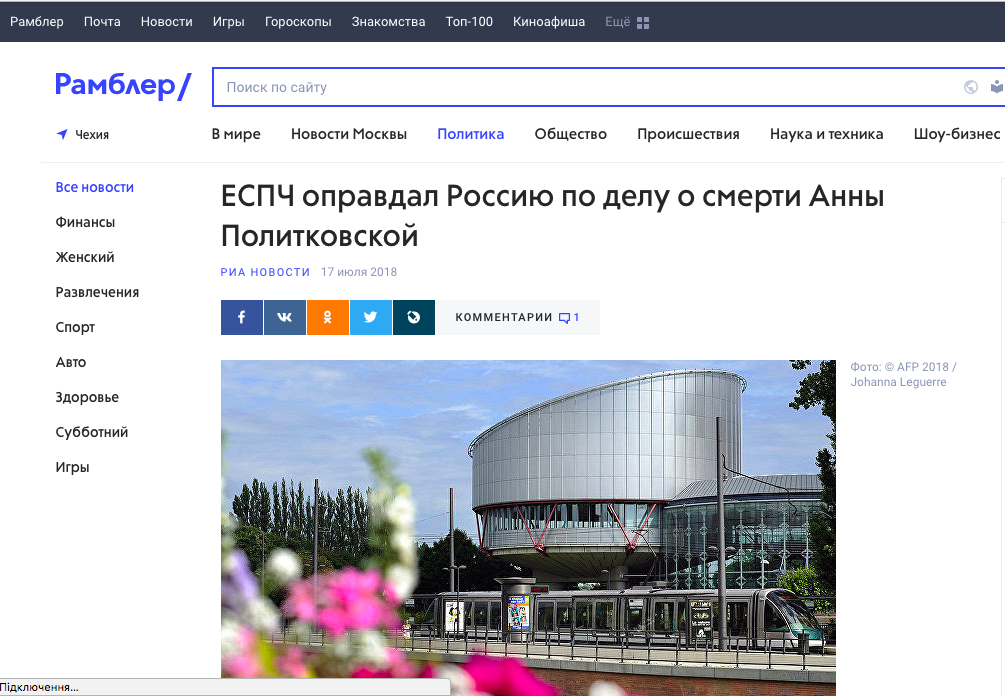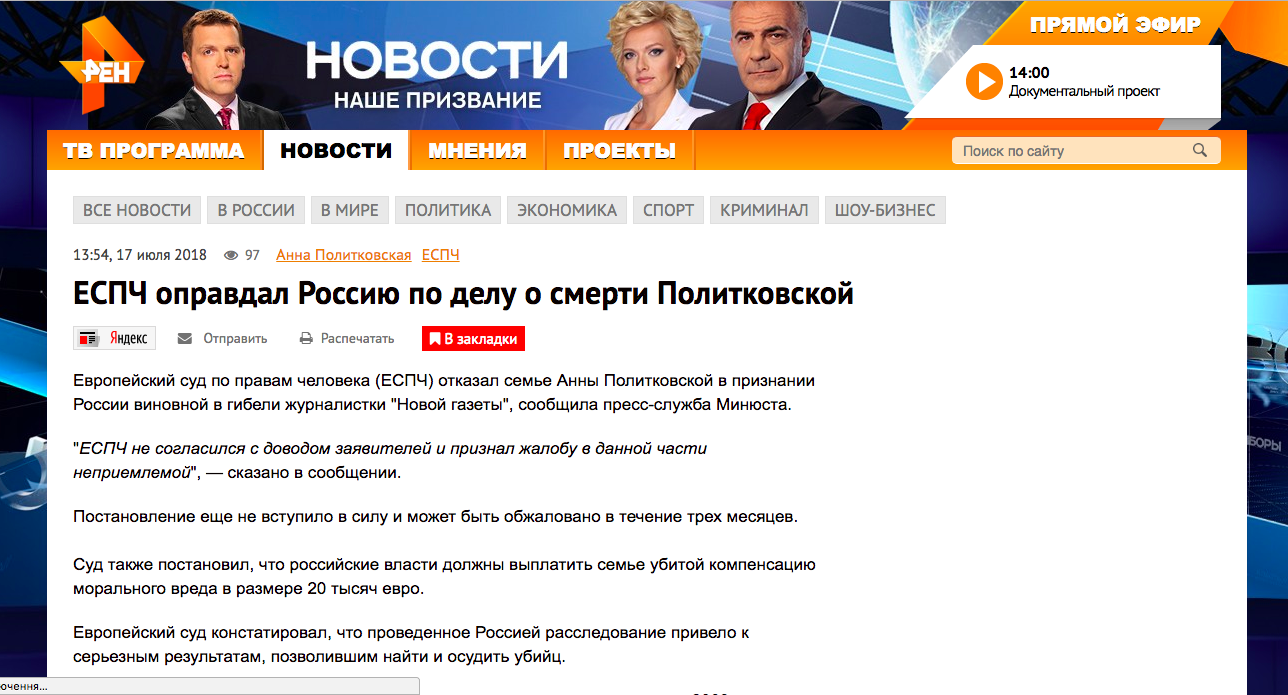 According to Russia's Justice Ministry, on July 17, 2018 the European Court of Human Rights ruled on the Mazepa v. Russian Federation (Mazepa was Politkovskaya's maiden name)  filed by Politkovskaya's relatives. The court did not agree with the plaintiff's argument that the Russian Federation was responsible for Politkovskaya's loss of life, the Ministry claimed.
The Ministry also claims that the Court found Russia's investigation into Politkovskaya's killing –  she was gunned down in the stairwell of her apartment building – to have been competent . Meanwhile Russia's conservative pro Orthodox Church site Tsargrad expressed outrage that the court ordered 'innocent Russia" to pay 20,000 euros compensation to Politkovskaya's family.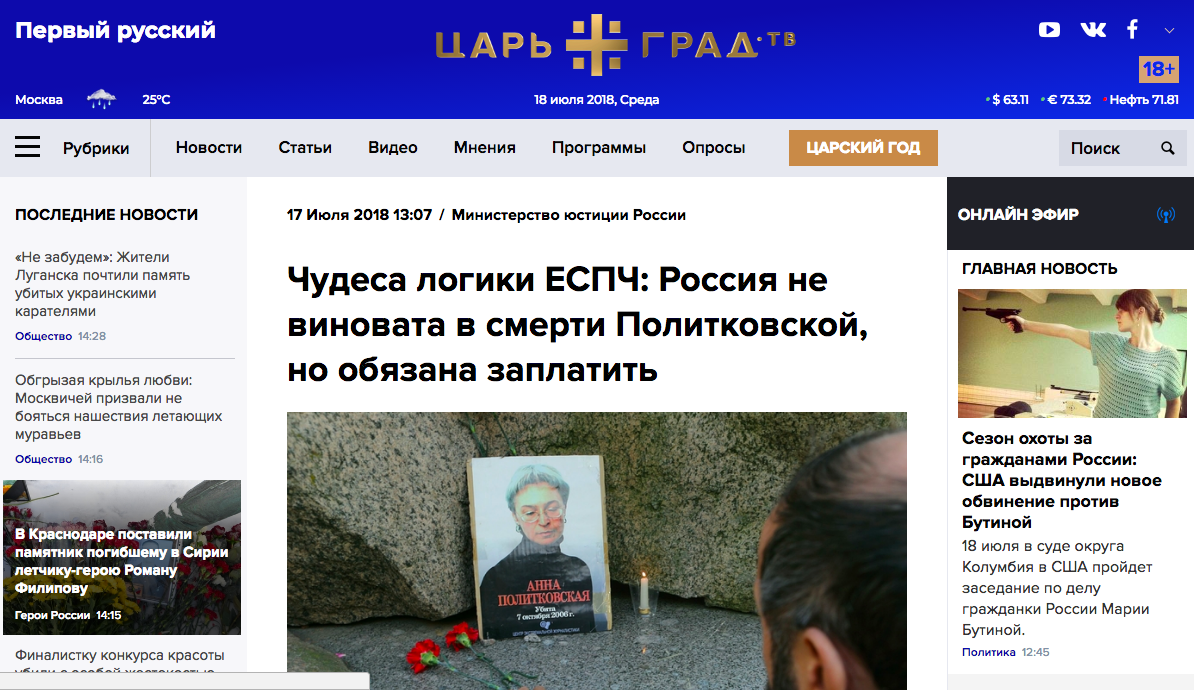 The Ministry's claims and the stories that stem from those claims are complete fakes. In fact the Europan Court of human rights heavily criticized Russia's investigation into the Politkovskaya murder. The court ruled that Russia had "failed to take adequate investigatory steps to find the person or persons who had commissioned the murder" and violated the European convention on Human Rights.
"An investigation into such a killing could not be considered adequate if no efforts had been made to identify the person who had commissioned the crime and paid for it," the court said in its ruling.
The judges at the court ruled that Russian investigators should have explored possibilities that the killing was ordered by "agents from Russia's FSB domestic secret service or of the administration of the Chechen Republic".
According to Anna Politkovskaya's relatives and colleagues, she was shot dead two hours before she ws to submit her story exposing torture in Chechnya. Two days prior to her murder Politkovskaya told Radio Free Europe/Radio Liberty that she was writing the story and had plenty of evidence including photographs.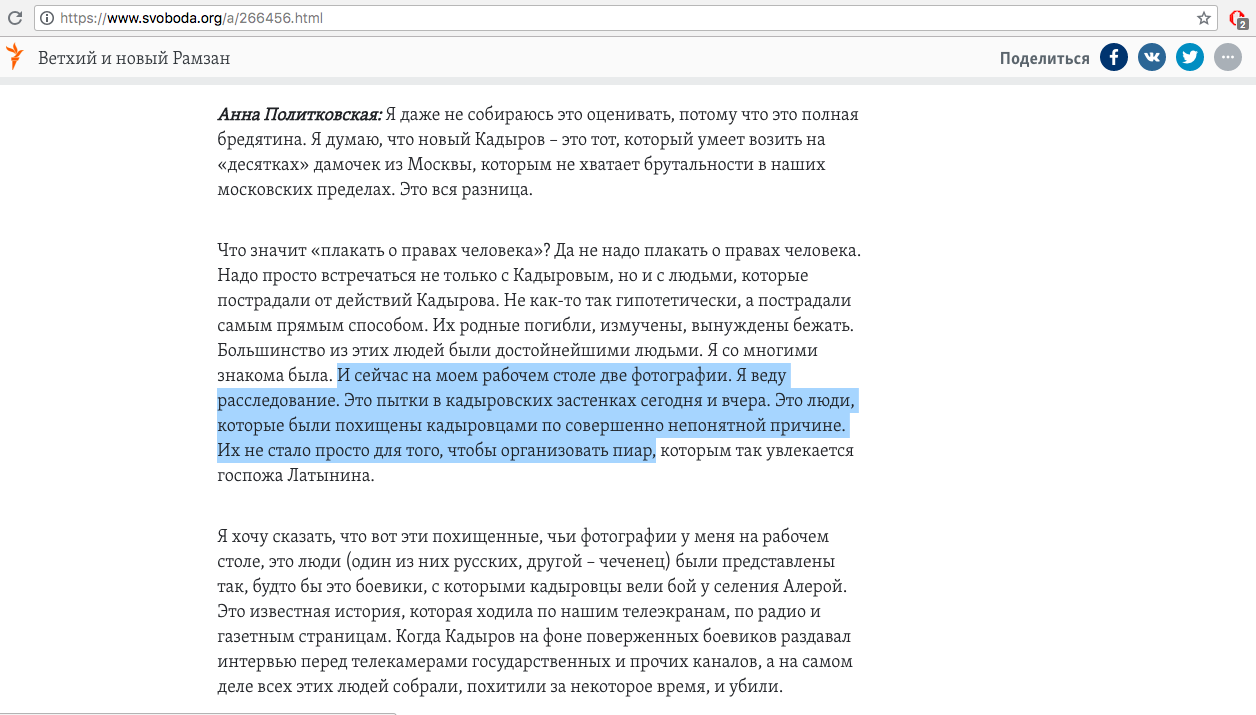 Politkovskaya was an outspoken critic of Russian President Vladimir Putin's policies, openly wrote about Russia's human rights violations in Chechnya and the repressive policies of the republic's strongman leader Ramzan Kadyrov. She was killed on Putin's birthday.
Politkovskaya repeatedly traveled to war-torn Chechnya, Dagestan and Ingushetia. In October 2002 she participated in the negotiations with Chechen terrorists  who had taken some 700 Moscow theatergoers hostage.