Russian media distorted the words of Lithuanian President Dalia Grybauskaite and Estonian Foreign Minister Sven Mikser in order to create the impression that the European Union is seeking to improve relations with Russia at any cost. At the same time these fake Russian stories completely ignore the reasons for European sanctions and current tense relations with Russia, i.e., Moscow's annexation of Crimea and its proxy war in eastern Ukraine.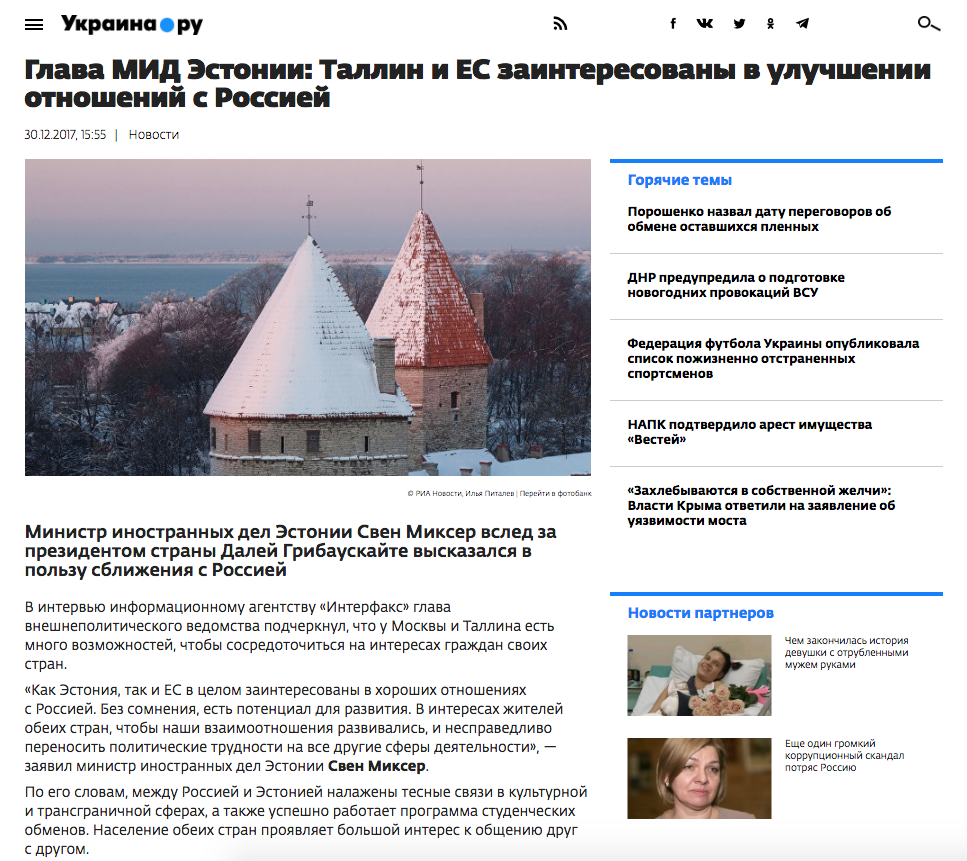 Pro-Kremlin site Ukraina.ru began this series of fakes with a story on December 24 claiming that Latvian President Dalia Grybauskaite said "it is better to cooperate with Russia rather than fight". A few days later Ukraina.ru continued the narrative claiming that  following President Grybauskaite's lead Estonian Foreign Minister Sven Mikser was advocating closer relations with Russia. Argumenty I Fakty went even further and declared that President Grybauskaite had declared her readiness to cooperate with Russia without putting forward any demands.
TASS, Ukraina.ru, RT, Rosbalt, RIA Novosti, Gazeta.ru, Rossiyskaya Gazeta, Life.ru, Argumenty I Fakty, Politikus, Versia.RU, RIA Novosti Ukraina, Politobzor, Argumenty.ru, Izvestia, , Informburo.dn.ua and other published distorted and doctored versions of what the Lithuanian President and Estonian Foreign Minister actually said.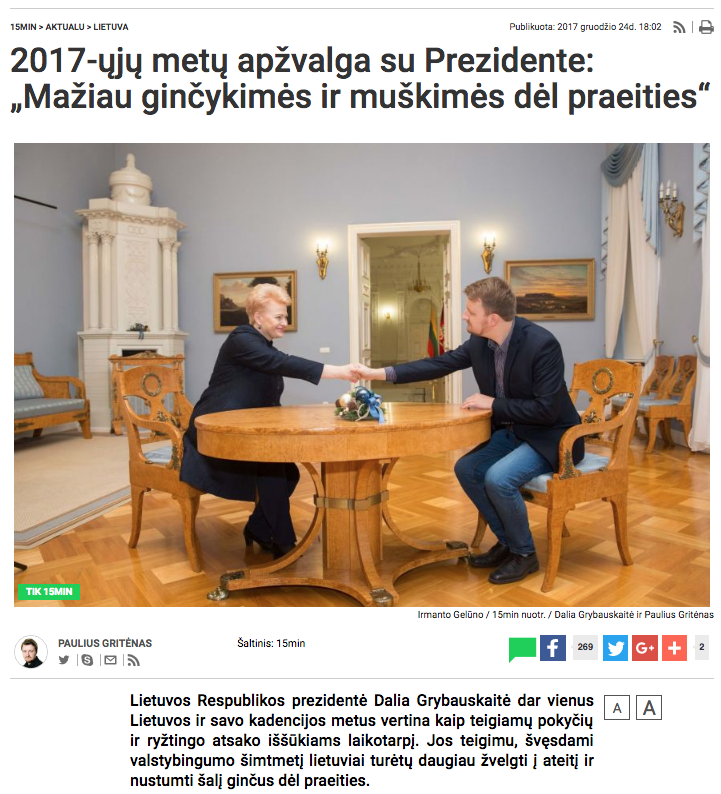 In an interview with 15min, one of the largest news websites in Lithuania, (owned by the Estonian media company Eesti media) President Grybauskaite was asked if she thought Russia would remain Lithuania's biggest threat in the next decade.
Grybauskaite said that Russia would likely remain difficult in the coming years and if the leader of the country remains the same, the situation will also remain the same.  "But I am not going to just wave my hand and say I don't want to the talk, everything changes, the geopolitical situation is changing and that is why we must be open to change" Grybauskaite said.
When asked if cooperation with Russia might be possible after certain changes, Grybauskaite said that leaving the occupied territories, being less aggressive and flexing less muscle and influence in the elections of other countries would make cooperation with Russia's neighbors possible. It is always better to communicate and negotiate than fight" Grybauskaite underscored.
Russian media completely ignored the views President Grybauskaite expressed and sweepingly concluded that the Baltic countries, previously known for their anti-Russian positions, have unexpectedly revised their attitudes towards Moscow.
Estonian Foreign Minister Sven Mikser meanwhile was interviewed by the Russian agency Interfax. Asked to characterize Estonian-Russian relations, Mikser said that both Estonia and the EU are interested in good relations with Russia. For those relations to improve Ukraine's territorial integrity and sovereignty must be restored. "We can't just look through our fingers as Russia violates international law in Ukraine. In the 21st century, no democratic country will recognize the change of borders through force" Mikser said, adding that Estonia was committed to EU sanctions against Russia and only Russia itself could change the current situation.
Russian media once again ignored the details of Minister Mikser's views focusing only on his general premise that Estonia and the EU are interested in good relations with Russia.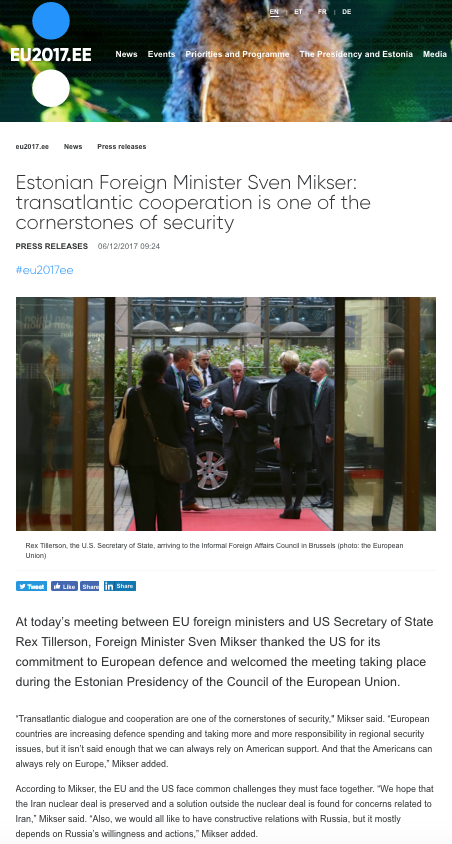 Mr. Mikser has reiterated his position in several recent interviews, always underscoring that normalization of relations between the European Union and Russia first and foremost depends on Russia.