The Russian website Voyennoye Obozrenye (Military Review) completely distorted an interview with the new Finnish Defense Minister Antti Kaikkonen, claiming that the minister "does not see a Russian military threat" for Finland. In fact, Kaikkonen said that while he does not see "a direct military threat from Russia", Finland is developing its defense capacity precisely because one of its neighbors is Russia. Since 2014 Finland has officially reduced its contacts with Russia, supported sanctions against Moscow and increased its defense capabilities. Finland's security policy takes into account the possibility of a Russian military threat.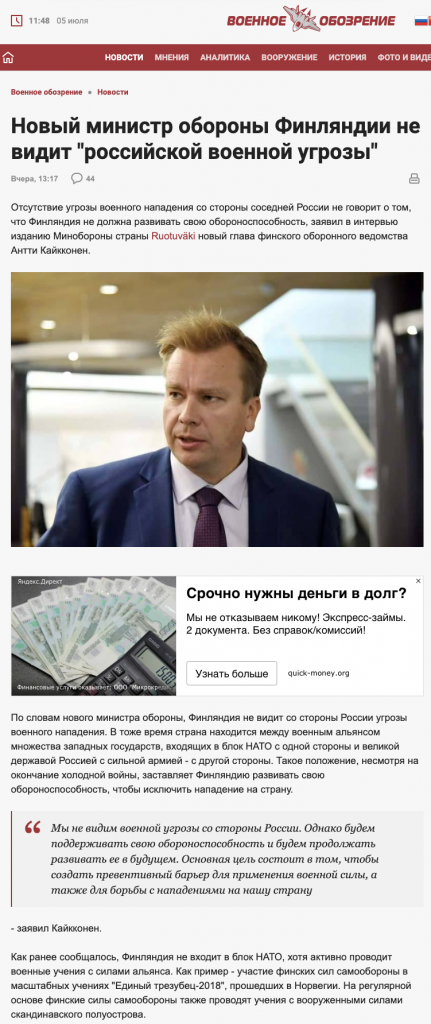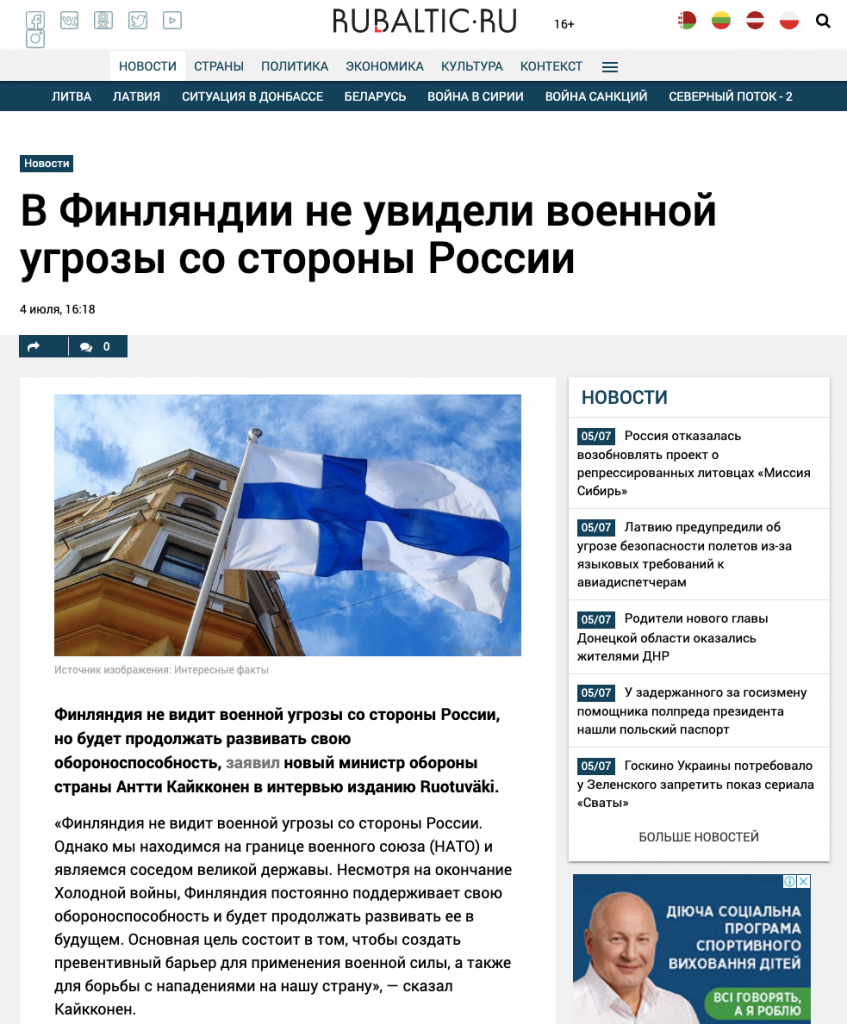 The Russian media version of the Kaikkonen interview does not at all correspond with the actual interview published in the Finnish military newspaper Routuväki .
According to Voyeannoye Obozrenye Kaikkonen said the following: "We do not see a military threat on the part of Russia. However we will maintain our defense capability and will continue to develop it in the future. The main goal is to create a preventive barrier for the use of military force, as well as to combat attacks on our country".
In the original interview Kaikkonen is asked whether Russia is a military threat for Finland. Finland is not directly threatened by Russia, Kaikkonen responds, and explains further that to understand the importance of defense for Finland, one must understand that on one side it borders with a military alliance and on the other side with a huge country. "Despite the end of the Cold war Finland constantly supports its defense capabilities and will continue to develop them in the future. The main goal of Finland's defense capabilities is to create a preventive barrier to the threat and use of military force and to counter attacks against our country" Kaikkonen said.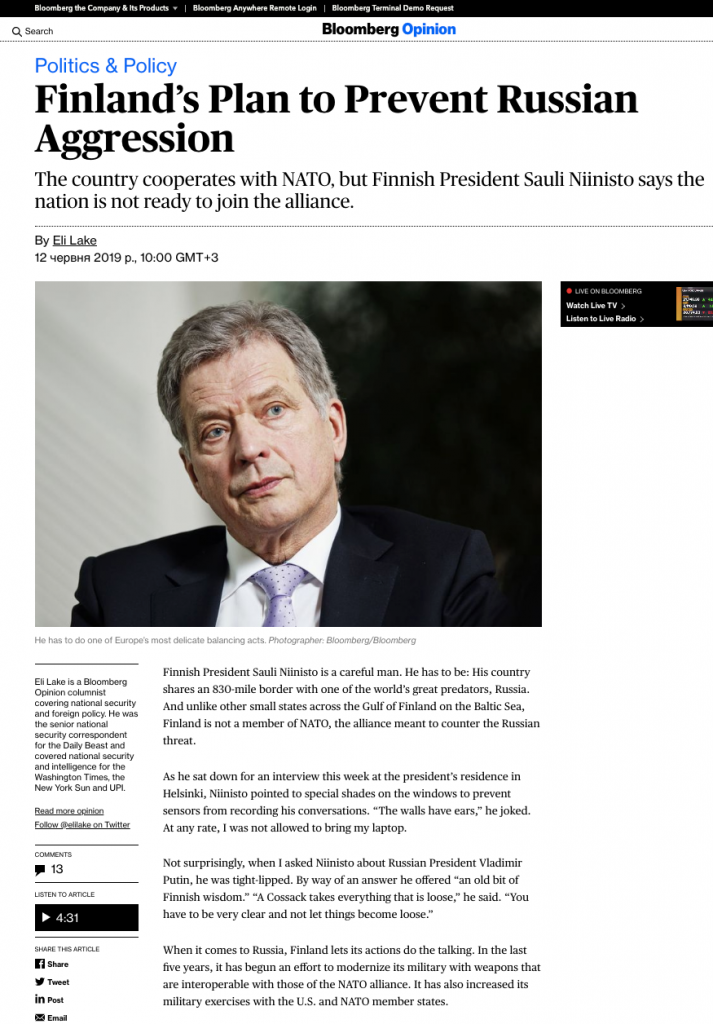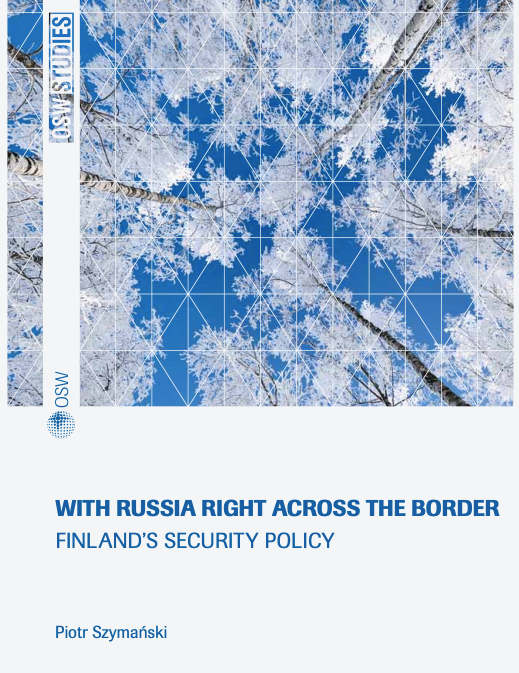 When it comes to Russia, Finland lets its actions do the talking, writes Eli Lake in a June 12 Bloomberg opinion piece entitled Finland's plan to prevent Russian aggression. "In the last five years, it has begun an effort to modernize its military with weapons that are interoperable with those of the NATO alliance. It has also increased its military exercises with the U.S. and NATO member states" Lake writes.
Finland's entire military potential since the end of the Cold War has been developed and profiled to conduct a defense operation in case of a Russian attack. The fact that it has retained a conscript army focused on territorial defense with a large trained reserve proves that Finland does not rule out the possibility of a classic land invasion (with a key role of Karelian Isthmus direction writes Piotr Szymanski in a Center for Eastern Studies white paper With Russia Right Across the Border: Finland's Security Policy.
However, Finnish experts believe that a Finnish Russian war that is not part of a broader Russia–NATO conflict is unlikely, and that a potential conflict in the Nordic-Baltic region would most likely involve Russian strikes on Finland's naval and air bases in order to prevent NATO from using them, for example, to defend the Baltic states. Nor are they ruling out the possibility of subversive actions according to the scheme adopted by Russians during the annexation of Crimea, Shimansky writes.
Finland is an example for other countries in countering hybrid threats from Russia, in particular disinformation and the spread of fake news.