Ukraina.ru and scores of other Russian media reported that Ukrainians were rioting throughout the country because they had no heat or hot water in their homes. People are in despair, this is a social tragedy, murder by cold has come to Ukraine declared Komsomolskaya Pravda.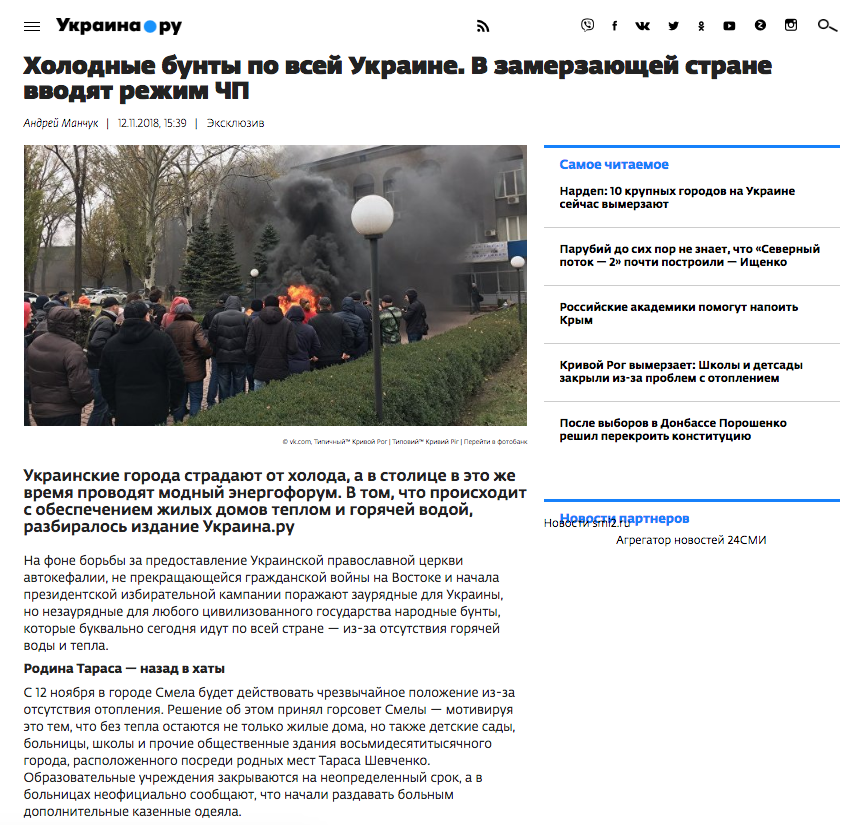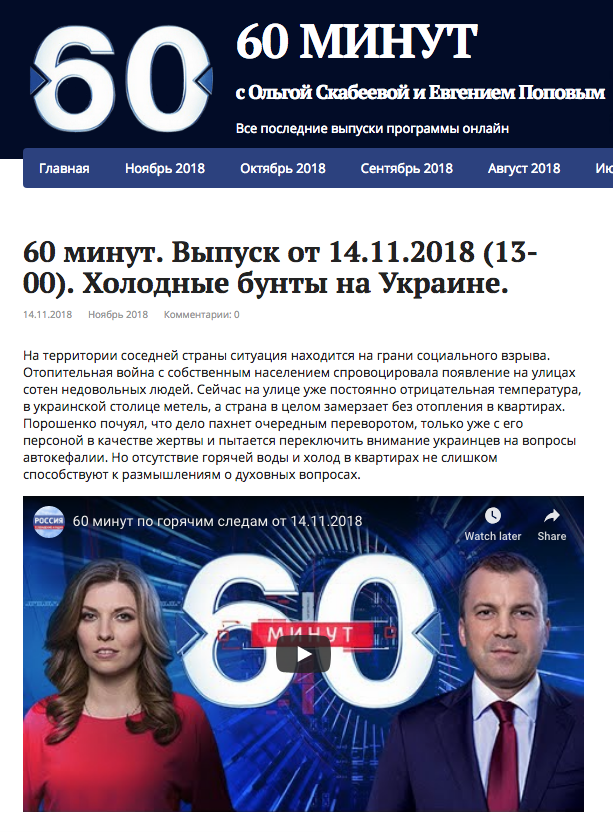 "Ukraine is on the verge of social turmoil. The cold war the government has been waging against its population has brought thousands of people onto the streets. The outside temperature is minus 5 Celsius, people are freezing, the radiators are ice cold and the President is frightened of a possible coup" announced the presenters of the 60 minutes program on Russia's state television channel Rossiya 1.
Ria Novosti, Izvestia, Mir24 , Politnavigator, UkrRudProm and many others dutifully disseminated this fake.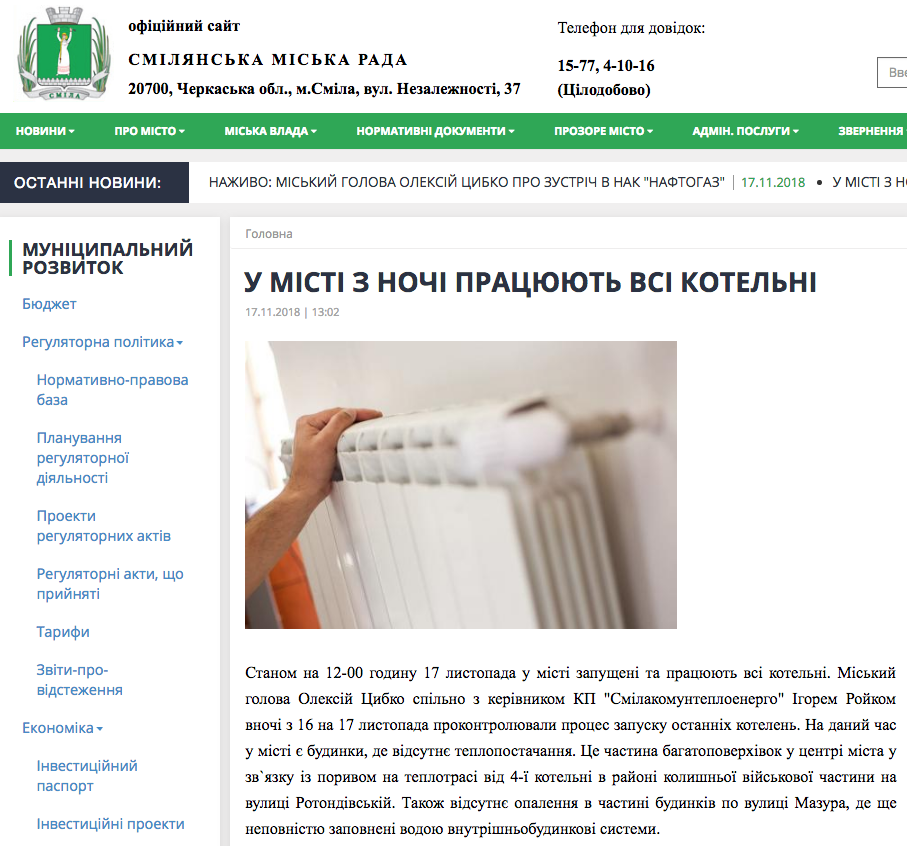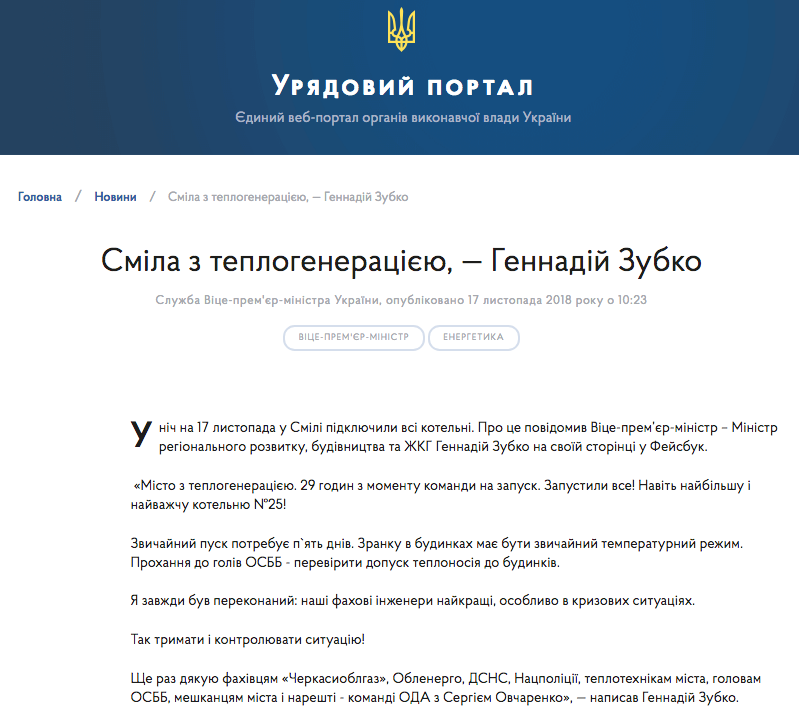 Several Ukrainian cities did in fact turn the heat on somewhat later than scheduled, but certainly the country was not freezing to death as Russian media hysterically claimed. One city with heating issues is Smila in Cherkasy province south of the Ukrainian capital Kyiv with a population of eighty thousand, but even here as of November 17 the entire city had heat.
The city government is being held responsible for the late start in heating homes. Ukraine's government has launched a criminal investigation into the incompetence of the local authorities and the national parliament has proposed that the city hold special elections to remove the current local government from power.
Other cities such as Kryvyj Rih in southeastern Ukraine reported that as of November 15 85% of the city was receiving heat.
Ukraine's central gas provider Naftogaz Ukrainy warned that heat supply might be delayed in five Ukrainian cities as local utilities had run up considerable debts and were not adhering to their repayment schedules. According to a Cabinet of Ministers order, until those debts are paid, Naftogaz cannot provide local utility companies with gas at a discounted rate.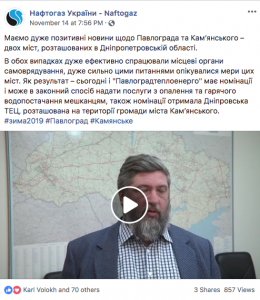 According to Naftogaz deputy chairman Serhiy Pereloma, most local utilities pay their bills in a timely manner and are prepared for the cold winter months, but every year some irresponsible mayors realize its time to turn the heat on only when people start complaining and demonstrating by their offices.