The fourth anniversary of Ukraine's Maidan Revolution is not only an important historical milestone for the country; it is also a significant disinformation opportunity for the Kremlin propaganda machine.
Vesti nedeli  (News of the Week),  a weekly current affairs show on the state run Rossiya 1 television network and its presenter, Russia's main spin doctor and TV commentator Dimitry Kiselyov took full advantage of the anniversary to claim the Maidan demonstrations were organized by Americans and the more than 100 protesters who lost their lives were shot by hired Georgian snipers.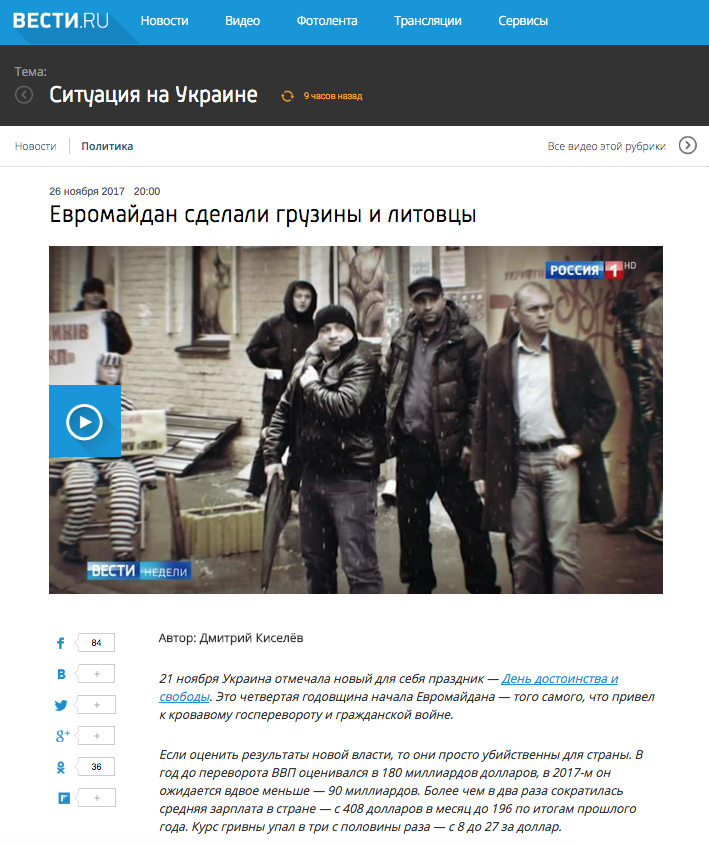 For Mr. Kiselyov, the Ukrainian demonstrations were not protests against government corruption and impunity, but such that "brought on a bloody putsch and a civil war". Kiselyov rattles off a list of what he says the revolution has wrought – shattered economy, reduced salaries, collapsing currency, lack of foreign investment, degrading health and education systems – completely ignoring such salient details as Russia's annexation of Crimea, the Russian army's role in the Donbas war or Russia's trade blockade against Ukraine that continue to negatively impact on the country's development and progress.
Despite Mr. Kiselyov's  on air rants about Ukraine's collapsing economy for over three years, international ratings agencies continue to upgrade Ukraine's economic forecasts and World Bank data give positive assessments of Ukrainian reforms.
As for Ukraine's "collapsing currency", according to prominent economist and Atlantic Council senior fellow Anders Aslund, Ukraine's old incredibly high fixed currency rate led to a huge current account deficit that the country could not finance. Today the account is balanced, despite the fact that Russian trade sanctions destroyed three quarters of Ukrainian exports to the Russian Federation.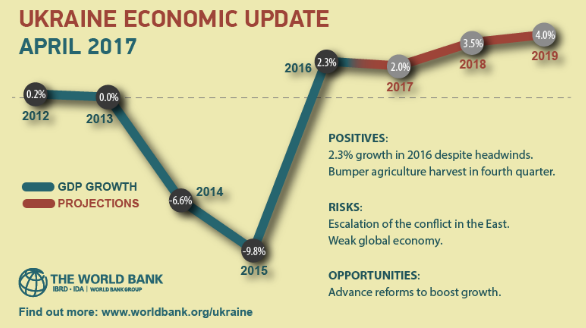 Kiselyov's claims that Ukraine's leading high-tech businesses are destroyed is also lie, as is the claim that Ukraine is exporting ever more raw materials. StopFake has debunked both claims.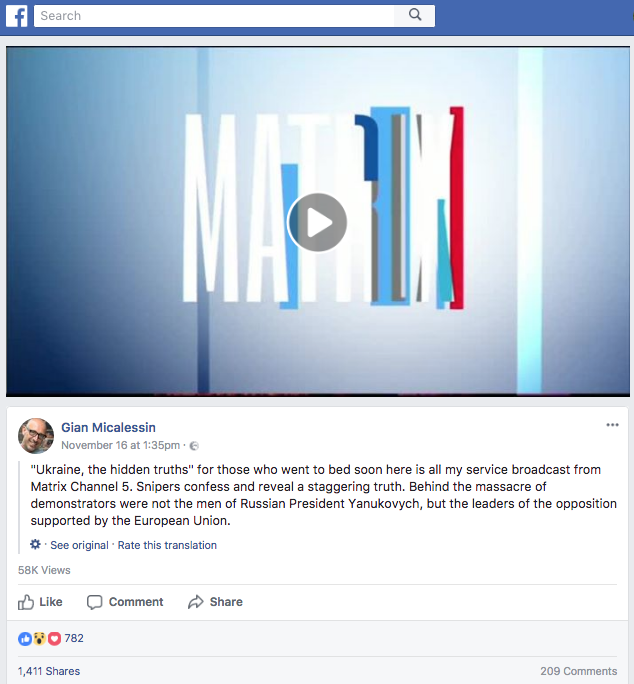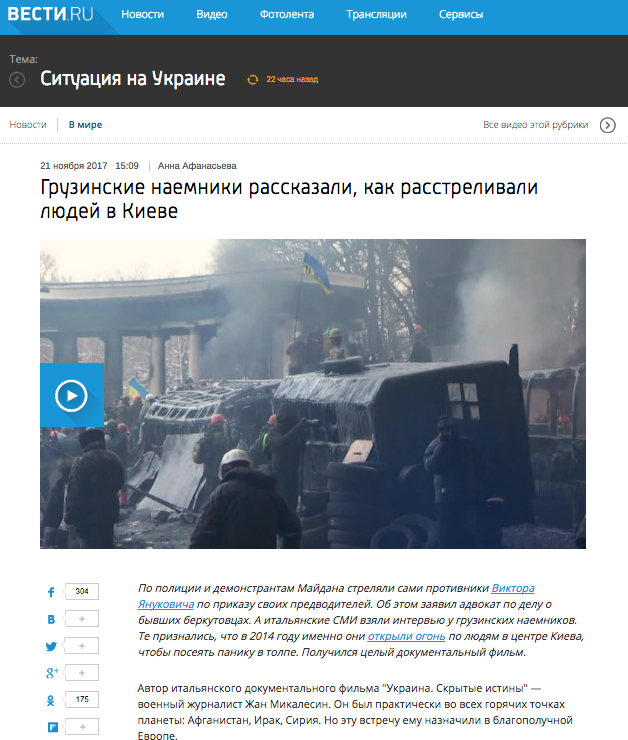 Immediately after Mr. Kiselyov's damning assessment of Ukraine's Maidan revolution and its aftermath, his Vesti Nedeli show featured another fake currently making the rounds in Kremlin friendly media, Italian journalist Gian Micalessin's investigative report called Ukraine, the hidden truth (Ucraina, le verita nascoste) which aired November 15 on former Italian Prime Minister Silvio Berlusconi's Matrix Canale 5 television station. Micalessin, who does not hide his sympathy for the Kremlin, was an activist with the Italian neo-fascist MSI movement in the 1970s. He presents the Ukrainian Maidan revolution as having been planned in the US with the purpose of regime change and claims that the killing of more than 100 activists was the work of Georgian and Lithuanian snipers overseen by an American handler.
Americans orchestrating the Maidan protests is a widely circulated favorite Kremlin narrative, while claims of Georgian snipers first surfaced way back in2014.
Gian Micalessin's alternative truth video was given pride of place by the usual pro-Kremlin media, starting with Vesti, NTV, Vzglyad, Moskovskyi Komsomolets, the Defense Ministry channel Zvezda, Kmosomolskaya Pravda, Ukraina.ru, Antifascist, Politnavigator as well as pro-Kremlin Ukrainian sites Vesti and Strana.ua. The German site Telepolis published by Heise Verlag featured a story about Micalessin's film as did the Canadian site Global Research and several Bulgarian sites.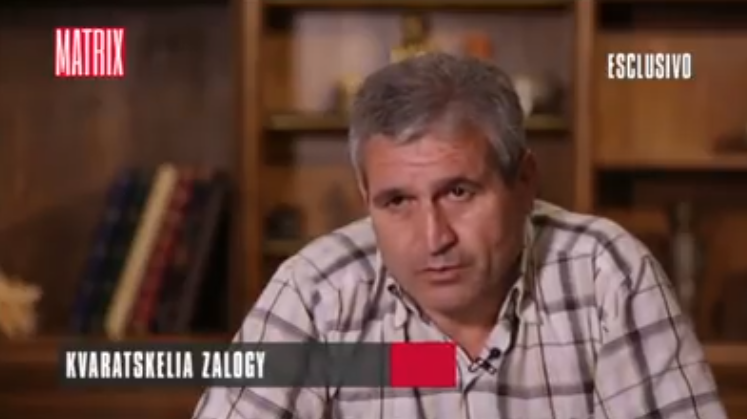 Micalessin's film is based on the "sensational admission by three Georgian mercenaries" – Alexander Revazishvili, Koba Nergadze and Zalogi Kvarateskelia, who Micalessin claims were sent by former Georgian President Mikheil Saakashvili to participate in Ukrainian opposition activities. (The Maidan shootings took place in February 2014, Mikheil Saakashvili's presidential term ended in November 2013. Ed)
Koba Nergadze claims he was recruited into Saakashvili's United National Movement, as proof he shows a party membership card filled with spelling mistakes, bearing the name of a nonexistent organization, the "Security service of defence". All three of the alleged Georgian snipers talk about their American curator Brian Christopher Boyenger and claim their actions were coordinated by Mamuka Mamulashvili, a Saakashvili associate.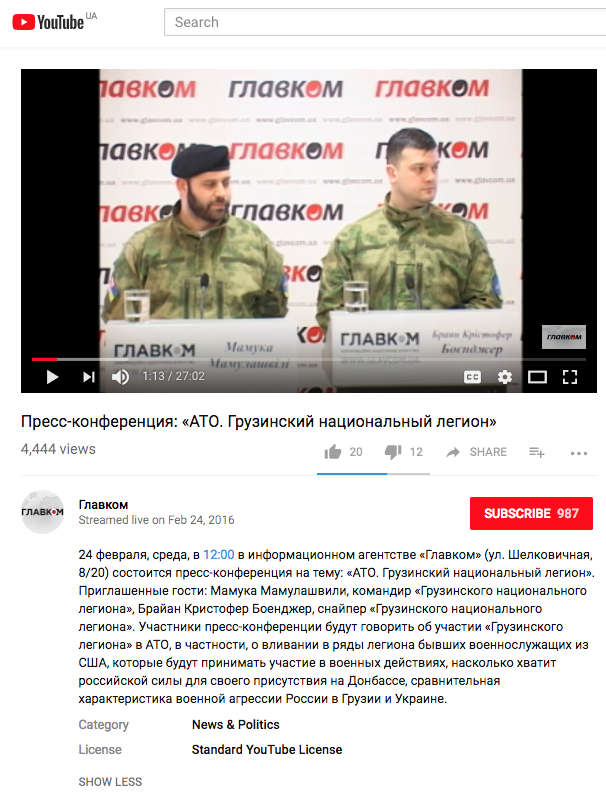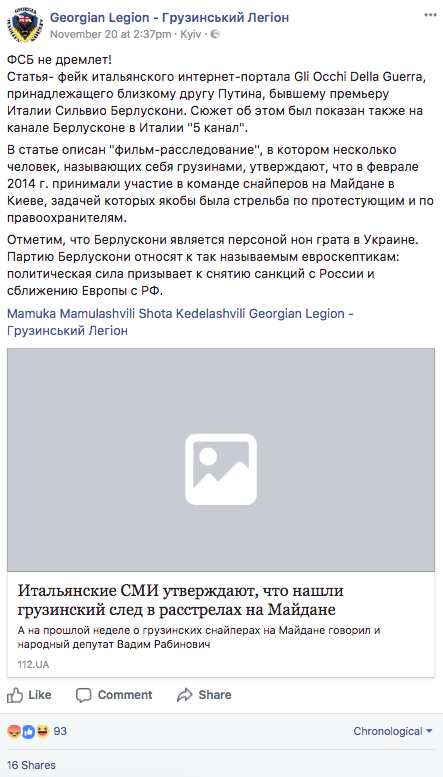 Micalessin uses video footage of a press conference featuring Mamulashvili and Brian Boyenger as implied proof of their participation in the shootings. He does not mention that the press conference took place on February 24, 2016 and was devoted to the Georgian National Legion and its role in the war in eastern Ukraine. Mamulashvili , the Legion commander says that he was not in Ukraine during the Maidan revolution. Boyenger said he was previously in Ukraine in 2015 to train volunteers.
The Georgian Legion has dismissed Micalessin's film as an attempt to discredit the Legion and Mamulashvili.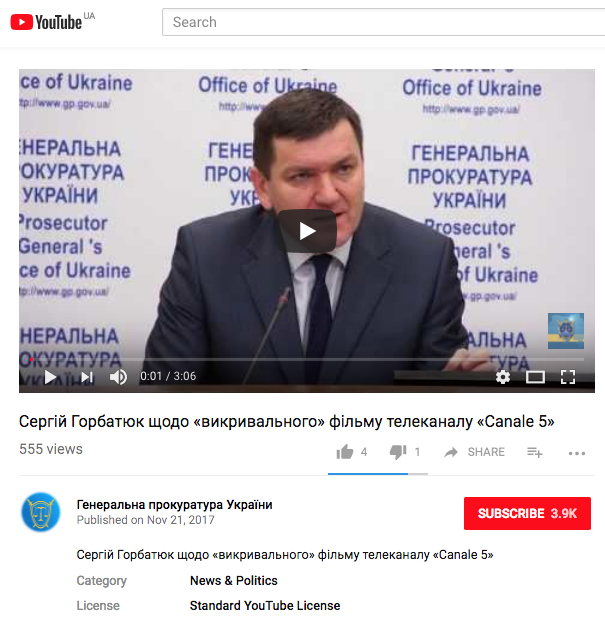 The film is filled with inaccuracies in the timeline of the shootings that took place on February 20, 2014. It features a video uploaded to YouTube by Konstantin Piontkovsky filmed shortly after the killing of Maidan activist Volodymyr Melnychuk. Someone is heard asking, where were they shooting from, from the Ukraina hotel, someone answers. Security camera footage showed that Melnychuk was killed by fire from the Ukrainian National Bank building.
The Ukrainian General Prosecutor's office expressed surprise that Micalessin did not contact any Ukrainian officials for his film. According to the offices's Special Investigations Department chief Serhiy Horbatiuk, the men named in the video were never in Ukraine. Their claims that they were shooting at both sides, the police and at demonstrators, are inaccurate and contradict all investigations and existing eyewitness testimony, Horbatiuk said.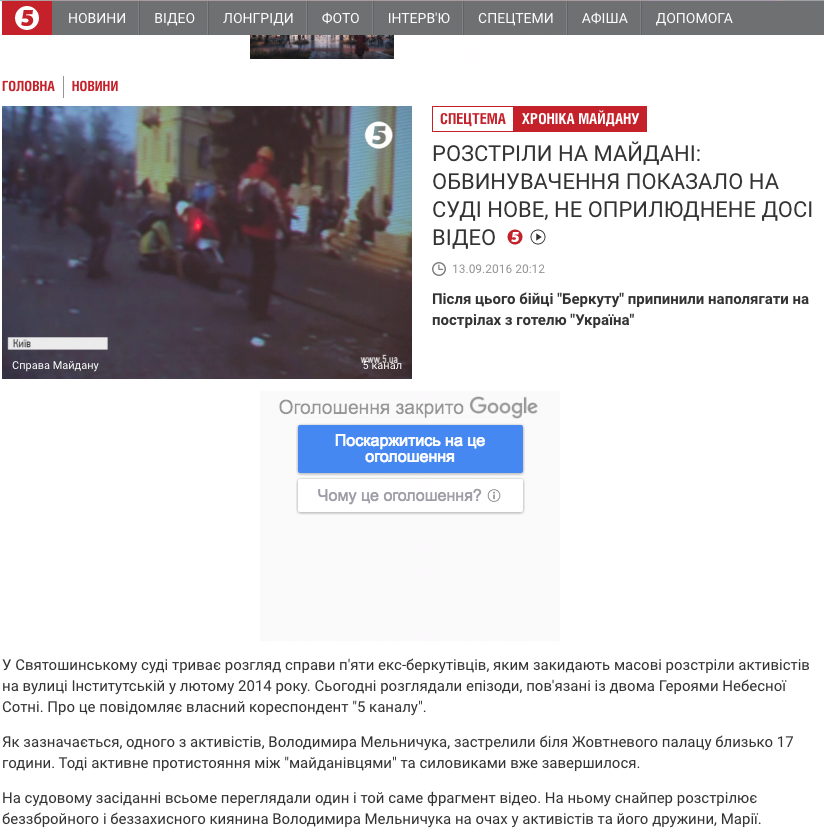 One of the Georgian snipers says they did not get direct orders to fire on anyone, another says such orders were issued, one says they stayed in a hotel in a southwestern area of Kyiv, another says they were based in a hotel on the Maidan. Two of the alleged snipers speak Georgian, the third speaks flawless Russian without any hint of a Georgian accent.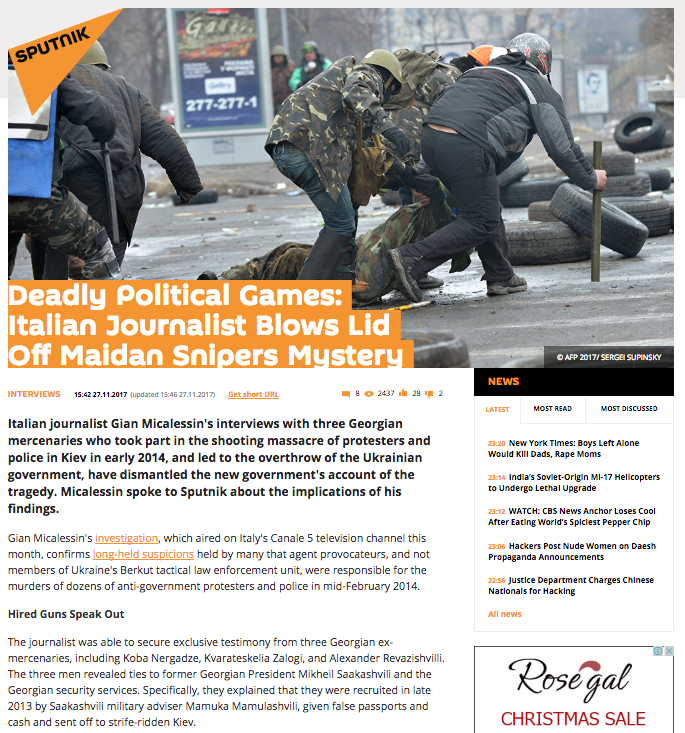 Recently Micalessin gave an interview to the Russian propagandist Sputnik agency claiming that all three Georgian snipers told him the same version of the story, calling it "a new perspective on the events of February 2014".