Ukraine is unable to return Donbas and Crimea under its jurisdiction, Russian propagandist media announced on May 17, seemingly citing the United States Special Representative for Ukraine Negotiations Ambassador Kurt Volker. Volker admits Kyiv unable to return Crimea and Donbas, RT's headline declared, while Moskovskyi Komsomolets went even further, advising Ukraine to come to terms with the loss of Donbas and Crimea, while Gazeta.ru laconically explained simply that Russia is too strong.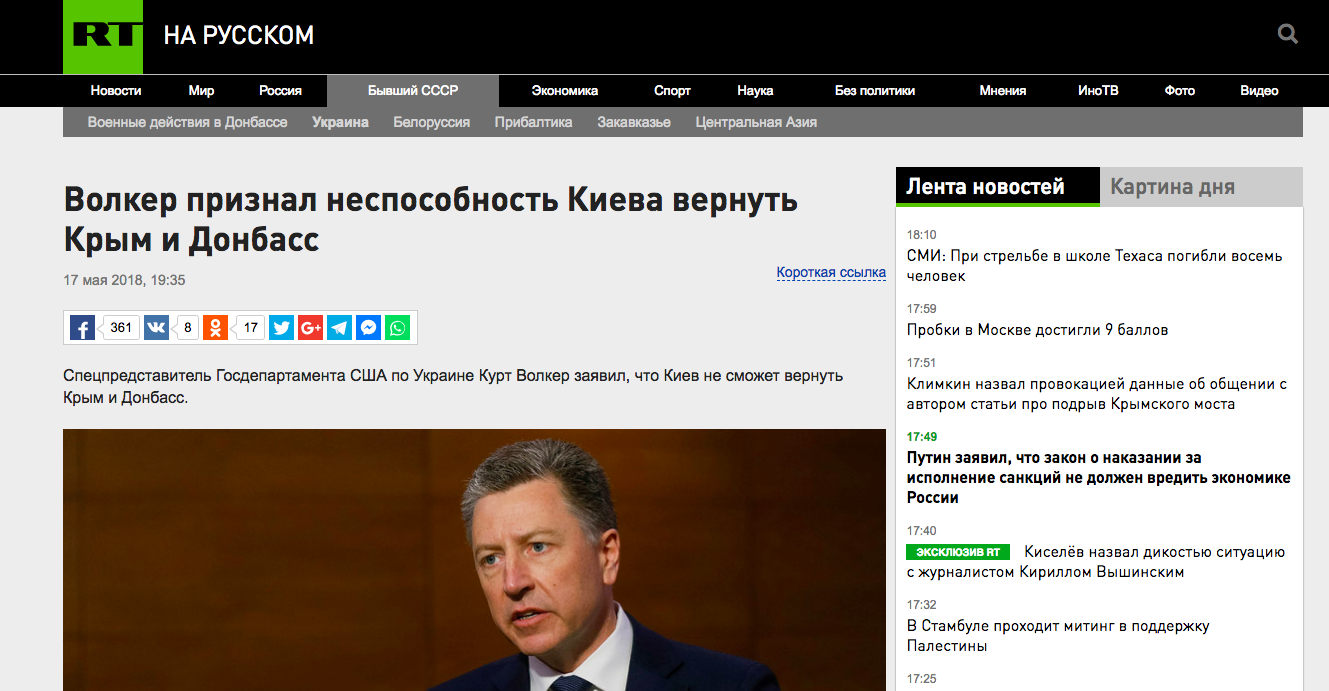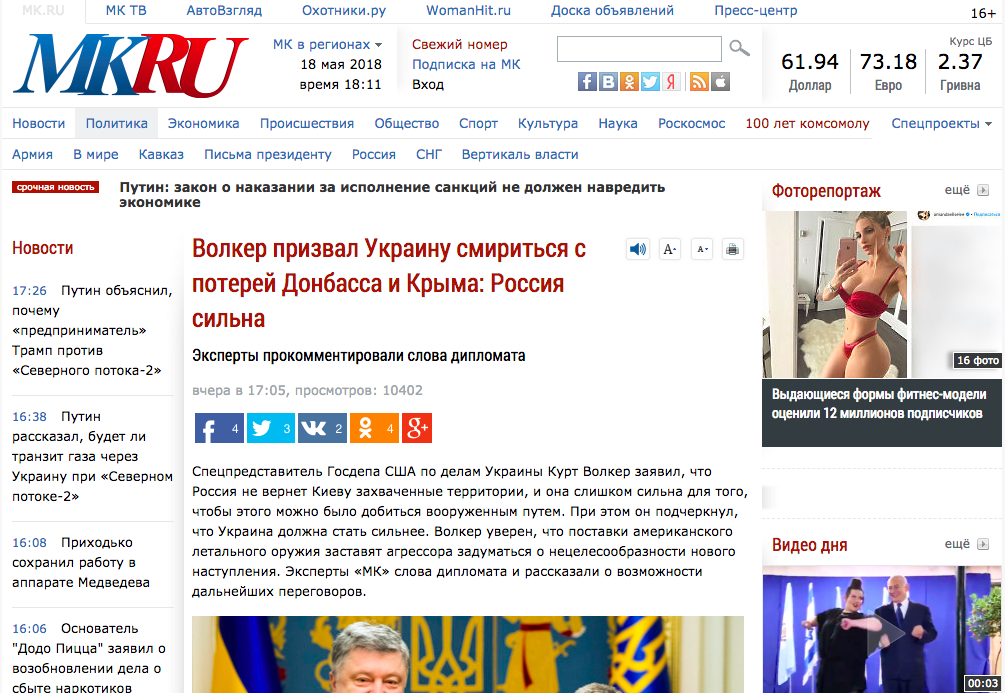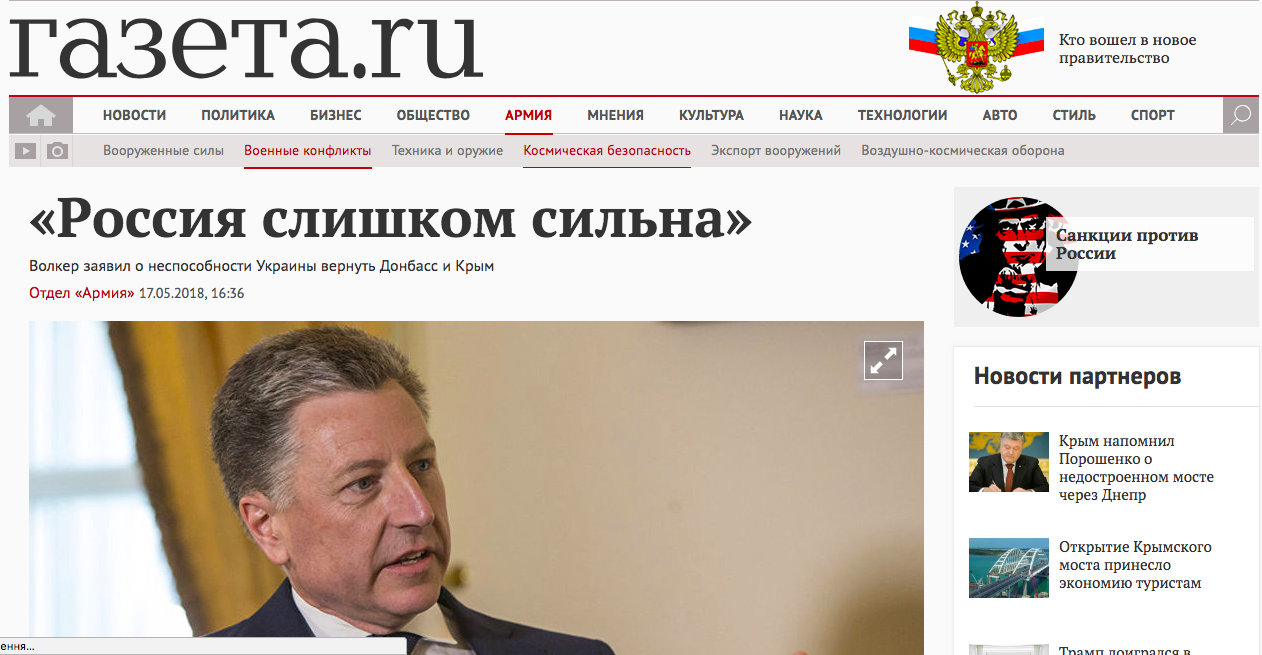 Volker arrived in Ukraine on May 14 with the goal of finding out more about the humanitarian situation in occupied Donbas.
Russian media focused on one phrase in Volker's statements to the BBC, completely ignoring context and background. Volker does say that Ukraine will not be able to return Crimea and the Donbas by force, only diplomacy and sanctions will advance Ukraine's cause in this matter, he continues. This is his full quote (video 01:43):
"There's no way the Ukrainians could take the territory back that's already been taken by the Russians, the Russians are just too powerful. But the cost to Russia of further advancement is already increased and will continue to increase. And if that's the case then you have to ask yourself if you're sitting in Moscow, what are we getting out of this? We're getting Russian casualties, soldiers being killed fighting in Ukraine, for what? That's why I hope they will see there is no benefit for them but the price will continue to grow. So why not exchange this for something positive, such as lifting sanctions? This will be something positive on the Russian agenda with the rest of the international community."
Another way of restoring peace in Donbas Kurt Volker said is to provide Ukraine with lethal weapons for defense purposes and introduce peacekeepers. Volker does not think that it is too late for this, quite the contrary.
Volker has been a key figure in persuading the American administration to provide Ukraine, earlier this month, with state-of the art Javelin anti-tank missiles. These will considerably increase casualties for Russia in any future large-scale attack against Ukraine. He has been waiting for more than three months for Moscow to respond to his proposals to introduce UN-mandated peacekeepers into Donbas, including at the Ukrainian-Russian border, and for the withdrawal of pro-Russian forces.
"The Ukrainian question is relevant as never before. If you look at the humanitarian situation [in the east of Ukraine], look at the level of violence – this issue is relevant as never before. And we have a way to solve it – we need Russia to take this seriously" Volker said.
Volker reiterated the need for a peaceful settlement of the Donbas conflict in a VOA interview, and said he wants to focus the world's attention on the Russian-Ukrainian war.