Spain's Público newspaper featured a story last month claiming that Kyiv was demanding that the European Union extradite 50 European antifascists, including 7 Spaniards to Ukraine for suspicion of terrorism. Among those named by Público was Eleonora Forenza, a member of the European Parliament from Italy's Communist Refoundation Party. The 50 people mentioned in the Público article are members of various communist movements who took part in what they call "the anti-fascist caravan in the Donbas". The group traveled to the Donbas region on April 29-May 5, entering the Russian occupied territory in eastern Ukraine by crossing the uncontrolled border from Russia, in violation of Ukrainian law.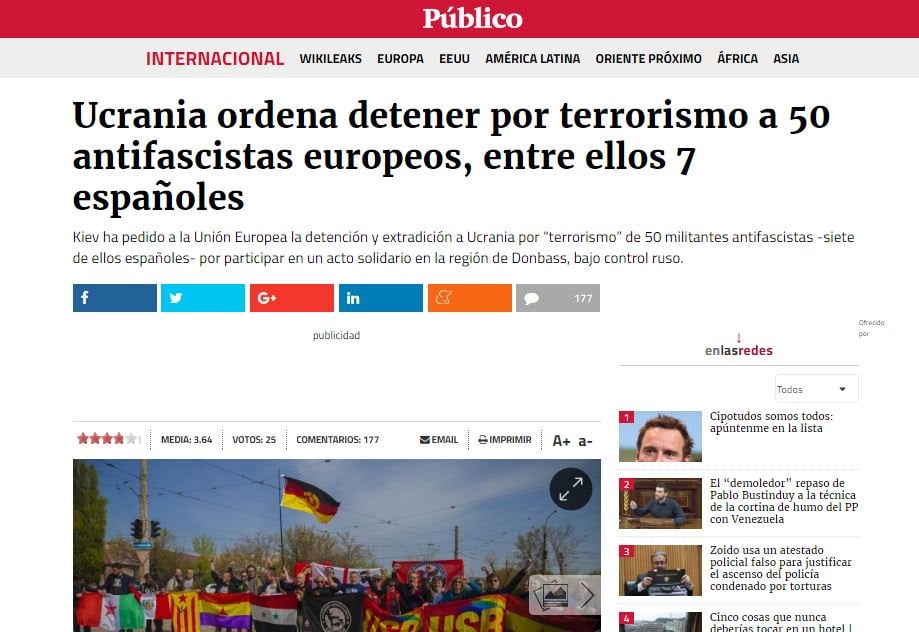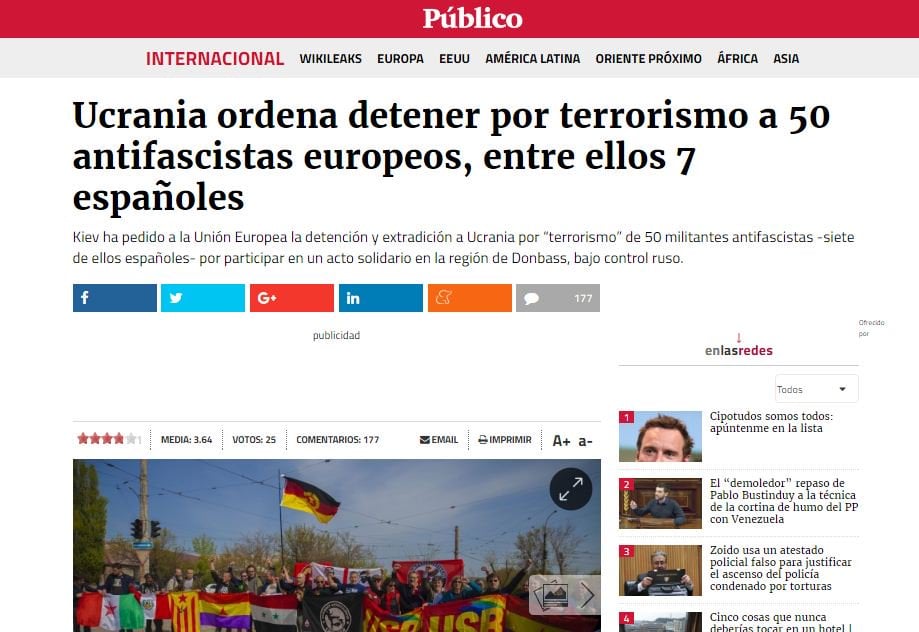 Ukraine's General Prosecutor's Office (GPO) is responsible for extraditions. In a written response to StopFake's inquiry about the alleged extradition, the GPO said they had not received any requests for such an extradition from Ukrainian police, nor had they issued any extradition requests to EU authorities.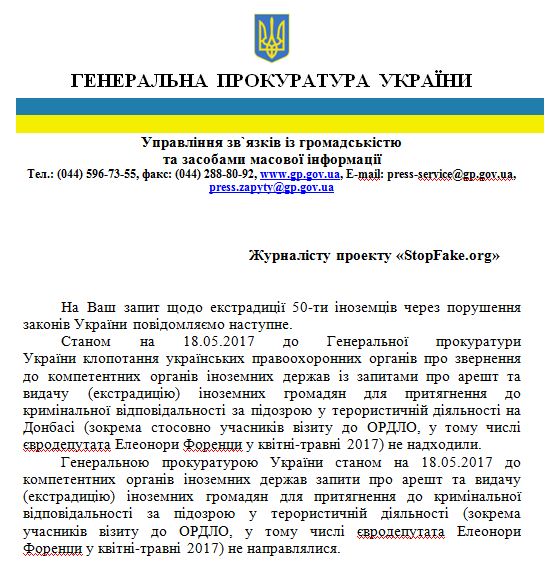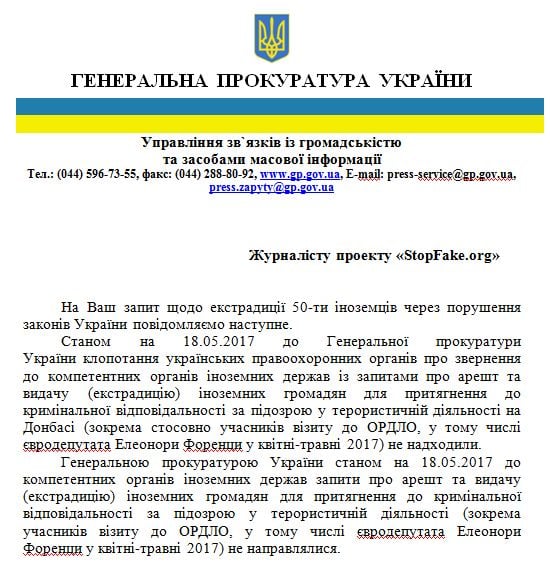 Público cites a Ukrainian Foreign Ministry note sent to Italy on April 28 allegedly requiring Forenza's detention and extradition. The newspaper  also claims that Kyiv was insisting Italian authorities arrest Fore'nza and the rest of the group before they arrive in Donbas. Ms. Forenza makes the same claim on her Facebook post of May 5. Her timeline is filled with posts repeating this fake claim to several Italian media such as La Reppublica, and others.
This fake was also disseminated by the Russian-language Communist publication Red Spring.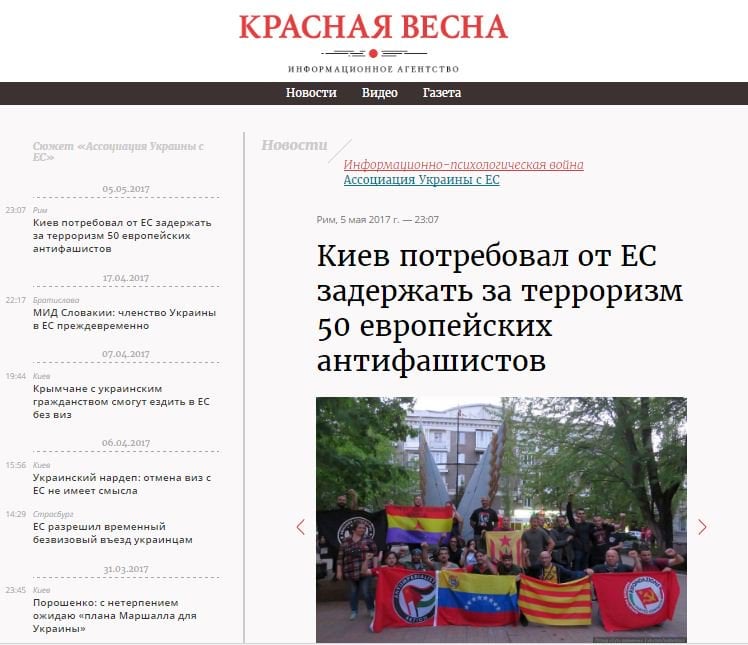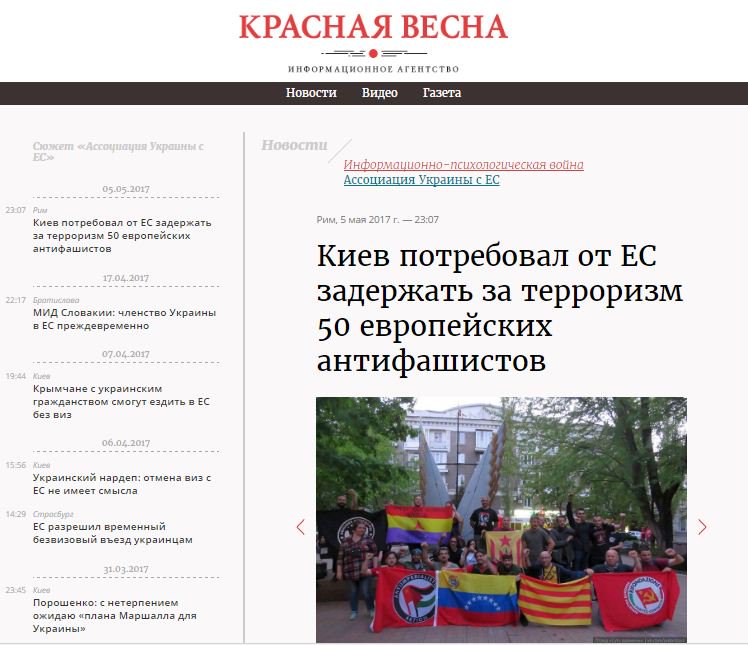 According to Ukraine's Ambassador to Italy Yevhen Perelyhin, Ukraine's Foreign Ministry sent a note to its Italian counterpart on the eve of the group's visit explaining that visiting the occupied territories was in violation of Ukrainian law and asking Italy to take measures to stop the visit. There is no mention of arrests, extraditions or accusations of terrorism.
Forenza and her group traveled to Russian occupied eastern Ukraine for a communist May Day meeting. The visit was a private initiative and does not reflect Italy's official position, said Italy's Foreign Ministry.