Russian propagandist media not only peddle endless disinformation about Ukraine, they also regularly disseminate some of the most outrageous conspiracy theories.  The latest such theory is that according to a cache of emails released by Wikileaks, newly elected French President Emmanuel Macron helped organize the Maidan protests in Ukraine.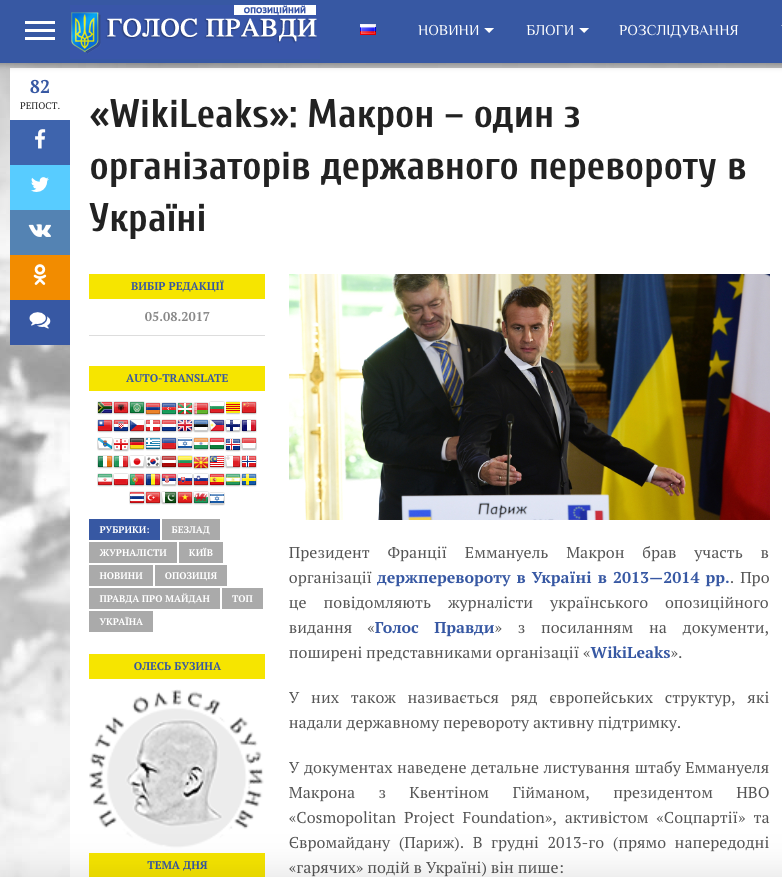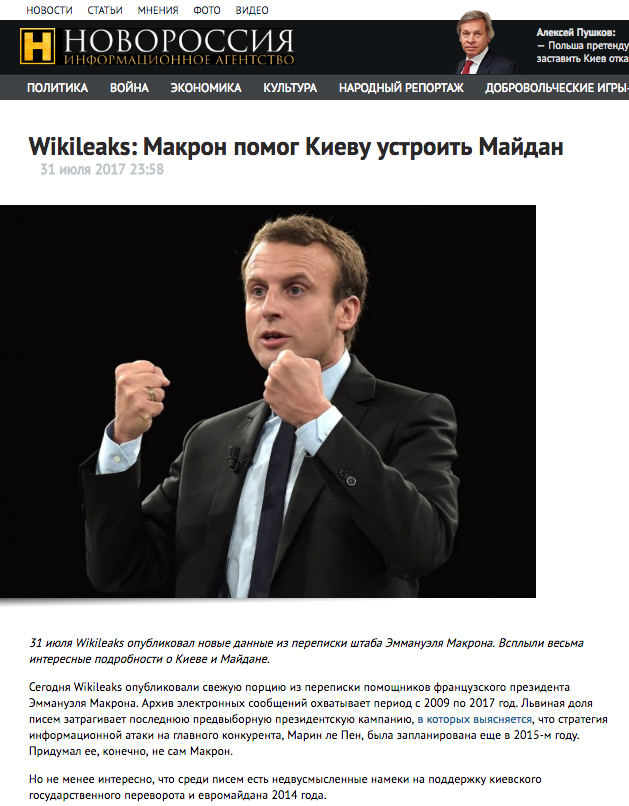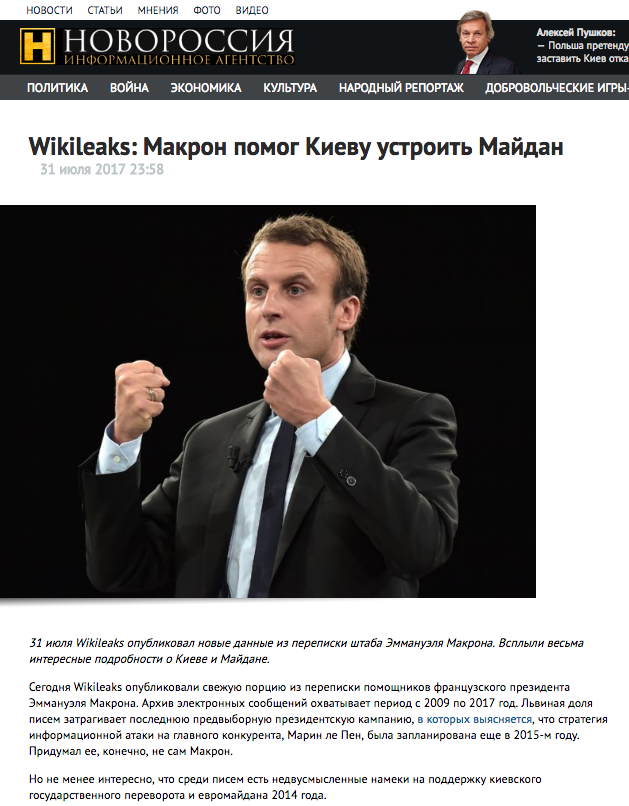 The Novorossia information agency claims that the Macron email exchanges show "unambiguous allusions of support for the coup" in Ukraine and for the Maidan protests. This is enough for Russian propagandist sites to conclude that Macron was involved in organizing the mass demonstrations that erupted in Kyiv in 2013 demanding closer European integration.
The Novorossia  fake story was further reprinted by Tsargrad TV, Garyachaya Linia, DNR, and Antifascist.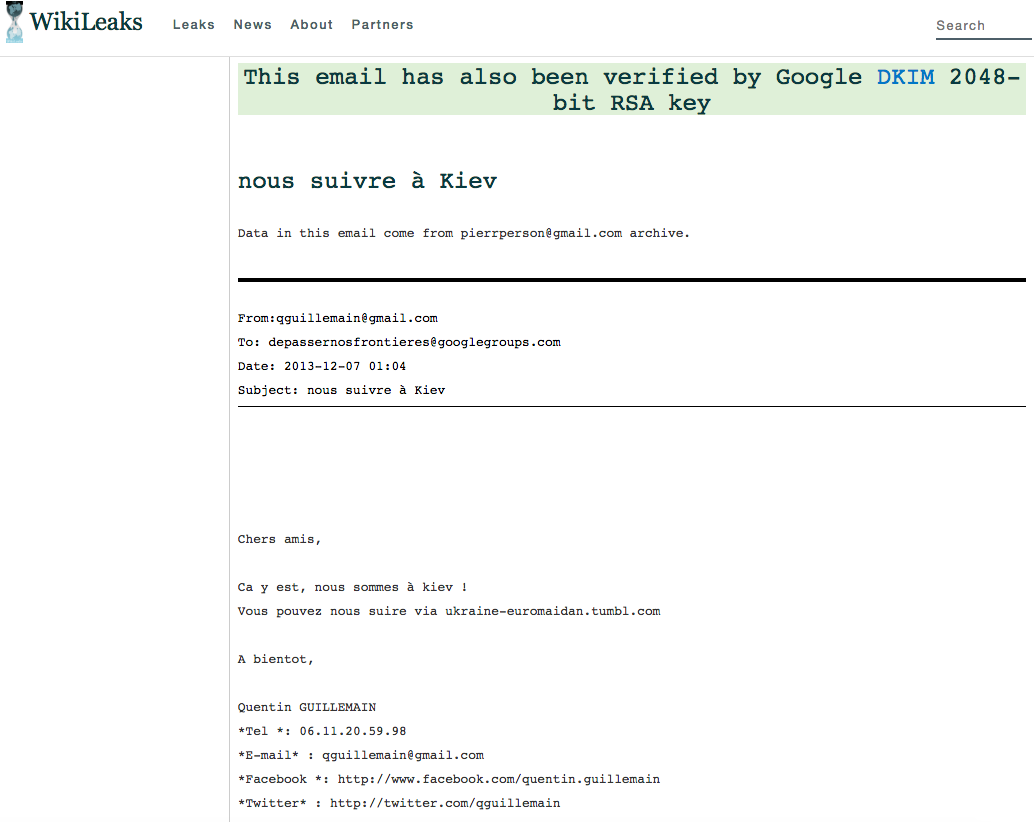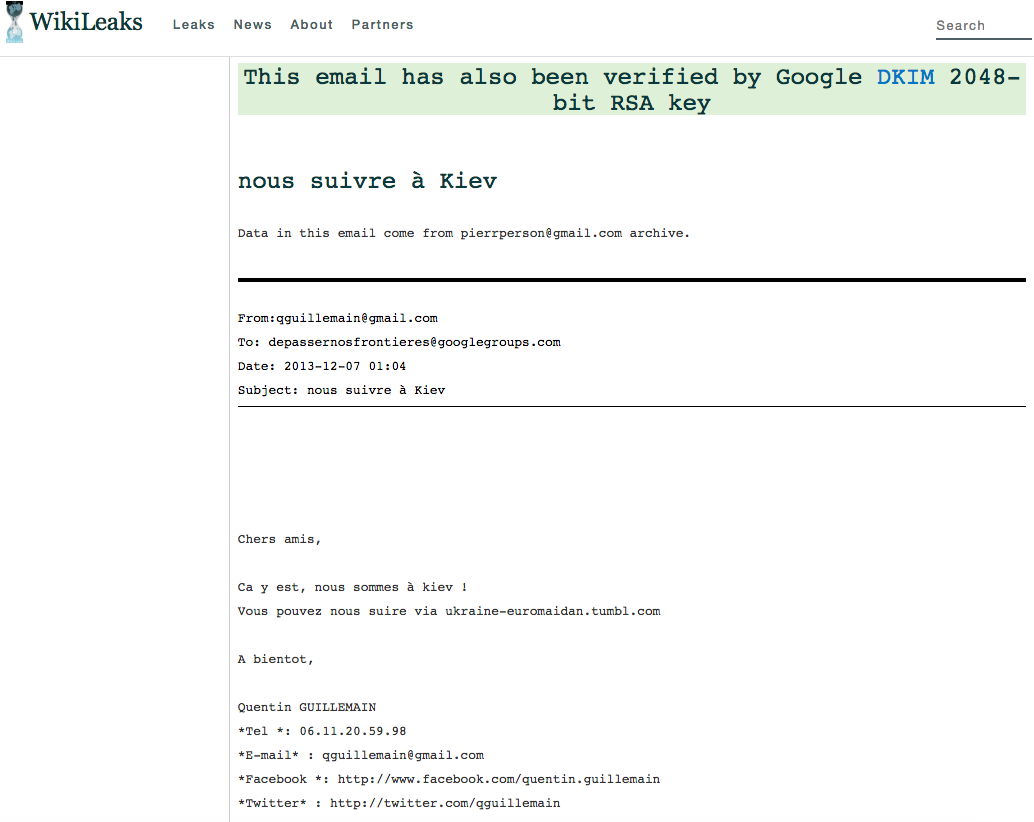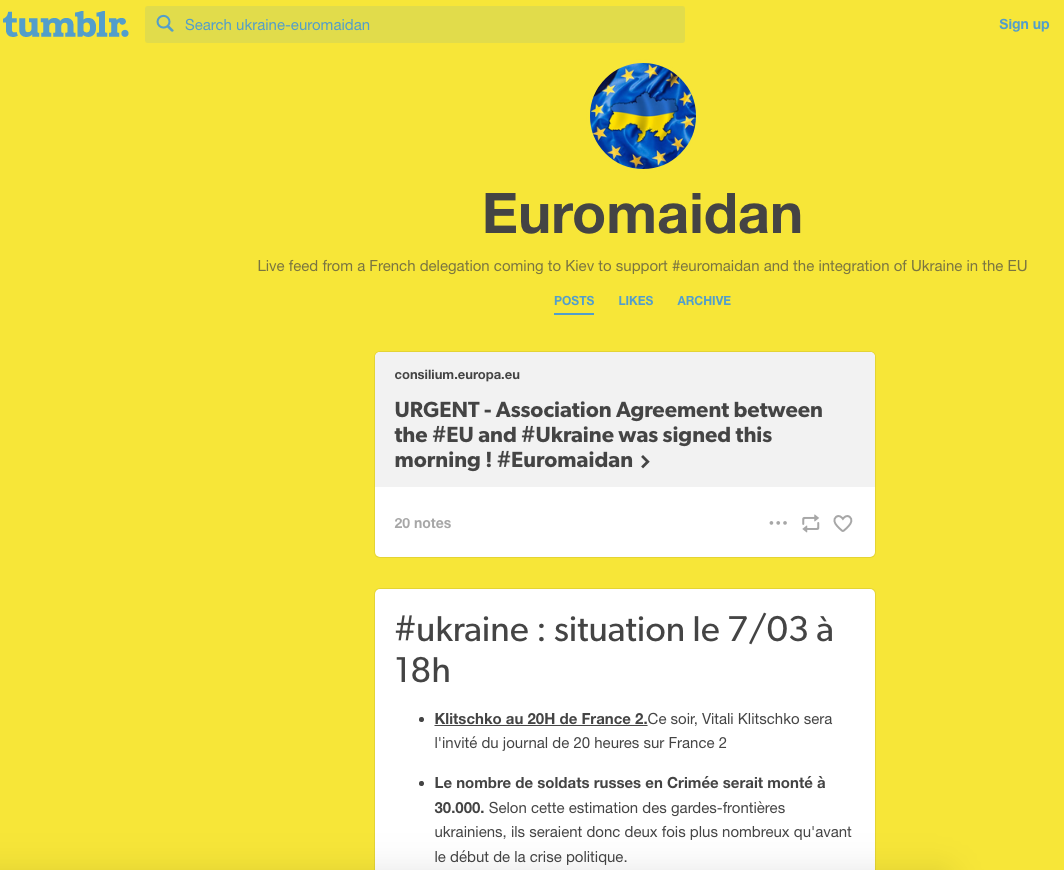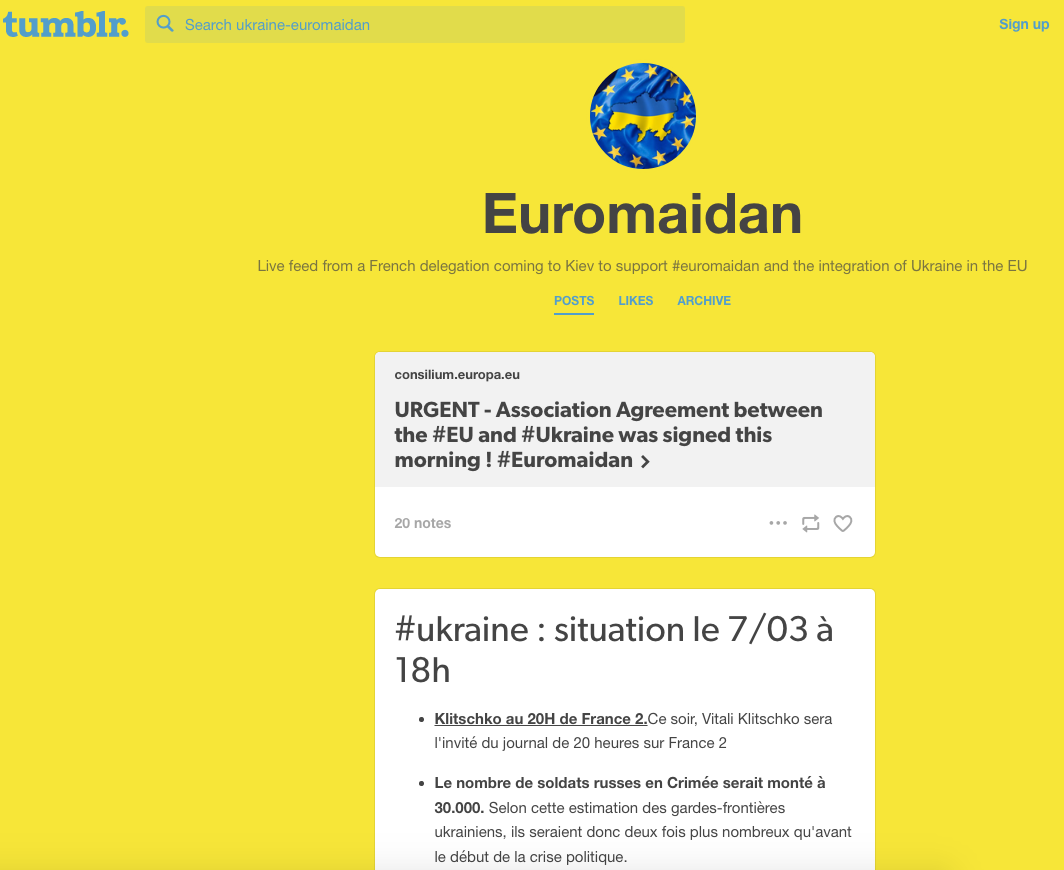 As proof of Macron's involvement in the Maidan protests Russian media cite an email from Quentin Guillemain, the president of the Cosmopolitan Project Foundation, a French NGO whose objective is to support civil society in democratically changing countries.  On December 7, 2013 Guillemain wrote "Dear friends, at last we are in Kyiv. Follow events in Ukraine on the site Ukraine-euromaidan.tumblr.com".
Macron's team responded with "Great job guys!" The web site Guillemain cited in his email was a live feed from a French delegation that came to Kyiv to support the Maidan protests and the integration of Ukraine in the EU.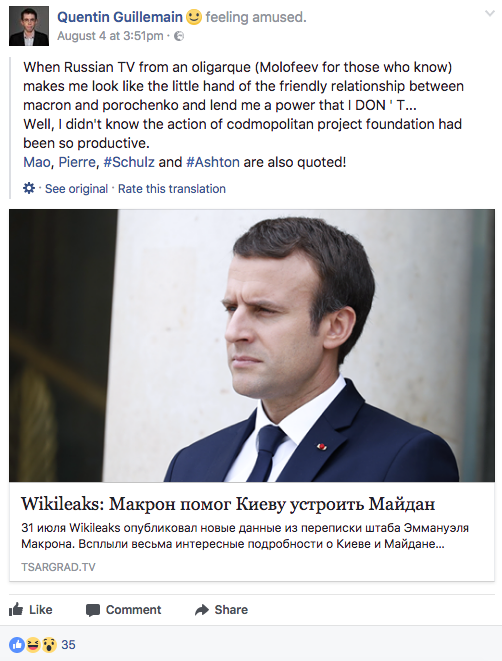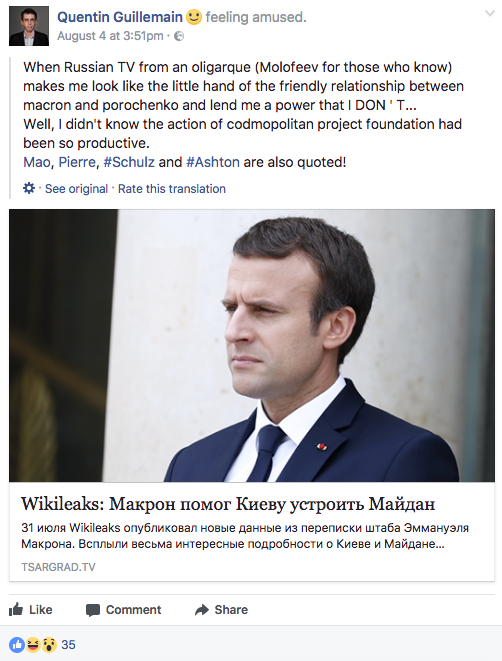 Responding to Russian accusations of orchestrating the Maidan protests Guillemain joked about the influence he and his NGO wield: "Russian oligarchic television station (Malofeyev's to those of you in the know) makes me the instrument of friendly relations between Macron and Poroshenko and gives me  power I didn't know I had… I had no idea the Cosmopolitan Project Foundation was so productive".
According to the US National Intelligence Council report on Russian activities in the recent US presidential elections, Wikileaks actively cooperates with Russian intelligence. Russia's military intelligence organization the GRU gave Wikileaks access to Hillary Clinton's campaign emails.