Russian and Ukrainian sites disseminated a story last week claiming that after a lesson on AIDS prevention, students in the eastern Ukrainian port city of Mykolayiv were given a pamphlet outlining health and safety measures intended for sex workers.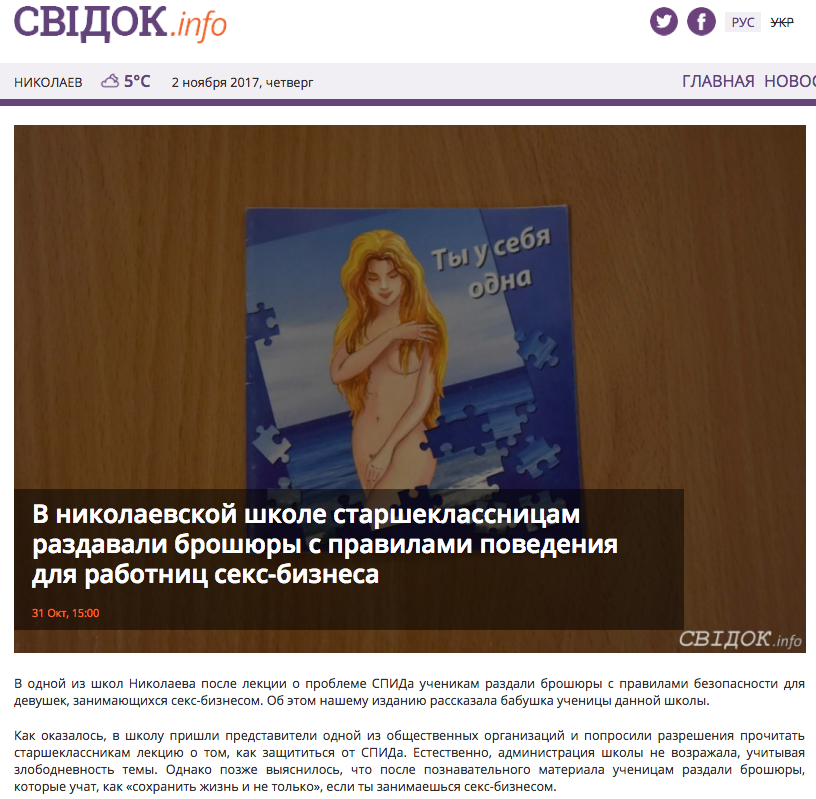 No one has been able to ascertain in which school this allegedly happened, no actual person has been identified as having seen or received the pamphlet. Mykolayiv city authorities canvassed all of the city's 53 schools and concluded that no such lesson occurred and such pamphlets were never distributed.
Yulia Dorokhova , the director of an NGO, Legalife, which works to protect Ukraine's sex workers, said the group had never encountered such a pamphlet and called the story and the leaflet  outright fakes.
Russian and Ukrainian media proceeded to have a field day with this salacious bit of fake information. REN TV declared Ukrainian schoolgirls were issued textbooks on prostitution, another site claimed Ukrainian schoolgirls were being groomed for prostitution. Ukrainian sites Strana.ua, Vesti, RIA Novosti Ukraina, Obozrevatel, Depo.ua, Podrobnosti, Volyn, 24 ua, Znaj and others quickly followed suit as did Russian sites NTV, Russkaya Vesna, Life.ru, Utro.ru, Izvestia, 5 Kanal and others.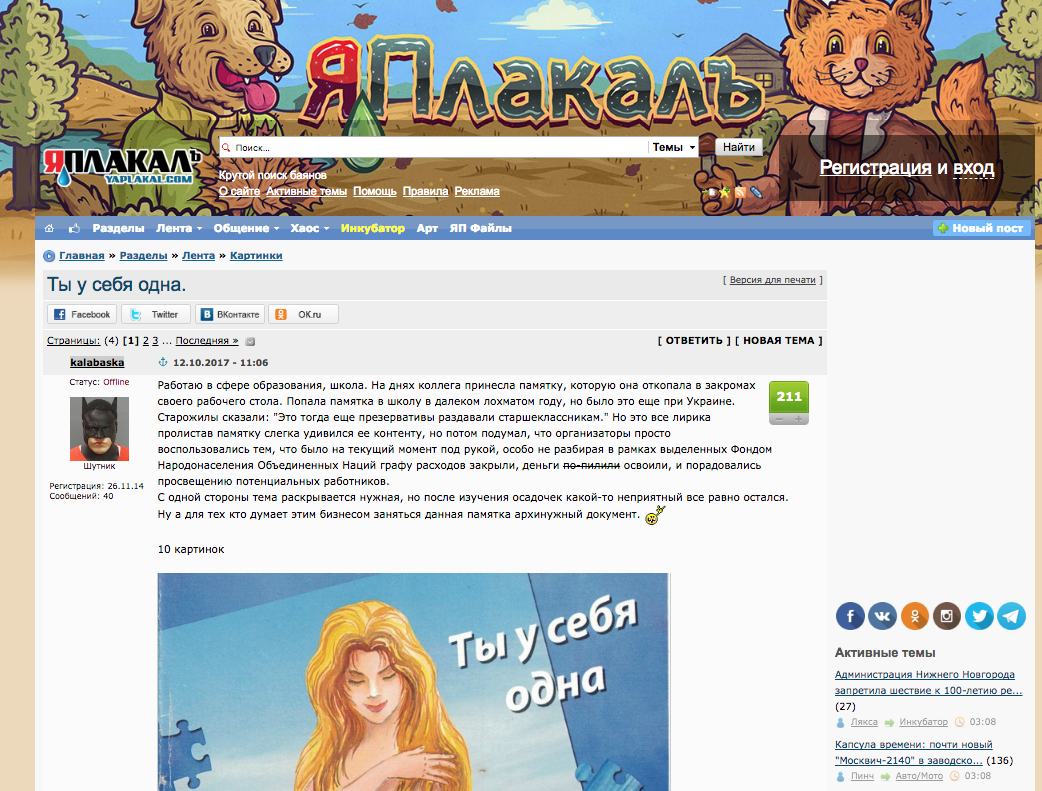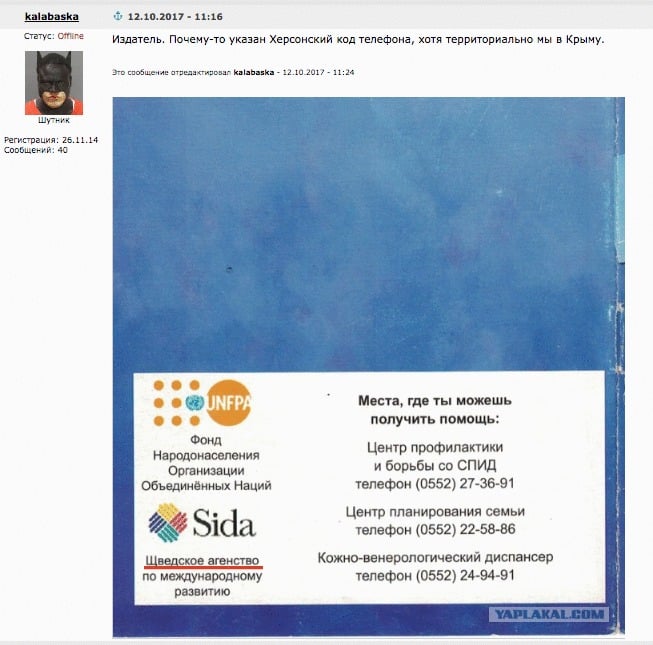 The pamphlet first appeared on a Russian user aggregator site in early October.  The writer, a teacher identified as @kalabasa from Russian-occupied Crimea posted the 10 page booklet claiming a colleague had found it amongst old school documents. The scanned pamphlet, a basic guide to safe sex through condoms with general physical safety tips, telephone numbers from mainland Ukraine for assistance and lists a misspelled Swedish Agency for International Development as a sponsor.
In Ukraine, the story first appeared on the local Mykolayiv portal Svidok.info in an unsigned post claiming the grandmother of a student from the school where the pamphlets were distributed as the source. The school is not identified, nor is the grandmother or the student. The author of the Svidok story, who declined to be publicly identified, refused to tell  StopFake in which school the alleged incident took place and admitted he himself did not visit the school to check on the veracity of the claim.
Serhiy Vanenkov, the director of the Mykolayiv Unitus drug and HIV prevention fund called the entire story a fake, aimed at discrediting Ukraine.
Mykolayiv Deputy Mayor Yevhen Shevchenko attempted to lay the fake story to rest by conducting a city wide school investigation.  He found that no such lesson had been held in any of the city's 53 schools and pointed out that lessons on issues outside the official curriculum must be approved by school principals and parents' committees.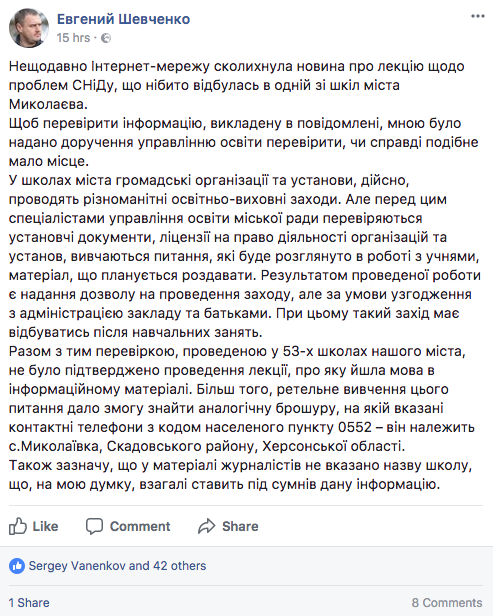 StopFake asked the Mykolayiv City Education Department about this alleged lesson and pamphlet. The Education Department confirmed Mr. Shevchenko's findings and said their own investigation also concluded there had never been such a lesson at any of their schools.