Scores of Russian media reported that on May 17 three NATO soldiers were killed in the Donbas conflict. NTV, Gazeta.ru, RIA Novosti, Russia's Defense Ministry television station Zvezda, Donetskoye Agentstvo Novostey and other Kremlin-obedient outlets all cited the so-called defense ministry of the self-proclaimed Donetsk People's Republic (DNR)which claims that Ukrainian military intentionally led the foreign soldiers onto a minefield.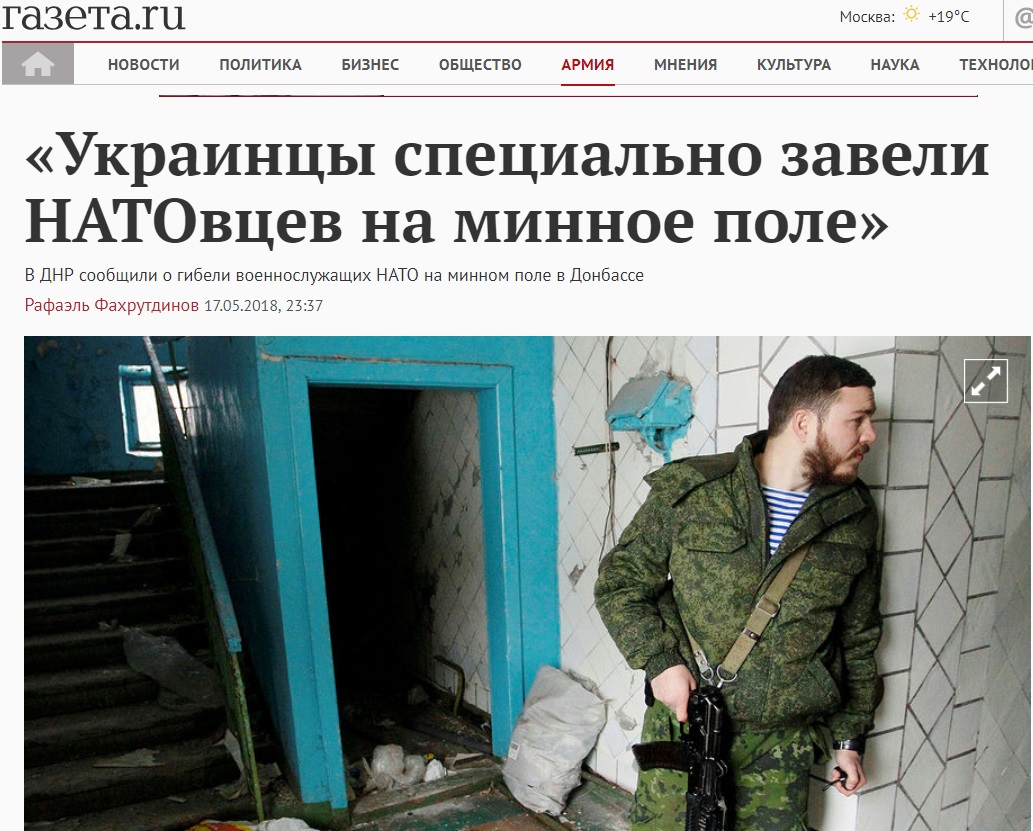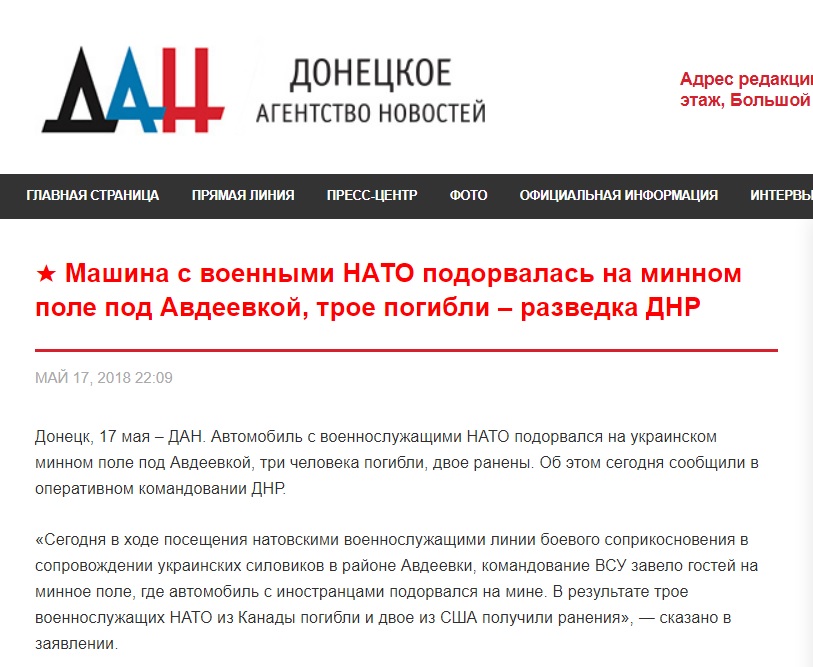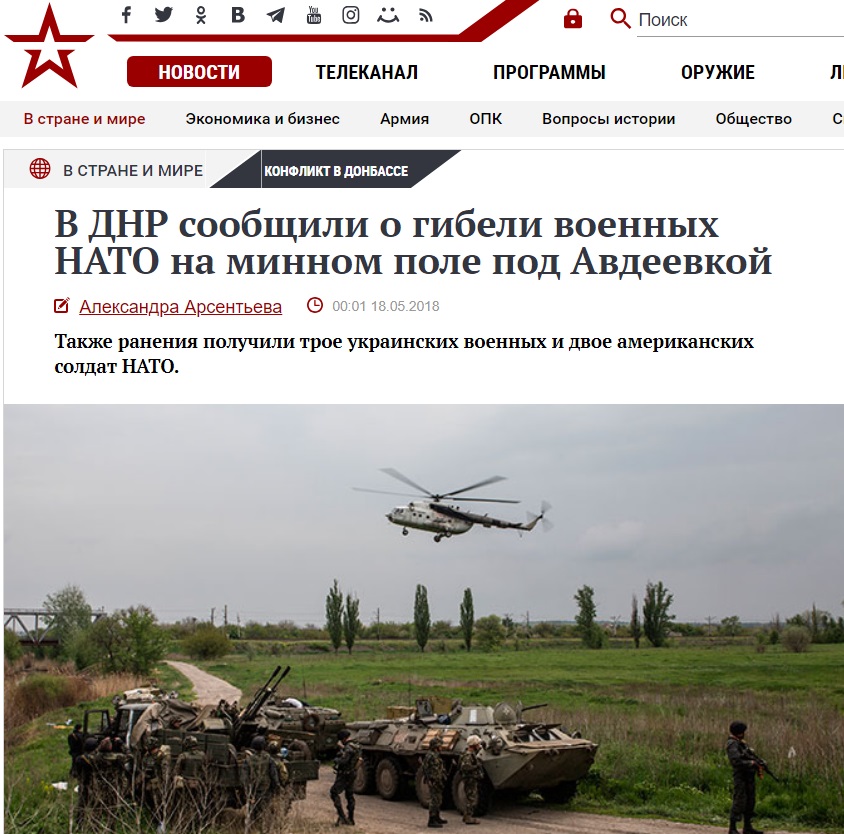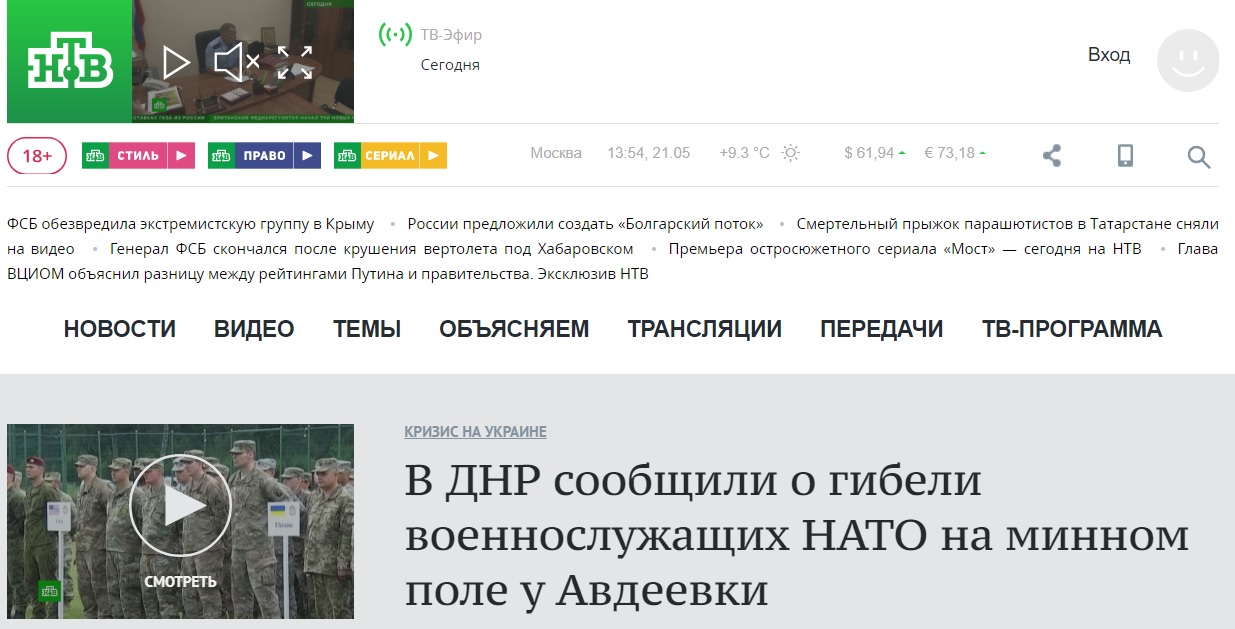 "During a visit by NATO troops to the demarcation line, the Ukrainian Armed Forces led the guests to a minefield where a car occupied by the foreigners was blown up by a mine. As a result three NATO servicemen from Canada were killed and two from the US were injured" NTV reports.
Ukrainian military spokesman Yuzef Venskovych told StopFake that the claim has no basis in reality. NATO forces do not participate in the war in eastern Donbas, he said and if such a thing had happened certainly the embassies in question would have issued official statements.
The DNR continues to put out inaccurate, propagandist information, he said.
There is no mention of any such event on the NATO website, the Ukrainian military's daily briefings also do not contain any such information for this alleged May 17 occurrence.
Canadian CTV News reported that Canada's Department of National Defense and the Canadian Armed Forces told the channel the Russian claims about three soldiers killed in Ukraine are totally false. CTV journalist Mercedes Stephenson reported one day after the fake began circulating on pro-Kremlin sites that the rumors targeting Canada's military appeared to be fanned by Twitter accounts based in Russia, trying to undermine faith in NATO. Several of the accounts consistently tweet anti-American sentiments.