The European Union is increasing financing of events aimed to influence the internal affairs of other countries. In 2020 the EU intends to allocate 1.5 million euro to promote democracy and this, according to Russian political analysts, is a tool for modern day colonization of other states. "In fact, measures to promote democracy are simply mechanisms for creating an infrastructure of influence and a network of agents of influence with financing to achieve their goals" writes RT.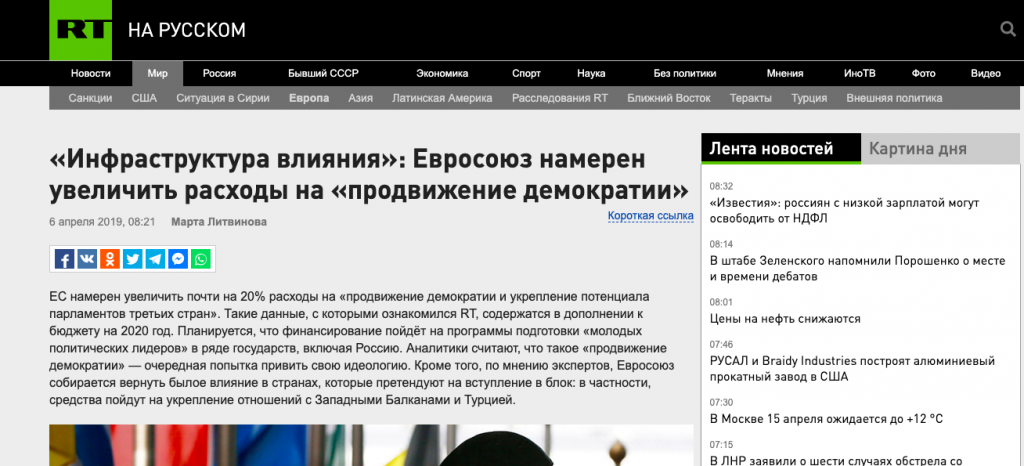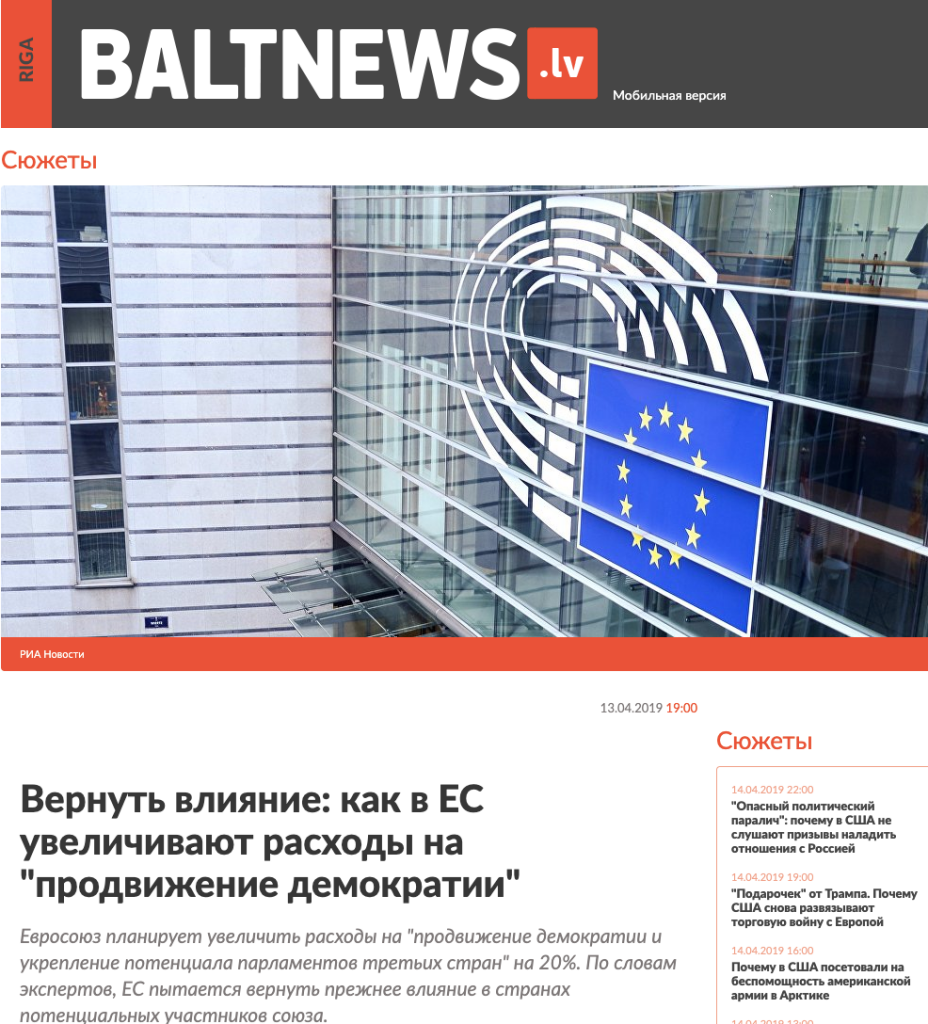 These fake Russian media claims are based on the European Parliament's estimates of revenue and expenditure for the 2020 financial year. The document shows that next year the EU intends to increase democracy support spending and parliamentary support by 1,335,000 euros. These funds will be disbursed first of all to countries currently seeking EU membership who are actively promoting domestic reform and demonstrate commitment to European democratic values and the protection of human rights. The democracy support plan also includes support for young leaders in the Maghreb, Eastern Europe and Russia.
It is this support for young leaders that appears to have particularly drawn the ire of Russia's commentariat, who claims that such support is intervention in the internal affairs of other countries, in particular Russia.
The EU is one of the world's largest donors of humanitarian and democratic programs. Such programs are aimed at developing liberal institutions and maintaining peace and security and not at imposing EU policies and viewpoints on other countries.
📖 2018 #EED annual report "Supporting People Striving For Democracy" OUT NOW! In 2018, we funded 145 projects in 25 countries in the European Neighbourhood and beyond. Be inspired by the stories of change and courage of our partners – read the report ➡️ https://t.co/Go29RT8OzW pic.twitter.com/8vpAU08v8v

— European Endowment (@EEDemocracy) March 6, 2019
The work of numerous European foundations supporting democracy focuses on education, strengthening human rights, journalism training and independent media development. Such programs are first and foremost educational and empowering.  "Democracy and freedom cannot be imported or imposed from the outside. The mechanism of change which will ensure a stable democratization process engaging all elements of society can only be launched from within," the EU emphasizes.
A report on the EU Russia relationship was presented at the European Parliament earlier in March. In the recommendations section, the report's author MEP Sandra Kalniete stresses that under current totalitarian conditions in Russia, it is imperative to channel funding into civil society development. The European Union intends to support human rights defenders, bloggers, independent media, investigative journalists, academicians, student exchanges and trainings and much more. Such programs are a far cry from EU colonization and interference in the affairs of other countries.