Russian media reacted to Poland's parliamentary resolution condemning the spread of Russian propaganda about Polish history by declaring that the United States are backing and financing Poland's anti-Russian policies. On Washington's orders Poland refuses to accept historic facts, resorts to rewriting the history of World War II and justifying Nazism, Russia's leading pro-Kremlin publications declared. Raising the hysterical rhetoric up a notch, the newspaper Vzglyad even claims that Poland intends to pass legislation that will infringe on freedom of speech and allow prosecution of those who think differently, thought criminals, as Vzglyad calls them.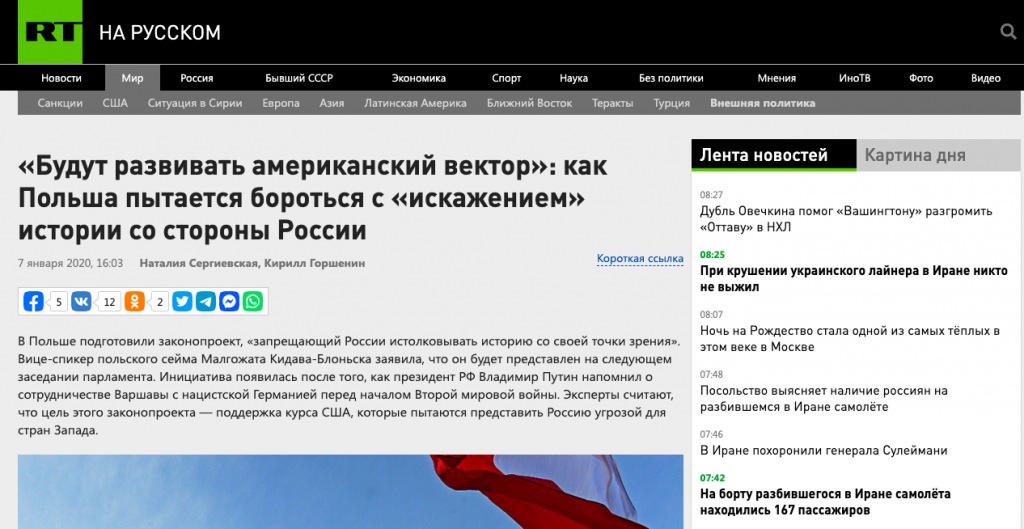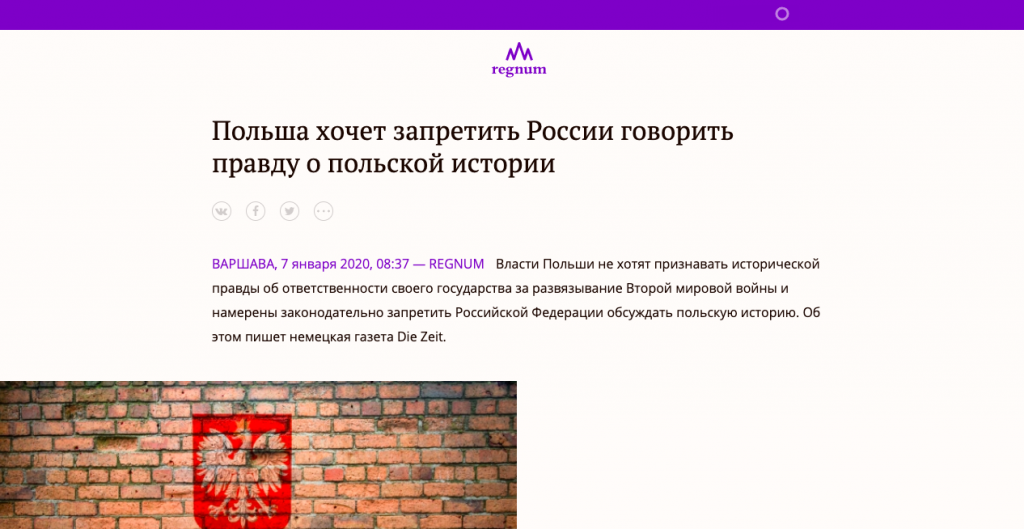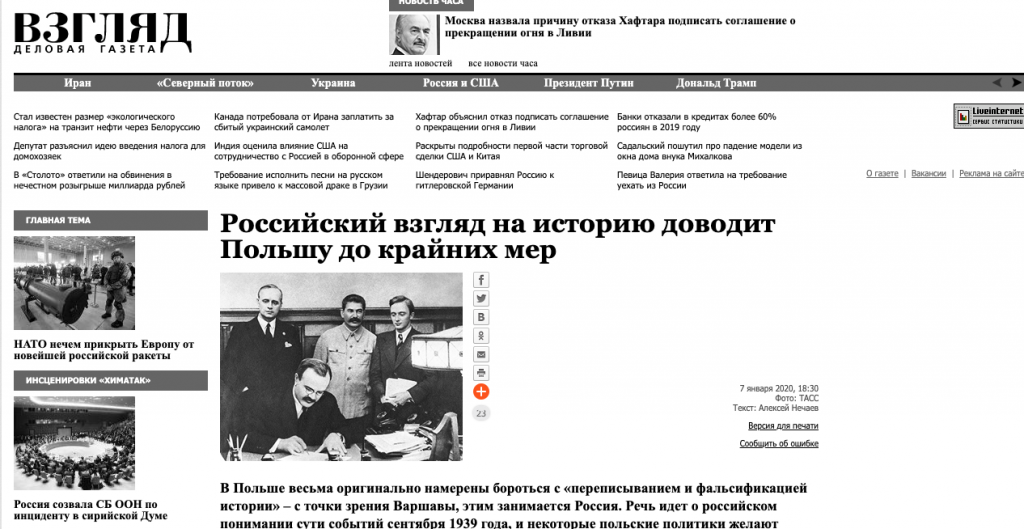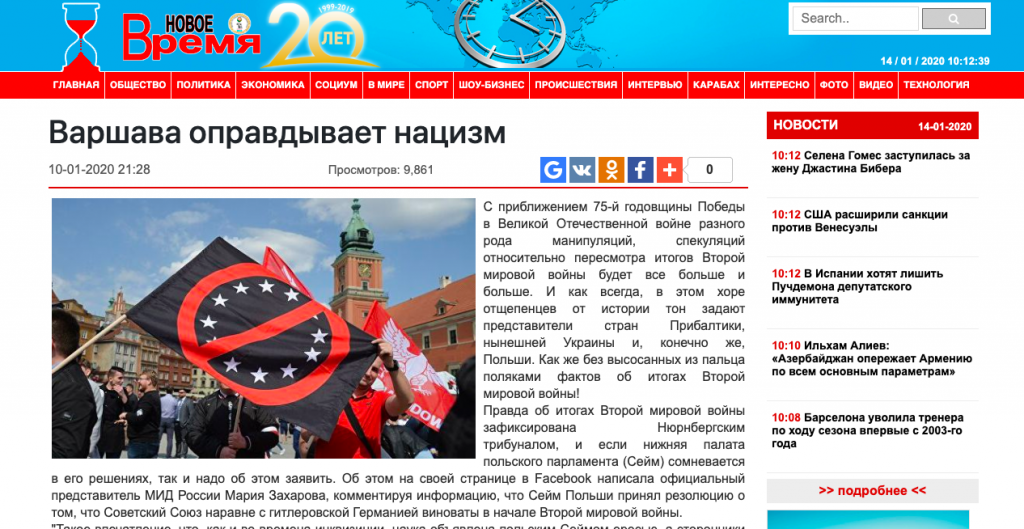 "They want to make thought crime a criminal offense, which testifies to the loss of democratic institutions in Poland. Given current means of communication and monitoring, we will soon see censorship of such magnitude, that the censorship of socialist Poland will seem like kindergarten. That is what awaits ordinary Polish citizens and opposition politicians if this bill is passed" Vzglyad warns menacingly.
Poland's struggle against Russian disinformation concerning history escalated last December when during his annual press marathon Russian president Vladimir Putin called Poland's pre-WWII leadership anti-Semites. On December 24 Putin went even further and said that Poland actively cooperated with Nazi Germany and the "conspiracy" of western states with Hitler paved the road to World War II. The USSR, of course, was not part of this "conspiracy". In response the Polish Foreign Ministry called Putin's words "a propaganda message from the time of Stalinist totalitarianism, which was condemned even by Soviet leader Nikita Khrushchev condemned".
"These steps (Soviet cooperation with Nazi Germany) were enshrined in the Molotov-Ribbentrop Pact signed in Moscow on August 23, 1939 and the secret protocol which divided Eastern Europe into German and Soviet spheres of influence violating the sovereignty of Poland, Lithuania, Latvia, Estonia, Finland and Romania. On September 1, 1939 Germany launched a brutal military aggression against Poland. On September 17 Soviet troops attacked Poland, thereby violating the provisions of the Nonaggression Pact" reads the Polish Foreign Ministry's response to Putin's lies.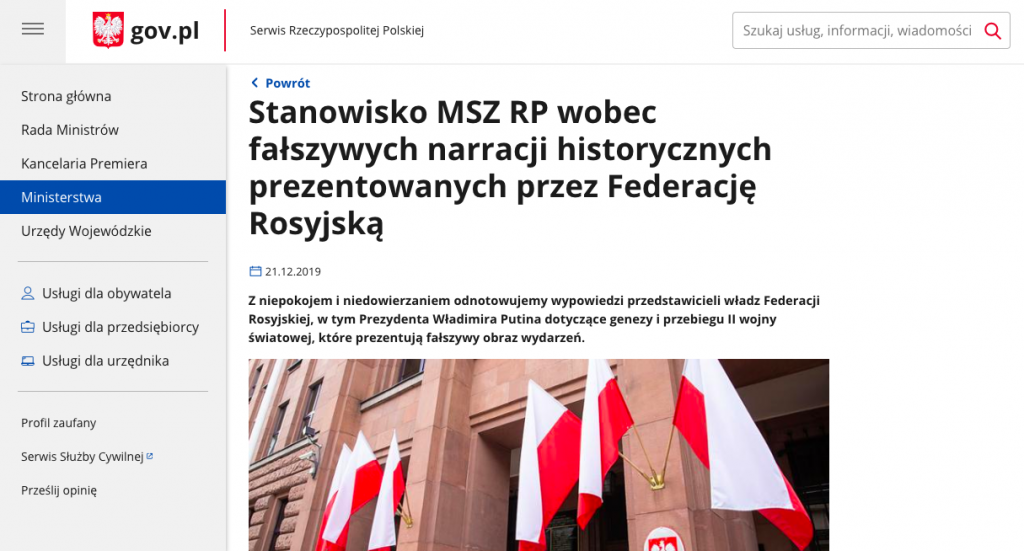 Poland's Foreign Ministry summoned Russian Ambassador Sergei Andreyev and protested against Putin's historical insinuations. In a statement published in several languages, Polish Prime Minister Mateusz Morawiecki accused Vladimir Putin of knowingly disseminating false nformation. Morawiecki reminded Putin that the Russian people, who deserve the truth, were Stalin's greatest victims and it is unacceptable to present perpetrators as victims.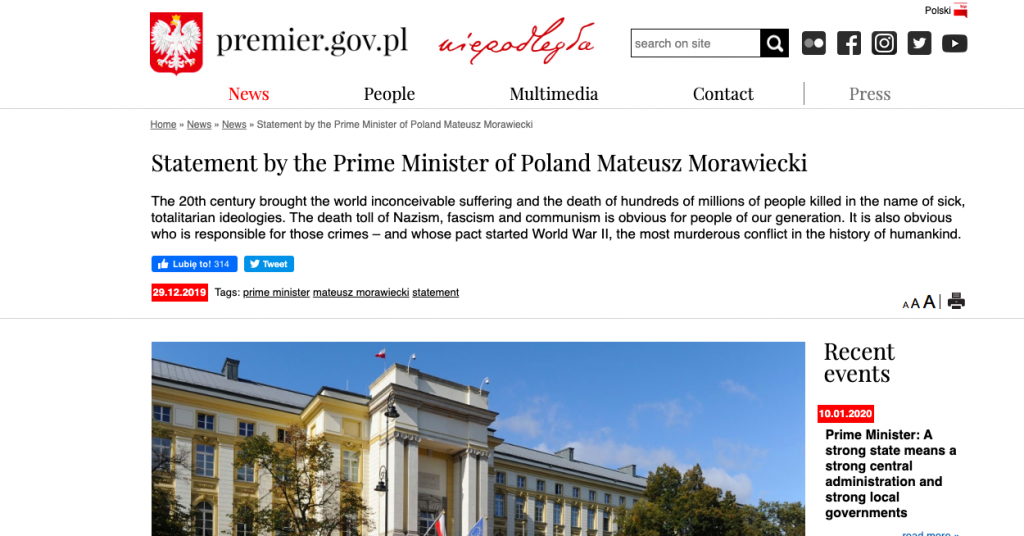 "President Putin has lied about Poland on numerous occasions, and he has always done it deliberately. This usually happens when Russian authorities feel international pressure related to their activities – and the pressure is exerted not on a historical but the contemporary geopolitical scene. In recent weeks Russia has suffered several significant defeats – it failed in its attempt to take complete control over Belarus, the EU once again prolonged sanctions imposed on it for the illegal annexation of Crimea… At the same time Russian athletes have just been suspended for four years for doping… I consider President Putin's words as an attempt to cover up these problems." Morawiecki emphasizes in his statement.
Putin's words outraged not only the Polish leadership. Both the US and Germany spoke out in Poland's support, reminding the Russian leader that Poland was the victim of totalitarianism and a conspiracy between Stalin and Hitler, which led to WWII.
In early January Malgorzata Kidava-Blonska, Deputy Speaker of the Polish parliament announced that the Sejm was preparing a draft resolution concerning Russian propaganda that denigrated Poland. The resolution was adopted on January 9; it condemns provocative and incorrect statements by representatives of the highest authorities of the Russian Federation trying to hold Poland accountable for World War II. The resolution does not contain any reference to Russian criminal liability for propaganda. It is this resolution that Russian media calls a "law aimed at infringing on freedom of speech". 
"The Sejm of the Republic of Poland pays homage to the victims of Nazi-Soviet totalitarianism, and expresses the desire that the history of their martyrdom should never be falsified or used as an instrument" the resolution states.
The diplomatic scandal caused by Putin's manipulative remarks has not subsided. Polish President Andrzej Duda has announced that he refuses to visit Jerusalem where commemorative events are planned on January 23 on the occasion of the anniversary of the liberation of Auschwitz. Duda explained his decision by the fact that he would not be given the opportunity to speak during this event along with the leaders of Germany, France and Russia. Duda expressed bewilderment, why a representative of Poland, who lost the most citizens in the Holocaust, cannot speak in Jerusalem during the commemoration.
"I see no reason why the presidents of Russia, Germany and France, representatives of Great Britain and the United States should speak in such a place on such an occasion in connection with this great anniversary and the president of the Polish Republic could not speak. Especially in the current situation when there are accusations from the President of the Russian Federation Mr. Vladimir Putin against Poland that completely contradict historical truth and serve – and I have no doubt about this – as an attempt to humiliate us as a society and to lie about the history of World War II," Duda emphasized.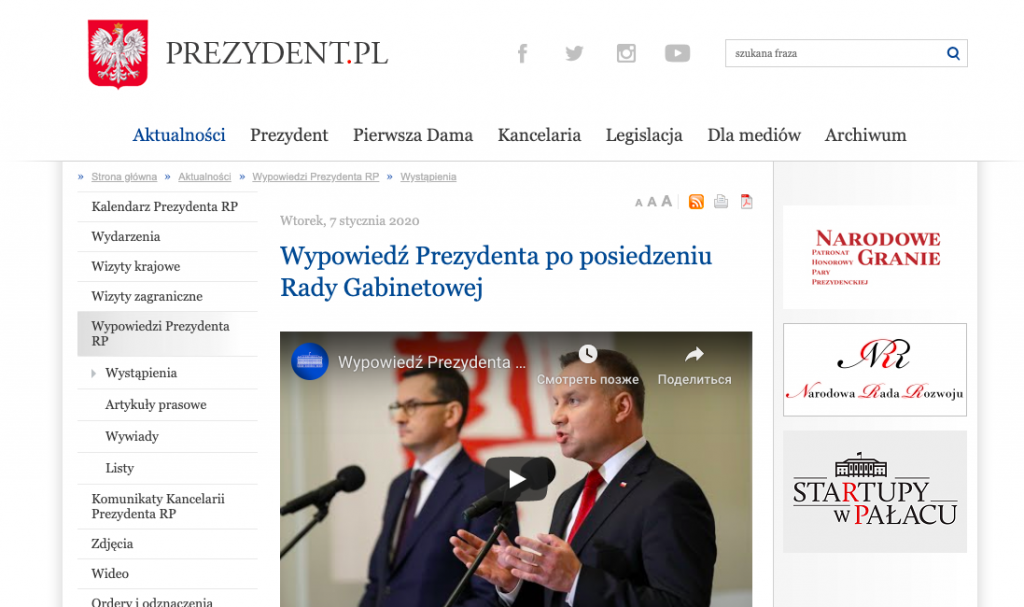 On the eve of the 80th anniversary of the outbreak of WWII in 2019 Russia unleashed a massive disinformation campaign aimed at revising and falsifying historical facts. Russia still continues disseminating these mendacious materials as it celebrates "75 years since the victory in the Great Patriotic war". StopFake has debunked several of these stories, including one about Russia not being invited to a WWII commemoration because of Russophobia and a particularly ridiculous fake about the EU meeting pro-Kremlin Night Wolves bikers with enthusiasm when they arrived in Germany to lay flowers at a monument to Soviet soldiers.