Ukrainian President Petro Poroshenko is afraid of debating presidential candidate Volodymyr Zelensky, several pro-Kremlin media announced this week. Afraid? Poroshenko refuses to debate Zelensky, blazed Gazeta.ru's headline. Poroshenko the European frightened by a comedian, wailed TVC Russia's fourth largest state run television station. Russkaya vesna and others also featured dismissive stories claiming Poroshenko was scared off by Zelensky's debate challenge.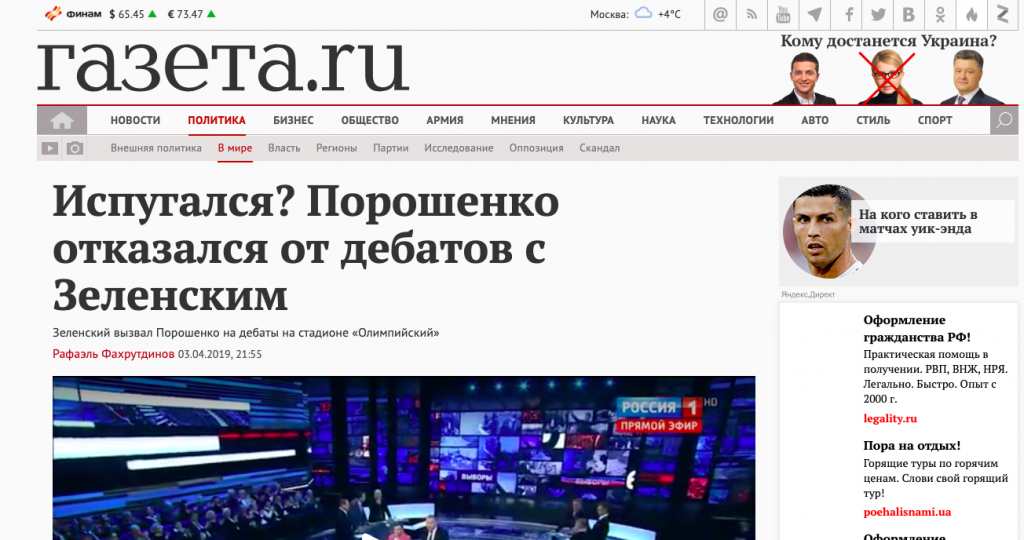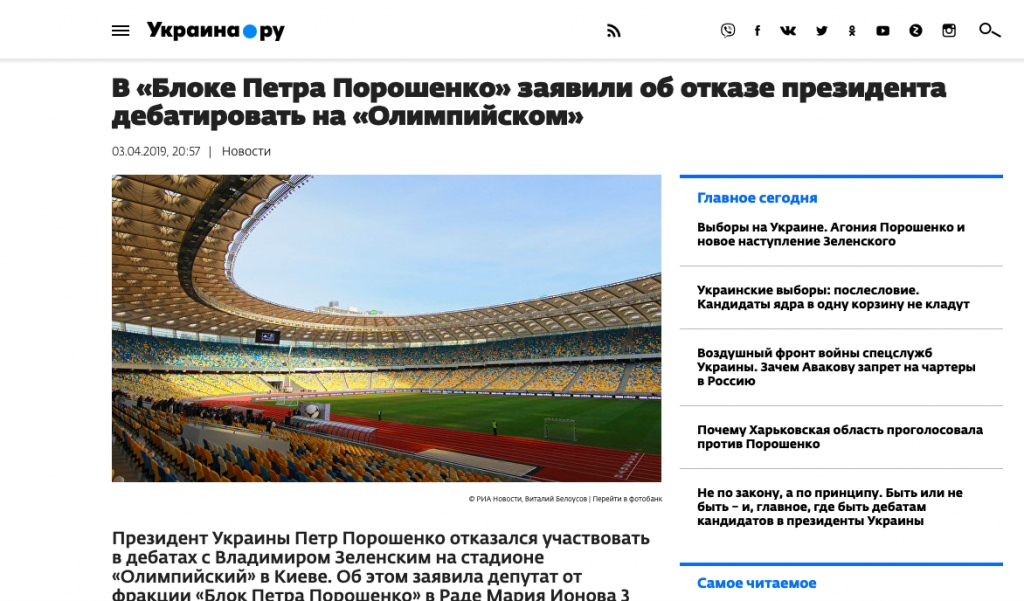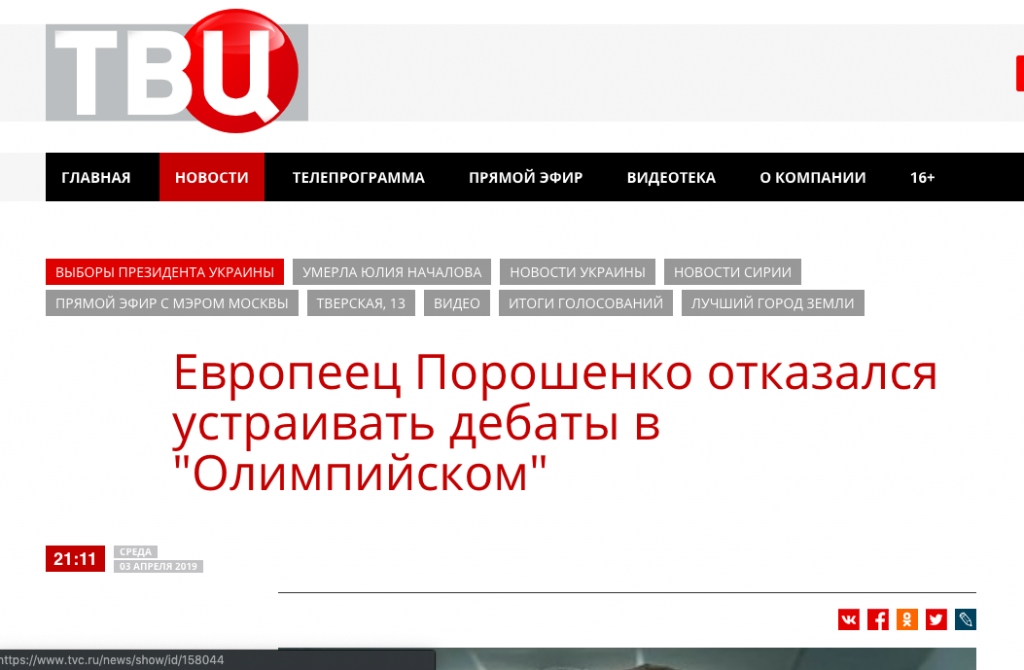 These fakes appeared after Volodymyr Zelensky aired a video calling on President Poroshenko to debate him in the Olympic, the country's largest sports stadium. Russian television channels enthusiastically played Zelensky's video on their endless talk shows, with scores of talking heads gleefully speculating that Poroshenko would not take up the challenge.
https://www.youtube.com/watch?v=nuWWvc95m3o
Russian media claims that President Poroshenko and his team are refusing to debate Zelensky are completely fake. On April 4, President Poroshenko responded to Zelensky's challenge in a video posted on the President's official website.
Poroshenko reminded Zelensky that Ukraine's law on presidential election spells out the rules on how the debates are held and suggested Zelensky read the law. The law states that presidential debates are held in the television studios of the Ukraine's state channel Suspilne and are financed from the country's state budget. Presidential debates are not a show; Poroshenko said and ended his video saying "I'm waiting for you Volodymyr Oleksandrovych" using Zelensky's first name and patronymic.
President Poroshenko is the one who initiated the discussion about presidential debates in the first place. As soon as exit poll results were announced on Election Day March 31, Poroshenko called Zelensky to debate him. "A debate between the two leading candidates is a key element of the election. If a candidate evades debating, it means he has nothing to say" Poroshenko said.
On April 2, two parliamentary deputies from the Poroshenko bloc submitted a draft law on mandatory debates on the eve of the second round of presidential elections. Iryna Herashchenko, one of the MPs submitting the draft, proposed the same bill to Ukraine's previous parliament in an effort to force now ousted Viktor Yanukovych to debate Yulia Tymoshenko, his opponent in the 2010 presidential elections.
Olympic stadium management says they have not received any official requests to hold presidential debates in the stadium.