Scores of Russian media reported this week that a levee on Ukrainian territory separating lake Sivash from an acid waste accumulator facility belonging to the Crimean Titan chemical factory in the northern Crimean town of Armyansk, was partially destroyed. REN TV, Versii, Rosiyskaya Gazeta, Sputnik, the Crimean television channel Millet and others all featured this fake story citing Crimean Titan factory director Andrei Akulov as the source of the information.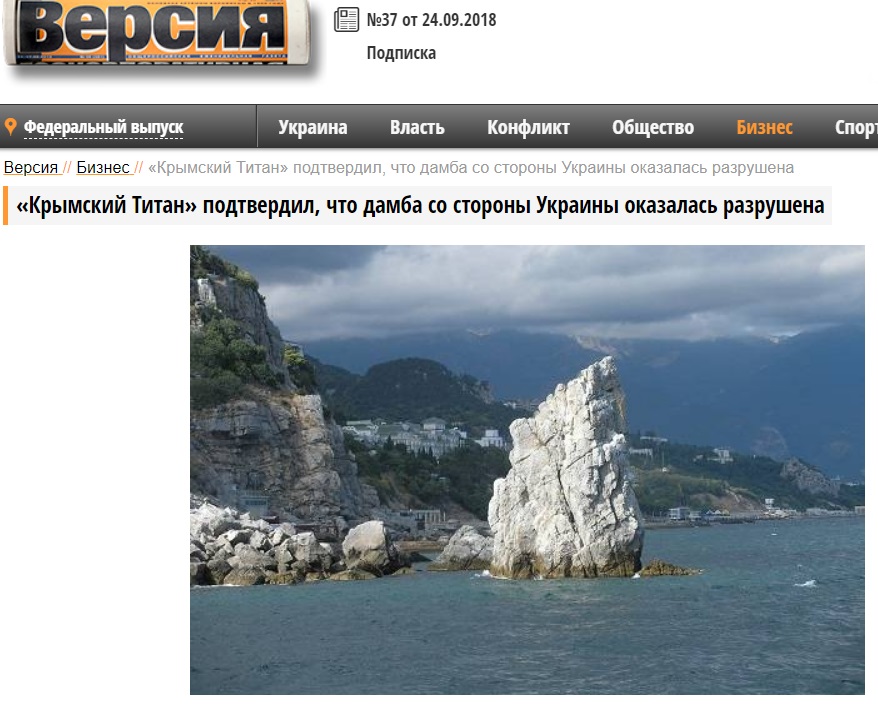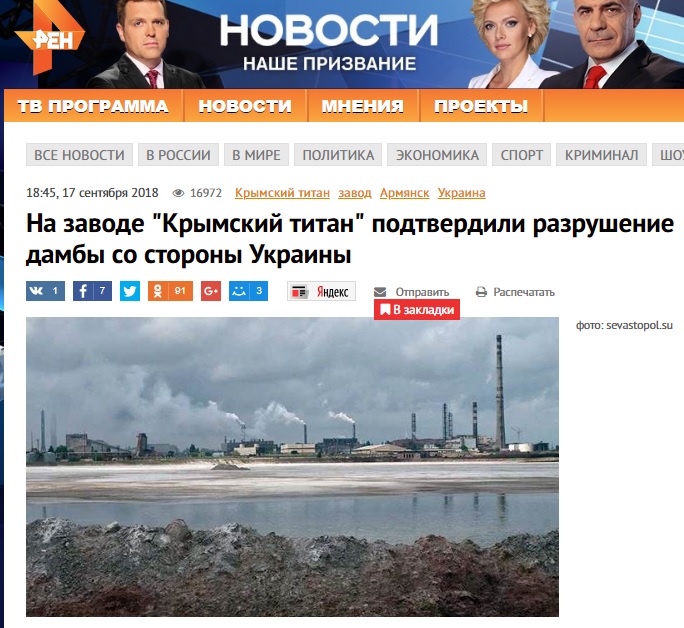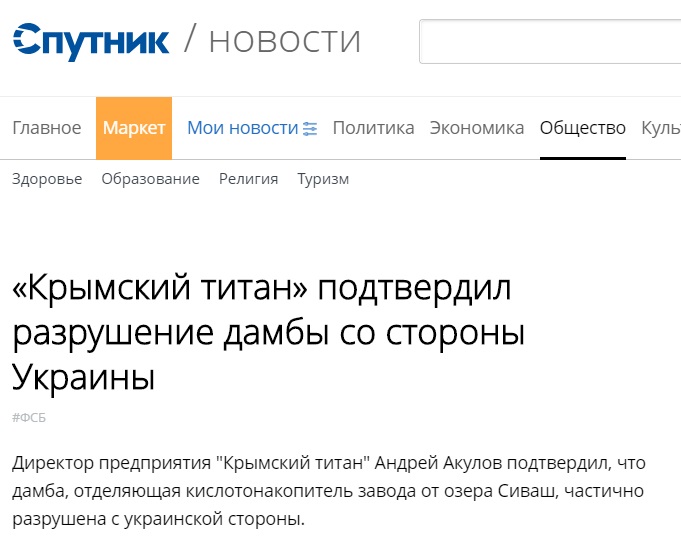 The seven kilometer protective levee straddles the Ukrainian mainland and the Crimean peninsula, with roughly half of the structure located on each side.
Akulov's claim comes after the plant spewed  unknown substances into the atmosphere leading to the evacuation of thousands of children from northern Crimea. Crimean occupation authorities have not come clean as to what exactly was contaminated the atmosphere and are currently pushing the destroyed levee  theory as one of several possible explanations for the harmful emissions.
Rossiyskaya Gazeta cites Akulov as saying that half of the levee is on Crimean territory, the other half on the territory of Ukraine. "We look after the integrity of the levee and can now confirm that part of the levee on Ukrainian territory is destroyed" Akulov said. He added that the company had appealed to Russia's security service the FSB to check the structure.
Meanwhile deputy director of the Kherson Regional Administration Vadym Chaban told Radio Liberty that Akulov's claim has no basis in fact. The Ukrainian part of the levee was inspected and there is no damage to the structure, Chaban pointed out.
Kherson province is Ukraine's southern region which borders on Crimea.
The Crimean Center for Journalistic Investigation (part of the Global Investigative Journalism Network) traveled to check out the state of the levee and published its photos and a video showing the structure to be whole and completely intact.
On the night of August 23-24 an unknown substance leaked in the northern Crimean town of Armyansk. Crimeans wrote on social media that overnight outdoor metal structures were covered with plaque and rust and a smelly mist hung over the city. StopFake already debunked previous Russian claims about the unknown chemical emissions, which attempted to pin the responsibility for the environmental misfortune on Ukraine.