"There is no danger", "everything is under control," "atmospheric pollution is at permissible levels", "there are no health hazards" –  Crimean occupation authorities are going out of their way to reassure the public that there is no environmental danger from the unexpected and unexplained  chemical emissions at the Crimean Titan factory in Armyansk, northern Crimea. On August 23-24 an unknown substance spewed into the atmosphere, filling the countryside with smog and a pungent odor. Social media buzzed with reports of houses and cars being covered with plaque and rust and an unknown haze hanging over the area.
Армянск
Экологическая катастрофа
Кроме"ржавчины",налет какой то зеленой слизи
Запахи удушающие
Это ручка авто pic.twitter.com/D7K5rNDltP

— RoksolanaToday&КрымUA (@KrimRt) August 27, 2018
Армянск
Налет типа ржавчины
Все это в легких жителей pic.twitter.com/xSG0btD1Yo

— RoksolanaToday&КрымUA (@KrimRt) August 27, 2018
Армянск
Заварник на подоконнике. Окно было открыто
Люди этим дышат pic.twitter.com/INzep6ekj7

— RoksolanaToday&КрымUA (@KrimRt) August 27, 2018
Some days later Crimeans began noticing that birds had disappeared from Armyansk. Some people found dead birds in their gardens. Vegetable gardens and fruit trees began wilting and people began experiencing eye and throat irritations.
https://www.facebook.com/100014537296697/videos/465703437257562/
https://www.facebook.com/sergej.mokrusin/posts/1946314818750533
Crimean occupations authorities and Russian media ignored the events for several days. On August 28 the leader of Russian-annexed Crimea Sergey Aksyonov acknowledged on his Facebook page that unknown emissions were released into the atmosphere but they were not the result of an accident at Crimean Titan, he claimed.
https://www.facebook.com/aksenov.rk/posts/1060645657442226
That same day Russian president Vladimir Putin's special representative for environmental issues, ecology and transport Sergei Ivanov suddenly appeared in Crimea. Upon his arrival Aksyonov admitted that the Crimean Titan plant could be responsible for the emissions. Contradicting himself, Aksyonov first claimed the emissions did not pose a health hazard, but later called the emissions harmful.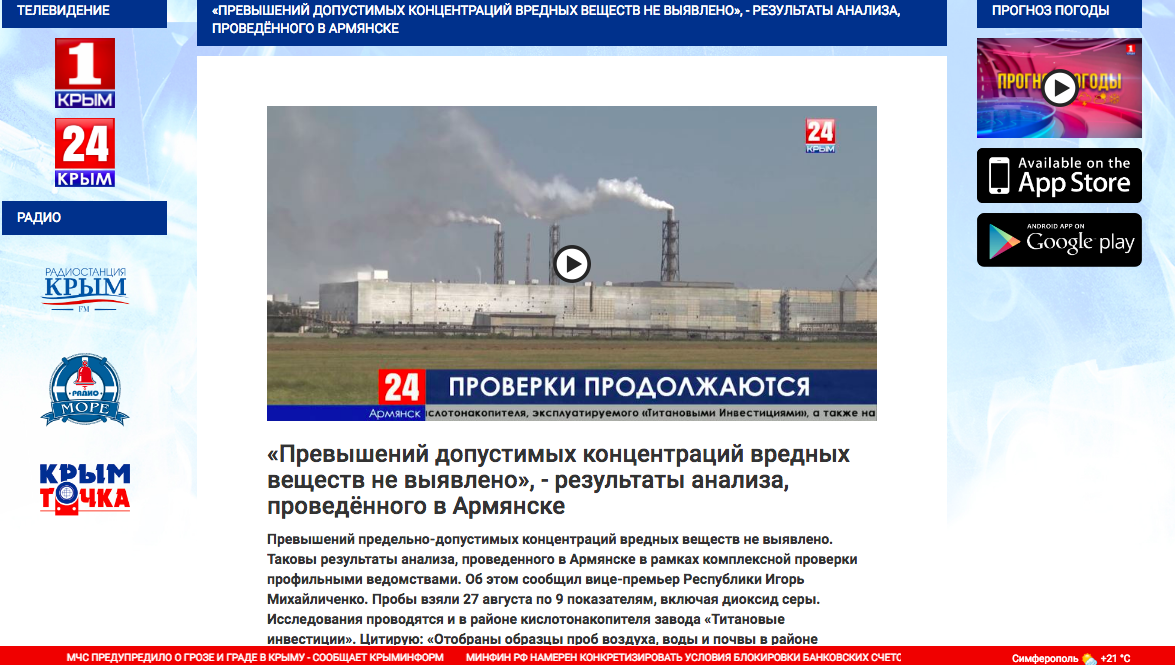 As scores of people began experiencing breathing problems and panic started to set in, Crimean media began churning out reports that the emissions did not pose a health hazard. Countless air quality checks that Crimea's occupation administration conducted all gave the same predictable result: there was no increase of harmful concentrations beyond what is permissible in the atmosphere.
From August 28 through September 4 Crimean authorities and media completely ignored the mysterious emissions. On September 4 authorities began evacuating children from Armyansk.
https://www.facebook.com/krymrealii/videos/1841050425976205/
Aksyonov insisted this was not an evacuation but a holiday, reassured Armyansk residents that their health was not in danger and there was no reason for introducing emergency measures. All the while concentrations of harmful substances in the air in northern Crimea continued to "exceed the allowable norms".
The Crimean Titan plant was closed for two weeks. The source of the harmful emissions was identified as acid evaporation from the plant.
The emissions cloud reached the Ukrainian mainland and spread through the Kherson region. Ukraine's State Border Service reported growing pollution along the administrative border with Crimea and on September 6 temporarily closed the border.
Ukrainian authorities identified the polluting emissions as sulfur dioxide, a major air pollutant that has significant impact on human health and is a precursor to acid rain. They found sulfur dioxide levels to be six times higher than normal.
Odesa National University biologist Vladislav Balynskyi says sulfur dioxide is a carcinogen and can seriously harm the respiratory system, burn respiratory membranes and even paralyze the breathing apparatus.
Ukrainian ombudsman Ludmila Denisova has advised the UN, the OSCE, the World Health Organization and the Red Cross about the harmful emissions in Armyansk. President Petro Poroshenko has invited Crimean children to health camps on the mainland. Meanwhile Crimea continues to deny the seriousness of the situation while Russia publishes stories about the happy children of Armyansk resting in Crimean resorts. And Russian media, following a well-honed Kremlin narrative are accusing Kyiv of "creating a diversion at the Crimean Titan plant.
Crimean Titan is a chemical plant that began operating in northern Crimea in 1971. From the early 2000s the plant has been part Group DF, a vast holding company owned by pro-Russian oligarch Dmytro Firtash. The plant produces chemicals used in paint, rubber and plastics production.