The International Committee of the Red Cross (ICRC) does not tally casualties in conflicts. It is an independent, neutral organization ensuring humanitarian protection and assistance for victims of armed conflict and other situations of violence. On March 12 Ukrainian President Volodymyr Zelensky stated that since the beginning of Russia's invasion of Ukraine 1,300 servicemen had been killed.
Stories are circulating online claiming that the International Committee of the Red Cross has said that Ukraine is "suffering colossal losses of manpower". These fake stories include infographics showing alleged Ukrainian losses – Armed Forces 34,000, National Guard – 15,000, Territorial Defense 20,000. The infographic states the losses are based on Red Cross data, Ukrainian Defense Ministry Reports as of March 9. Some social media comments to this fake story opine as to why Ukraine is allegedly keeping its losses a secret: "It is clear why neither Zelensky nor the Ukrainian military have reported these losses. This immediately demoralizes the rest of the military and the Nazis" writes Facebook user Polina Kyshkurno.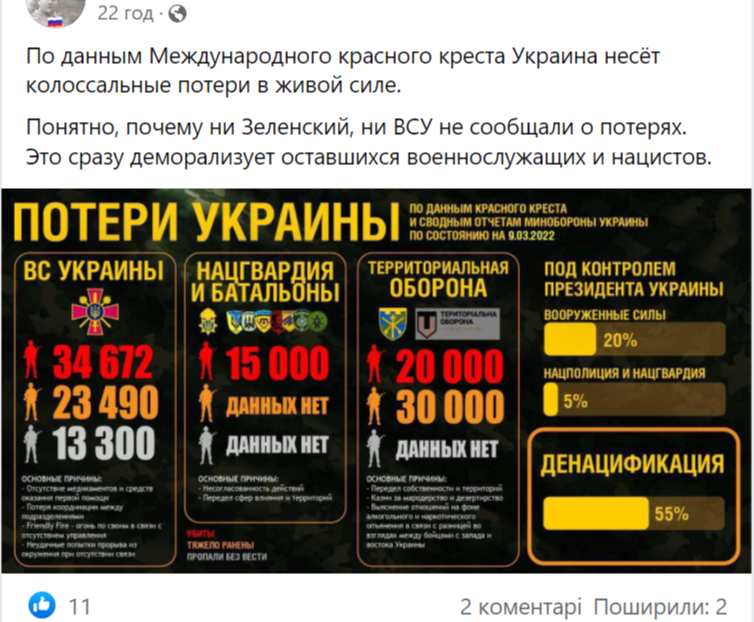 Similar publications are also making the rounds online, however with smaller casualty numbers. The propagandist Telegram channel Rybar for example, has been disseminating yet another casualty list, with the Ukrainian Armed Forces allegedly losing 20,805 people, the National Guard 2,674, and Ukraine's Border Service losing 730 personnel.
However, this information is not true. Presently, the Ukrainian Defense Ministry and all other government agencies are not publishing the names of servicemen who died because of the Russian Federation's aggression against Ukraine.
On March 12 President Volodymyr Zelensky stated that 1,300 Ukrainian servicemen had died since the beginning of the war. "Nearly 1,300 our soldiers have died; Russia has lost more than 12,000. One to ten. I am not rejoicing that 12,000 of them have died" Zelensky said at his press conference.
The casualty numbers being circulated online by Russian propagandists are not confirmed by any other sources. In particular, on March 10, CNBC reported that according to a US official, Ukrainian losses could amount to 2-4 thousand.
While Ukrainian authorities have not published a list of names of military casualties, no one is keeping Ukrainian military casualties a secret. There are plenty of media reports on the deaths and funerals of Ukrainian servicemen. Based on these reports, Wikipedia has created a list of casualties resulting from the Russian invasion for the period of March 1 through March 17.
Russian media claims that the International Committee of the Red Cross is informing that Ukraine is suffering "colossal loss of manpower" is also untrue.
According to International Committee of the Red Cross media relations specialist Oleksandr Vlasenko, the organization never announces casualty numbers from either side.
"The ICRC is a neutral organization that focuses on helping the civilian population affected by armed conflict or internal violence. And we don't estimate as to the number of losses on either side, we simply do not have the means to make such an estimate" Vlasenklo told StopFake. "We are ready to participate and assist in the transfer of bodies of combatants, but for this to occur, the parties must agree among themselves on such an exchange and agree that the ICRC is to be the facilitator of this process" Vlasenko said.
Earlier StopFake refuted yet another Russian fake, that nearly all Mariupol refugees want to go to Russia.