Russia has not achieved a complete success in any area in Ukraine and does not control a single strategic city. Western intelligence services have noted Ukraine's Armed Forces transitioning from a defensive to a counteroffensive posture.
Russia's military leadership continues producing disinformation reports about the "achievements" of the Russian invading army in Ukraine. On March 25 Russia's General Staff reported that Russian troops had completely blockaded Kyiv, Kharkiv, Chernihiv, Sumy and Mykolayiv. They assured that Russian troops are not storming the surrounded cities so as not to "incur unnecessary civilian population casualties and to safeguard civilian infrastructure."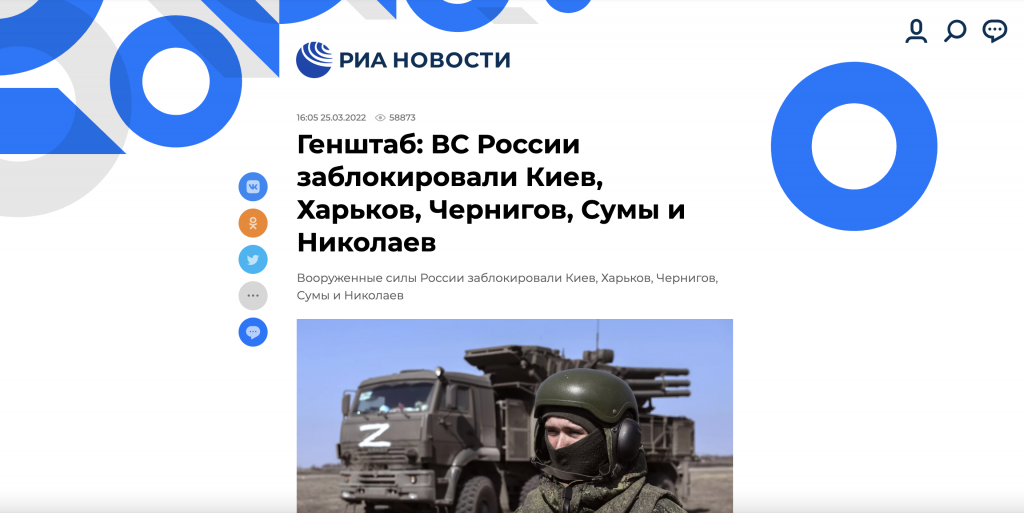 Russia has not completely blockaded, nor does it control any strategic Ukrainian city. Since the onset of the full-scale invasion of Ukraine on February 24, Russia has not managed to take any major Ukrainian city. All Russian media assurances of how the Russian army would "take Kyiv easily and quickly" turned out to be hollow. Russia has not only failed to take, surround, or blockade the Ukrainian capital, but it has suffered serious blows from the Ukrainian Armed forces. According to Ukraine's Defense Ministry, in certain areas enemy units were pushed back to a distance of 35 kilometers from Kyiv. In other areas the Ukrainian counteroffensive pushed the Russian invading forces 70 kilometers from Kyiv.
Western intelligence services support Ukraine's Defense Ministry claims. On March 25 British military intelligence reported that the front line in the Kyiv region which had been static for several weeks, had shifted. Ukraine's military launched a counteroffensive in the northwest (direction of the heavily shelled city of Irpin) and east (in the direction of Brovary), recapturing some 35 kilometers of territory.
The US Defense Department also reports that Russia has not achieved success in any direction. The Pentagon notes that the Ukrainian military counteroffensive is ejecting Russian invading forces from all points near Kyiv, Chernihiv, Kharkiv and Sumy. Western intelligence services are also noting Ukrainian successes in the south of the country. In the southern port city of Mykolayiv and the region, Ukrainian Armed Forces are not only defending themselves successfully, but have also launched an active counteroffensive. As for temporarily occupied Kherson, according to the US Department of Defense, the city "is no longer under the strong control of Russia": the Armed Forces are attacking the enemy in this direction. Kherson became a "disputed territory" and soon, the Pentagon is confident, will be liberated from the occupiers.
"Clearly, they overestimated their ability to take Kyiv, and frankly, they overestimated their ability to take any population center and they clearly underestimated Ukrainian resistance," a senior Pentagon official said during the March 25, 2022 background briefing.
The thesis of the Russian media that the occupying forces allegedly "exclude casualties among the civilian population" is an outright fake. The Russian occupiers faced an unprecedented rebuff not only from the Armed Forces of Ukraine, but also from ordinary Ukrainians. Out of desperation, Russia has begun indiscriminate bombing of Ukrainian settlements committing bloody and blatant atrocities against peaceful Ukrainians. This fact has been confirmed by a number of international organizations around the world. On March 22, the US Department of Defense confirmed that Russia had committed war crimes on Ukrainian soil. The Pentagon accused the Kremlin of carrying out indiscriminate attacks as part of its chosen war strategy.