British intelligence called Shoigu's statement about Russia slowing down the offensive pace in Ukraine on purpose "deliberate disinformation". The idea of "Russia slowing down its pace" in order to "save the lives of Ukrainians" is absurd: according to the UN, Russia has killed or injured about 13,500 Ukrainian civilians in 6 months.
The Russian authorities, trying to justify the failures of the Kremlin's war against Ukraine, are actively spreading disinformation about the "humanitarian" aspects of their invasion. Russian Defense Minister Sergei Shoigu spread a fake about Russia supposedly deliberately slowing down the pace of the war against Ukraine in order to "minimize the number of civilian casualties". Shoigu alsoagain reiterated the Kremlin's false statement that the occupiers are targeting "exclusively military infrastructure facilities" of the Ukrainian Armed Forces.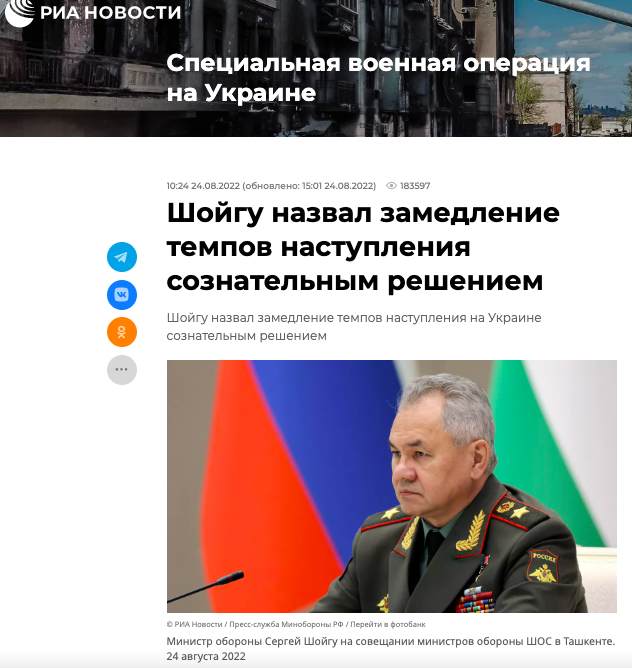 According to Western analysts, Russia conducted several extremely inept operations at the very beginning of its large-scale invasion of Ukraine, completely failed to "capture Kyiv in three days" as originally planned and six months later was finally "stuck" in its own war. In mid-June, the UK Defense Staff Chief Anthony Radakin said that Russia "strategically lost the war against Ukraine". According to Radakin, the Kremlin is suffering heavy losses, as well as running out of troops and missiles. The British military commander emphasized that Russia made a "dreadful mistake" by invading Ukrainian territory, and the Kremlin "will never take control of Ukraine".
NATO Defense College analysts say that by July-August 2022, Russia had already reached the limit of its capabilities to conduct major offensive operations.  According to NATO experts, Russia is "unable to prevail" over Ukrainian troops. The Kremlin was wrong about Ukraine, NATO says, because Russian ground forces, airborne units and marines, special operations forces and direct air support suffered heavy losses in both personnel and equipment.
According to the Pentagon's latest estimates, Russia has lost up to 80,000 soldiers in six months of its full-scale war against Ukraine. As a result of the Ukrainian Forces' skillful actions, the Kremlin lost many times more soldiers in 6 months than the Soviet troops did during the decade-long war in Afghanistan. In addition, Ukrainian defenders destroyed a colossal amount of Russian equipment: more than 1,900 tanks (about 65-70% of its pre-war arsenal), more than 4,200 units of armored vehicles, 234 aircraft and hundreds of other weapons.
Terrorism against civilians is also part of the Kremlin's strategy. The Russian invasion caused staggering Ukrainian civilian population losses. The UN Human Rights Commissioner's office reported that as of August 22, 5,587 civilians were killed by Russians, including 362 children. 7,890 more Ukrainians were wounded. Most Ukrainians were killed by explosive weapons with a large impact radius, including heavy artillery and multiple rocket launches, as well as by missile strikes and airstrikes — the same "high-precision" strikes on "military targets" that the occupiers proudly tout. 
The UN admitted that these figures are most likely greatly underestimated, and the real number of civilian casualties will become clear only after Ukrainian regions are de-occupied. Moreover, these statistics do not include victims of Russian aggression prior to February 24, 2022.
That is why Shoigu's statement about Russia "deliberately reducing the offensive pace" to "save the lives of Ukrainians" is absurd. In addition, on August 26, British intelligence called Shoigu's statement about the "deliberate" slowing down of the Russian war "deliberate misinformation". "Russia's offensive has stalled due to its poor military performance and fierce Ukrainian resistance", the British intelligence agency summarized.