On April 19 several Russian publications reported that well-known Russian musician Pavel Usanov died as a result of a fatal head injury sustained in a quarrel with Ukrainians over his views on the separatist war in the eastern Ukrainian industrial basin Donbass. Among the Russian sites claiming there was a Ukrainian connection in the musician's death were  Mk.Ru and Utro.ru.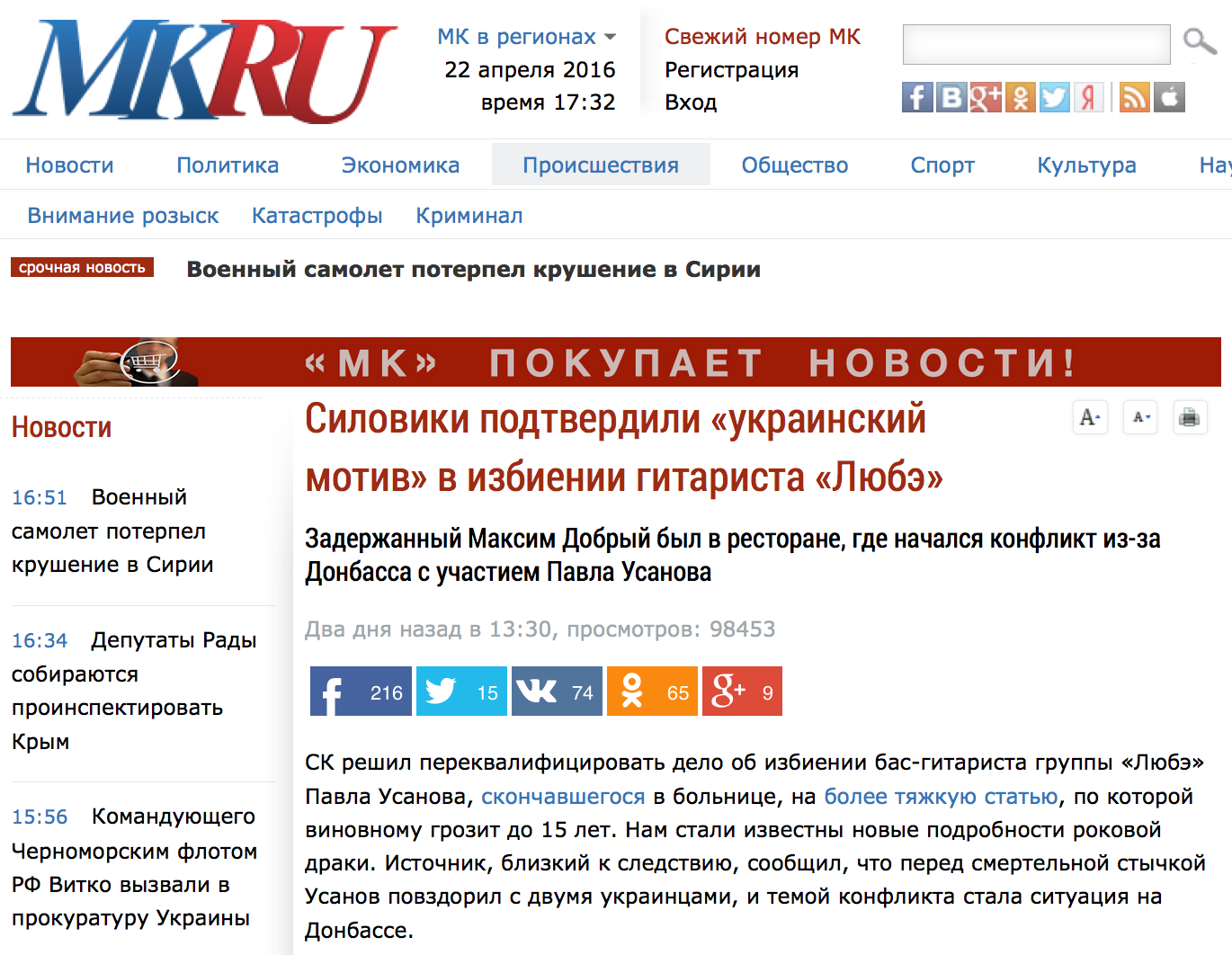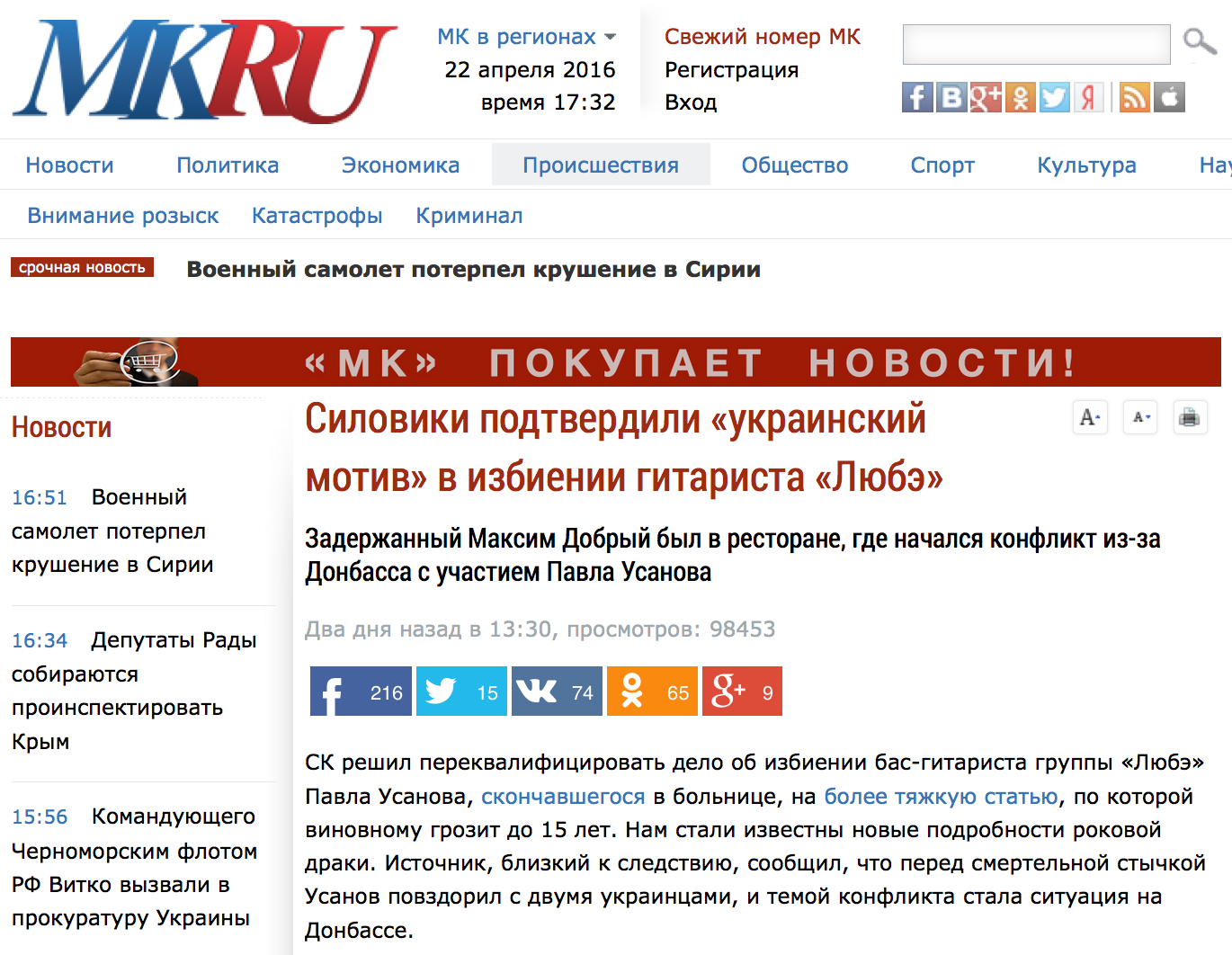 "A source close to the investigation, said that before the deadly skirmish Usanov quarreled with two Ukrainians over the situation in the Donbass" writes Mr.ru.
In his blog on the national television channel Ren IV Russian writer and radical politician Zakhar Prilepin also claims that an altercation which occurred in a suburban Moscow bar over the war in eastern Ukraine led to Usanov's death.
"Pasha (A Russian diminutive of Pavel) was sitting in a bar, discussing those topics that he and I often discussed, the Donbas. We were both concerned about the situation and talked about it often. There were people in the café who it would appear did not like that conversation. Someone walked up and hit him in the head. From behind" writes Prilepin.
Russian Foreign Ministry spokeswoman Maria Zakharova also contributed to the accusatory discussion with an angry Facebook post on April 19. "Give them Human Rights, European values, respect. There will be no values no respect until you stop shooting on the Maidan and killing people in bars because of nationality and ideology" wrote Zakharova.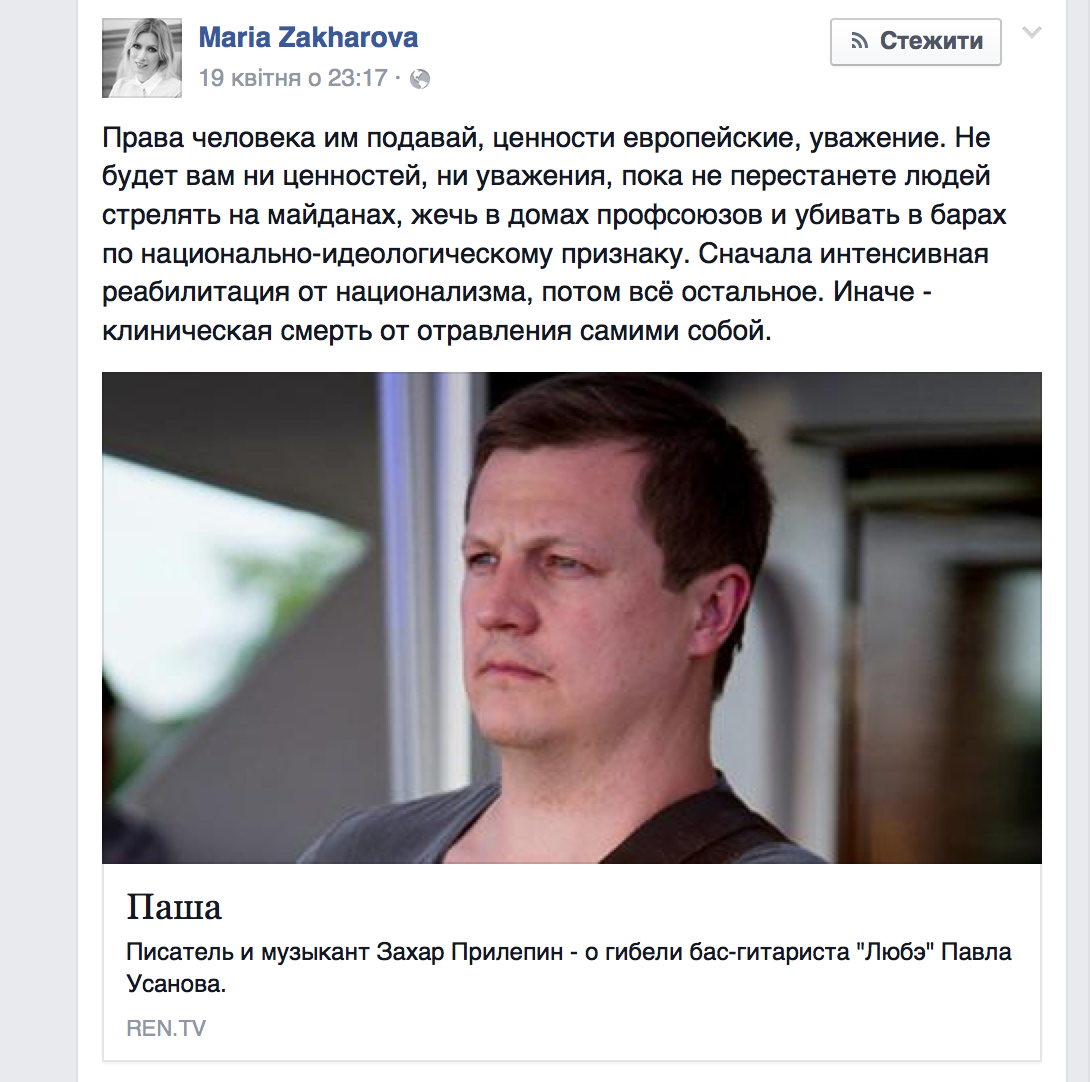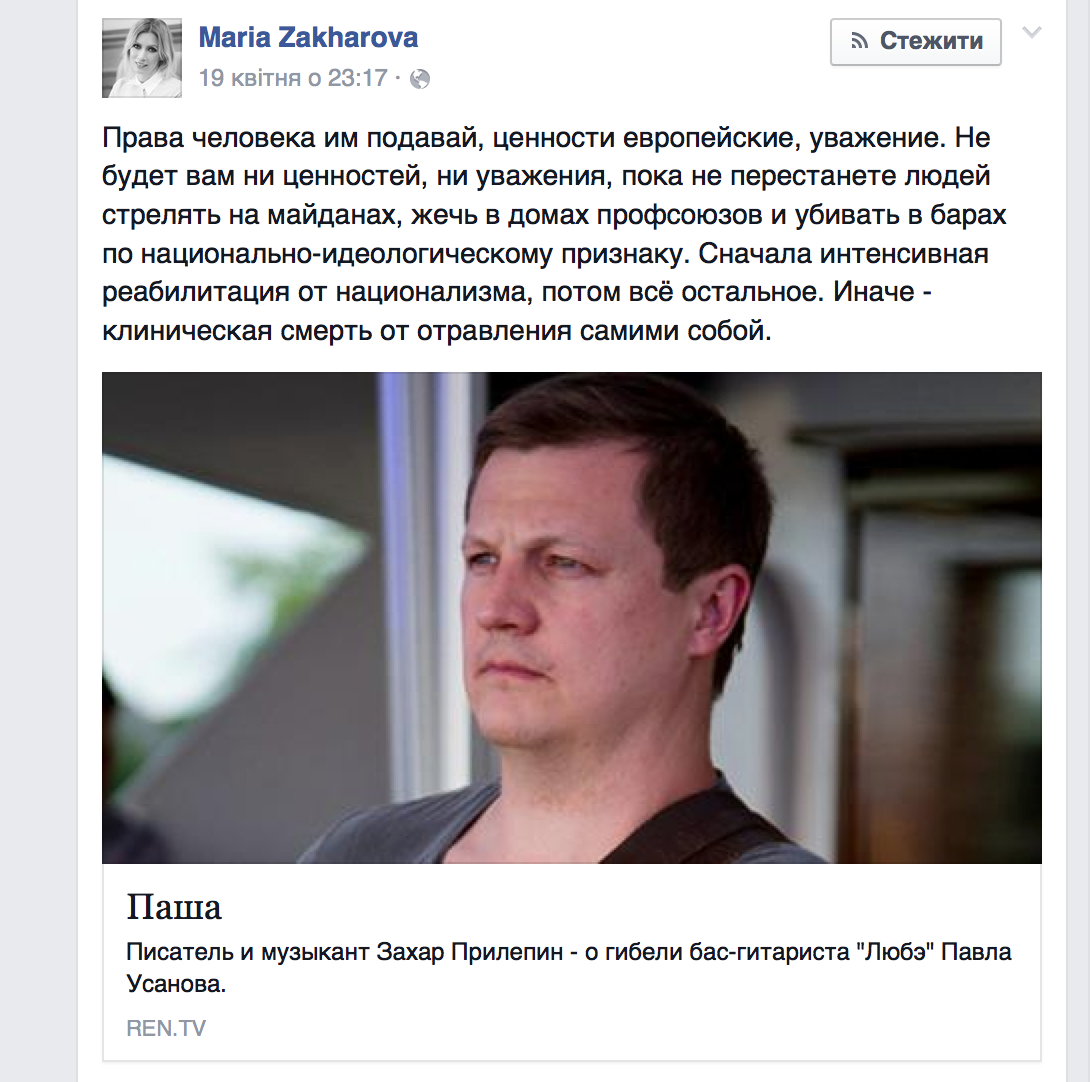 Various Ukrainian media also republished this fake story, among them the site Kommentaryy and the Ukrainian section of the RIA Novosti.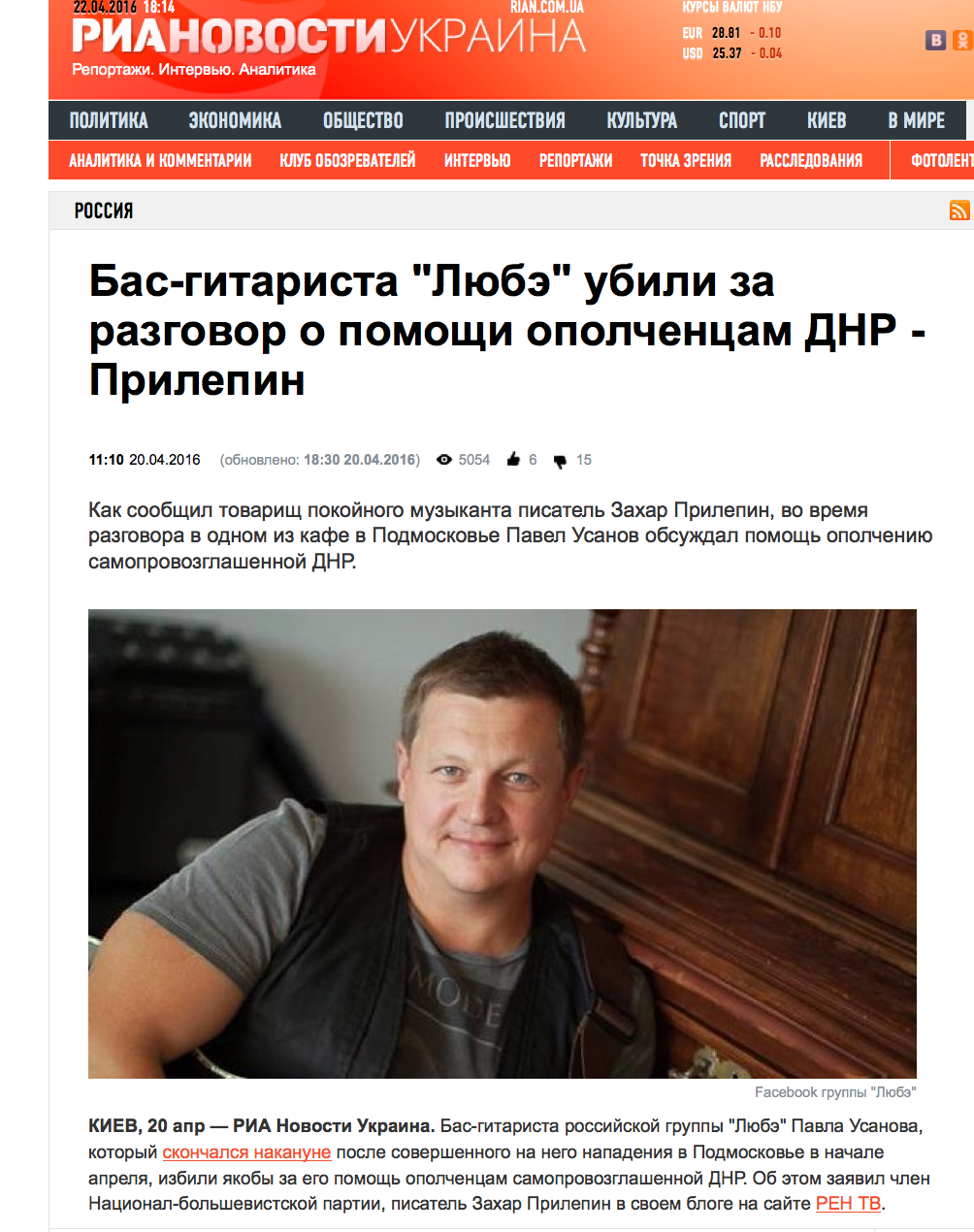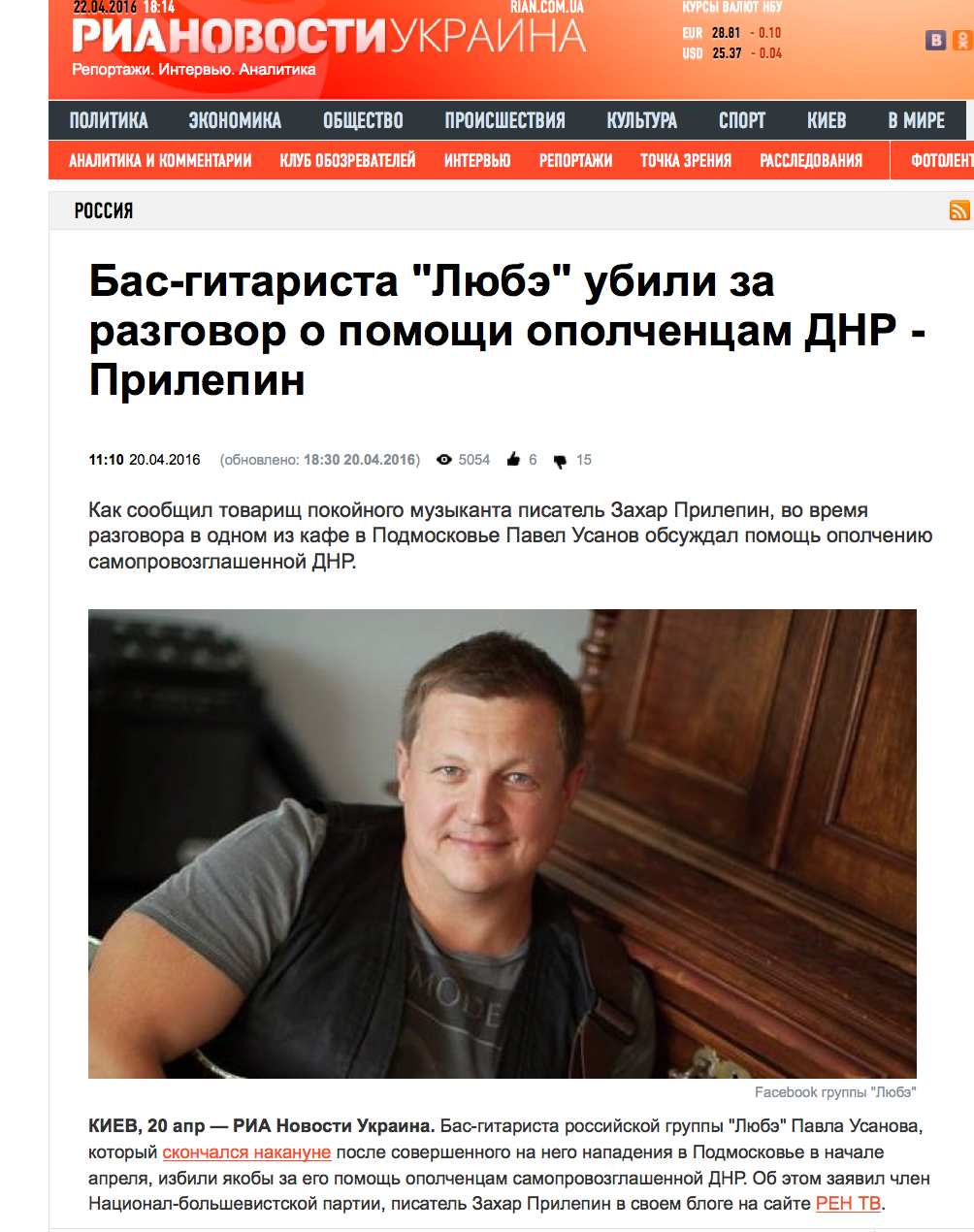 However, Russia's prosecuting agency, the Investigative Committee dismissed claims that Usanov was attacked because of his views on the war in eastern Ukraine.
On April 20 Committee spokesman Vladimir Markin said that "the investigation ascertains that differing views on the Donbas situation were not the cause of the conflict." Russian authorities have arrested a 39 year old man in connection with Usanov's death.
Usanov was admitted to hospital with a head injury on April 3 and remained in a coma for two weeks. He died April 19 without regaining consciousness.
Pavel Usanov was the bass guitarist with the popular Russian rock group called Liube for twenty years. He was well known for his outspoken support for the pro-Russian separatists in the Donbass region and had traveled there to perform for the militants.