The Uber transportation and mobility company has made no announcements about refusing to transport Ukrainian refugees anywhere in the world.
Pro-Kremlin media are disseminating fake stories claiming that Uber drivers are refusing to transport Ukrainian refugees. The fakes further allege that this is happening in several different countries.
As proof of these claims, social media accounts and Russian propagandist publications are using a screenshot allegedly taken in an Uber app which states "we do not serve Ukrainian refugees," "no Ukrainians".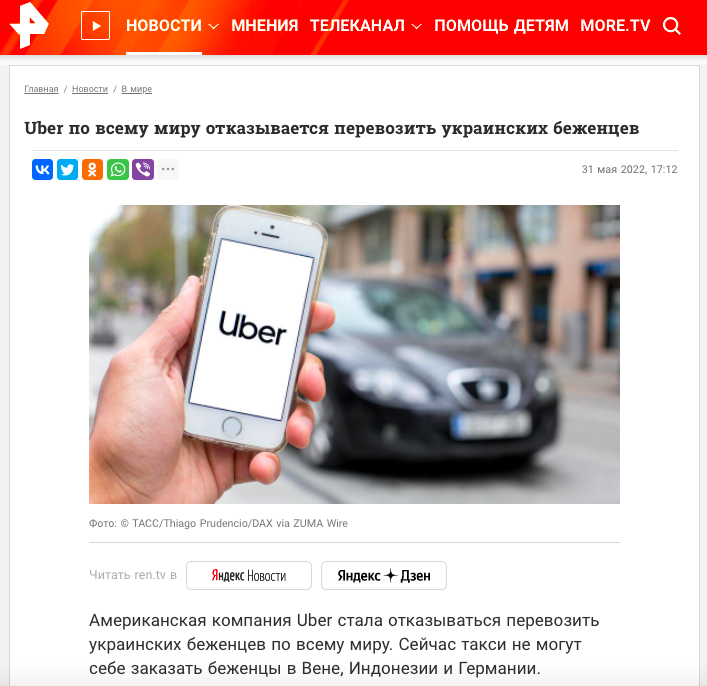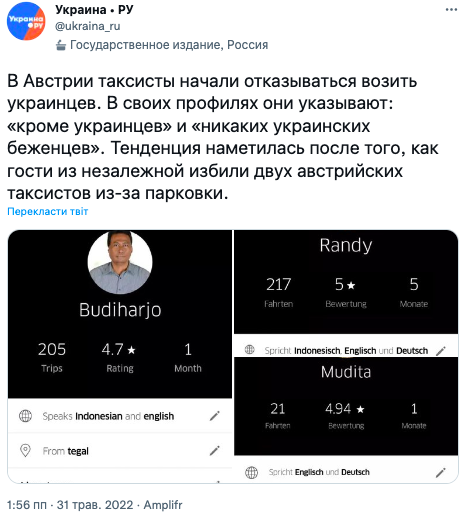 Russian media argue that Uber "made such a decision" after an incident in Vienna, when several men beat taxi drivers because of a parking space, according to preliminary investigation findings. Police spokesman Christopher Verkhnyak said that Ukrainians are suspected in the assault, because the attackers got out of SUVs with Ukrainian number plates.
However, Uber has not decided to stop serving Ukrainian refugees and the company has made no such announcement. The source of such news is Russian propagandist Alexander Kots, the tabloid Komsomolskaya Pravda's "war correspondent". On May 31 Kots published an Uber screenshot on his Telegram channel announcing that "Uber refuses to take guests from nezalezhna". (Nezalezhna means independent in Ukrainian. Russian media often refer to Ukraine as 'nezalezhna' in a pejorative, demeaning manner.) It is significant that this screenshot was distributed only by dubious sites and some social media accounts. Analysis of the image showed that the phrase about Ukrainian refugees was added using a photo processing program.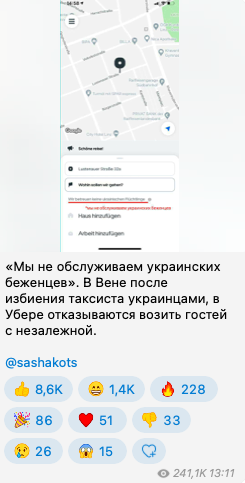 Another detail that indicates the dubiousness of the information is the screenshots of drivers who allegedly refuse to drive Ukrainians. Users share the same screenshots of profiles, all three of whom have worked for Uber for rather short periods of time, one to five months, and clocked in very few trips. In the Uber app column "about themselves," these three drivers indicate – "no Ukrainian refugees." This fake claim is entirely based on the profiles of three drivers who recently began working for Uber, and not any Uber company policy. On the contrary, since the beginning of Russia's invasion of Ukraine, Uber has continued to provide assistance to Ukrainians in every possible way. Furthermore, since June 2022, Uber has launched the Uber Aid Shuttle in Lviv, which takes users to the border with Poland and back.
"Uber continues to support Ukrainian communities.  Due to fuel shortages, we are pleased to announce the launch of a new Uber Aid Shuttle initiative in Lviv. This is a temporary solution that will help people to better weather the existing fuel crisis and return to Ukraine comfortably," said Iwona Kruk, a spokeswoman for the company in Ukraine.
Due to the war and the fuel problem in the country, Uber is also launching other services, such as Pool Chance, where Uber matches riders heading in the same direction, thus saving money and gas. In April Uber resumed work in Kyiv and has eliminated travel fees "to support the city's immediate reopening."
Russian propagandist media pay particular attention to fakes and disinformation about Ukrainian refugees. Disseminating such fakes, they are attempting to show that Europeans do not really support Ukrainians and that Ukrainians are not really grateful for the help they receive from Europe. StopFake has debunked several such fake stories: Fake: Ukrainian refugees evicted from Bulgarian hotels, Fake: Ukrainian refugees burn down house while trying to burn Russian flag, Fake: Germany filtering Ukrainian refugees.