Ukrainian Foreign Minister Vadym Prystaiko's recent BBC Ukrainian service interview gave rise to an avalanche of Russian fakes and manipulations. Ukraine is ready to abandon the Minsk agreements, it is ready to accept Russian President Vladimir Putin's alternative proposals, including a peacekeeping mission on the contact line with the self-proclaimed people's republics and Kremlin control of the border, Russian media claim.
Украина.ру

Радио Спутник
Russian reactions to Prystaiko's interview are filled with phrases that are pulled out of context and supplemented with speculation and distortion. In his interview Prystaiko talked about resolving the conflict in eastern Ukraine, speculated what Ukraine could offer to compel the Kremlin to pull its troops out of Ukraine's occupied territories and cut its support for the militants in the occupied territories.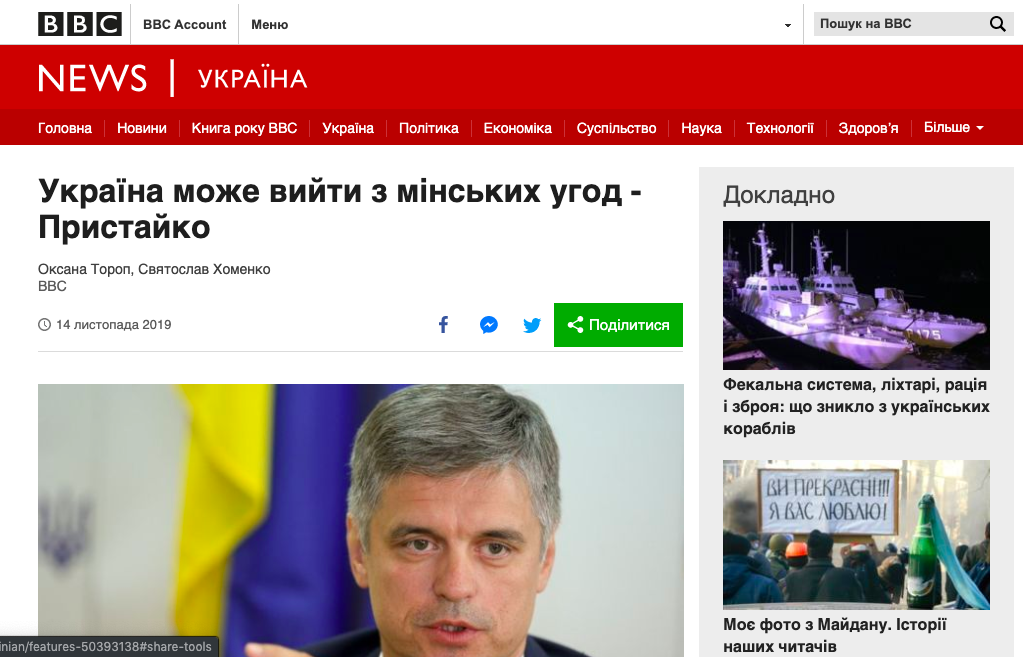 Prystaiko did address the possibility of Ukraine pulling out of the Minsk agreement, but not because Ukraine is not willing to abide by the agreement's terms, but in order to find new ways to end the war. Such a decision however,  would be very unpopular among Ukraine's European partners, Prystaiko pointed out.
Ukraine's Foreign Minister also talked about the introduction of a Donbas peacekeeping mission. This is not a particularly new idea, and it certainly was not put forth by Vladimir Putin. It was President Petro Poroshenko who first suggested the possibility of a Donbas peacekeeping back in 2015. For four years Ukraine has maintained that the mandate of such a mission should include all of the occupied territories, while the Kremlin, who continues to claim it is not a party to the conflict, insists that such a peacekeeping mission be limited to the contact line between Ukraine and the Russian controlled people's republics. Ukraine is categorically opposed to this, but pro-Kremlin media continues to claim otherwise.
Ukraine also disagrees with Russia's proposal for control of the Ukraine-Russia border. The Kremlin proposes that troops be deployed only on the line of contact, while Ukraine insists that border control should be returned to Kyiv and only after Ukrainian control is reinstated can local elections be held in the occupied territories.
The only concession Kyiv can make is the deployment of not only Ukrainian military forces on the border, but also OSCE observers, Prystaiko said.
Prystaiko also stressed that Ukraine is ready to meet in the Normandy format and is waiting for clear proposals from Russia's leadership. (The Normandy format is a diplomatic group of senior representatives of Germany, Russia, Ukraine and France created in June 2014 to resolve the war in Eastern Ukraine.) He also noted that the meeting communique draft was approved in September and it calls for open access to the occupied territories for international humanitarian organizations.
Ukraine has fulfilled all requirements for a meeting of the Normandy four, yet Russia deliberately delays the process, Prystaiko pointed out in the BBC interview.
"We are counting on a concrete conversation: what do you really want from us? That we cease to exist as an independent state? We can never give you this." Prystaiko said.