Ukrainian authorities are trying to muffle the Inter television channel that they call pro-Russian, declared Russian propagandist site Ukraina.ru. Other Russian sites followed suit accusing Ukraine of trying to destroy one of Ukraine's most popular television channels.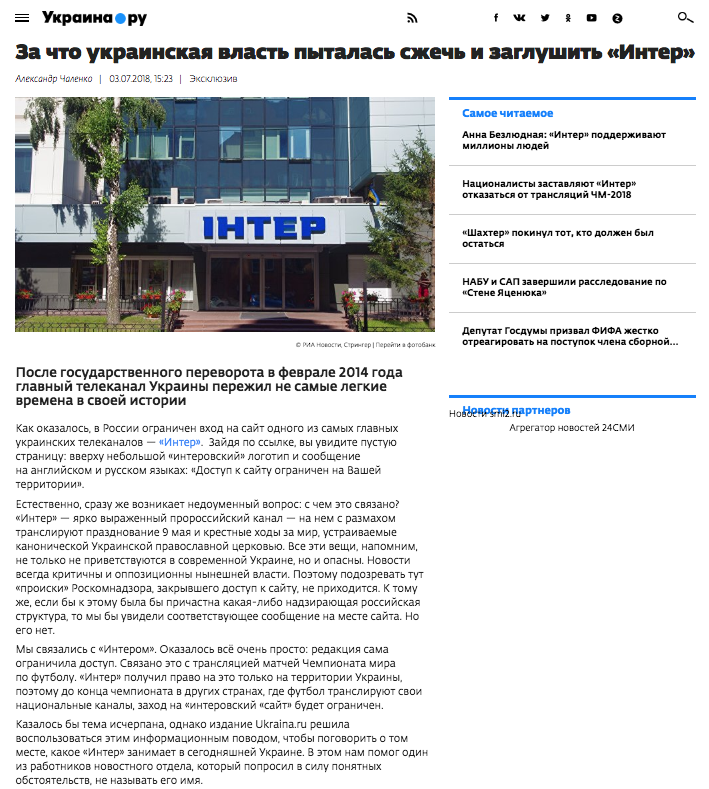 Russian media alarms about the imminent destruction of Inter are greatly exaggerated. It is in no danger of being closed any time soon and has just had its digital license extended for seven years.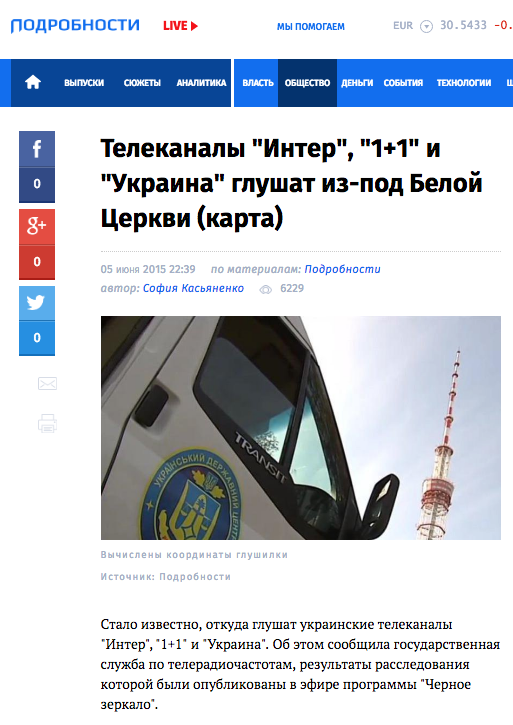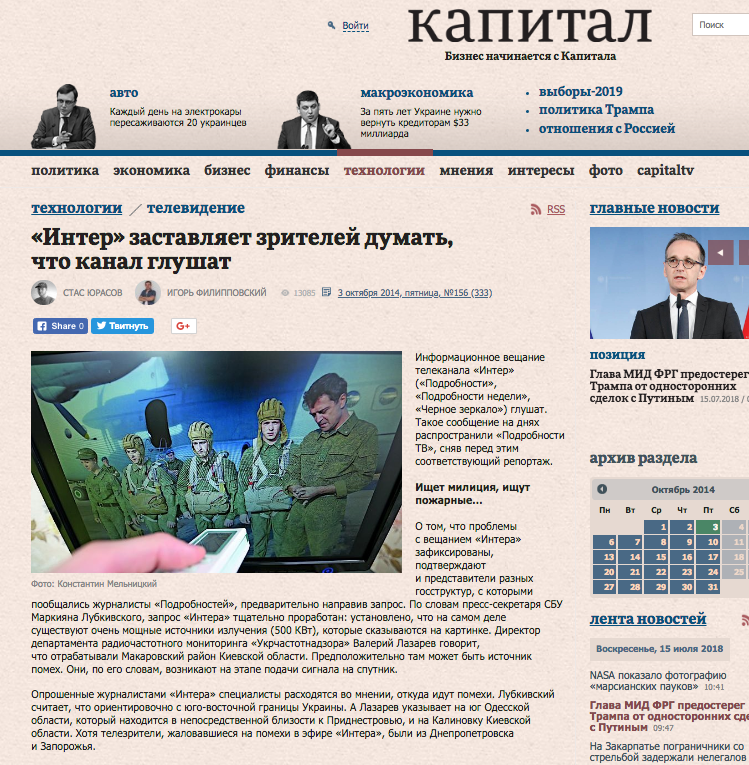 Relying on an anonymous Inter source from the channel's news department, Ukraina.ru claims that Ukrainian authorities have done everything possible to make Inter employees' life miserable. The publication claims that through 2017 Inter's broadcasts were jammed in many Ukrainian cities. Ukraina's Inter anonymous source goes on to claim that the person behind attempts to burn down the TV channel is Ukraine's Interior Minister Arsen Avakov. Inter will support a pro-Russian presidential candidate in the 2019 Ukrainian presidential elections that it why Ukrainian authorities want to gain control over it, Ukraina.ru concludes.
In September 2016 a group of masked protesters broke into Inter's production offices, smashed equipment and set several rooms on fire. Ukrainian authorities qualified the attack as terrorism; others claimed the channel staged the arson attack.
Inter, a traditionally pro-Russian channel is owned by Dmytro Firtash,  a gas tycoon oligarch and one-time business partner of Paul Manafort, who has been indicted in the US for racketeering. Other minority owners include ousted Ukrainian President Viktor Yanukovych's chief of staff Serhiy Lyovochkin.
Despite Inter's claims that its signal was jammed in 2014, official investigations failed to find any technical reasons that would cause jamming leading some to speculate that Inter was manipulating its viewers into believing the channel was being jammed.
Ukraine's National Council of Television and Radio Broadcasting extended Inter's digital license for 7 years but also fined the channel 4 million hryvnia ($152,000) for inciting hatred during a concert broadcast on May 9, Victory day commemorating the surrender of Nazi Germany in World War II. During the pre-taped concert the hosts accused Ukraine of supporting fascism by renaming streets with the names of Ukrainian freedom fighters.
Ukraina.ru alleges that Interior Minister Arsen Avakov ordered the arson attack on the channel's offices without providing any evidence to support the claim. Inter's offices were often picketed by viewers angry at the channel's pro-Russian editorial views. Among the protesters were veterans of the war in the Russian-occupied eastern Ukraine.
Claims that Inter is one of Ukraine's top TV channels also do not hold water as latest ratings show that it does not even make it to the top three most watched television channels. In May 2018 Inter was in sixth place, with Ukraina, STB and ICTV leading in the ratings.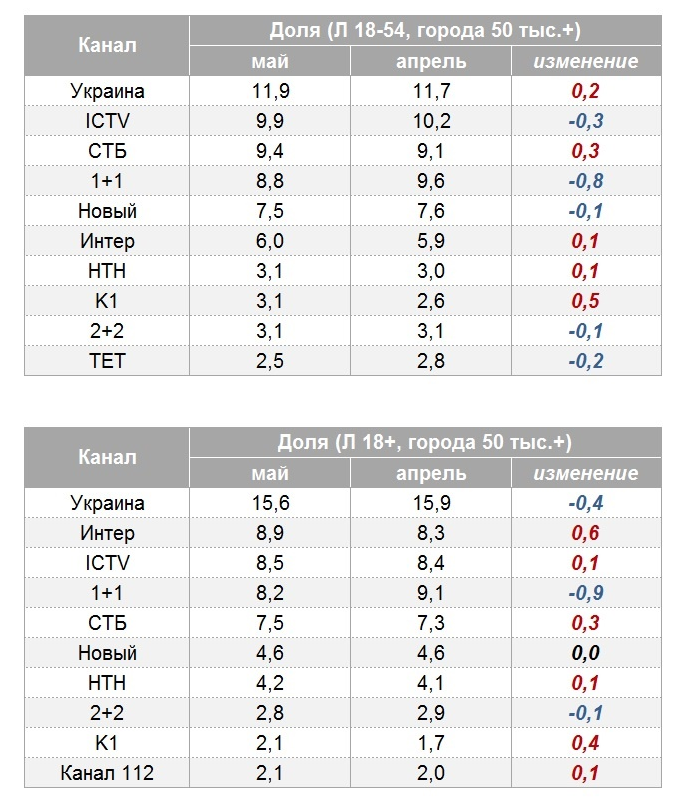 Russia's state channel one has defended Inter, claiming that their Victory Day concert simple reflected reality and the fine for inciting hatred is unfair. "Inter didn't just air Soviet war songs, the channel dared to put neo-Nazi youth and Ukrainian politicians in their place" Kremlin mouthpiece Channel One declared.