Kyiv is not interested in freeing Ukrainian citizens who were taken prisoner by the self-proclaimed Donetsk and Luhansk people's republics (DPR, LPR). This claim has become a favorite trope of Russian and separatist propagandist media. On June 19 the so-called Justice Ministry of the DPR again declared that official Kyiv does not intend to free those prisoners and has "once again thwarted the exchange of prisoners". RIA Novosti, Ukraina.ru, Regnum and others all disseminated this fake claim.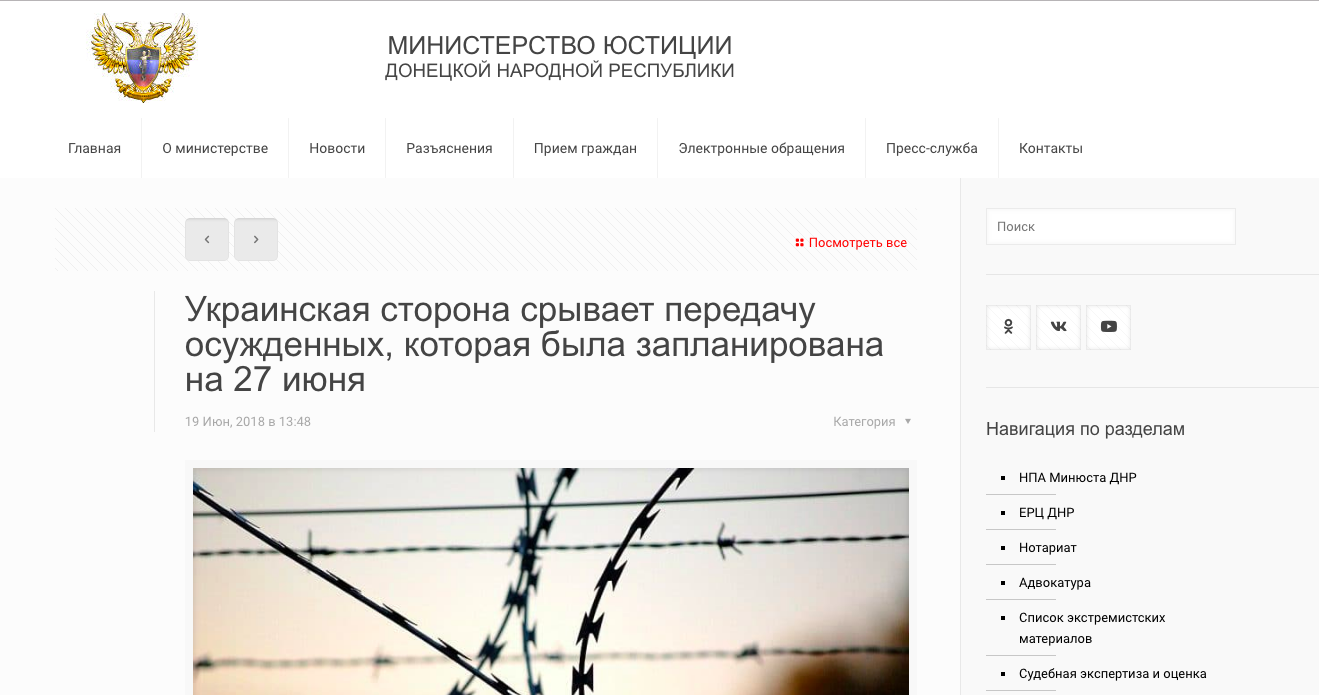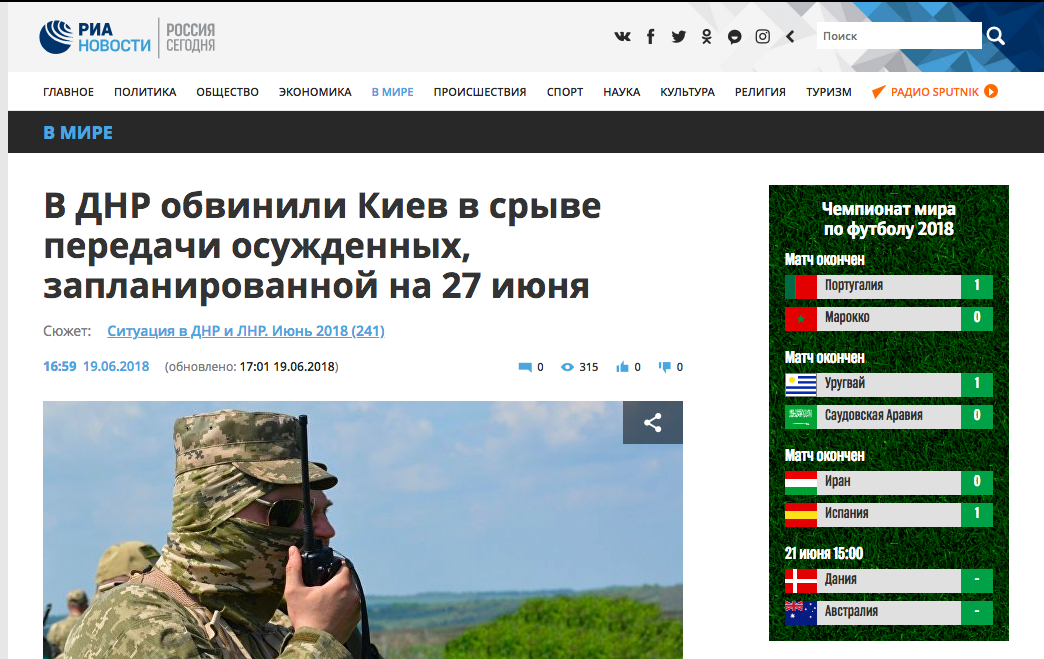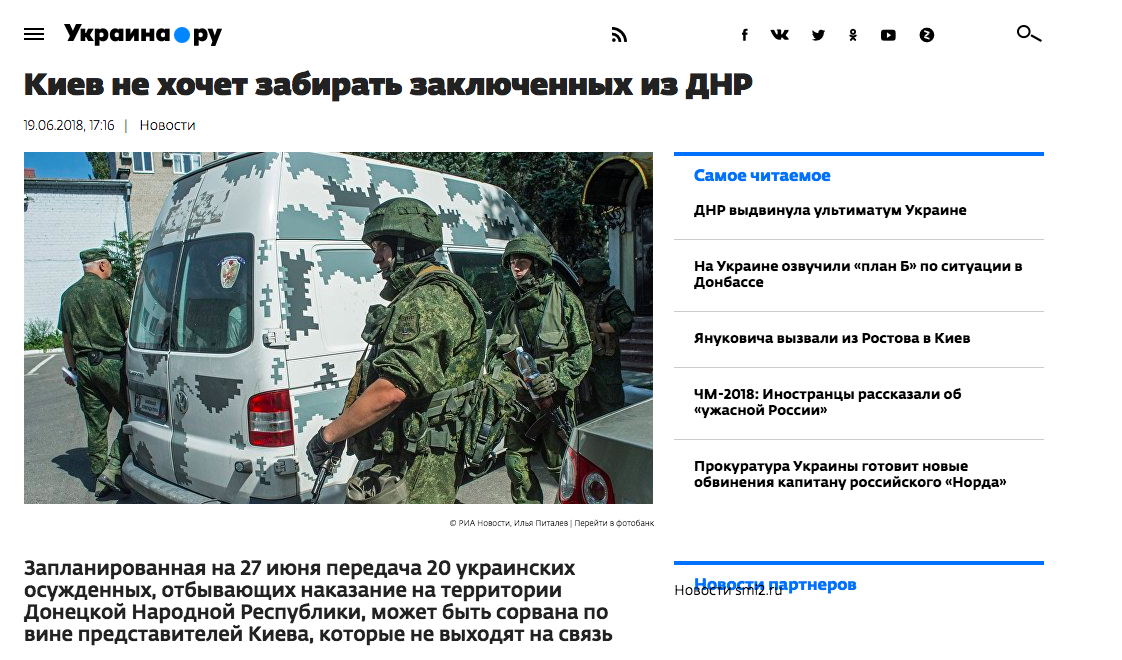 Pro-Russian militants claim a prisoner exchange was planned for June 27, but the Ukrainian side stopped meeting with the militant leadership.
Russian media regularly produce distorted and fake stories claiming Kyiv is stalling or disrupting prisoner exchanges. After a May 2018 meeting of the Ukraine, OSCE, Russia contact group in Minsk, Russian media disseminated fake stories claiming Ukraine's authorities did not want a prisoner exchange. (The contact group was formed in 2014 aimed to resolve the conflict in eastern Ukraine.)
During a June meeting of the contact group, Ukraine reiterated that Kyiv is waiting for an exchange of prisoners with the militants. Daryna Olifer, the spokeswoman for the Ukrainian side said Ukraine was ready for compromises.
https://www.facebook.com/darka.olifer/posts/1695392863914142
According to Ukrainian MP Iryna Herashchenko, who represents Ukraine in a Contact Group Humanitarian Subcommittee, the issue of prisoner and hostage exchange is a burning one for Ukraine.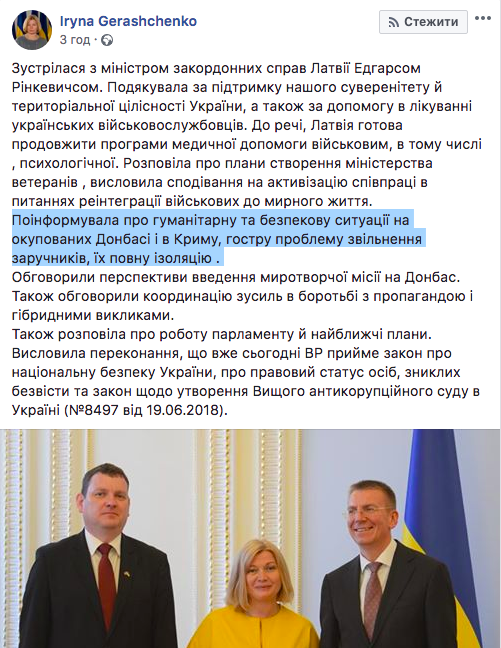 In an interview with Ukrainian television station Channel Five on June 17, Ukraine's Foreign Minister Pavlo Klimkin said he hoped the next prisoner exchange would take place sometime during the World Cup which is currently being played out in Russia. Moscow might agree to such an exchange as it would create a positive image of Russia in the eyes of its Western partners, but such a gesture would not be one of goodwill, but simply more of the Kremlin's political manipulation, Klimkin said.