Russian RT is once again spinning one of its favorite narratives about the Russian made war in eastern Ukraine – that Ukraine has not implemented any of the Minsk agreements, the hasty peace deal signed by Ukraine, the Russian Federation and the self-proclaimed Russian separatist Donetsk and Luhansk People's Republics in 2014 and 2015. According to this narrative Ukraine is the guilty party, not interested in peace or fulfilling the terms of the Agreements.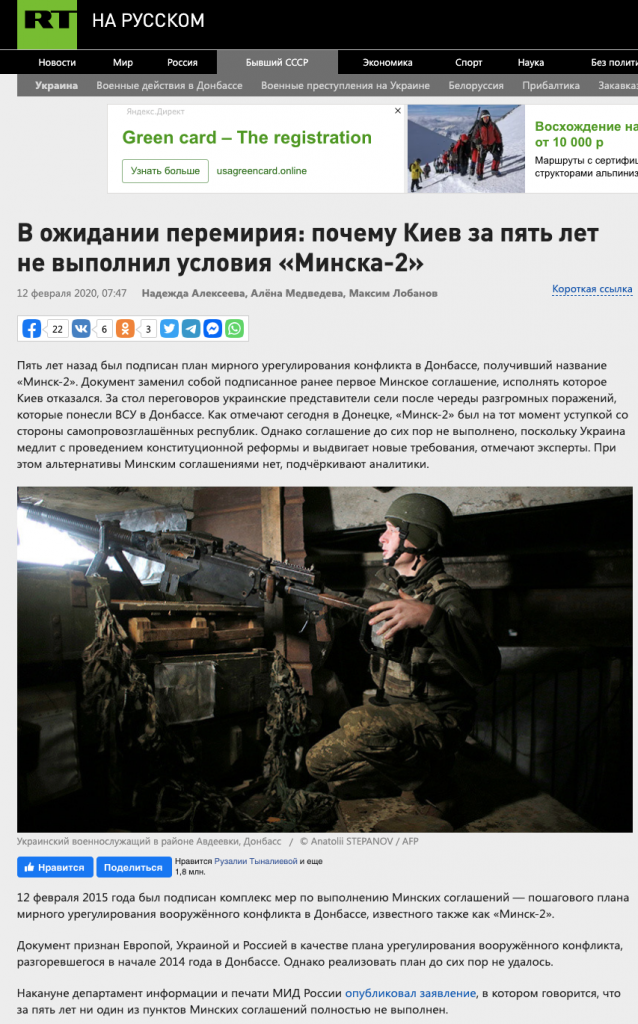 Despite the signing of the Minsk Agreements shelling in occupied Donbas continues. A recent analysis by the Atlantic Council think tank shows that it is Russia and not Ukraine that constantly violates the Agreements.
Kyiv is not ready to discuss serious issues and abide by the Minsk Agreements, RT claims and calls the Agreement a "concession on the part of the self-proclaimed republics."  It goes on to say that Ukraine's military suffer perpetual defeats, that the Ukrainian side constantly violates the ceasefire and that Kyiv began sabotaging the Agreements from the moment they were signed.
"The conflict between Kremlin-backed armed groups and Ukrainian government forces shows no sign of abating; violations of the ceasefire continue to flare up along the line of contact, with daily hostilities and casualties" the European Parliament concluded. The OSCE Special Monitoring Mission records shelling from both sides on a daily basis.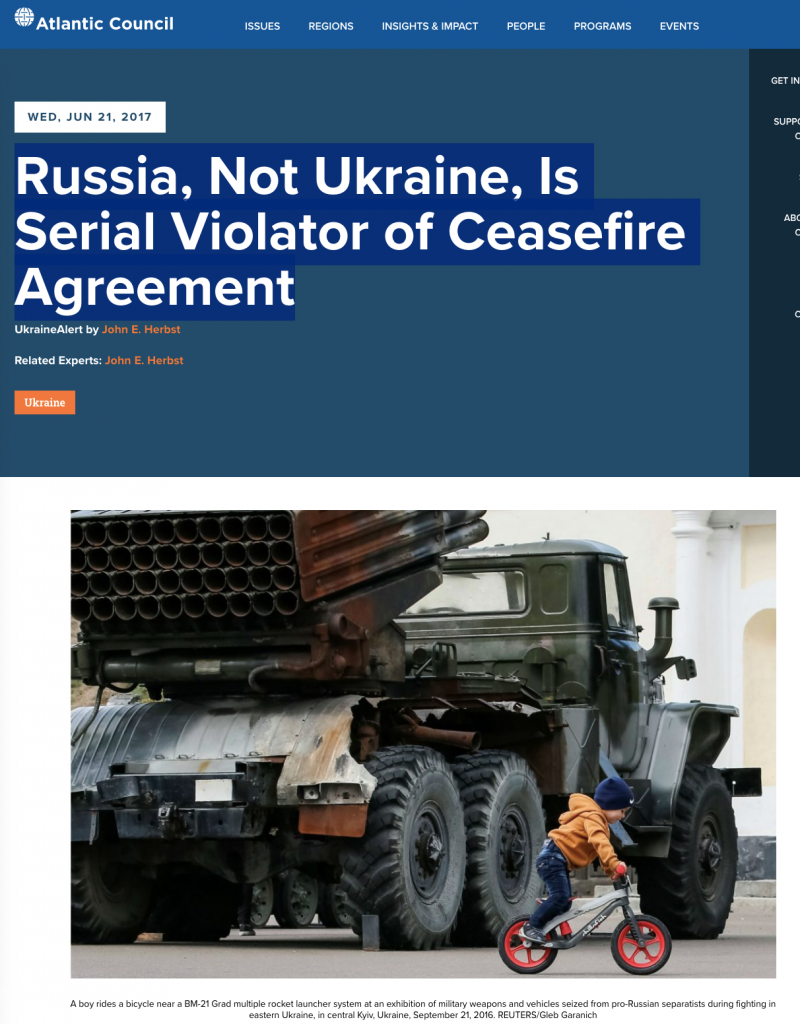 According to former US Ambassador to Ukraine John Herbst, it is Russia and not Ukraine, that violates the ceasefire on a regular basis.
"Russians and their proxies are responsible for most of the violations, and Ukrainian violations are often in response to Moscow's" Herbst writes. The best source of unbiased data about the fighting in the Donbas comes from the OSCE Special Monitoring Mission in Ukraine, Herbst points out, however the Russians block OSCE access twice as often as the Ukrainian side does. "Such data are much more relevant to evaluate the ceasefire than the possible presence of new Ukrainian weapon systems near the line of contact" Herbst notes.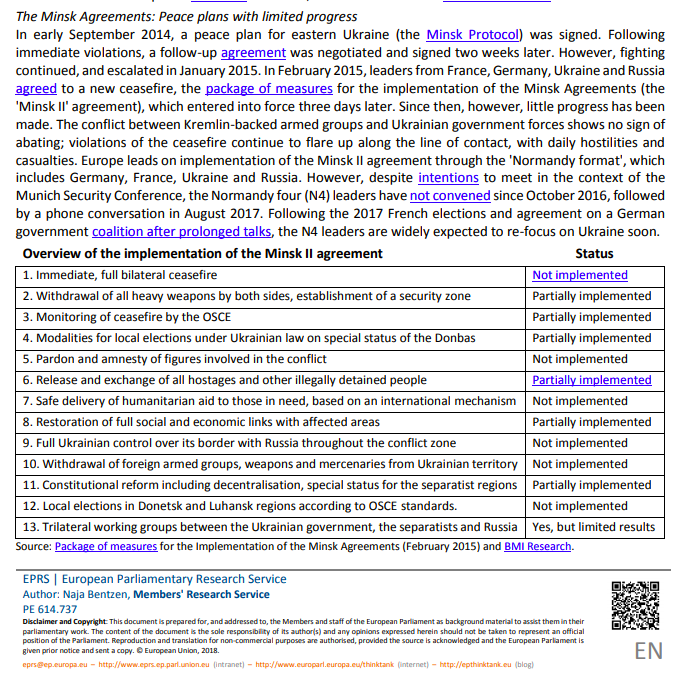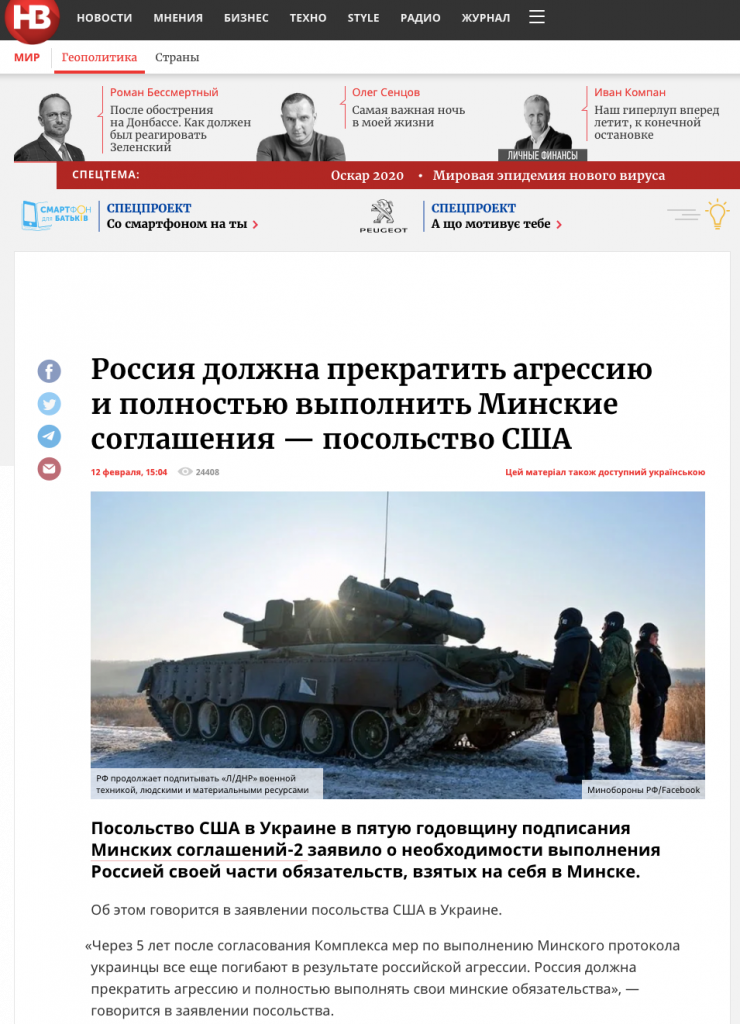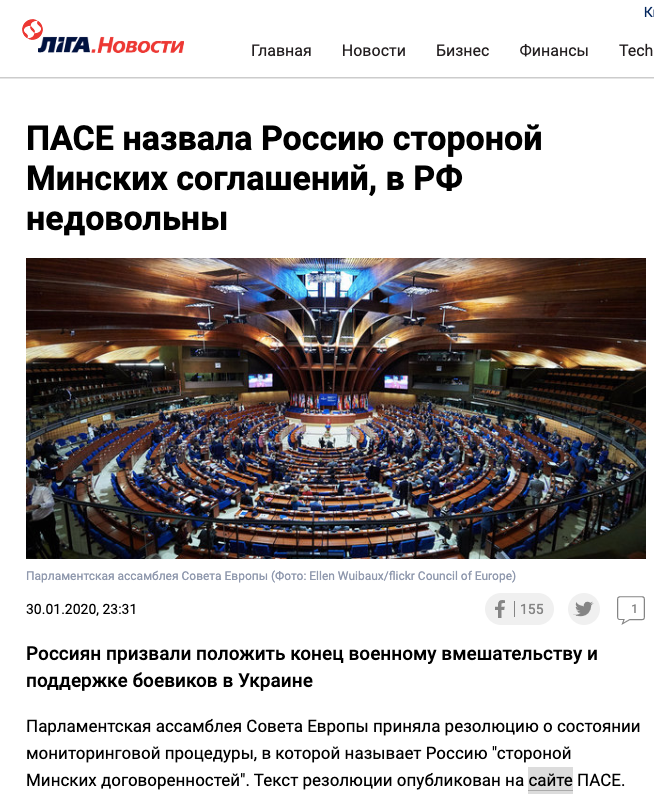 At the end of January 2020, the Council of Europe Parliamentary Assembly adopted a resolution on the status of the monitoring procedure. In the resolution it calls Russia "a party to the Minsk agreements".
The resolution states that Russian authorities should, among other things, "fully implement the Minsk agreements and put an end to military intervention and support for illegally armed groups in Eastern Ukraine, to which the Russian Federation is a party".