Ukraine is not preparing any attacks on its own territory. All institutes and businesses that could be technologically dangerous are under round-the-clock increased security.
The Russian Ministry of Defense continues to spew out disinformation, accusing Ukraine of various "provocations" that the Ukrainian Armed Forces are allegedly preparing on their own territory. On April 23, Russia announced that a "chemical attack" using ammonia was planned in the area of the Yuzhny port near Odessa. The Russian Ministry of Defense claims that "Ukrainian special services are planning a provocation using toxic chemicals to accuse Russian troops of allegedly attacking civilian infrastructure."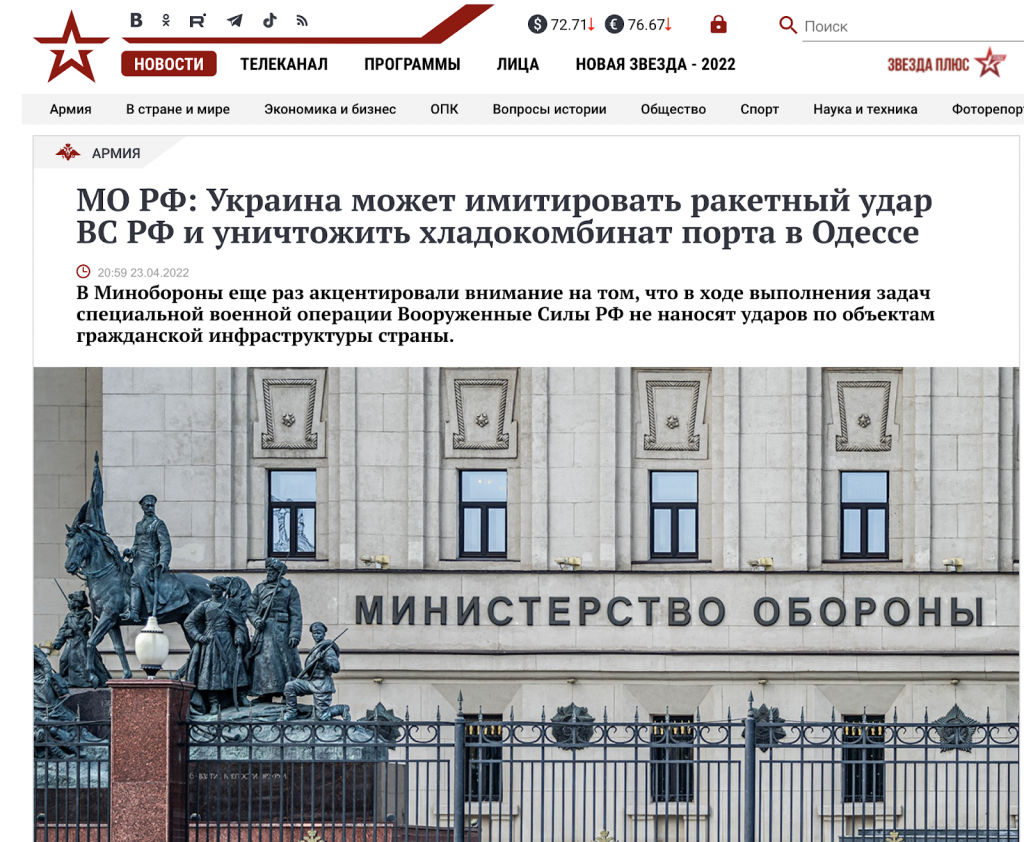 Ukraine is not preparing any "chemical attacks" on its own facilities. On the contrary, the Ukrainian military and government officials are doing everything possible to protect Ukrainian citizens from Russian aggression. Odesa Regional Military Administration speaker, Serhiy  Bratchuk, called the Russia Defense Ministry statement a "fake" and a "method of psychological pressure" on the civilian population, as well as an "information alibi" technique to hide the bloody crimes that Russia is carrying out in Ukraine.
After the start of Russia's large-scale invasion of Ukraine, all sites which could pose a technological danger were placed under round-the-clock enhanced security, including the Yuzhny port, which was under blockade after the Russian invasion. Now, hundreds of thousands of tons of cargo are stored in a number of idle ports, including Yuzhny. Only a part of that cargo managed to be moved out via road and rail.
The Odesa Port Plant, which like the Yuzhny port is located on the banks of the Adzhalyk estuary 30 kilometers northeast of Odesa, was also placed under heavy security. The company specializes in the production of chemicals, including ammonia. With the onset of the Russian invasion, the plant temporarily stopped producing and distilling ammonia. Because of increased military danger from Russia, the Odesa Port Plant ceased operation.
Fearing that the Russians would provoke a man-made disaster by launching a missile attack on port infrastructure and ammonia storage facilities, on February 24, the southern Odesa region authorities called on residents to leave the city.
Almost simultaneously with the Russian Defense Ministry's statement about the preparation of a "chemical provocation", Russia fired two cruise missiles from the Black Sea towards the Yuzhny port area. The Russian air attack was successfully repulsed by Ukrainian air defense systems and port infrastructure was not damaged. It is worth emphasizing that less than an hour elapsed between the Russian briefing and the successful operation to repel the Russian air attack.
This is not the first time that Russia has put out disinformation about Ukrainian Armed Forces "provocations" and launched an attack immediately after releasing the disinformation. This happened on April 8 when Russia launched a missile attack on a train station in Kramatorsk. At that time several Russian media, particularly RIA Novosti published stories about the "Ukrainian terrorist attack in Kramatorsk" right before Russian missiles hit the Kramatorsk train station. Also, on the eve of the shelling of the railway station, many so-called Z-publics that support Russian aggression against Ukraine wrote that the Russian Armed Forces were firing at "a cluster of Ukrainian Army militants" and "wagons with weapons" at the Kramatorsk railway station. Later, all publications were deleted or edited, but all the evidence and screenshots can be viewed in the article by StopFake journalists "Fake: Ukrainian military struck at the Kramatorsk railway station."