Russia annexed Crimea from Ukraine in March 2014. The annexation was preceded by anti-Ukrainian demonstrations in Crimean cities, blockade, and the seizure of the peninsula's strategic facilities and military bases by the Russian army.
2014 Coup d'état, events unleashed by Washington in Ukraine, Crimea could not help but leave – stories with these narratives are once again appearing in Russian media. Citing the pro-Kremlin political analyst Alexander Dudchak, several Russian publications are claiming that "Ukraine lost Crimea thanks to the Americans".
Radio Sputnik, Ukraina,ru, Pravdorub and other websites disseminated versions of this fake story.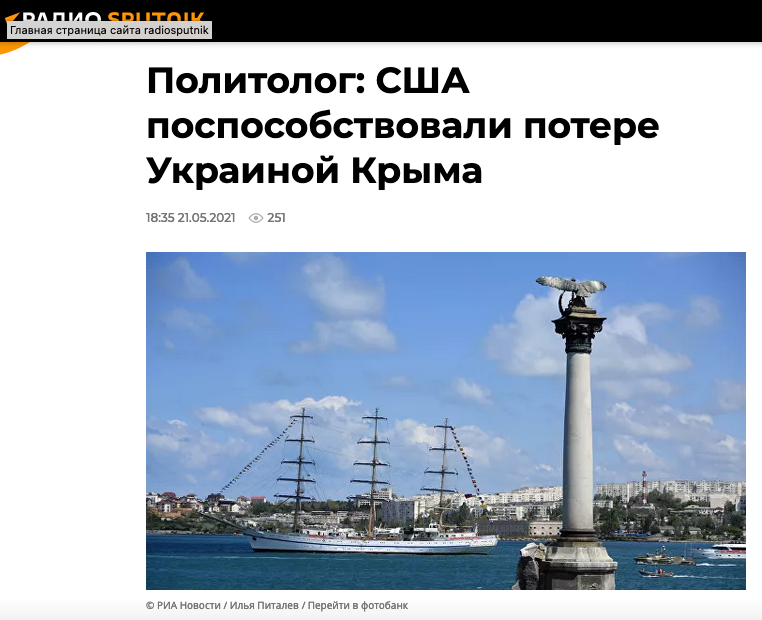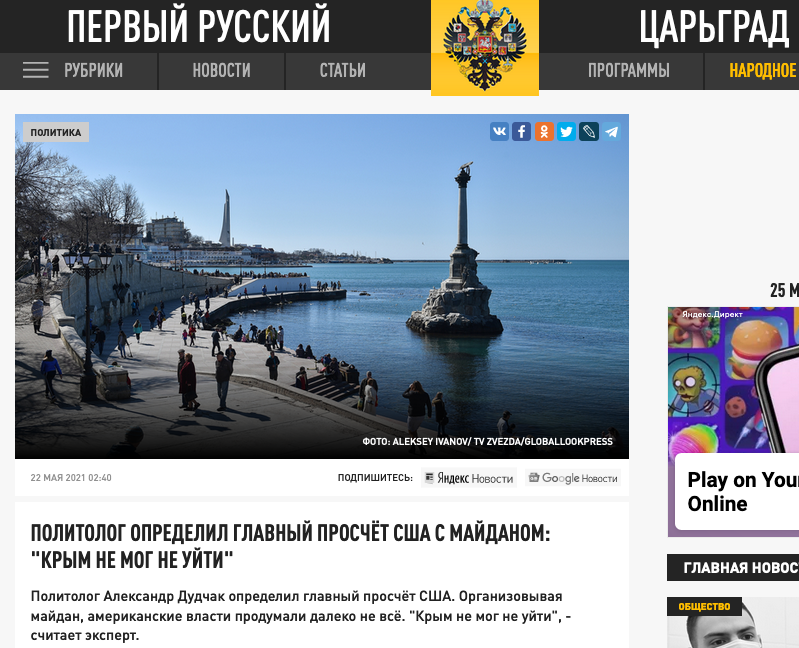 Dudchak, who regularly contributes to pro-Kremlin publications, uses every manner of traditional Russian propaganda clichés go that Ukraine is not an independent country, that the Maidan Revolution of dignity was organized by the West and that the residents of Crimea organized themselves to express their desire to be part of Russia and the US had no idea of what the consequences of the "illegal change of power" in Kyiv would be. "Crimea left because it could not help but leave," according to Dudchak.
There is not and never has been any evidence to the claim that Crimea was lost to a coup allegedly organized by the Americans and the Maidan Revolution was organized by the United States or other Western country. Any political development in any post-Soviet country that takes that country even a tiny bit out of the orbit of Russia's influence, Moscow immediately claims to be a Western organized plot.
Crimea was annexed by the Russian Federation between February and March 2014. The annexation was preceded by anti-Ukrainian demonstrations in Crimean cities, blockade, the seizure of strategic objects and Ukrainian military units by the Russian army, in some cases under the cover of civilians from the so-called Crimean self-defense units. Initially, Russia did not recognize the participation of Russian troops in the annexation, later this was confirmed by Russian President Vladimir Putin. Putin also admitted that the annexation of the Crimean peninsula was planned by Russia long before the so-called Crimean referendum on self-determination.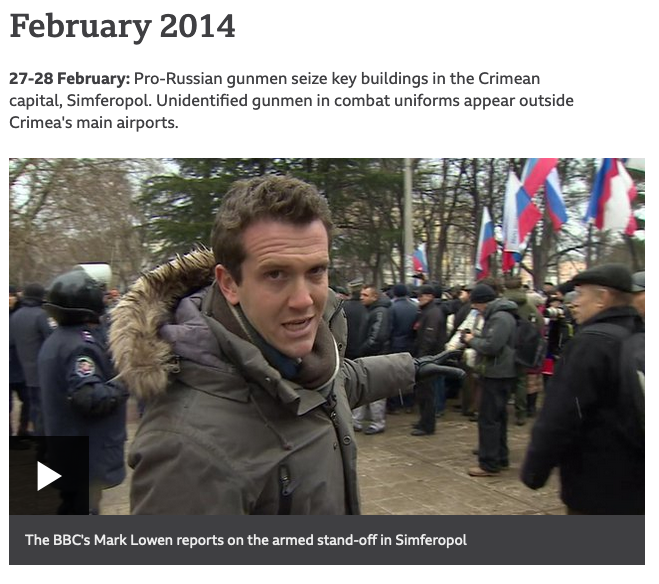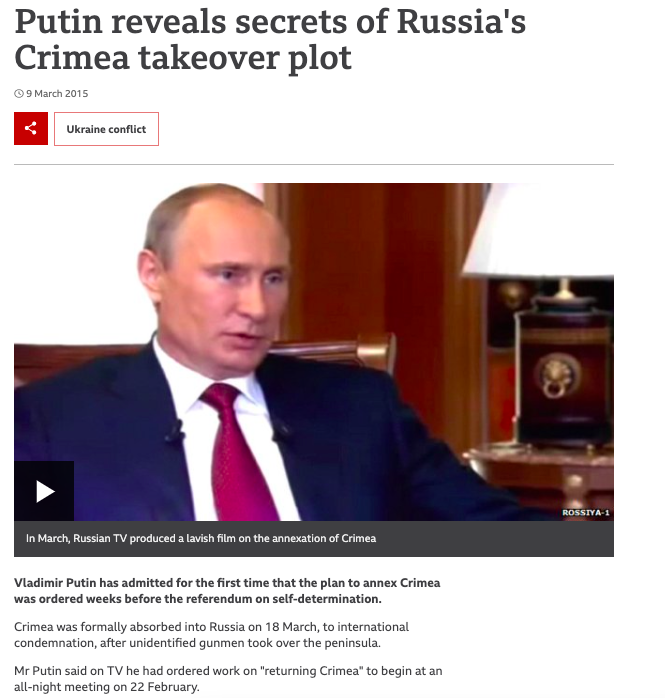 The occupation of Crimea is not recognized by Ukraine and most countries, it is not recognized the UN General Assembly, PACE, OSCE and also contradicts a decision by the Venice Commission, the Council of Europe's independent advisory body on constitutional matters, that gave a damning verdict of the Crimean referendum. Ukrainian law considers Crimea to be Ukrainian territory that is temporarily occupied by Russia.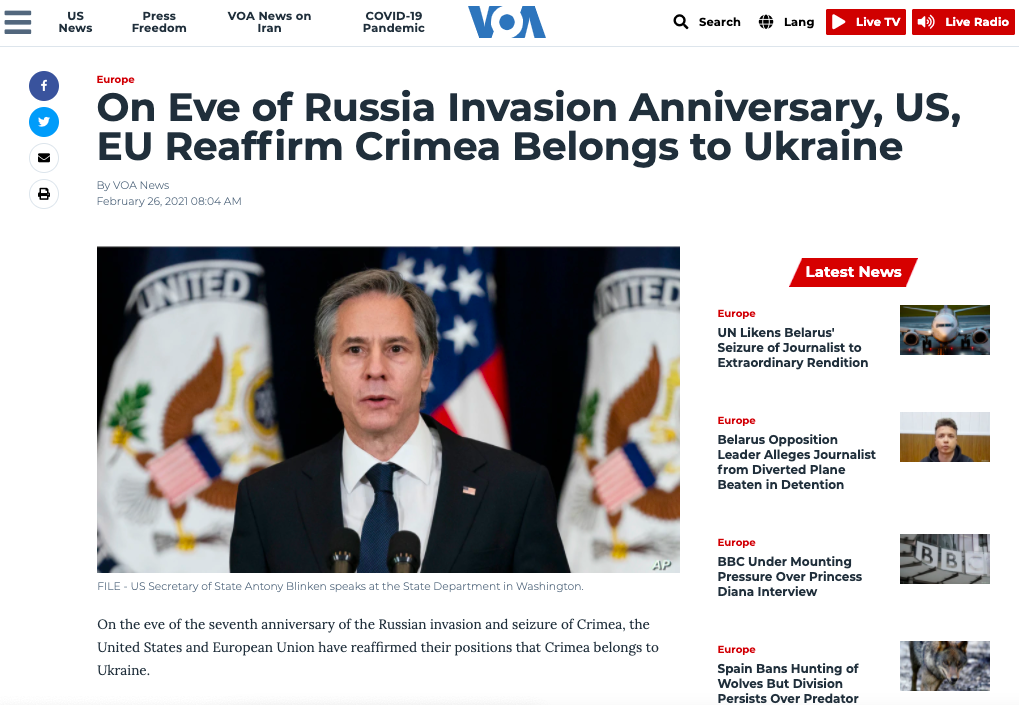 On the 7th anniversary of the Russian invasion of eastern Ukraine and the annexation of Crimea, the US and the EU have reaffirmed their position that Crimea belongs to Ukraine.
StopFake has debunked several similar Russian fakes about Crimea, such as stories claiming that Ankara considers Crimea to be Turkish and wants to wrest the peninsula away from Russia and that Ukrainians want to go to Russia and are calling upon the Ukrainian president to allow train travel to the annexed peninsula.