Claiming that Ukraine has no chance of becoming a NATO member is a favorite topic of pro-Kremlin media. Russian Defense Ministry's television station Zvezda remained faithful to that tradition and declared this week that during this year's Halifax International Security Forum NATO Secretary General Jens Stoltenbeg said NATO does not want to accept Ukraine and Georgia into the Alliance.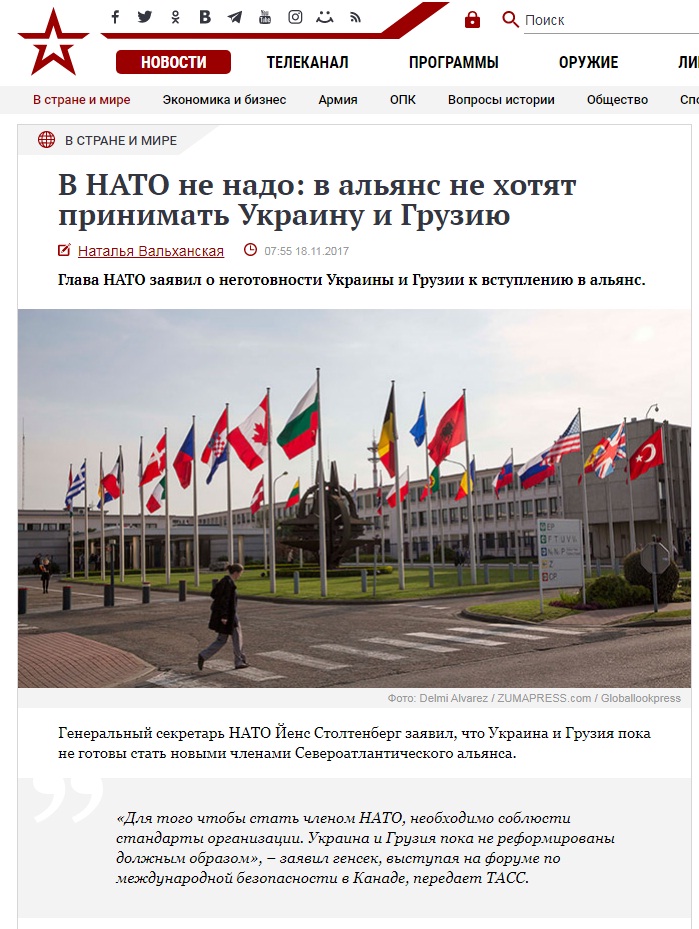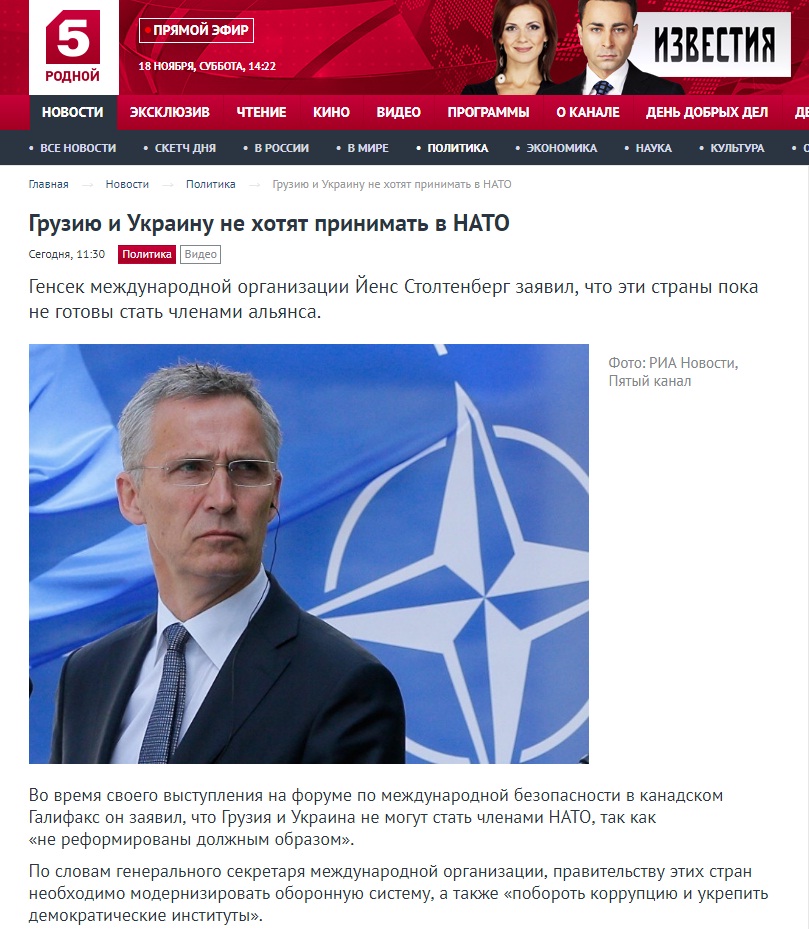 Speaking at the Halifax Forum Stoltenberg said that NATO doors are open, but in order to become a NATO member, a country must fulfill the necessary requirements. NATO is currently helping both Ukraine and Georgia with the implementation of reforms needed to meet criteria for entry into the military alliance. The decision to accept or reject new members will be taken by 29 NATO member countries and no one has the right to intervene or veto the process, Stoltenberg pointed out.
In a word, Ukraine still has obligations to fulfill and reforms to carry out but NATO membership has definitely not been ruled out.
Stoltenberg and NATO's open position regarding future Ukrainian membership did not prevent a number of Russian media from twisting the General Secretary's words and declaring that Ukraine is not wanted in NATO, that NATO refuses to accept Ukraine, NATO's doors may be open, but not for Ukraine  and that NATO told Ukraine and Georgia what their place is.
Channel 5, Novyi den, Tsargad, Inforeactor, Ura.ru, ryb.ru, SalamNews and other Russian sites carried this fake story.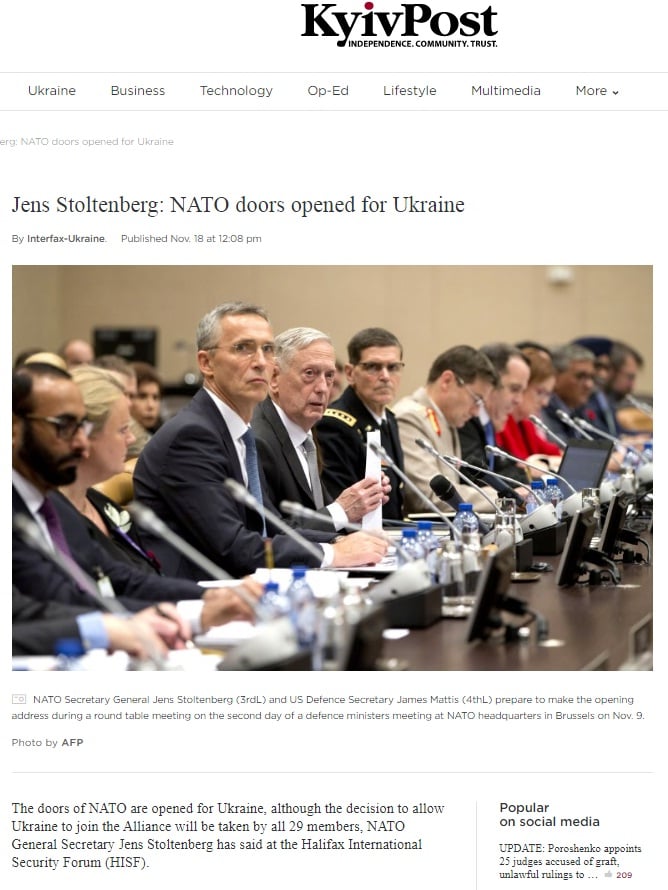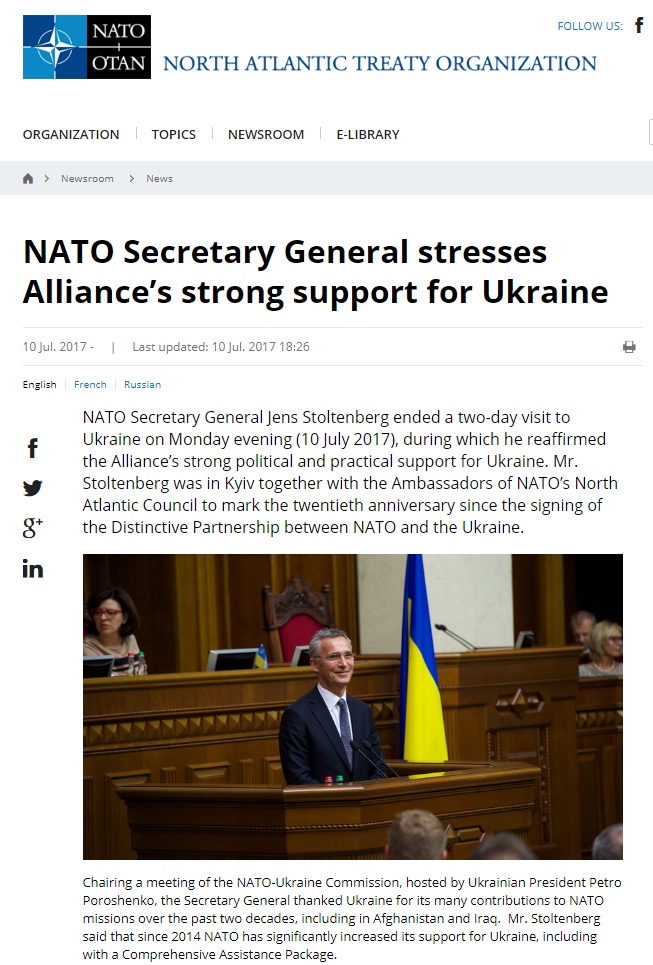 The best proof of NATO's open doors is the fact that since the Cold War ended, the number of NATO members has grown to 29, Stoltenberg pointed out. He did not say that Ukraine is not ready to join NATO nor that it could not.
Speaking at a commemoration of 20 years of Ukraine-NATO partnership this summer, Stoltenberg pointed out that Ukraine is a sovereign nation and has the right to choose its own security arrangements. He said he welcomed that Ukraine was moving towards NATO standards