Oleksiy Vadaturskyi, the founder and CEO of Nibulon, one of the largest Ukrainian agriculture companies, was killed along with his wife on July 31 during the massive shelling of Mykolayiv by Russian invaders. One of the 50 rockets that Russia fired at the city that night hit his home. Ukraine's Prosecutor General opened an investigation into his killing, one line of investigation being pursued is Vadaturskyi's home was targeted intentionally.
After massive rocket attacks on Mykolayiv by the Russian army, as a result of which Nibulon director Vadaturskyi was killed, the Russian propaganda machine returned to one of its most consistent false narratives, blaming the victim, and declared that Ukrainians themselves were to blame for Vadaturskyi's death.
The Vzglyad newspaper writes that Vadaturskyi was "removed by competitors or raiders," and the rocket or mine used to kill him were fired by Ukrainians. The propagandist site Readovka claims that "the motives for Russia eliminating the businessman are extremely doubtful," while "the death of the tycoon in the midst of a grain battle organically fits into this context." Tsargrad adds that the Ukrainian businessman was killed by "a Ukrainian air defense system." Another propagandist site, Versiya claims that "Vadatursky's mansion was hit from a Ukrainian helicopter flying literally over his house."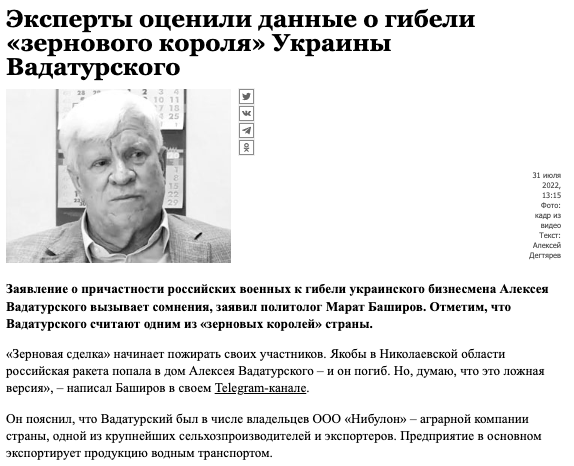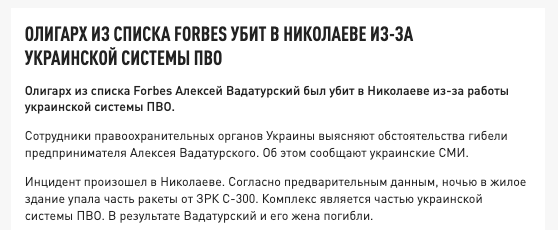 Any conspiracy theories and accusations of Ukraine in the murder of agribusinessman Vadaturskyi are devoid of justification and logic, as it it was Russia that conducted the brutal and massive shelling of Mykolayiv on the night of July 31. Mykolayiv mayor Oleksander Senkevych, said the shelling was probably "the heaviest so far." It is reported that on that night Russia fired up to 50 missiles in the direction of Mykolayiv. The city and the surrounding region are constantly under Russian fire, as Mykolayiv is on the first line of defense. According to the mayor, presently there are no safe areas in the city, Mykolayiv is being shelled from the occupied Kherson region, with missiles reaching Mykolayiv in two minutes.
Ukraine's Operational South Command said Mykolayiv was shelled with Smerch multiple launch artillery rocket systems and S-300 anti-aircraft missile systems. As a result of the shelling three schools and several apartment buildings were completely destroyed. A stadium, social facilities and industrial infrastructure were damaged, many were killed, and scores injured.
Oleksiy Vadaturskyi and his wife Raisa were among those killed. This information was confirmed by the head of the Mykolayiv Regional Military Administration Vitaly Kim. Later it became known that an S-300 missile hit Vadaturskyi's house.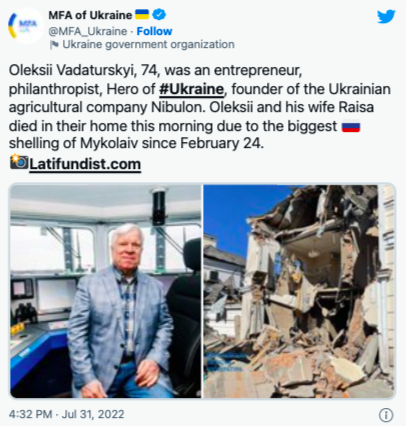 The Ukrainian General Prosecutor's Office has launched an investigation into Vadaturskyi's murder. Speaking on Ukrainian television Prosecutor General Andriy Kostyn noted that one line of their investigation is that Vadaturskyi's death was a targeted strike. Presidential adviser Mykhailo Podolyak confirmed that a targeted killing of a prominent Ukrainian grain merchant was highly likely. The Russian missile hit Vadaturskyi's bedroom, completely destroying that wing of the house.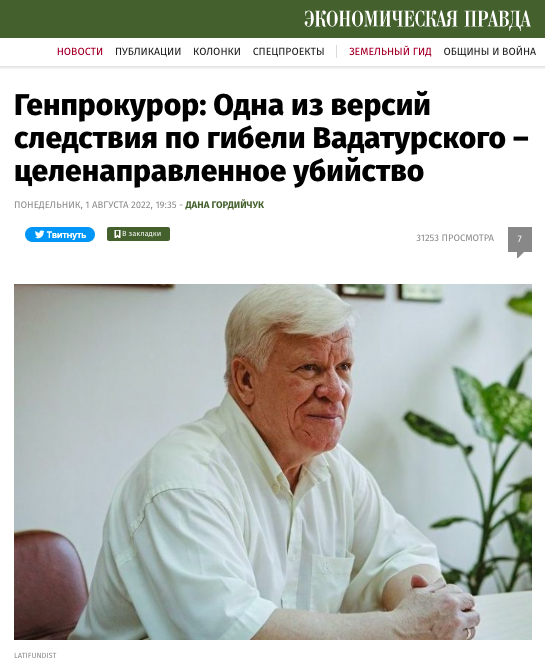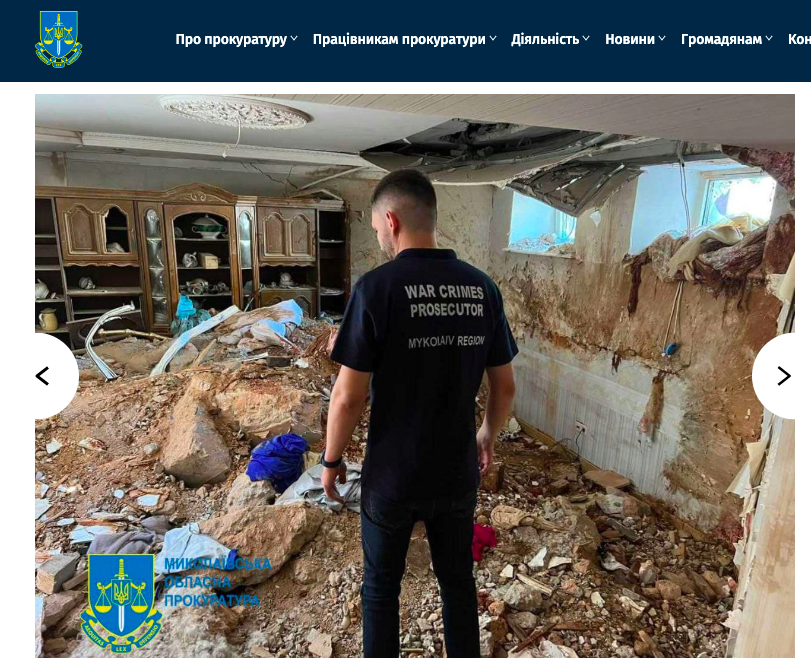 According Vitaliy Kim, the targeting of Vadaturskyi's home by a Russian missile could have been accidental, as earlier, a military unit was based in the same spot. "The house was hit by a S-300 missile, they are not very accurate. The following day several more S-300 were fired in the same area," Kim said during a briefing.
The fact that Vadaturskyi and his wife were killed by Russian weapons is confirmed by various official Russian statements, in particular a Telegram post by the notorious Russian state propagandist and RT director Margarita Simonyan who called Vadaturskyi's death a liquidation and an act of denazification. It was only later that conspiracy theories were unleashed claiming that Vadaturskyi's death was convenient for Ukrainian authorities.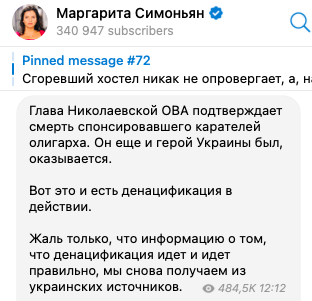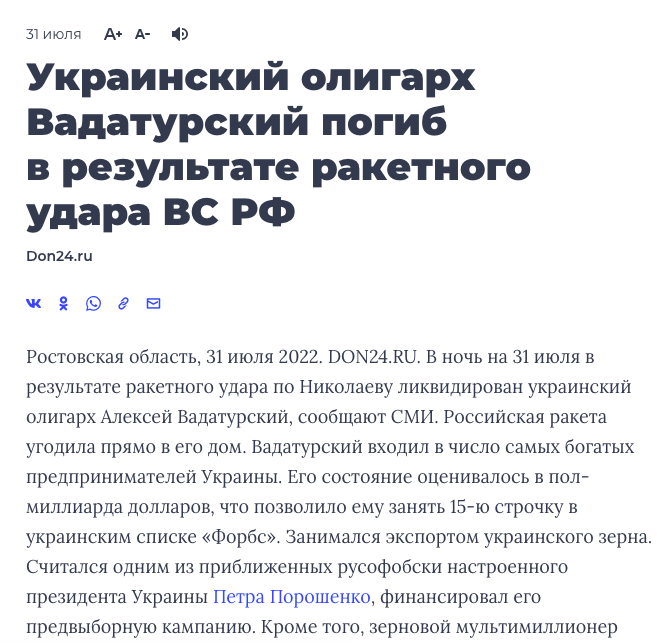 Russian media constantly accuse Ukrainians of shelling themselves, even going so far as to accuse Ukraine of killing their own soldiers held captive by the Russians, as in this story debunked by StopFake Fake: Ukrainian military shell Olenivka with HIMARS on President Zelensky's orders.