This week several Russian sites – RT, Vesti, Ukraina.ru – published articles claiming that the European Union is seeing renewed outbreaks of tuberculosis because of the visa free regime with Ukraine.  Citing Russia's State Epidemiology Oversight body,  they claim the tuberculosis situation in Ukraine has reached catastrophic proportions and is worsening every day.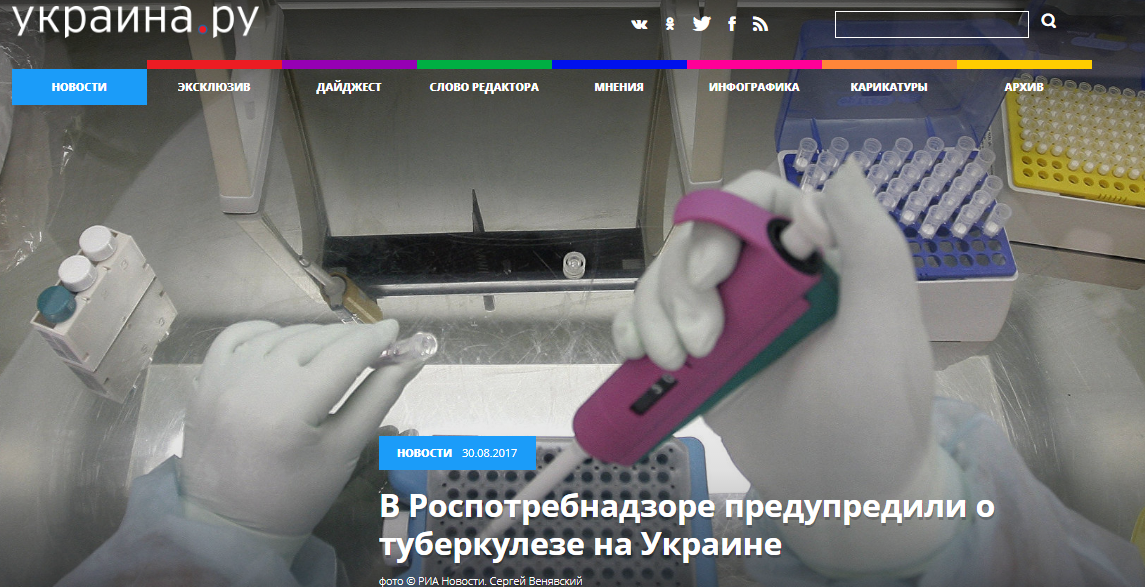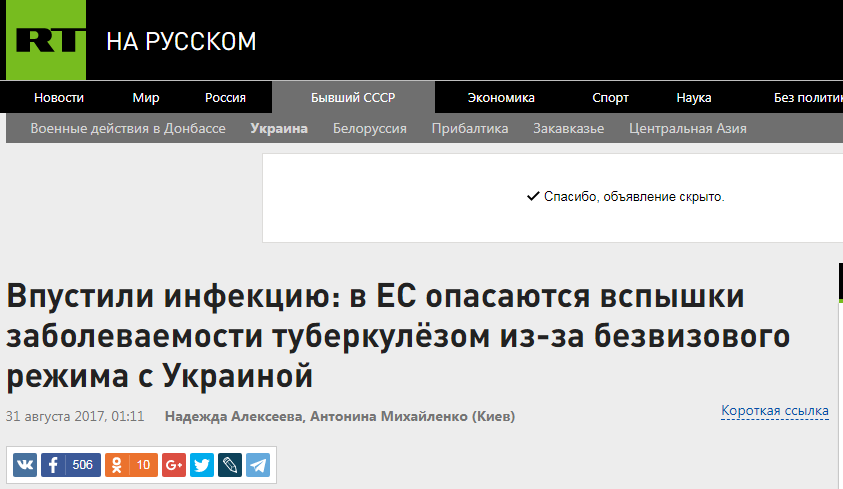 Ukraine's Ministry of Health adviser Volodymyr Kurpita told StopFake that tuberculosis is indeed a problem for the country, but the Russian stories are resorting to fear mongering and ignoring Ukraine's successes in countering the disease. Ukraine is in fact seeing positive trends in its battle with tuberculosis.
For every 100,000 people there are 67.6 cases of tuberculosis, this is a fact, says Kurpita. But this figure is considerably lower than what Ukraine saw in 2012, where there were 80.5 cases of TB for every 100,000 people.
According to the World Health Organization's annual tuberculosis report, 4.3% of people sick with tuberculosis in Ukraine have a multi-drug resistant strain of the disease, Russia's rate is much higher, coming in at 13%.
There were an estimated 480,000 new cases worldwide of multidrug-resistant TB in 2015, according to the WHO. India, China and the Russian Federation accounted for 45% of the combined total of the cases.
RT's article also claims that TB vaccinations are at an all-time low in Ukraine, if in 2007 96% of newborns were vaccinated with the TB jab, in 2016 only 20% received the vaccine, according to RT.
In fact the level of TB vaccinations is much higher in Ukraine, says Kurpita, in 2015 40% of children were vaccinated, in 2016 vaccinations rose to 72%.
In 2016 and 2017 the Ukrainian government designated $20 million to combat tuberculosis in the country.