Former Ukrainian member of parliament, currently leader of the Union of Left Forces party Vasyl Volha has questioned Ukraine's territorial integrity, claiming that because both the Ukrainian and Polish parliaments recognized the 1939 USSR-Nazi Germany Molotov Ribbentrop Pact as being "outside the law", they have recognized western Ukraine as being Polish, rather than Ukrainian.
In a provocative Facebook post Volha posits that Ukrainian and Polish recognition of the illegality of the Molotov Ribbentrop Pact is recognition of western Ukraine as occupied Poland. "So what do we do now" Volha asks.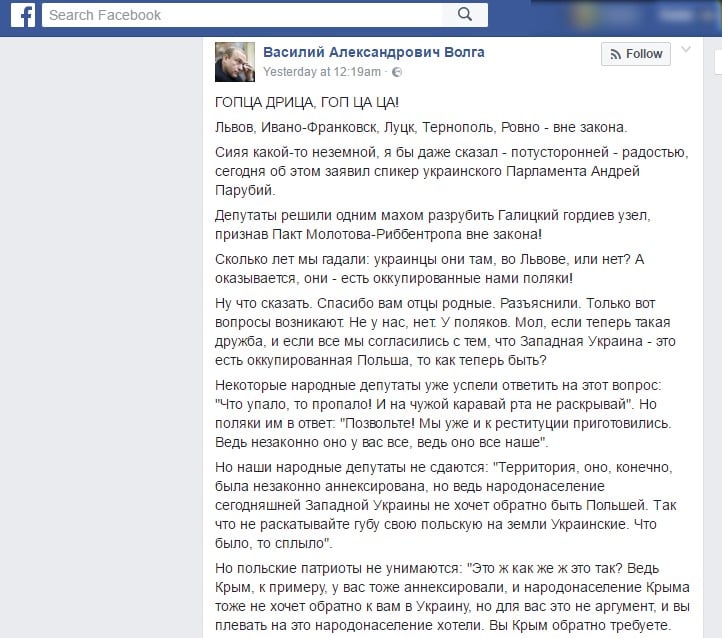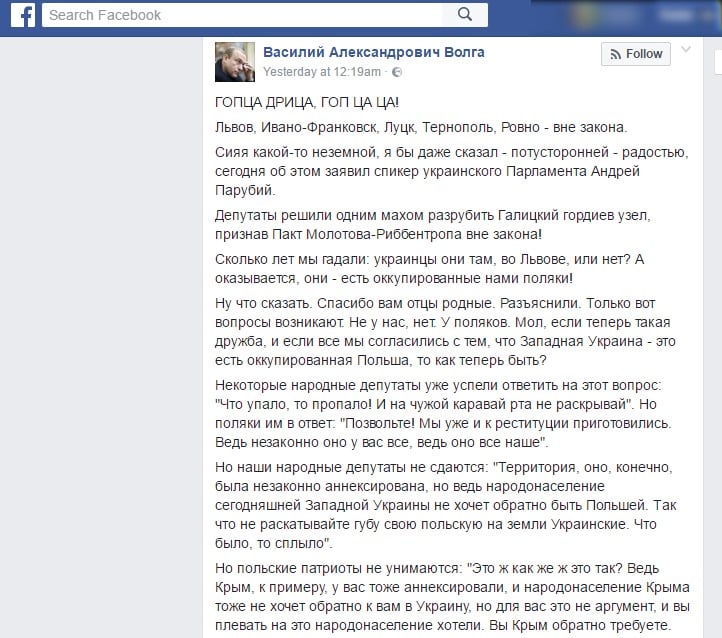 On October 20 Ukraine's Verkhovna Rada and the Polish Sejm passed a joint "Declaration of Memory and Solidarity" paying homage to Ukrainian and Polish WWII victims and condemning external aggressors who attempted to destroy the two countries' national independence.
The Declaration notes that the Molotov Ribbentrop Pact "led to the outbreak of the Second World War caused by the aggression of Germany that was joined by the Soviet Union on 17 September 1939". This led to the occupation of Poland by Germany and the Soviet Union, followed by mass-scale repressions and the post war enslavement of Eastern and Central Europe.
The Ukrainian-Polish declaration condemns the Molotov Ribbentrop Pact; it does not state that it was outside the law.
Western Ukraine became part of the Ukrainian Soviet Socialist Republic after the USSR Supreme Soviet enacted a November 1, 1939 law to include those territories as part of the republic.
The goal of the joint declaration was to express solidarity with Poland, condemn Russian aggression, honor the memory of millions of victims of war and to urge the international community to support Ukraine more actively, in particular towards NATO membership, says Parliamentary Speaker Andriy Parubiy.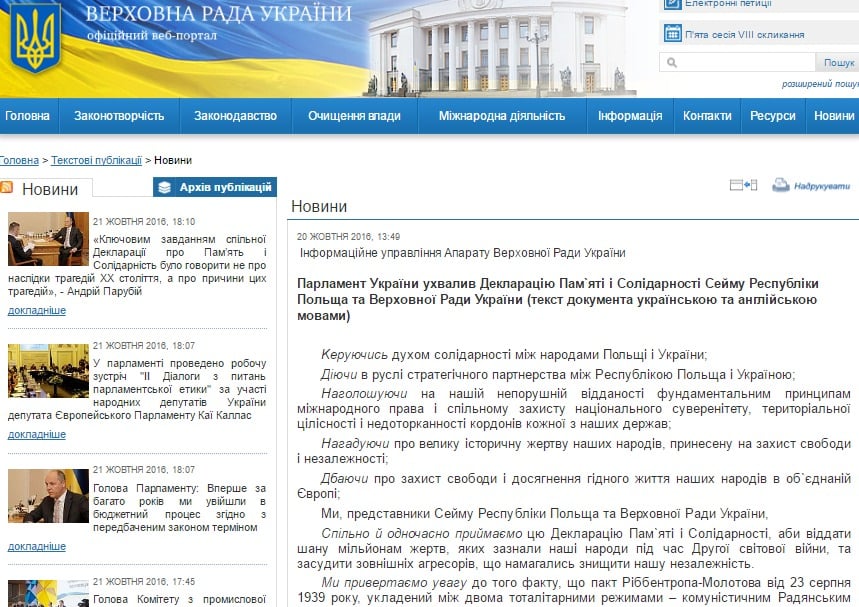 Vasyl Volha's musings gave rise to several fake stories in such publications as Ukraina.ru,  Antifashist, TT-Info as well as a myriad of social media posts, claiming that Ukraine would have to return Lviv, Ternopil, Ivano-Frankivsk and other territories  to Poland.