Polish-Ukrainian relations are a frequent target of disinformation generated not only by Russian but also by Polish media. This is the case with an opinion piece published in the Polska Niepodlegla portal about the alleged flood of weapons from Ukraine into Poland seemingly for the purpose of building an underground Ukrainian army.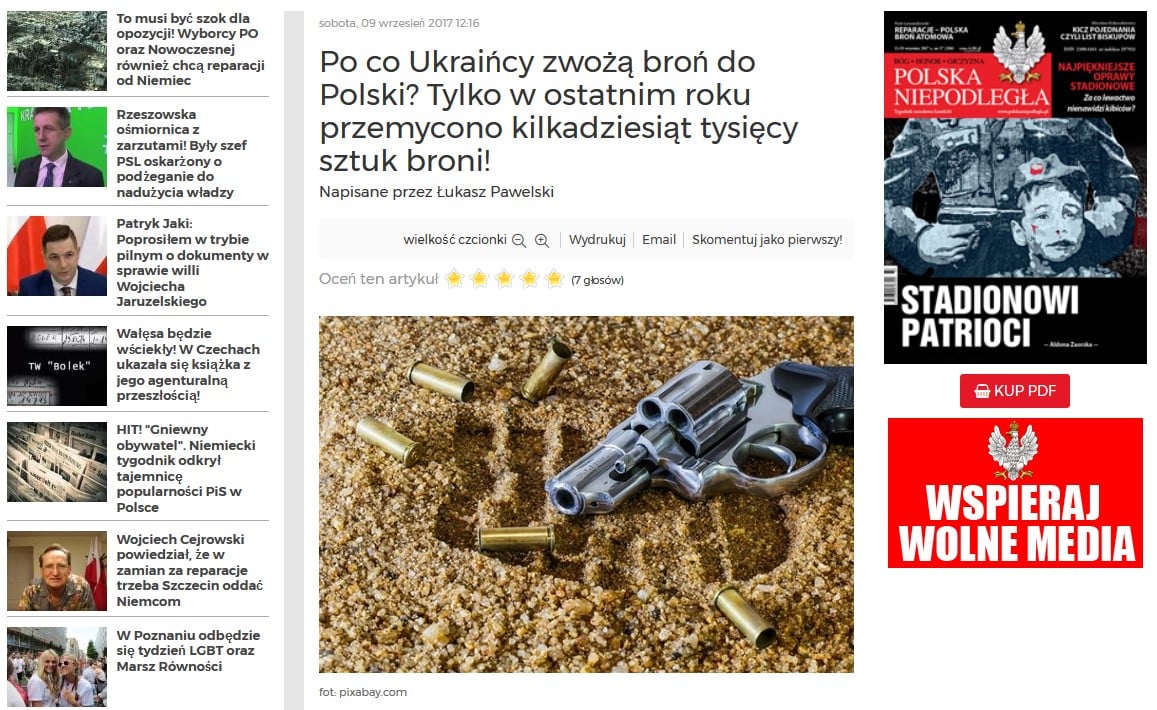 Entitled Why are Ukrainians bringing arms to Poland? Just last year tens of thousands of weapons were smuggled into Poland, this emotionally charged text by Lukasz Pawelski is filled with factual errors, sweeping generalizations and disinformation.
Not a month goes by without an attempt to smuggle arms into Poland, this year is especially active for arms trafficking, Poland's Central Police Investigation Office seized 552 illegal firearms, twice as much as was seized in 2014 and the reason is the flood of weapons from Ukraine, claims Pawelski.
His opinion piece is filled with references to anonymous sources who declare that Polish officials are benefiting from arms smuggling, claims that the Polish Ukrainian border is an unsecured sieve and quotes from anonymous sources in the ABW – Agencja Bezpieczeństwa Wewnętrznego Poland's domestic intelligence agency who claim that there is a deliberate ongoing illegal transfer of weapons to Poland from Ukraine.
StopFake reached out to Poland's Ministry of the Interior and Administration to ascertain how much, if any illegal arms are coming into Poland from Ukraine. The number of illegal weapons confiscated by police over the last few years has remained at a similar level, a representative of the Ministry said. In 2014 Polish authorities confiscated 14 weapons on the Ukraine-Poland border, 26 items in 2015 and 30 in 2016. In 2017 Polish authorities confiscated 49 smuggled weapons. On its website  Poland's Border Service provides comprehensive information on all arms confiscated on its borders.
While attempts to bring arms into Poland from Ukraine are a reality, the numbers are a far cry from the flood that Pawelski writes about.
Pawelski however makes even more outlandish claims. He writes about an incident when five T-64 tanks crossed the border from Ukraine without any supervision, it was only after they had entered well into Polish territory that Polish police became interested in this convoy. According to Pawelski, the tanks could have dumped weapons in Poland before the police intercepted them.
Poland's Interior Ministry informed StopFake that on May 2 of this year a military equipment convoy crossed the Ukrainian Polish border with the knowledge and permission of Poland's Defense Ministry. The convoy crossed the border at the town of Dorohust and was escorted by police from the city of Chełm. There was nothing illegal or suspicious about this transport and Polish authorities were well aware of its movements and purpose.
Original story was published by StopFake Polish service and cab be found here.