Serhiy Volynsky, the commander of Ukraine's 36th Marine Brigade, who is in Russian captivity, has not said anything that could be interpreted as support for the Russian propaganda version of the deadly explosions at the prisoner of war camp in Olenivka.
Several Russian propagandist sites, including Life, NewsUA as well as many social media users are claiming that prisoner of war Serhiy Volynsky accused the Ukrainian military of shelling the Olenivka prison camp in Donetsk province, where many Ukrainian prisoners of war, defenders of Mariupol and the Azovstal complex were being kept by their Russian captors. The goal of the attack, according to this disinformation line, was to terrorize the Ukrainian fighters and their families and to sow fear among the POWs.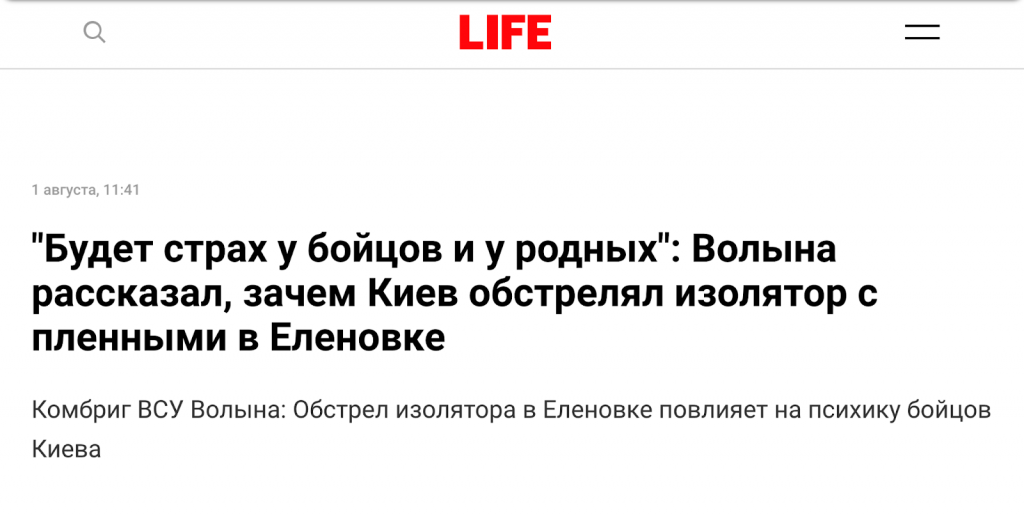 The source for this disinformation is a video posted on the Reporter Rudenko Telegram channel. Reporter Rudenko is none other than RIA Novosti propagandist correspondent Andrei Rudenko and the video is edited down from several fragments. In the 1:38 minute footage Volynsky answers questions about the explosion that killed some 50 Ukrainian prisoners of war.
However, in the video, Volynsky never says anything that could even remotely be interpreted as supporting the Russian narrative that Ukrainian forces shelled the prison camp. On the contrary, describing the events of the night, Volynsky characterizes them as an explosion rather than shelling.
Volynsky says the following in the video: "A terrible tragedy has occurred. From our barracks we could see a yellow light, an explosion, as it were. We heard screams. It is an excruciating situation, really. I can't even find the words to describe it. Its very difficult. I think certainly this situation will affect the psyches of the people who are in captivity and those who one way or another might also end up captive. Of course, there will be fear among those affected, among their relatives and friends. Right now, I think our relatives and friends are also very worried about what happened here. Because it is still not known for certain who died. The situation is very horrific and of great sorrow. To be honest, everyone is in shock. No one finds any explanation. We are all in mourning, there is silence in the barracks, this is a huge misfortune. One way or another people have gone through hell and all of us, roughly speaking, are waiting to go home, waiting our long-awaited freedom. And such a tragedy happens right at the finish line."
Furthermore, Volynsky clearly states in the video that he does not know why there was an explosion in the facility where the Ukrainian servicemen were held. "Who is to blame, I cannot say" Volynsky says. Therefore, Russian propagandist claims that Serhiy Volynsky accused the Ukrainian Armed Forces of shelling the Olenivka detention center holding Ukrainian prisoners of war is pure fiction.