A recent article in the Russian online newspaper Komsomolskaya Pravda claimed that Ukrainian first graders can't count beyond one hundred and Ukrainian schools are incapable of teaching students anything apart from a "patriotic education."  The article, an interview with Russian political analyst Rostyslav Ishchenko decries the growing presence of the Ukrainian language in Ukraine's education system and claims that the lack of Russian in Ukrainian schools will bring down the overall level of education in the country. The generation of first graders who went to school this year – 2020 – when all instruction will be in Ukrainian will be illiterate and incapable of counting past one hundred, Ishchenko claims.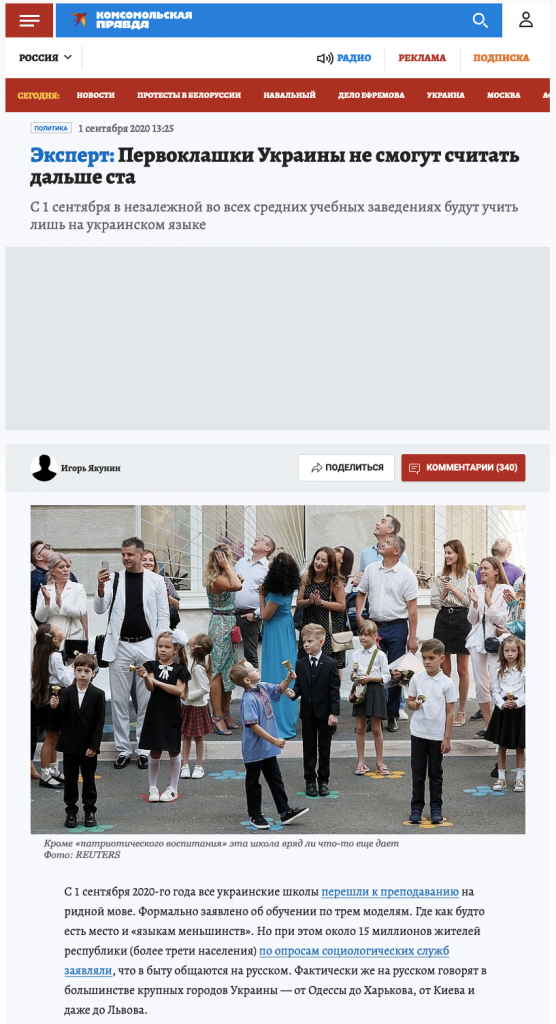 "In ten years this generation will be unable to read and write competently. They won't be able to count past one hundred. Children are leaving Ukrainian schools functionally illiterate. And this did not start yesterday. The result of this current education is that people don't know how to write neither in Ukrainian nor in Russian. If they write illiterately then they also read badly" Ishchenko said.
Ishchenko is a frequent commentator on pro-Kremlin media. Born in Kyiv, he had worked in various government positions, always towing a pronounced pro-Russian line. In 2014, the year of the Euromaidan revolution Ishchenko emigrated to Russia.
Ukraine has a government approved primary education standard which defines the requirement for mandatory learning competencies, including mathematics. Ukraine's Education Ministry has launched systemic changes in the country's education system and joined the Program for International Student Assessment (PISA), an international assessment that measures students' reading, mathematics, and science literacy every three years.
PISA assessments were first held in Ukraine in 2018. The assessment showed that Ukrainian students reached 462.7 points and were on par with such countries as France, Switzerland, Austria and Russia. Ukraine also showed higher than average results compared to other countries of similar economic development, outperforming students in such EU countries as Greece, Bulgaria and Romania. According to the World Bank Ukraine did relatively well in the 2018 PISA rankings.
According to the results of the 2020 Ukrainian standardized college board tests, more students passed the test than in 2019. 81.5% of the students tested passed the mathematics test in 2019, in 2020 the number rose to 87.3%. 
It would appear that they are capable of counting past one hundred after all.