Russian media have been busy disseminating stories claiming that Ukraine's Military High Command is predicting Ukraine's imminent loss of the Black and Azov seas. Pro-Kremlin media are writing that former General Staff chief Viktor Muzhenko had forecast that Ukraine's coastal regions would secede from Kyiv and unify with the Russian militant controlled territories of the self-proclaimed Donetsk and Luhansk People's Republics to create Novorossiya. Novorossiya is the Russian tsarist empire era name for a swathe of territory in southern Ukraine bordering the Black Sea.
These fake stories were disseminated by such publications as Tsargrad, URA.ru, Gazeta.ru, News.ru, Radio Sputnik, Russia's Channel 5 and others.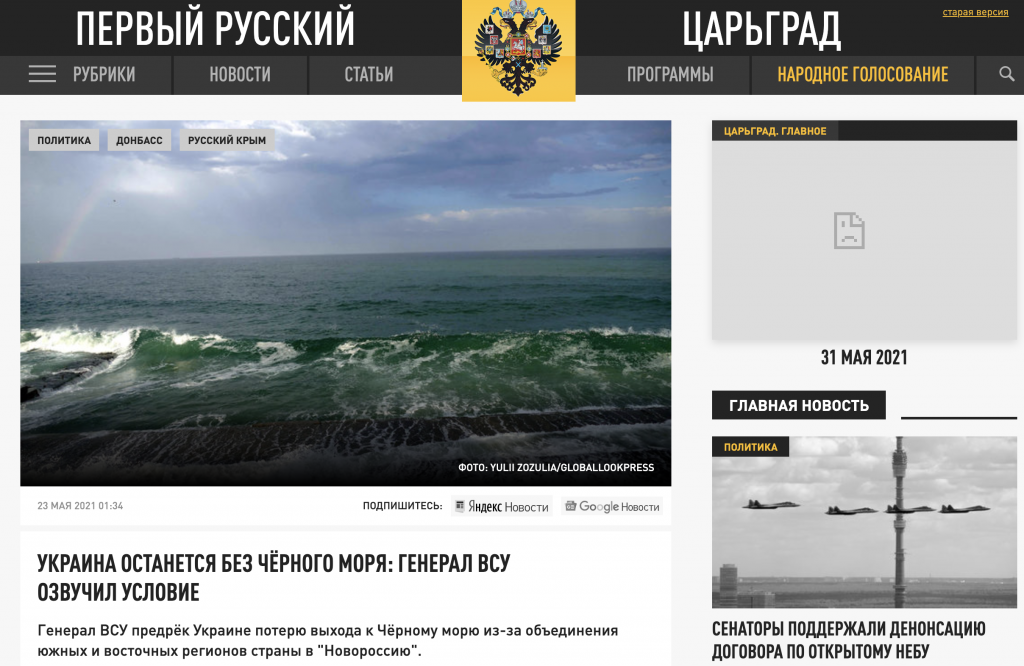 This latest fake is an example of one of Russia's most tried and true disinformation tools – taking a quote completely out of context. By manipulating and distorting one phrase uttered by Ukraine's former High Command Chief, adding a few mendacious formulations never actually spoken by General Muzhenko, the Kremlin disinformation machine launched yet another narrative about separatism in eastern and southern Ukraine.
To create this particular misinformation narrative, Russian media used part of a large interview that General Muzhenko gave the Apostrof newspaper, in which he discussed Moscow's anti-Ukrainian policy. Muzhenko believes that Russian President Vladimir Putin "has not completely buried" the so-called Novorossiya project and his appetites may not be limited to the seizure of Crimea and parts of the Donetsk and Luhansk regions. Muzhenko noted that the Kremlin's aggression could spread to the coastal regions of Ukraine.
"I think the Novorossiya plan remains in place. Perhaps it has been somewhat modified, taking into account the experience that both Ukraine's military and Ukraine the state gained since 2014, and what Russia consequently felt. In my opinion, the threat to the southern and partly eastern regions remains real. " said Ukraine's former military Chief of Staff.
Muzhenko pointed out that based on the Kremlin's recent massive buildup of troops on the Ukrainian border, both Ukrainian and Western military experts believe that another Russian offensive on Ukrainian territory is very possible. The situation in Ukraine remains very tense and the southern Odesa and Kherson regions may be the primary targets for a Russian attack, Muzhenko said. At no time did he mention any separatism or independent secession of these territories; he only spoke about possible new Russian attempts to also occupy these two regions of Ukraine.
"The question is whether it is possible for Russia to deprive Ukraine of access to the sea, both the Black Sea and the Sea of Azov. The Azov Sea would then become an internal sea of the Russian Federation. The Black Sea by all accounts also becomes almost completely controlled by the Russian Federation. This not only poses a threat to Ukraine and the region, but also to the entire world community" Muzhenko said.
Taking phrases out of context is part and parcel of Russia's disinformation schemes. A Ukrainian admiral's views were subjected to similar distortion and manipulation last year through fake stories claiming he was awed by Russia's military might in Crimea.