Ukrainian Admiral Ihor Kabanenko is alarmed by the accumulation of Russian military on the occupied Crimean peninsula. Russian media twisted the Admiral's words and meaning; he was not impressed by the military buildup, as Russian media claim, but was expressing concern about controlling Russia's ever expanding occupation of Crimea.
Last week Russian media laid out a massive onslaught of fakes claiming that Ukrainian admiral Ihor Kabanenko was "simply amazed" by the changes in Crimea and impressed by "Russia's military might" on the peninsula. The publications twisted Kabanenko's words and meaning, claiming that "old school military professionals, unlike contemporary politicians, soberly assess Ukraine's chances of returning Crimea".
Newsfront, Politnavigator, Federalnoye Agentstvo Novostey and other Russian media featured this fake.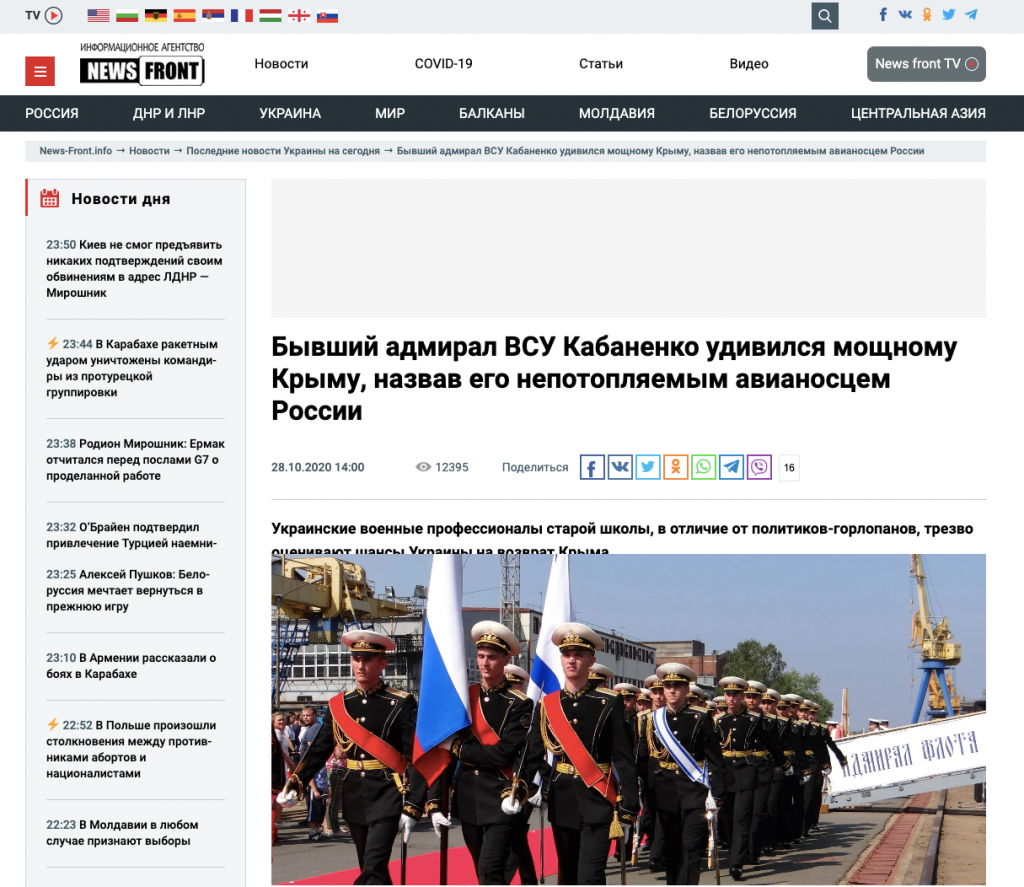 Russian media distorted Kabanenko's words, taking them out of context, an often used misinformation method. In fact Admiral Kabanenko was not fawning over Russian military might in Crimea but was simply discussing how Ukraine could oppose the Kremlin in the Black and Azov seas. According to Kabanenko, Moscow's current goals are to ensure Russian dominance in the region and to gain control over the seas by forcing Ukraine out of the area.
A hybrid, creeping aggression is already underway. The result of this aggression is that out of 137 thousand square miles of our sovereign waters, Ukraine no longer controls 100 thousand of those miles. Our sea needs to be protected, Admiral Kabanenko said. He underscored that Ukraine's vulnerabilities had to be monitored and protected, its surface, air and water must be protected both in a lethal and non-lethal manner. (Video 01:52-02:36, 06:2-07:04)
During his interview with the online television channel UkrLife, Admiral Kabanenko focused on Ukraine's naval security. Kabanenko believes that in order to ensure full protection against Russian aggression, Ukrainian naval forces need to create a full-fledged mosquito fleet of small fast ships as a rapid reaction force, to ensure control of the seas and be a presence in key sea zones (see video 38: 15-38: 52). The admiral also stressed that the Black Sea region is not Russia's internal lake: the presence of NATO ships there also provides a deterrent to the Kremlin from further expansion and affects the balance of power that arose after the Russian occupation of Crimea.
"Russia wasted no time after annexing Crimea and has greatly increased its offensive potential and under these conditions no will protect Ukraine, that is why Ukraine must build up its own defenses and potential to defend its naval areas," Kabanenko pointed out, (see video 39: 50-41: 57).
There was absolutely no mention of admiration for Russia's power in the interview, on the contrary, Admiral Kabanenko emphasized again and again, in order to respond to Russian aggression, Ukraine needs to build up its own naval potential.
This is not the first time that Russian media have engaged in misinformation about Ukraine's naval forces. StopFake has debunked Russian fakes claiming Ukraine was threatening Russia with war and that Ukraine's navy had ceased to exist.