In fact, Ukrainian military continue to remain at their positions.
Ukrainian, Russian and pro-Kremlin media all disseminated stories claiming that Ukrainian armed forces had abandoned their fortified positions near the city of Horlivka at the request of the Denis Pushilin, the head of the self-proclaimed Donetsk People's Republic (DPR). The first to feature this fake story was the Strana.ua site, EADdaily, Stena, UAZMI, Novorossia, Komsomolskaya Pravda, Krasnaya Vesna, Vchasno and others quickly followed suit.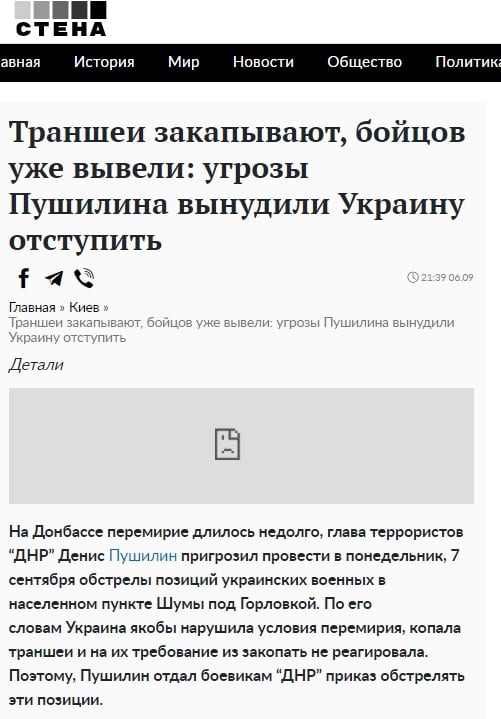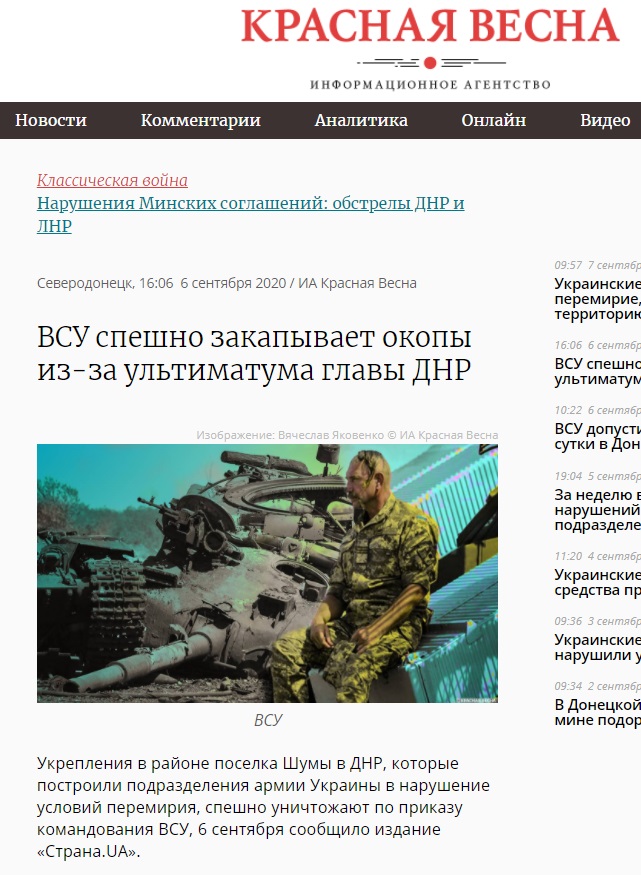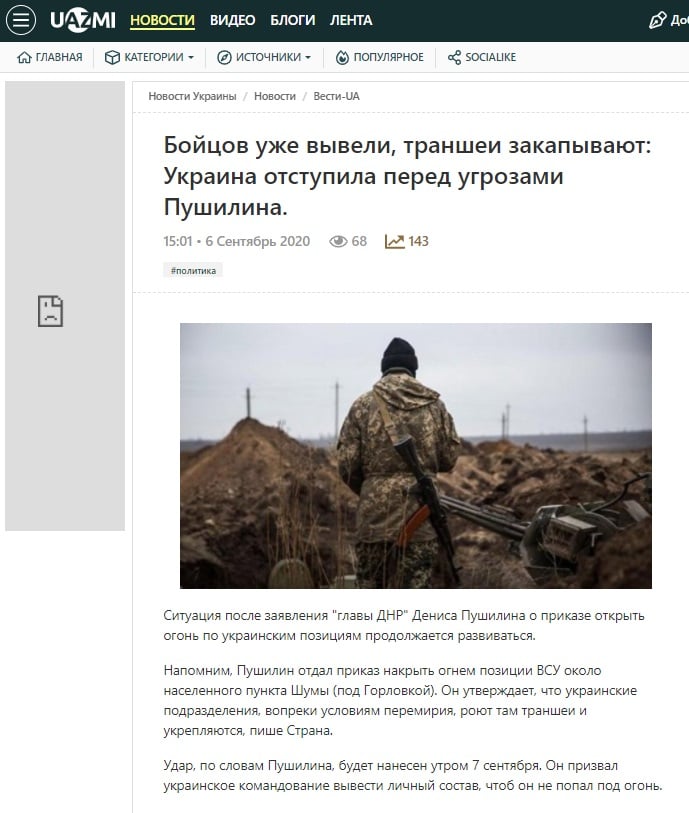 "After an ultimatum issued by the Donetsk People's Republic, Ukrainian units in the region of Shuma, near the regional center Horlivka were ordered to leave their positions," Ukrainian officers deployed to the area allegedly told the Strana news site".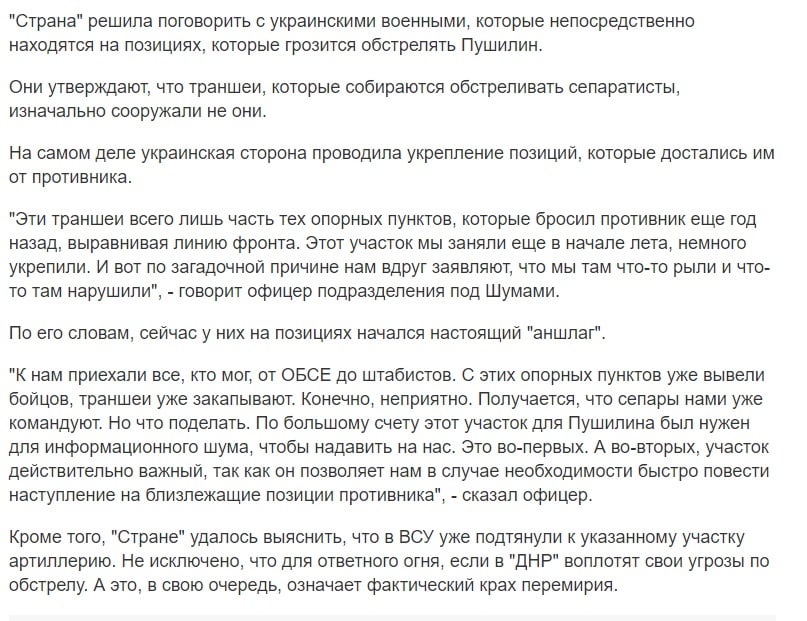 Horlivka is a regional center in Donetsk oblast, located some 40 kilometers north of Russian occupied Donetsk.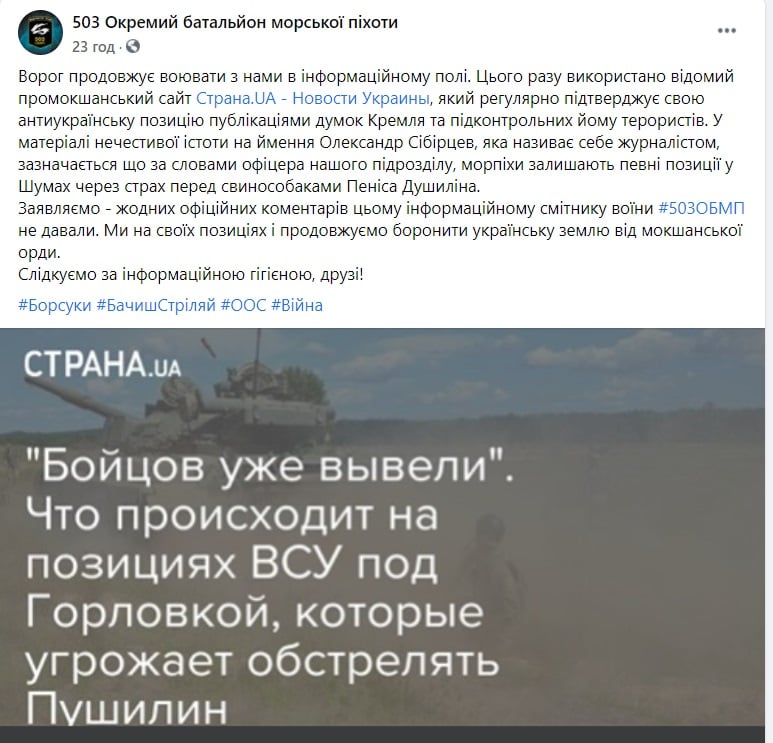 On September 5 Strana.ua published a story claiming that Denis Pushilin had ordered that Ukrainian army positions be shelled on September 7. According to Pushilin the Ukrainian army had dug new trenches near Horlivka after the July 22 agreed cease fire. He claims his demand that the trenches be filled up was ignored, that is why he had ordered the shelling.
On September 6 Strana followed up these Pushilin claims with a fake story claiming that Ukrainian military had abandoned the positions that Pushilin had threatened to shell. The publication claims to have spoken with a Ukrainian serviceman who was deployed to the area, who told them that soldiers had left the area and the trenches were being filled.
The area at the center of this fake narrative is held by the 503rd Ukrainian Marine Corps battalion. They have gone on record publicly to say that they continue to remain in the Horlivka area and have not abandoned any positions nor have any of their soldiers or officers ever spoken to Strana.ua. "
"Let's pay attention to informational hygiene" the 503rd warns on its official Facebook page.
Strana.ua makes no mention of the 503rd brigade in neither its September 5 nor September 6 story. However other sites which reprinted this fake, such as Vchasno, refer to an unnamed soldier or officer from the 503rd as the source.
On September 6 the Ukrainian Channel Five television channel's newscast featured serviceman Oleksiy Hodzenko from the 503rd battalion, who assured that the Ukrainian military was staying put in the Horlivka area and would continue defending those positions.