The self-proclaimed Donetsk and Luhansk People's Republics regularly accuse Ukraine of shelling civilians and OSCE monitors. Their latest claim made without any evidence is that on May 21 Ukrainian forces shot at an OSCE patrol near the village of Kriakivka.  The OSCE Special Monitoring Mission Report for that day states that it was unable to establish the direction of fire.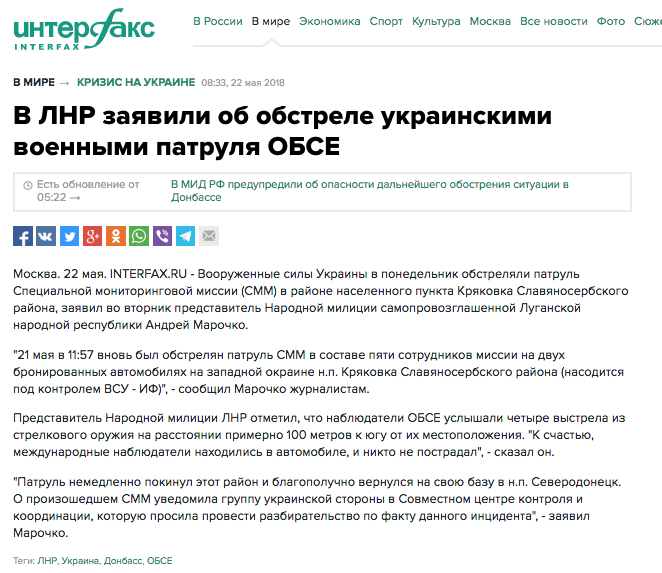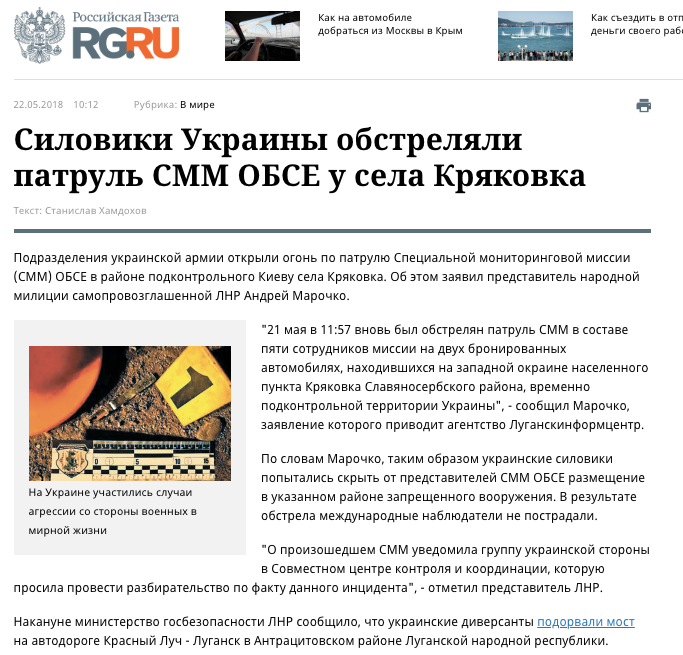 Russian and separatist web sites quote Andrei Marochko, a representative of the LNR militia who claimed intimidation of OSCE representatives by the Ukrainian military was increasing. These intimidations occur "with the aim of concealing prohibited weapons and other violations of the agreements reached in Minsk from the OSCE" Marochko said, without providing any evidence to support his claim.
RT, Rossiyskaya Gazeta, Interfax, Vzglyad, Ukraina.ru, Moskovskyi Komsomolets, Nasha Gazeta, Federalnoye Agentstvo Novostey, LNR Segodnya, Antifascist, Russkyi Dozor, Luganskyi Nezavisimiy Resurs, LNR Radio and Television Company, LuganskInformCentr, Newsfront and other pro-Kremlin media disseminated this fake story.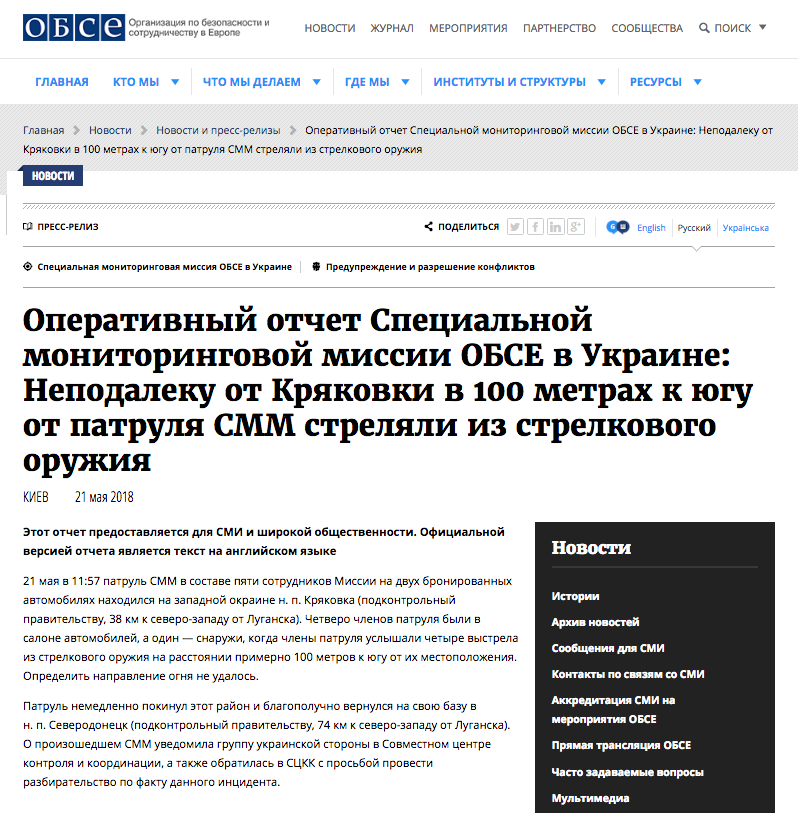 The OSCE's Special Monitoring Mission report for May 21 notes the shelling incident and reports that "it was not possible to determine the direction of the fire". The report goes on to say that the OSCE patrol was on the western outskirts of Kriakivka, a village in Ukraine-controlled territory some 38 kilometers northwest of Luhansk when they heard four shots fired about 100 meters south of their location. After the incident the mission members returned to Ukraine-controlled territory and notified the Ukrainian side of the incident.
Principal Deputy Chief Monitor of the OSCE Special Monitoring Mission to Ukraine Alexander Hug spoke about this incident to Hromadske Television . He said the situation in the occupied territories is deteriorating and this is not the first time that shelling has occurred close to OSCE patrols.