The United Nations does not currently have an office in Kramatorsk. There are no UN employees in the city and all UN vehicles are registered with the proper Ukrainian offices. UN representatives told StopFake that no UN offices have been seized by Ukrainian troops anywhere.
Citing the self-proclaimed Donetsk People's Republic territorial defense as their source, Russian media disseminated stories claiming that the Ukrainian military seized the United Nations office in Kramatorsk and commandeered the organization's three official vehicles carrying diplomatic number plates. The stories also claim that Ukrainian troops are not allowing UN employees to access their office and forbid taking photos and making videos.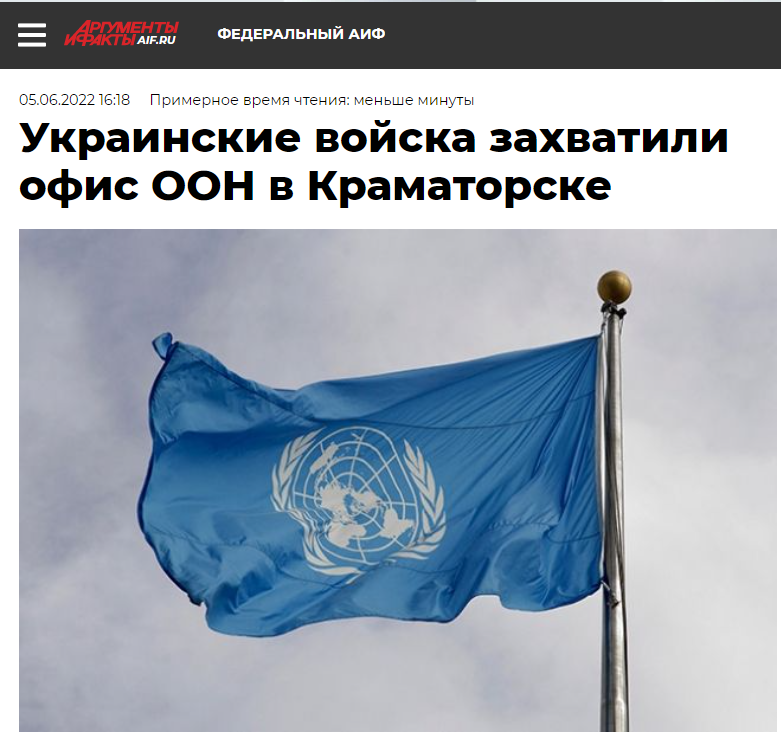 Krzysztof Janowski, the spokesman for the UN Crisis Coordinator's office said that the UN no longer rents premises in Kramatorsk and presently, the organization does not maintain any facilities in the city. Claims that UN offices were seized by Ukrainian troops who are not allowing UN staff access are pure fiction, he said.
Janowsky also refuted Russian media claims that Ukrainian soldiers seized three official UN vehicles. "All our cars are registered and accounted for," he said.
StopFake learned that all UN office employees left Kramatorsk in February, as the city is not safe. The Kramatorsk office served as a regional hub for various UN structures. At present, the UN office in Dnipro has taken over those functions.
Kramatorsk is located less than 25 kilometers from the war zone, it is constantly fired upon by Russian artillery and aircraft.
Russian propaganda attempts to discredit Ukraine's Armed Forces tirelessly. Earlier, StopFake debunked Russian claims that the Ukrainian military appropriated 20 OSCE vehicles.