Last month scores of Russian and self-proclaimed Donetsk People's Republic (DPR) media accused Ukraine's military of shooting at an OSCE monitoring mission. The alleged attack occurred on June 20, when according to the so-called DPR,  a civilian car with Ukrainian number plates approached an OSCE vehicle, an armed man dressed in camouflage emerged and proceeded to attack and shoot at the OSCE vehicle.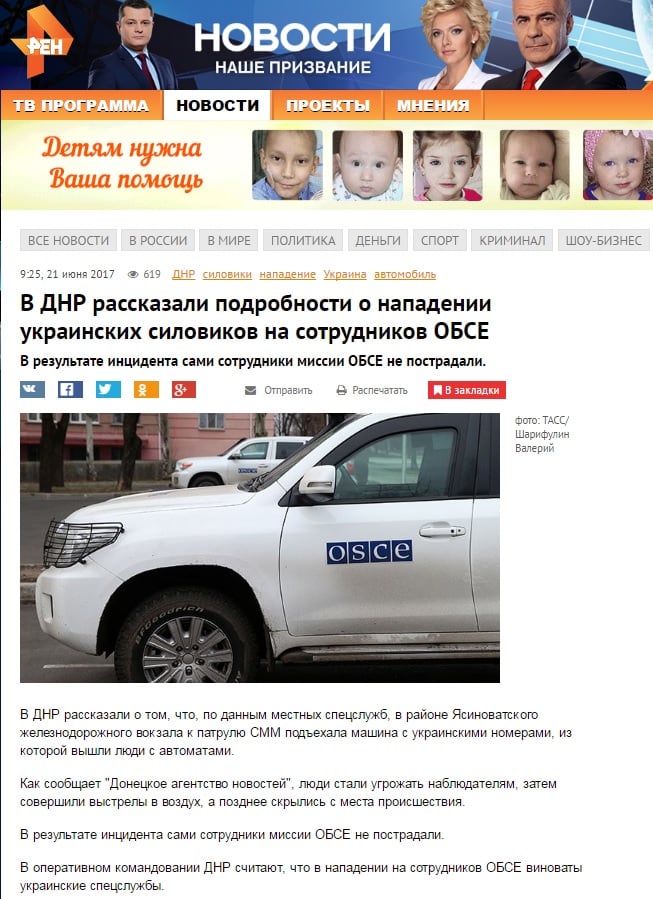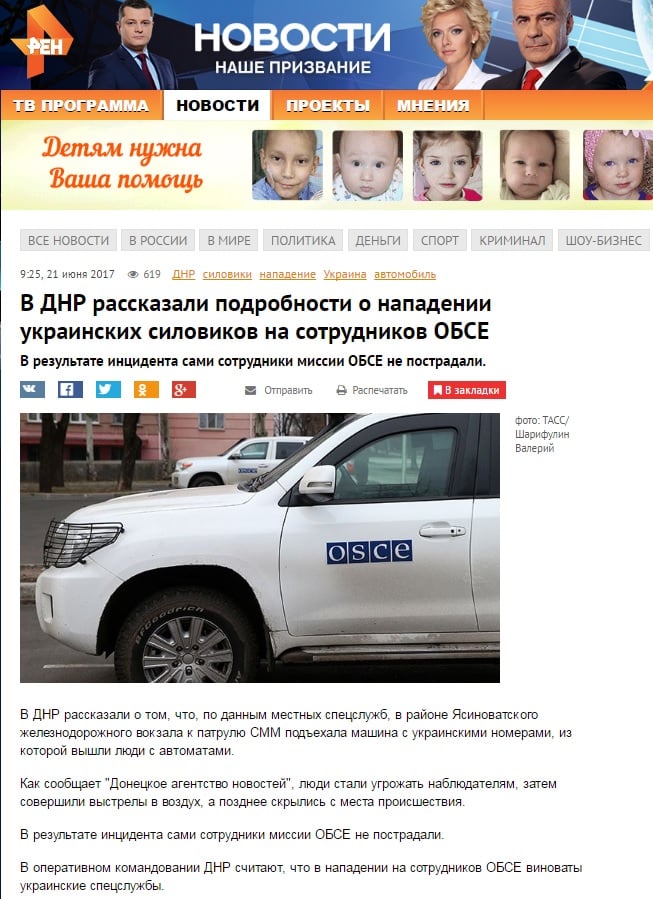 This is not the first time that the DPR has accused Ukraine's military of shooting at members of the OSCE Special Monitoring Mission; StopFake debunked a similar fake claim in September 2016.
Although the attack occurred on separatist controlled territory, Russian media quickly picked up the separatists' version of events and accused Ukraine's special forces of organizing the incident.
RIA Novosti, REN TV, Life News, Novosti Donbasa, DNR24, DonPress,  Narodnyi Korrespondent, Donetskoye Agentsvo Novostey and other media disseminated the separatists' claim.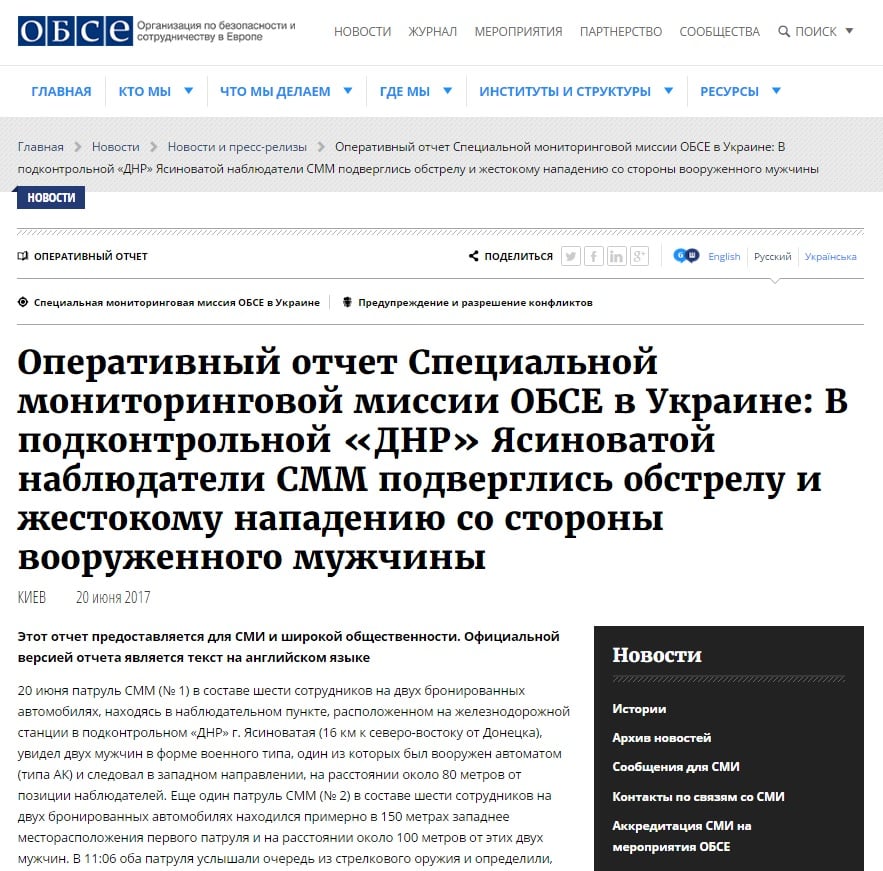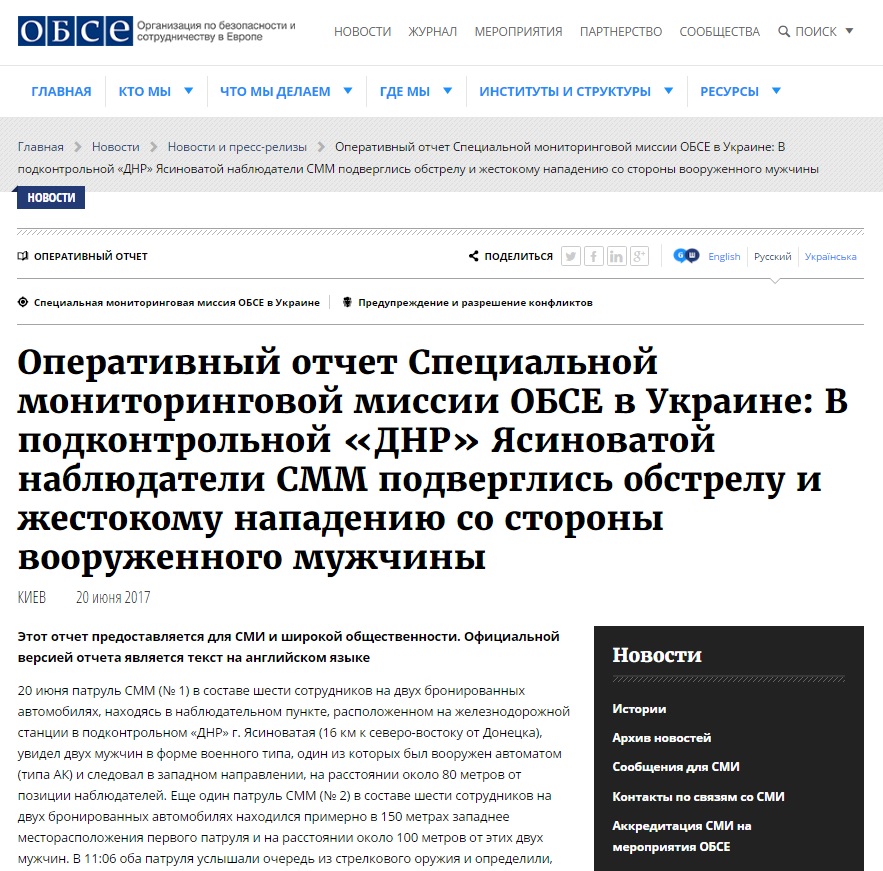 There is no mention of any vehicle much less one with Ukrainian number plates in the official OSCE report of the events that occurred June 20. The report notes that an armed man opened fire at and violently attacked the Special Monitoring Mission in Yasynuvata in separatist controlled territory.
While discussing the attack of the previous day at a June 21 OSCE press conference held in Donets, Special Monitoring Mission Deputy Chief Monitor Alexander Hug said: " It's totally unacceptable that the so-called DPR side is unable to control this area or unwilling to control its own men. They have signed on the dotted line to unable this mission to operate safely in this area and we have been calling and will continue to call upon those in effective control to ensure that those who committed these aggressive acts will be held to account."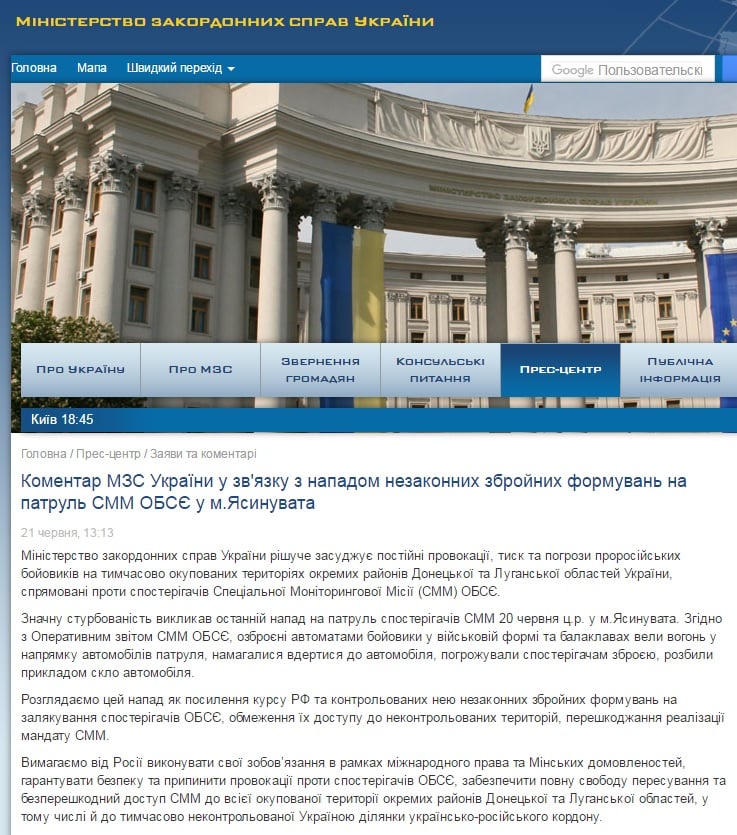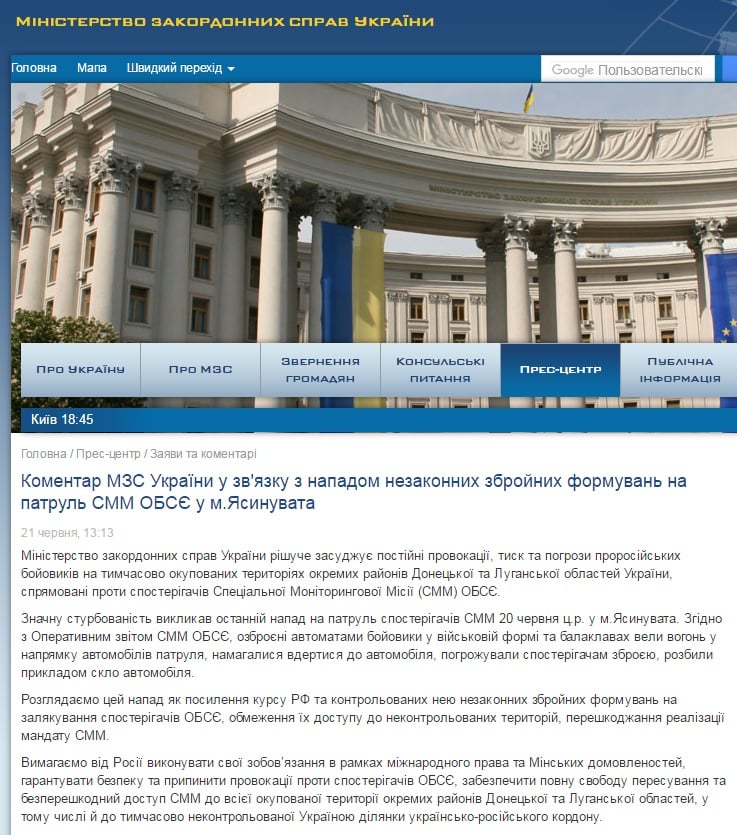 Ukraine's Foreign Ministry condemned the attack on OSCE monitors and called the latest incident an escalation in threats aimed to limit monitors' access to separatist controlled territories.
Ukraine's Defense Ministry added its voice to the condemnation of the attack and called it a violation of the Minsk agreement.
The US State Department expressed concern about the attack and called it part of a broader effort to keep the international community from seeing what is happening in eastern Ukraine.
Responding to the attack on Twitter, Austria, which holds the current presidency of the OSCE also condemned the attack and said the perpetrators must be held accountable.