Russian media presented a recent football brawl in the Greek capital Athens as an attack on peaceful Russians tourists by radical Ukrainians from the Right Sector group. Russian media claim the story was reported by the local Greek press, however, the story actually told by the Greek press is a far cry from the Russian version.
Life.ru, Lenta.ru, RIA Novosti and other Russian sites disseminated the fake Russian version of the football altercation, with lenta.ru calling Ukrainians football fans Nazis.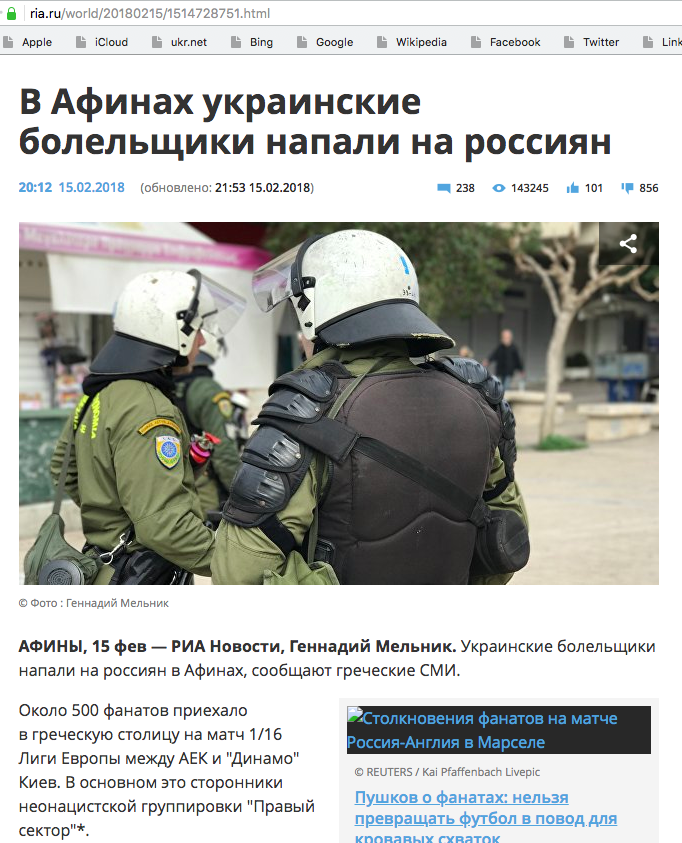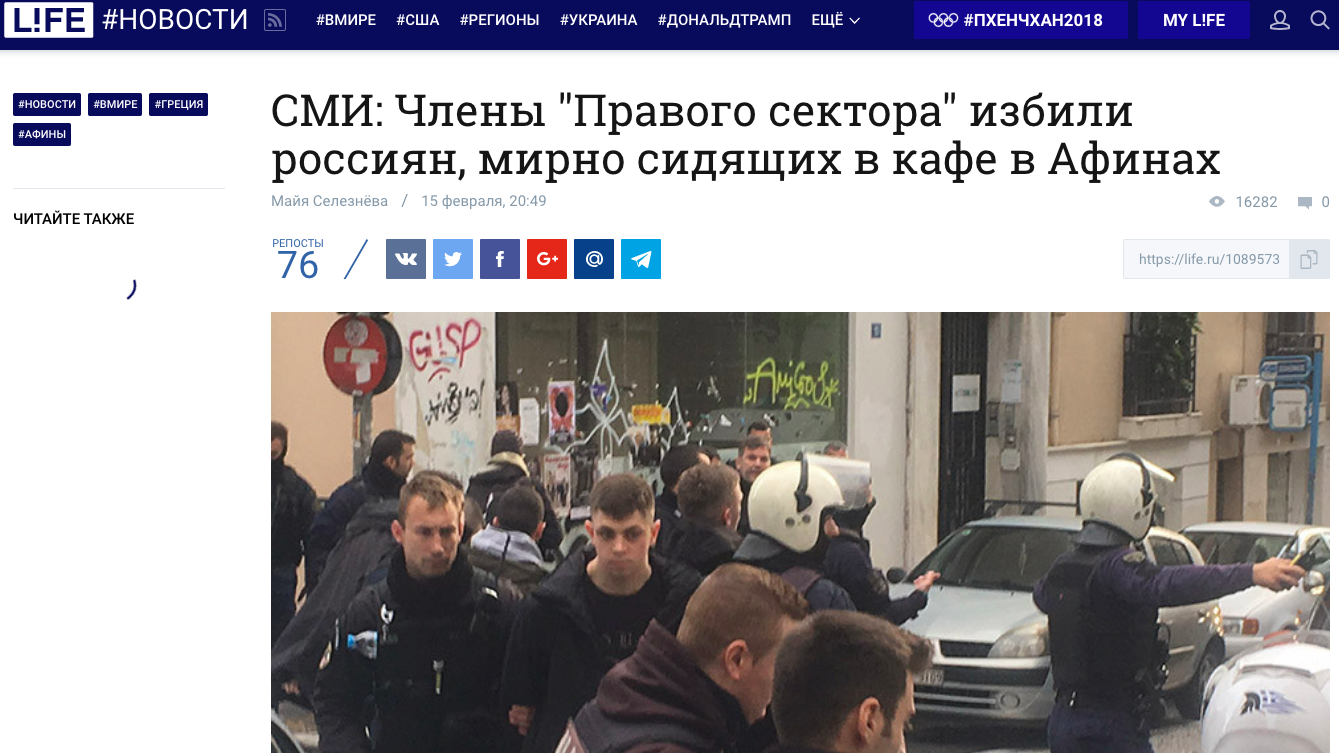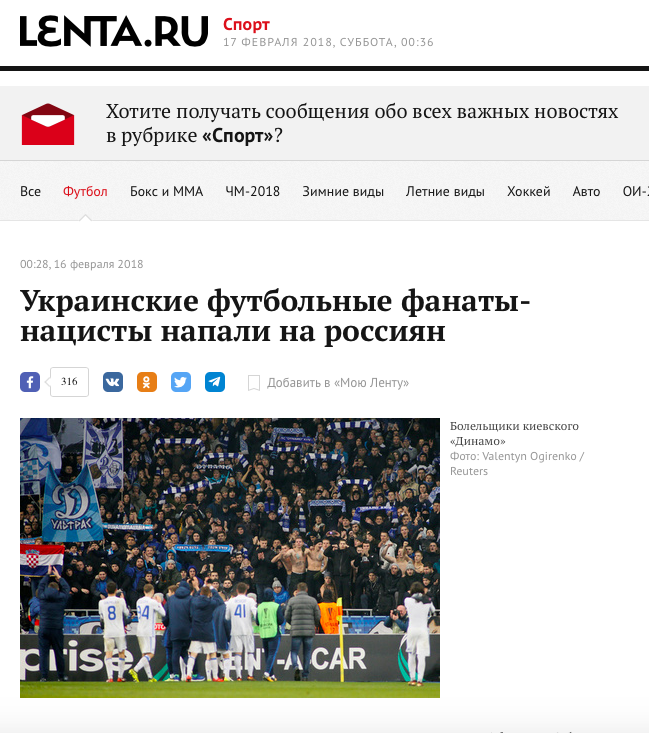 On February 15 Ukraine's Dynamo Kyiv played the Greek team AEK Athens as part of the UEFA Europa league competition. As usual thousands of football fans descended upon Athens where the match was taking place, and as usual police increased their presence on the streets of the city in order to prevent possible clashes between football fans. Altercations did occur and police arrested 18 people, 17 of those were foreigners who were released that very evening, one person, a Greek national remained in custody, according to the Greek publication Iefimerida.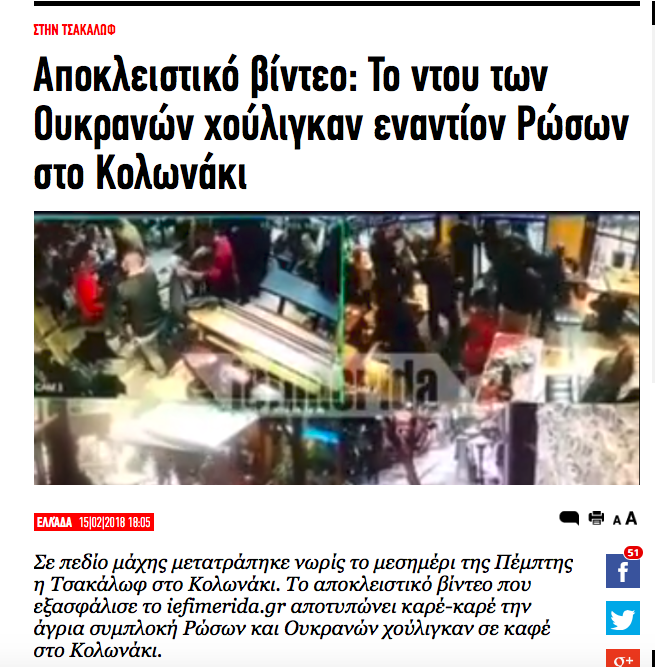 The Iefimerida article, which many of the Russian media cite, features two videos, one of which is entitled "Ukrainian fans fighting with Russians in Kolonaky". Iefimerida writes that the fight occurred in a café where five Russians were sitting. As a groups of Ukrainians was walking by, a fight ensued. There is no mention of Right Sector, nor does the Greek newspaper ever refer to the Ukrainians as Nazis.
A Greek eyewitness Alexis Kouvelis tweeted several videos of the fight pointing out that Dynamo fans were attacked, and they were not attacked by Greeks. Other football fans point out on social media that the Ukrainians were in fact attacked by Russian Spartak fans. The Russian sports website Sports.ru also wrote that the Ukrainians were attacked by Russian football hooligans, as did the Ukrainian sports publication Sport.ua.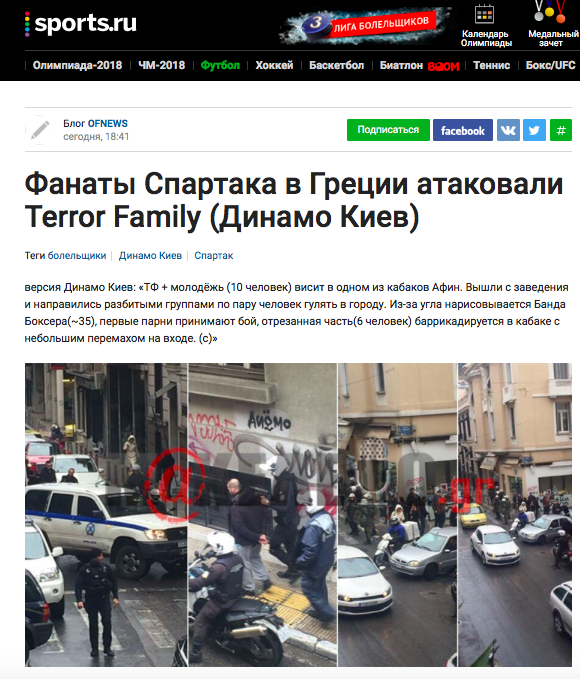 The  Dynamo Kyiv and Spartak Moscow football clubs have a long historic rivalry, stretching back to the USSR.
There is no mention of Right Sector in any of the Greek publications about the football match and the altercations that preceded it. Only the Green anarchist Rouvikonas group issued a statement claiming that Right Sector activists posing as football fans might come to Athens.
Rouvikonas is a notorious Greek anarchist group with several less than peaceful actions under their belt. In December 2017 they attacked the Israeli embassy in Athens with paint, that same month they also attacked the Saudi embassy and this past month vandalized the Greek-American chamber of commerce.