The website "Russkaya vesna" (eng. – Russian Spring) published a forged document which allegedly contained an order to all Ukrainian militaries taking part in the Antiterrorist operation to shell peaceful residents of Donbas villages and to present this crimes as deeds of the "militia men" of so-called Donetsk and Luhansk People Republics.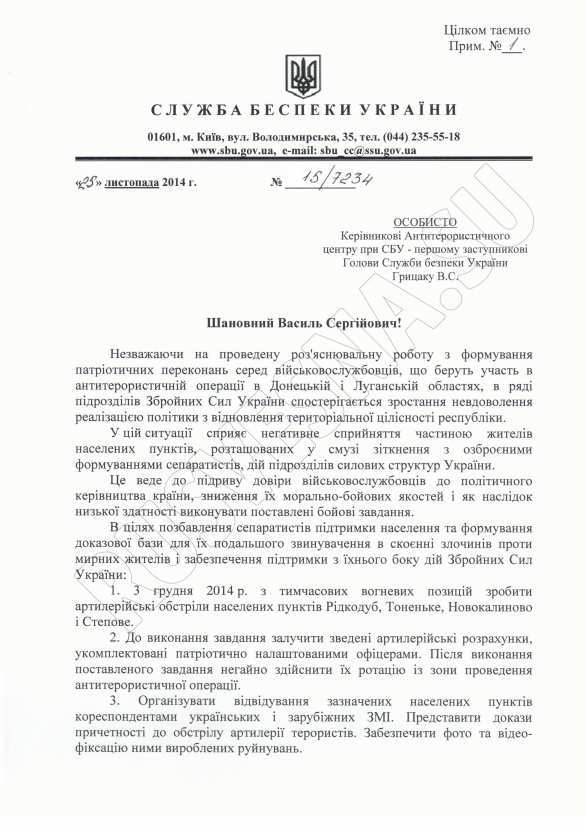 This information, translated into Russian, was spread by the channel Anna News and others pro-Russian sites. Also this false order is being massively disseminated by the trolls on different forums.
However, this document is a cheap forgery. Forgers even did not use a SSU document form for it.
Firstly, there are lots of mistakes in the head of the document. «Служба Безпеки України» (that is the Secret Service of Ukraine – SSU) should be spelled with «з» – «Безпеки», not «Беспеки» with «с», as in this document. The central office of the SSU has an address Volodymyrska St., 33, not 35. There is a receiving office in the building № 35, and that's why this address is not used in official documents. The post code of this district is 01034, not 01601. The SSU website URL, which is specified in documents, is ssu.gov.ua, not sbu.gov.ua.
Secondly, if a document is "top secret", its number starts with "00" or ends with "ЦТ".
Thirdly, there are numerous lexical mistakes and incorrectly built phrases. This fact makes it possible to claim that this document was not written by a native Ukrainian speaker, but just translated with machine translation system.