Russian government controlled news agency Sputnik's Spanish language version announced that Ukrainians living in Crimea were accusing the United Nations of making up human rights violations on the peninsula annexed by Russia in 2014. This claim was in response to a UN resolution adopted on November 19 condemning human rights violations in Crimea and referring to Russia as the "occupying power". The resolution is based on myths as there are no human rights violations taking place in Crimea, Sputnik avows.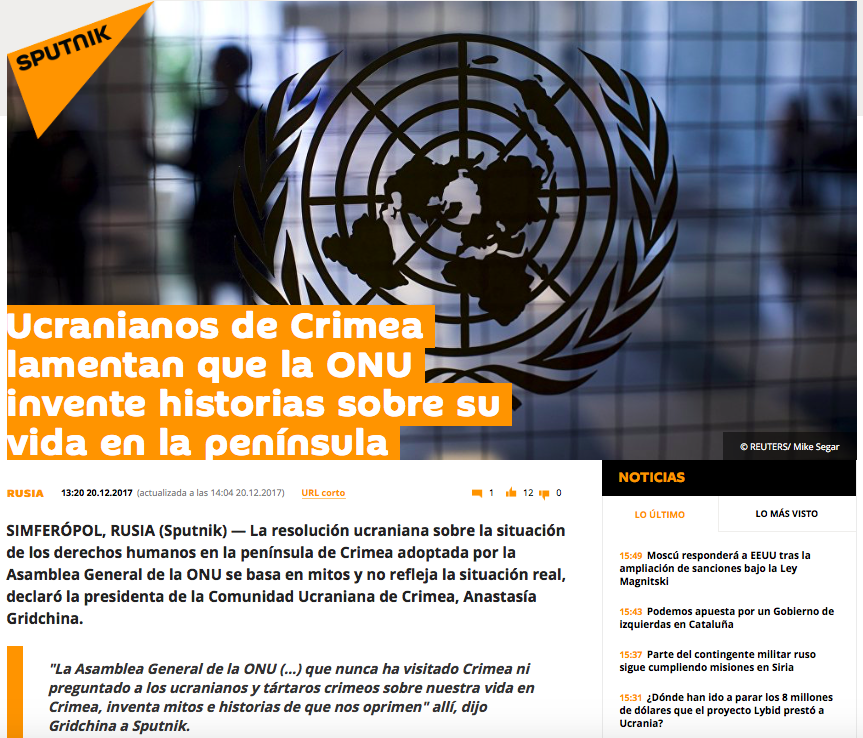 Aside from Sputnik, TASS, Pravda.ru, RIA Novosti, Rambler and other pro-Kremlin sites carried this fake story.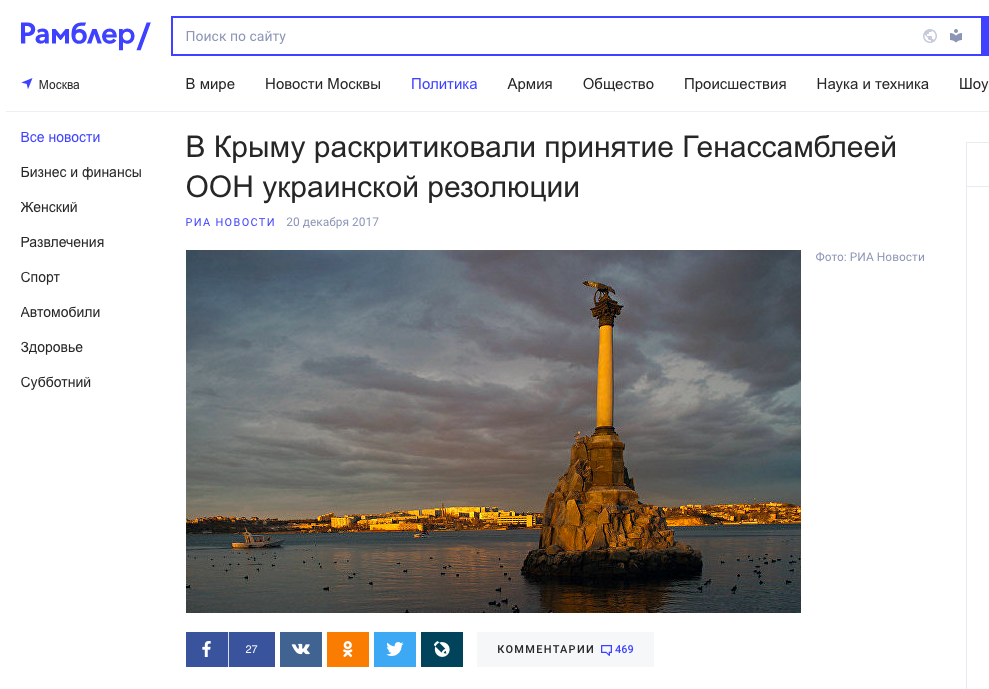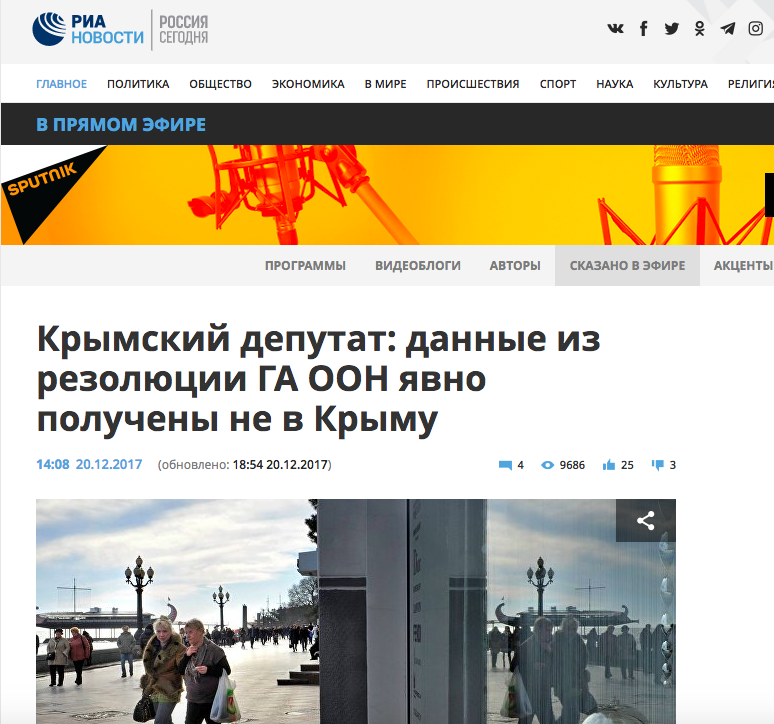 Sputnik cites Anastasia Gridchina, the president of the Ukrainian Community in Crimea, who said the "UN has never visited Crimea,  has not spoken to Ukrainians or Crimean Tatars about life there and is inventing myths and stories about nonexistent persecution".
The Ukrainian Community in Crimea is a Kremlin controlled organization,  headed by members of Russia's ruling party United Russia. The organization was established in 2016, two years after Russia annexed Crimea and its purpose is to show how wonderful life is for Ukrainians on the occupied peninsula. The organization regularly uploads feel-good type posts to its Facebook page but in the three years since its inception has managed to garner all of 45 likes and 65 followers.
Gridchina's accusation that the UN Human Rights Monitoring Mission did not visit Crimea is telling as the UN resolution condemns Russia for failing to provide access to Crimea for the Mission, despite the Mission's mandate calling for such access.
Claims that the UN High Commissioner for Human Rights did not speak with Crimean Tatars and victims of human rights violations is also patently untrue.  According to Fiona Fraser, the head of the United Nations Human Rights Monitoring Mission in Ukraine, data was collected through personal interviews and monitoring of court proceedings and trials in Crimea. Presenting the Mission's report in Kyiv on December 12, Fraser outlined concrete examples of human rights violations against Crimean Tatars, indiscriminate arrests, detentions, torture, ill-treatment and restrictions on freedom of assembly and expression.  Only in November of this year, the UN recorded 49 arrests of Crimean Tatars for holding individual peaceful protests, 10  unlawful searches and 18 raids of Crimean Tatars' homes.
Fraser described how a Crimean Tatar was detained by the Russian security service the FSB on September 13 without explanation only to be left at a bus stop in Simferopol the following day with beaten and bruised.
Earlier this year Ms. Fraser pointed out that Russia as the occupying power in Crimea  is enforcing the laws of the Russian Federation on the peninsula , thereby violating UN Resolution 68/262 concerning the territorial integrity of Ukraine.
StopFake reached out to the UN Human Rights Monitoring Mission in Ukraine for details about the methodology of information gathering. Communications coordinator Iryna Yakovleva explained that the Mission has many times requested access to Crimea, but the Russian Federation has always refused. Despite two UN resolutions calling for unfettered access for the UN Mission, Russia continues to deny such access.
Moscow says Crimea is part of Russia – something rejected by the international community – and as the monitoring mission's mandate is for Ukraine, it is therefore invalid in Crimea.
The Mission therefore gathers information from witnesses who travel to and from Crimea. Since March 2014 hundreds of Russians, Ukrainians, and Crimean Tatars were interviewed by UN field officers. Despite lack of access to Crimea, the quality of interviews the Mission has been able to conduct in person, by telephone and Skype with Crimea residents provide a fairly accurate picture of the human rights situation there, Yakovleva says.
Human Rights Watch's 2017 report also determined that Russian authorities have intensified the persecution of Crimean Tatars with the goal of completely silencing dissent on the peninsula.