Russian media disseminated a fake story this week claiming that the United Nations International Telecommunication Union recognized the Russian telephone code of Crimea, thereby recognizing the annexed peninsula as part of the Russian Federation.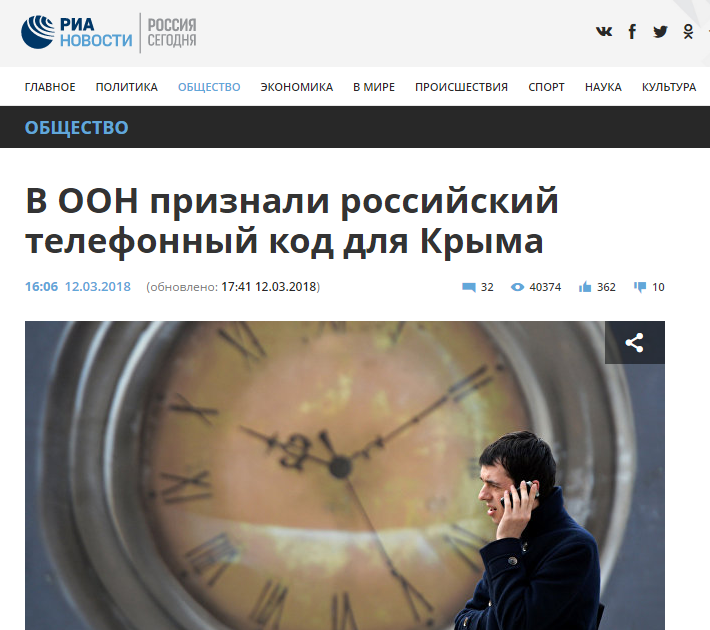 Gazeta.ru, Russian language RT , RIA Novosti, Life.ru, Rambler and other media featured this fake story.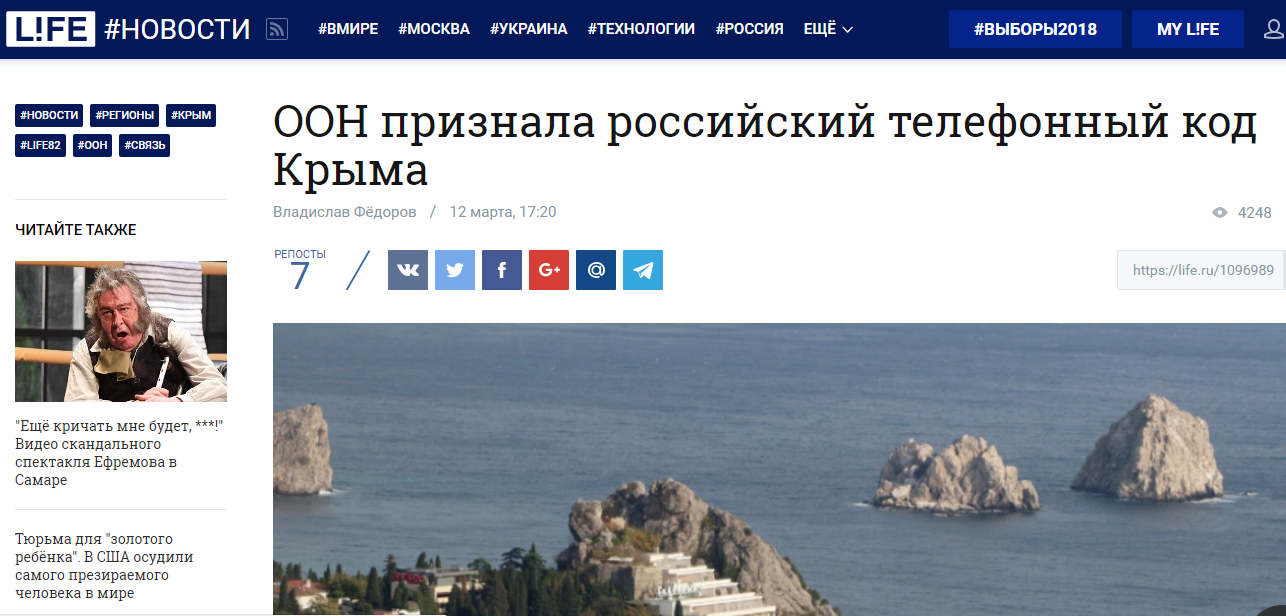 Russian media cite the Russian Communication Minister Nikolay Nikoforov who met with Sergey Aksyonov , the so-called leader of Crimea on March 12. During the meeting, which focused on expanding mobile telephone and internet coverage on the annexed peninsula, Nikiforov said that the International Telecommunication Union had recognized Crimea as a full-fledged territory in Russia's communications network in official documents. Nikiforov underscored that Crimea now had Russian numbers, Russian frequencies and Russian Internet, and all this had been approved by the United Nations.
The official documents Mr. Nikoforov was referring to is the International Telecommunication Union Operational Bulletin for July 2017. This bulletin really does include a Russian telephone codes for the Crimean peninsula. However, the bulletin clearly states that this code is "published upon request of the Russian Federation. This does not imply the expression of any opinion on the part of ITU or its secretariat on the status of these territories".
The bulletin lists Crimea and Sevastopol in the Ukraine section with Ukrainian telephone codes.
Moscow unilaterally altered the international identification codes for telephones and Internet on the annexed peninsula and in May 2015 enforced Russian telephone codes in Crimea. However, the UN's international body for assigning such codes, the ITU, stressed in its bulletin, that just because the UN has recorded that Moscow has changed without authorization, the country code for Crimea does not mean it is officially recognized by the UN and certainly does not imply recognition of Russia's illegal annexation of Crimea.
Thus the ITU bulletin continues to list Crimea and Sevastopol as part of Ukraine and with Ukrainian telephone codes.
On March 27, 2014 the UN General Assembly passed a resolution confirming the territorial integrity of Ukraine and not recognizing the results of the sham Crimean referendum that Russia used as an excuse for its illegal annexation.