During the September 6, 2021, broadcast of the Kremlin-funded 60 Minutes television program airing on the Rossiya 1 state channel, host Olga Skabeeva, known for her extreme propagandist views and pronouncements, declared that the United States is calling on NATO countries to "prepare for the coming war with Russia…. for which the US urgently needs permanent military bases in Ukraine and Poland. "
"There you have the promised end to an era of domination and hegemony" Skabeeva announced with a smirk.
As Skabeeva menacingly predicted the coming NATO-Russia war, the screen behind her featured the headline from 1945.com, a conservative online US publication — How NATO Can Prepare For The Unthinkable: A War With Russia.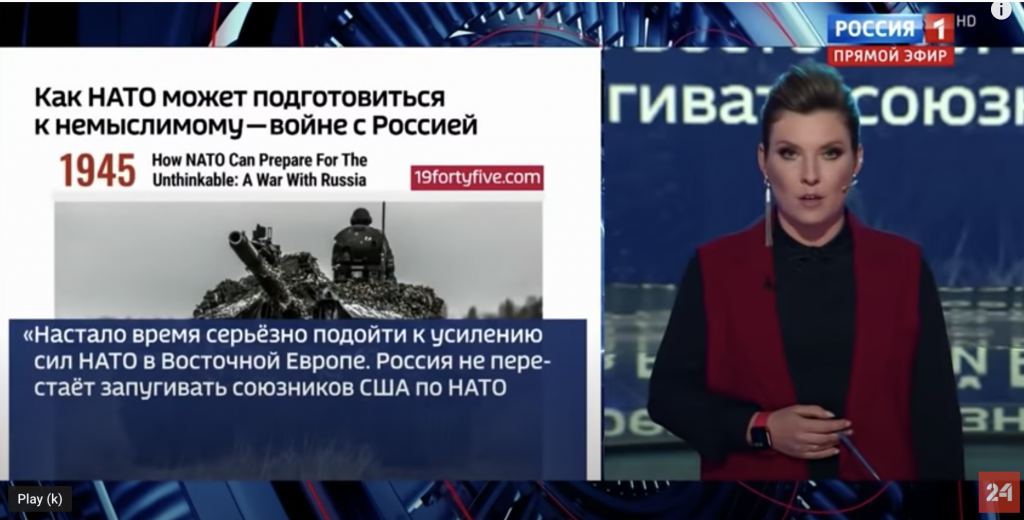 This September 2021 article by Daniel Goure, senior vice president at the conservative Lexington Institute and former US Defense Department official, argues for a stronger NATO posture to counter Russia's increasing military build-up.
 However, neither Daniel Goure nor the 1945 web site have anything to do with the US government or official American defense policy. The site, according to its 'about us' page, is not funded by government or private funds, but "entirely by ads".
In his article Goure references proposals from other think tanks to strengthen NATO positions on its eastern borders and create opportunities for quick and effective responses to possible Russian aggressive actions. He also argues for the creation of a NATO military base in Poland to be manned by US troops. Increased support for Ukraine and Georgia, NATO's partners in the region, is another way of strengthening the Alliance's position in Europe, Goure argues. He does not however, call for American troops to be present in these countries.
Once again, the Kremlin propaganda machine distorted the message of one article and presented the views of one person as the official position of the United States.
No official US agency or department has ever called on NATO members to prepare for imminent war with the Russian Federation. There has never been any such publication or suggestion on any official US government web page, nor has the idea of deploying American troops in Ukraine ever been even considered by official Washington.
StopFake sent a formal request to the US Department of Homeland Security about Skabeeva's claims but did not receive a response at the time of publication.